Are you looking to take your job on the road and become a digital nomad in Japan? If so, you're in luck because this East Asian country has a lot to offer. 
Japan offers excellent infrastructure, stunning scenery, and distinctive culture. In this post, you'll discover the best cities in Japan for digital nomads, remote workers, and expats. 
You'll feel lucky with a Japanese cafe loaded with fast Wi-Fi and unique entertainment options to enjoy after work hours. 
Top 13 Best Places in Japan for Digital Nomads
Japan is relatively more expensive than many Southeast Asian countries but less expensive than European countries or China. However, longer stays in Japan and visits to its rural areas can offer cost-effective experiences.
That said, let's dive in!
1/ Tokyo
Internet Speed: 30-52 Mbps
Monthly Cost of Living: $1700 to $4900
Tokyo is one of the best cities in the world for anyone, not just remote workers. Formerly known as Edo, this Japanese city has a population of over 13 million, making it one of the most populated capital cities.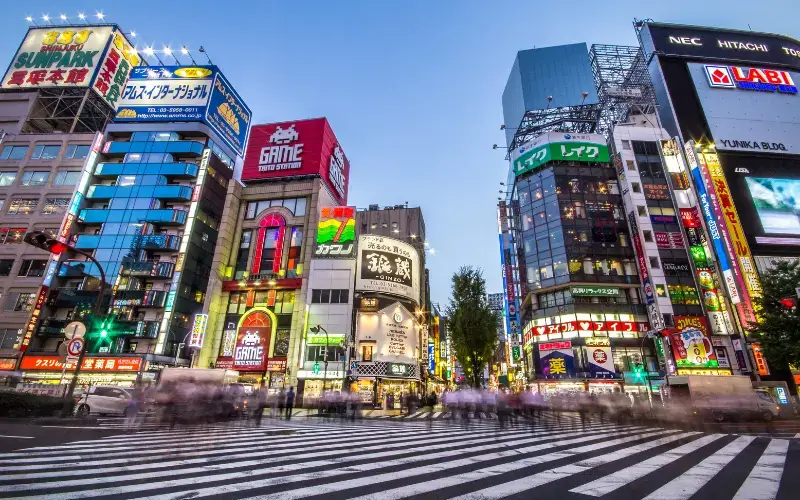 Tokyoa offers everything you need to work remotely and live a digital nomadic life. It has Japan's fastest internet connectivity, efficient transport system, and great community score, according to Nomadlist members. 
Tokyo offers a bustling metropolitan area and plenty of reasons to choose it as your destination. For starters, there's lots of nightlife and culture to explore at every corner. You can even find unique cocktail bars, Mexican rooftop parties, and whatnot!
2/ Naha, Okinawa
Internet Speed: 20-42 Mbps
Monthly Cost of Living: $1200 to $2800
With its exotic natural beauty, rich cultural hub, and convenient amenities, Naha is the ultimate city for digital nomads looking to take their lifestyles on the go. It's the capital city of Okinawa Prefecture in Japan. 
From the stunning Yaese Beach with its world-class waves to exciting attractions like Shuri Castle, this vibrant city has no shortage of things to do.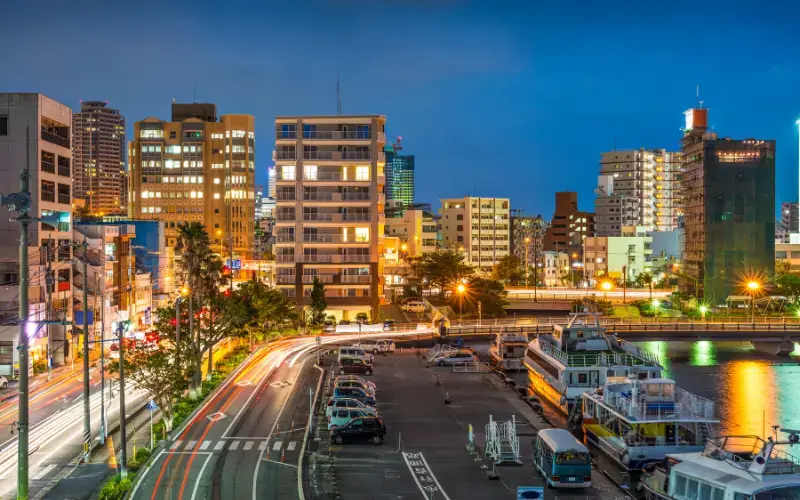 With its wonderful climate year-round and friendly locals, Naha offers one of the best environments for digital nomads. 
Along with these enticements, Naha is renowned for its rapid Internet speeds and various coworking areas. There are many coworking spaces to work from home in Naha. Also, you can enjoy world-class health and transport facilities in the city. 
Naha also offers you never-ending nightlife! And walkability in the city is great. My favorite thing about Naha is its beautiful beaches and shallow swimming areas. 
3/ Sendai
Internet Speed: 28-55 Mbps
Monthly Cost of Living: $1050 to $2600
Sendai, the capital city of Miyagi Prefecture, is one of Japan's best and most affordable digital nomad places. Whether you work with tech, design, writing, or education, you will discover various opportunities in this vibrant and progressive city.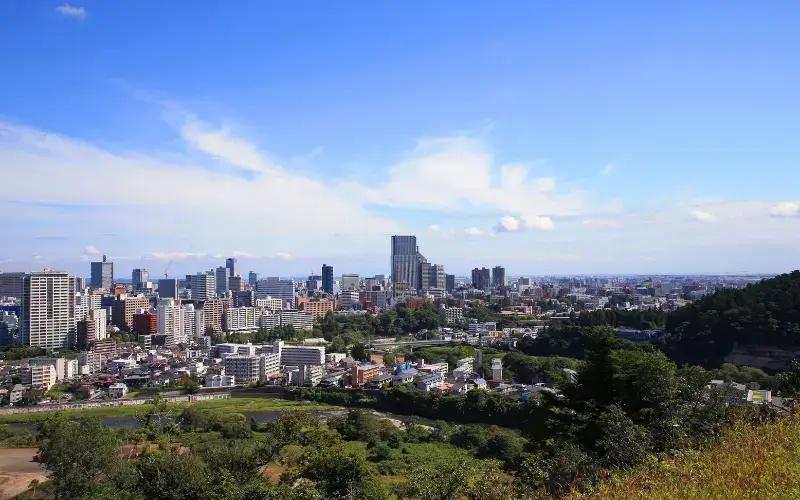 The temperature may be a little too cold for you as a digital nomad or remote worker, the nightlife isn't good enough, and English-speaking people are fewer in number!
But everything else is awesome, from the internet to the safety to air quality and the healthcare system. The internet speed in Sendai is impressive, with 28MB per second. 
Alongside its buzzy job market, Sendai also offers a rich cultural experience. You can learn about samurai culture and explore some of Japan's most impressive temples and shrines.
On the weekend, stroll through the city's parks to enjoy its stunning mountain backdrop, or hit up one of the colorful markets for unique local cuisine. There has never been a better time to immigrate to Sendai.
4/ Kobe
Internet Speed: 28-54 Mbps
Monthly Cost of Living: $1350 to $3200
Kobe is a Japanese paradise waiting to be discovered by digital nomads. The city offers a great quality of life, impressive internet speed, and many things to do. 
From its picturesque harbor and mountain views to its historical architecture, the city of Kobe offers everything to tourists.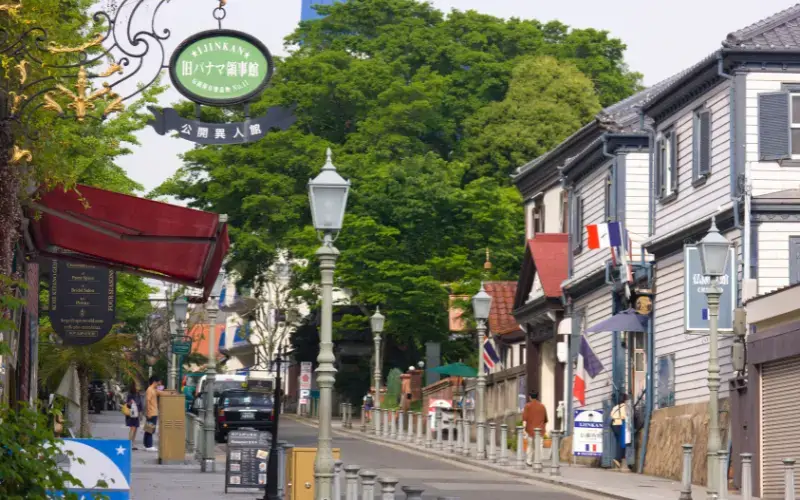 With effortless access to the lively cities of Osaka and Kyoto, this location is perfect for networking chances and experiencing the culture. Meriken Park and other local hotspots in the city offer a wide selection of activities to occupy you in your spare time.
Kobe also boasts an amazing array of cafes and restaurants, perfect for getting into a productive headspace or meeting with other creatives. All in all, there are plenty of reasons to choose Kobe as your next remote working destination!
What are the bad things about Kobe for digital nomads? Well, it may be a little too expensive for you, the city's people don't usually speak English, and nightlife scenes are off here!
5/ Fukuoka
Internet Speed: 28-45 Mbps
Monthly Cost of Living: $1350 to $3500
Many digital nomads are choosing the Japanese city of Fukuoka for their remote working base, and it's easy to see why.
The city offers a relaxed atmosphere with many green spaces, making it ideal for those who want to strike the perfect balance between work and leisure.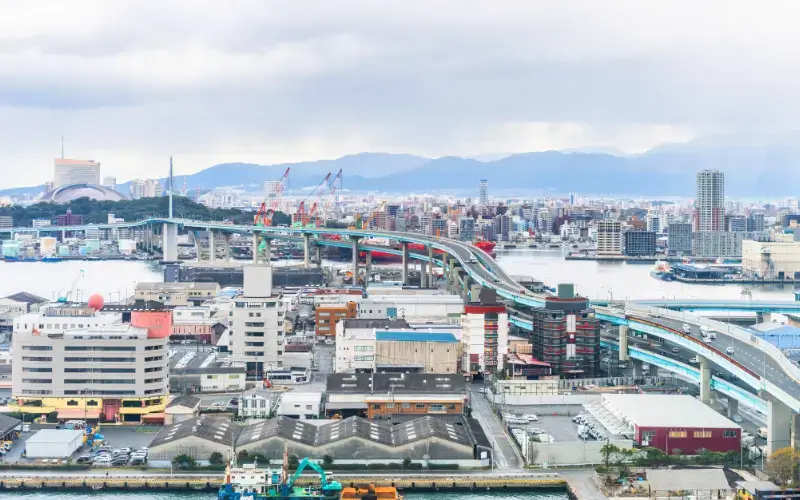 The city also has excellent travel connections within Japan and further afield in Asia. Thanks to its excellent infrastructure, low crime rate, high-speed internet, and reliable public transport system, it boasts the highest quality of living of any big city in Japan.
Another great thing about this vibrant city is its affordability; with reasonable rent prices compared to other metropolitan cities in Japan, it is easy to find value-for-money accommodation options.
With all that plus friendly locals, delicious cuisine, beautiful temples, and an array of cultural attractions, Fukuoka ticks all the boxes for digital nomads looking for a new home base.
And you can find many coworking spaces and digital nomad-friendly cafes in the city. 
6/ Nagoya
Internet Speed: 26-60 Mbps
Monthly Cost of Living: $1400 to $3300
With its fascinating history, great food, and strong tech scene, Nagoya is often overlooked as one of the best cities in Japan to be a digital nomad.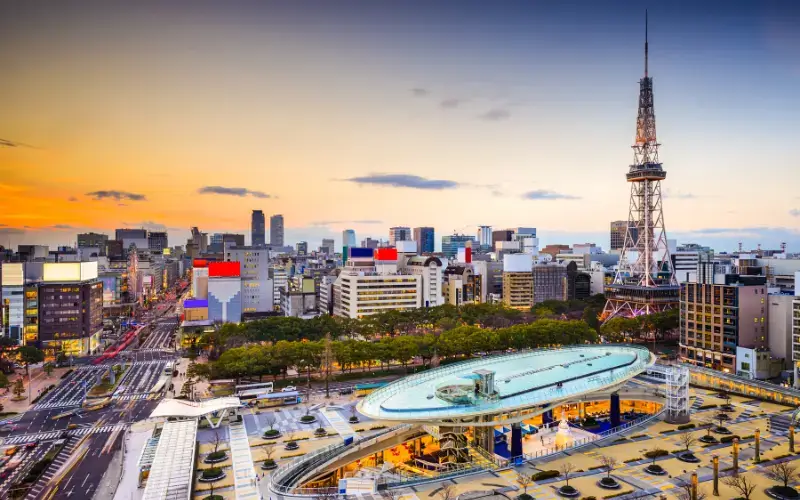 There are many coworking spaces and cafes in Nagoya to set up camp and get some work done. On weekends, you can escape from the city to explore the rural countryside or head into the city center for fun activities like shopping, enjoying nature at a nearby park, or relaxing in an onsen.
The city is well known for its welcoming locals who love chatting about their favorite places to visit during your stay.
The cost of living for digital nomads may be a little high!
But with amazing coworking spaces, okayish nightlife, and low population density, you can designate Nagoya as one of Japan's best cities for digital nomads for remotely working. 
7/ Okayama
Internet Speed: 28-50 Mbps
Monthly Cost of Living: $1900 $3000
Okayama is a modern city with an impressive blend of attractions and amenities to entertain locals and visitors. And it's one of the best Japanese cities for remote workers because of its impressive connectivity, safety, and health facilities.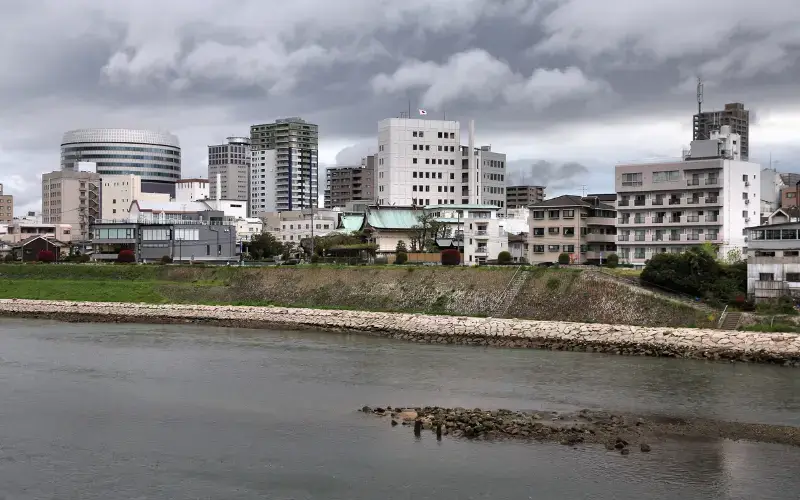 With near-universal access to reliable connections, remote workers can choose Okayama as their ideal working environment.
But wait, there's more. From the lush green spaces in the Garden of Light park to the cosmopolitan vibe of its downtown shopping areas, this buzzing city offers many opportunities for adventure.
The numerous Japanese eateries and green tea houses also provide old-world charm, and you have all you need for a productive and enjoyable work experience in this amazing city.
8/ Osaka
Internet Speed: 24-52 Mbps
Monthly Cost of Living: $3000 to $5000
Osaka is one of the most vibrant cities in Japan for digital nomads, that is full of life and opportunity. Over the last few years, its offerings have further blossomed for digital nomads looking to work away from home.
Named one of the world's 'top 100 cities to live in' by Time Magazine, Osaka offers abundant coworking spaces and convenient amenities that allow remote workers to do their best work.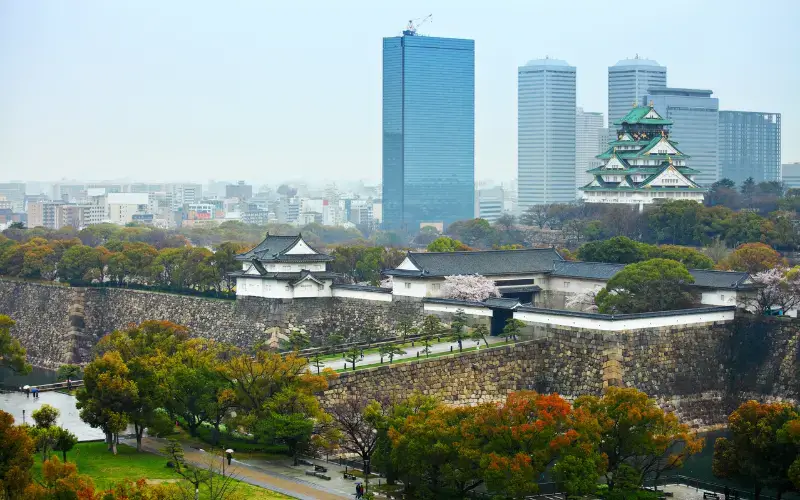 Osaka is an expensive destination, but its wide variety of attractions and activities makes it worth the cost.
The city is also packed with interesting sites like Fushimi Inari Shrine and Universal Studios Japan, where digital nomads can recharge and explore what Japan offers between work sessions.
With access to modern technology, affordable living costs, and a lively atmosphere, so many are flocking to Osaka!
9/ Kamiyama
Internet Speed: 26-45 Mbps
Monthly Cost of Living: $2150 to $3000
Kamiyama is Japan's one of the most popular destinations for digital nomads looking for a unique and fulfilling experience. The city is small but has much to offer regarding culture, leisure activities, and work opportunities.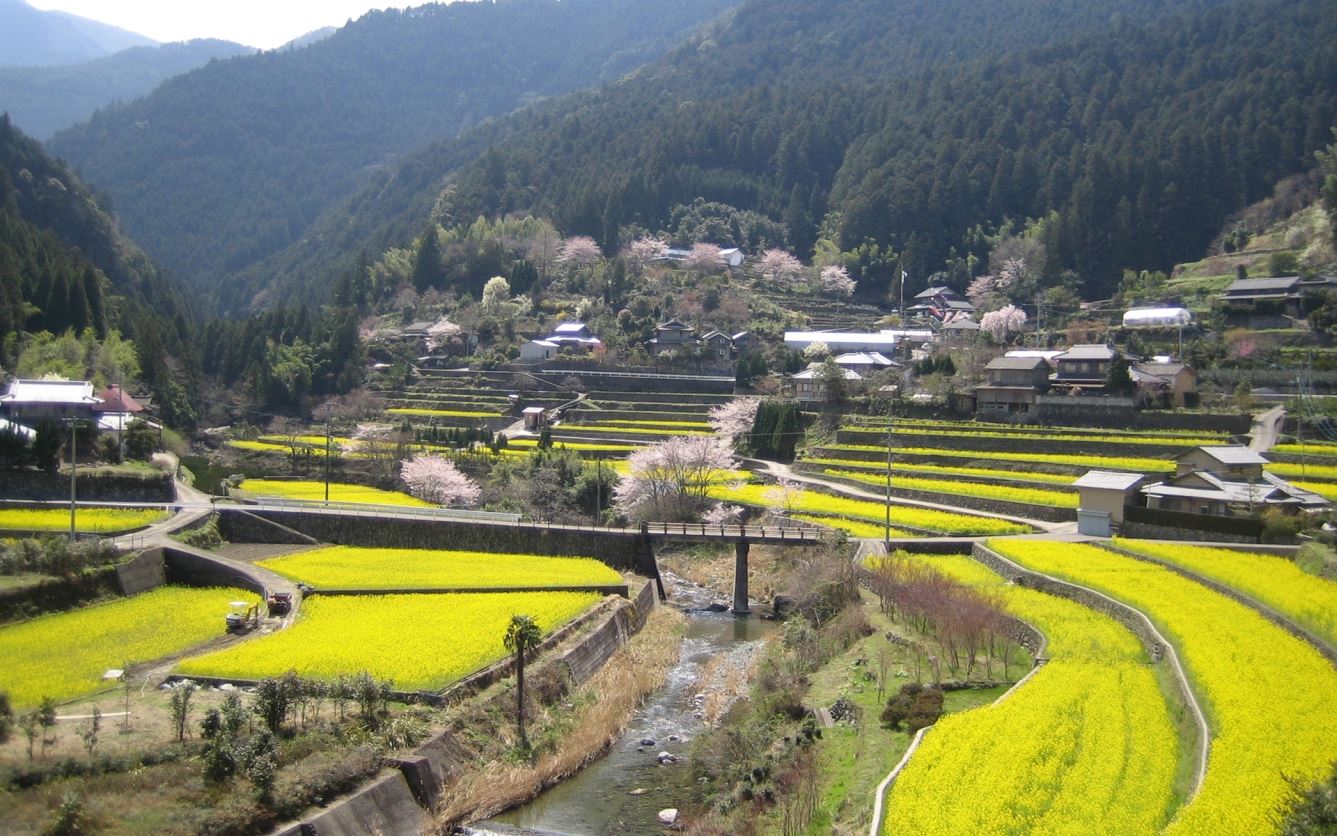 The Japanese city offers stunning mountain vistas and a quaint yet vibrant town center. What makes it stand out from the rest of the country is Kamiyama's focus on sustainability and eco-tourism.
Kamiyama is home to local businesses focusing on sustainable practices such as solar energy projects or electric car share services.
Also, Kamiyama offers excellent access to reliable internet services, providing good speeds even in remote areas of the city.
Plenty of coworking spaces are available throughout the city where you can network with like-minded individuals and find new opportunities while living abroad.
Kamiyama is an amazing destination for digital nomads who want to work, explore and experience a unique side of Japan.
10/ Ube
Internet Speed: 24-35 Mbps
Monthly Cost of Living: $1750 to $3500
Ube is a Japanese city in Yamaguchi Prefecture that is friendly to digital nomads and tourists. The city offers a unique blend of traditional Japanese culture and modern amenities, making it the perfect place to live, work, and explore.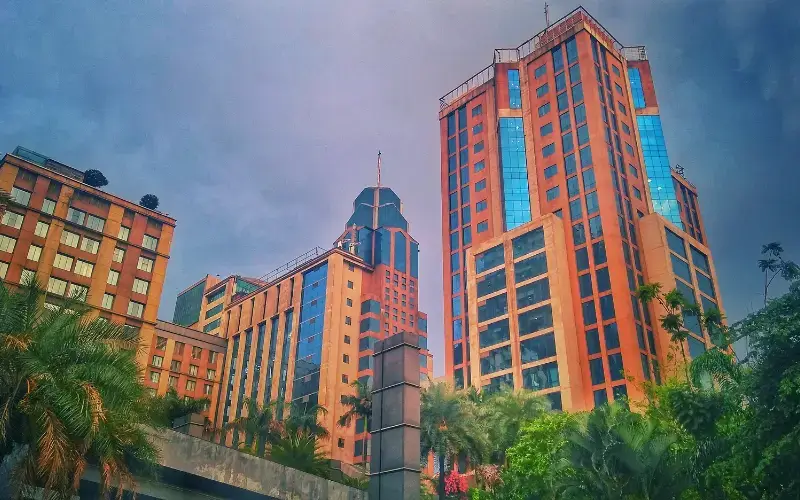 Ube boasts a variety of coworking spaces and internet access for those looking to work remotely, plus plenty of cultural attractions such as temples, shrines, and parks.
There are also plenty of exciting culinary experiences in Ube – with some of the best sushi in Japan served right in the city center!
Ube is an ideal destination for digital nomads looking to experience life in Japan while enjoying good living standards and many opportunities.
11/ Okinawa
Internet Speed: 33-45 Mbps
Monthly Cost of Living: $2800 to $4500
Okinawa is one of the top destinations for digital nomads in Japan. The city offers reliable and high-speed internet connectivity, making it well-suited for those looking to work remotely.
Also, Okinawa boasts some of the most stunning natural scenery in the country, with beautiful beaches and lush forests perfect for leisure activities and exploring.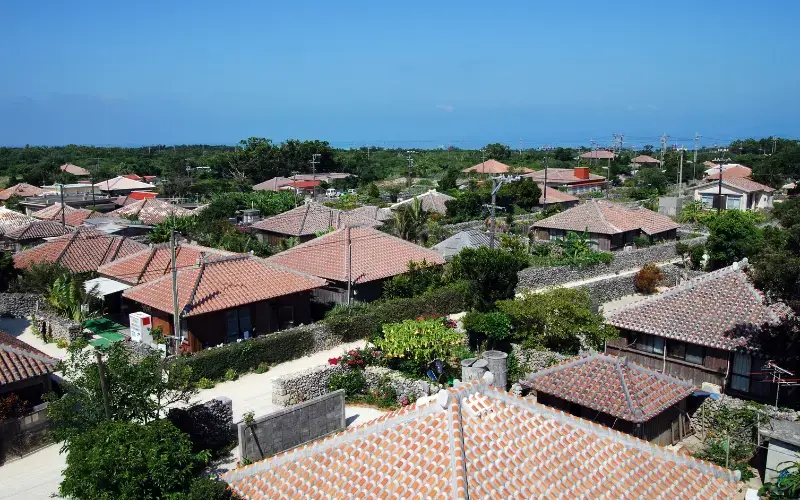 The cost of living in Okinawa is slightly higher than in other parts of Japan due to its high living standards. However, it's still a great option for digital nomads looking for an unforgettable experience in one of Japan's most exciting cities.
From its vibrant nightlife to its incredible natural attractions – Okinawa is the perfect place for digital nomads looking to experience life in Japan.
12/ Tsushima
Internet Speed: 25-38 Mbps
Monthly Cost of Living: $2600 to $4000
Tsushima is a small island between Kyushu and South Korea. It's one of the best islands in Japan for digital nomads looking for a laid-back lifestyle. 
The island consists of 709 square kilometers of natural beauty. The mountain forest covering 89% of its land area makes it a paradise on earth. You should go for Tsushima for a unique and beautiful place to live and work with easy access to modern amenities.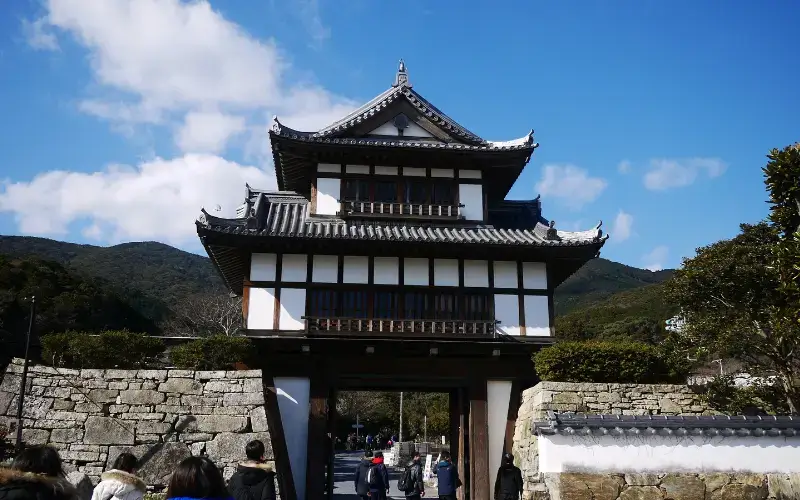 Tsushima offers various activities, including historical tours, sailing trips, camping, cycling, and other outdoor adventures. It's also home to some amazing seafood restaurants where you can sample the local delicacies.
With its tranquil atmosphere and stunning landscapes, Tsushima is the perfect destination for digital nomads looking for a more laid-back lifestyle in Japan.
13/ Nagasaki
Internet Speed: 38-55 Mbps
Monthly Cost of Living: $2100 to $3800
Nagasaki may be famous for being bombed in the second world war. But it's one of Japan's most beautiful coastal cities that is friendly for digital nomads, freelancers, and tourists.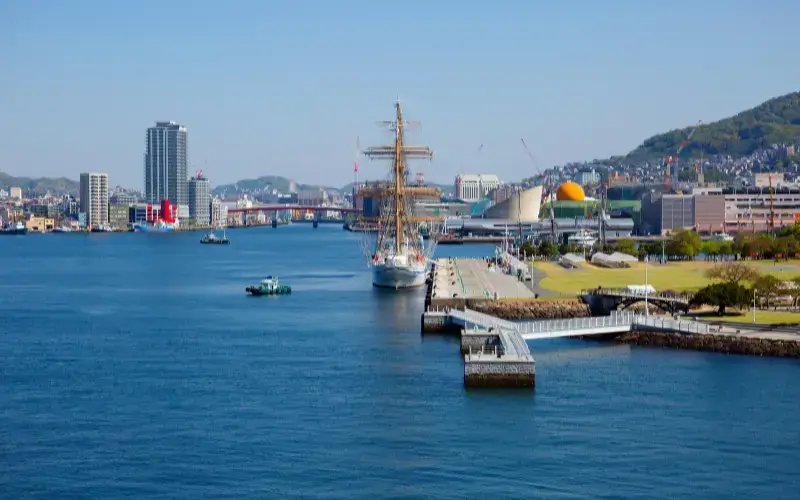 It's one of the oldest cities in Japan and has a unique culture that blends Japanese and Portuguese influences. Nagasaki offers reliable internet access, making it an attractive destination for digital nomads looking to work remotely. 
The city is also known for its stunning coastline and picturesque streets, perfect for leisurely walks or bike rides.
Also, there are many cultural activities such as temples and shrines, festivals, and historical attractions, all within easy reach from most areas within the city.
Nagasaki is worth considering for those looking for a vibrant yet laid-back lifestyle in Japan!
Final Thoughts on Japan for Digital Nomads & Remote Workers
Japan is not just a fascinating country, with its rich culture, delicious food, and cutting-edge technology. It's also a great destination for digital nomads, remote workers, freelancers, and travelers. 
High-speed internet in Japan
Japan has one of the world's most advanced telecommunications infrastructures, with high-speed internet available almost everywhere.
As a digital nomad, you can stay connected and work efficiently anywhere in the country.
Coworking spaces and cafes in Japan
Japan's major cities have a thriving digital scene, with coworking spaces and cafes offering fast Wi-Fi, comfortable seating, and a community of like-minded professionals.
Some of the top coworking spaces in Japan:
Impact HUB Tokyo.
Coconoma.
WeWork.
And The Hive Jinnan.
Japanese culture and lifestyle
You can explore Japan's temples, shrines, and historical landmarks when you're not working. Or immerse yourself in the local customs and festivals.
Japan is also home to some of the world's best cuisine, from sushi and ramen to grilled meats and vegetable dishes.
Safety and ease of travel
Japan is one of the safest countries in the world, with low crime rates and a welcoming culture. It's also easy to get around, with excellent public transportation systems.
And if you need to take a break from work, there are many opportunities for outdoor recreation, including hiking, skiing, surfing, and whatnot!
Overall, Japan is a fantastic destination for digital nomads and remote workers looking for a unique experience, high-speed internet, and a welcoming culture. 
So which of these best cities in Japan for digital nomads will you choose? Let me know in the comments below because I always reply.
Also, check out these amazing digital nomad places in the Philippines.