Animals enthrall us with their beauty, intelligence, and character. That's why over 700 million people visit wildlife parks, zoos, and aquariums, according to IUCN.
Texans have the privilege of experiencing these amazing creatures up close and personal at some of the best zoos in Texas.
With knowledgeable staff and plenty of educational activities, your kids will surely have an unforgettable visit filled with fun facts about their favorite bird, animal, or fish.
From exotic rainforest habitats to high-tech interactive exhibits, these top zoos in Texas offer you a chance to experience animals like never before.
Whether you're looking for wildlife that thrives in arid deserts or luscious jungles – there is something special around every corner at these outstanding attractions!
1/ Houston Zoo
The Houston Zoo is one of the most popular zoos in Texas and is known for housing an expansive selection of exotic wildlife.
With over 6,000 stunning creatures representing more than 900 species, the Houston Zoo showcases some of the largest collections in the state.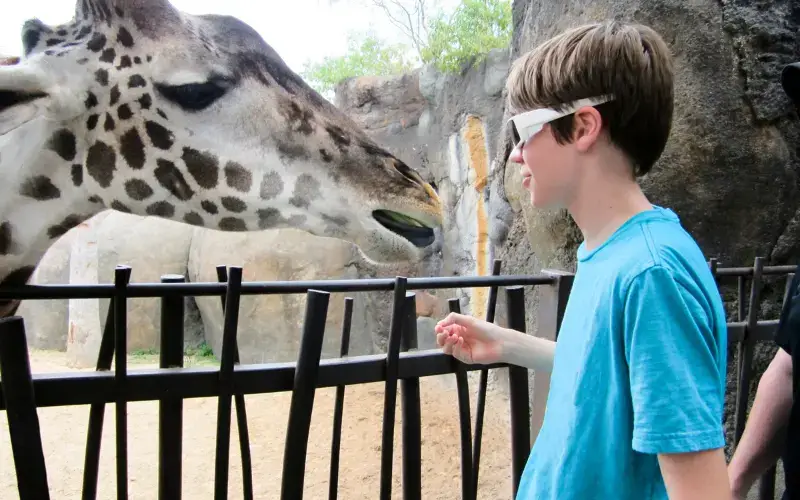 Its commitment to preservation goes beyond its exhibits! 49 conservation projects span the world, working to protect organisms ranging from amphibians to magpies.
Spanning 55 sprawling acres, this zoo in Texas offers an ideal ecosystem for its plethora of animals–from gorillas and hyenas to red pandas and giraffes.
Adventurers can hop aboard the Zoo Train to get closer to some of Texas's wildest creatures!
The Houston Zoo also boasts an impressive selection of educational opportunities and conservation initiatives.
Whether your kids want to explore habitats or learn about endangered species, they will find something spectacular at the Houston zoo.
The Houston Zoo is open throughout the year and invites visitors daily between 9:00 am – 5:00 pm, so don't miss out on this fantastic opportunity!
2/ Fort Worth Zoo in Texas
Sprawling across 64 acres, the Fort Worth Zoo offers visitors a chance to explore its stunning gardens and lush landscapes. It's full of events and activities that will make your visit great.
Home to a stunning array of 542 species, Fort Worth's zoo boasts over 7,000 animals – an impressive collection that is sure to please any animal enthusiast. You and your kids can discover a total of 68 species that are endangered.
There are many educational programs for any age group and special events throughout the year.
Make sure to take the time to explore their plethora of exhibits and interactive exhibits like the 'Wildlife Carousel' and the 'Reptile House.' Year-round, the Fort Worth Zoo welcomes visitors with a special half-priced admission fee every Wednesday!
3/ Dallas Zoo
The Dallas Zoo is a 106-acre wonderland of exotic animals and plants, drawing people from all over Texas and beyond. It's the biggest zoo in Texas!
Established in 1888, it's also one of the oldest zoos in the US. On this sprawling acreage, guests can get up close and personal with more than 2000 animals of 406 species from around the world who call this zoo home.
From leopards to iguanas, discover rare breeds and learn about activities like educational programs and special events while experiencing unforgettable wildlife encounters!
The Houston Zoo is open daily, welcoming visitors between 9 am and 4 pm. Visit the website for additional information about the Dallas Zoo, admission prices, and more.
4/ San Antonio Zoo
The San Antonio Zoo is a popular destination in the historic Brackenridge Park area. Boasting over 3,500 animals ranging from 335 species, the San Antonio Zoo is sure to keep any wildlife enthusiast entertained.
Tour the aquarium and butterfly garden, or watch one of the live shows in Texas. The zoo is full of educational experiences and interactive opportunities.
The San Antonio Zoo also boasts a variety of eco-friendly exhibits that are sure to please any nature enthusiast.
With the "Go Wild" exhibit, guests can explore the wonders of nature and learn about conservation efforts. From antelopes to waterfowl, there's something for everyone at the Dallas zoo.
In 2021, over one million guests had the pleasure of visiting our zoo and helping to sustain wildlife conservation programs in six different countries worldwide!
Hours are 9 am to 5 pm daily, and admission prices are reasonable. It's a great way to spend an afternoon exploring the city of Dallas – you won't want to miss it!
5/ Austin Zoo in Texas
Located 16 acres within the city limits of Austin, the Austin Zoo is home to over 300 animals from 100 different species.
Spin your way through 16 acres at the Austin Zoo, and you will be able to observe African Lions, Bengal tigers, cougars, three species of monkeys, black bears, and the rarely-seen ring-tailed lemurs in their natural habitats.
From large predators to adorable primates and everything in between, you can enjoy seeing these magnificent animals up close and admire their fascinating behaviors without sacrificing an afternoon at the zoo.
Step into a haven of wildlife, where big and small creatures come together to create an incredible home away from home at the Austin Zoo.
Whether you are visiting for the day or participating in one of their educational programs, there is something here for everyone!
Make sure to visit the Austin Zoo for an unforgettable experience. Hours are daily from 9:30 am to 4:00 pm, and admission prices are affordable. Don't miss out on this incredible opportunity to explore nature and wildlife in Austin!
6/ Caldwell Zoo
The 85-acre Caldwell Zoo in Tyler is the perfect place to visit if you're looking for fun and excitement!
This zoo has over 3000 animals representing over 200 species, making it one of the best zoos in Texas. You can watch exotic animals from all around the world roam free, or take a tour through their aquatics center to see aquatic creatures up close.
With its friendly staff, affordable admission prices, and wide variety of exhibits and events, Caldwell Zoo should be on your list of places to visit in Texas.
The zoo offers many educational camps and special events. The Caldwell Zoo is open daily from 9:00 am to 3:30 pm, but don't forget to check the website for changes in opening hours or admission prices.
7/ Texas State Aquarium
The Texas State Aquarium, located in Corpus Christi, is one of the best aquariums in Texas. With 6.3 acres, this unique aquarium has an exciting collection of marine wildlife for every visitor.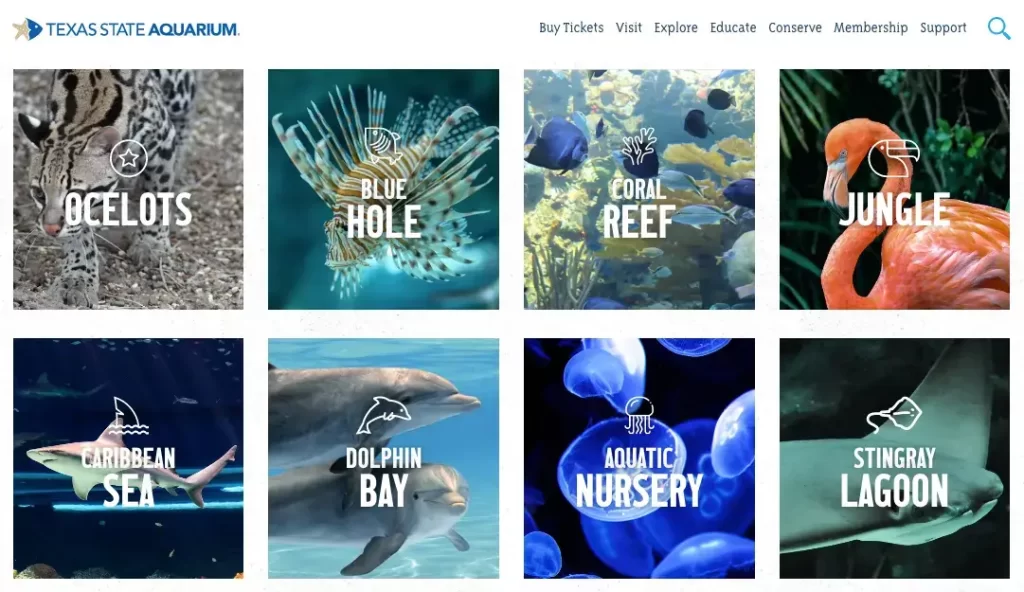 Take a guided tour through the aquarium and learn about ecosystems, conservation efforts, and more. Watch as dolphins entertain you in their Dolphin Bay habitat, or wander through the aviary and see exotic birds from around the world.
With more than 460 species of animals- from sharks and sloths to flamingos and otters- everyone will find something to love here.
From captivating live feedings, while you explore each area to fun educational shows, The Texas State Aquarium provides a fun and interactive way to learn about the diversity of nature belonging to the Lone Star State.
The aquarium is open every day, excluding Mondays, from 9 am to 5 pm, with admission prices fluctuating depending on the date. Ensure to check the website before your visit for any additional information!
8/ Gladys Porter Zoo
The Gladys Porter Zoo on the 28-acre grounds of Brownsville, Texas, is home to over 600 animals. You can find an impressive variety of wildlife here, including wallabies, camels, chimpanzees, and rhinos.
The zoo hosts a breeding program for endangered species every year, introducing new populations of the Phillippine Crocodile, American Ocelot, and the Kemp's ridley sea turtle.
This conservation effort continues making Gladys Porter Zoo the finest in Texas.
As a participant in the American Zoo and Aquarium Association's (AZA's) Species Survival Plan, the zoo is dedicated to conserving threatened and endangered species.
Kids can also have a hands-on experience by participating in the zoo's animal encounters program, offering a unique and memorable experience.
The zoo is open year-round from 9 am to 5 pm, with admission prices at a reasonable rate. Don't miss out on this fantastic opportunity to explore the world of wildlife!
9/ TGR Exotics Wildlife Park in Texas
TGR Exotics Wildlife Park is one of the top zoos in Texas, with over 100 animals and over 25 species of wildlife.
From capybaras to red kangaroos, this 10-acre wildlife park offers an incredible range of wild animals that will excite and delight visitors of all ages.
Take a guided park tour and learn about each animal with an interactive experience. After your tour, you can also explore the petting zoo and feed the friendly critters.
However, what makes TGR extra special is its Zoo Keeper for a Day program which allows guests to take a peek behind-the-scenes and learn about the special care zookeepers give every animal.
On these exclusive tours, participants can get up close and personal with the animals as they feed them snacks, prepare enrichments, learn about habitats from knowledgeable guides, and more.
The park is open every day from 10 am to 5 pm, except on Mondays when it remains closed.
10/ San Antonio Zoo in Texas
The San Antonio Zoo has an exciting history, opening its doors in 1914. The 56-acre zoo is now home to over 750 species of amazing creatures worldwide, including hippos, giraffes, and even rainbow lorikeets.
The zoo offers various activities for visitors, such as interactive experiences, behind-the-scenes tours, and immersive exhibits.
With its intriguing past and wealth of exciting animals available to view, San Antonio Zoo is genuinely one of the best zoos in Texas.
The zoo is open every day from 9 am to 5 pm, with admission prices available on their website. Don't miss out on this delightful day trip!
11/ Frank Buck Zoo
The Frank Buck Zoo in Gainsville, Texas, is one of the state's best zoos. This 30-acre zoo hosts more than 130 animals, ranging from alpacas to Arabian camels to black vultures and coyotes to red foxes and pygmy goats.
Beyond just giving visitors a chance to observe these fascinating animals firsthand, the staff at Frank Buck Zoo is dedicated to the care and conservation of every one of their animal inhabitants.
The zoo also offers educational programs and workshops on animal care, conservation, and more. Plus, various activities are available for visitors of all ages, like bird watching and scavenger hunts.
The zoo welcomes visitors daily, from 10 am to 5 pm, throughout the year.
12/ The Texas Zoo
Home to more than 100 species of wildlife, the Texas Zoo is an unparalleled destination for zoo lovers.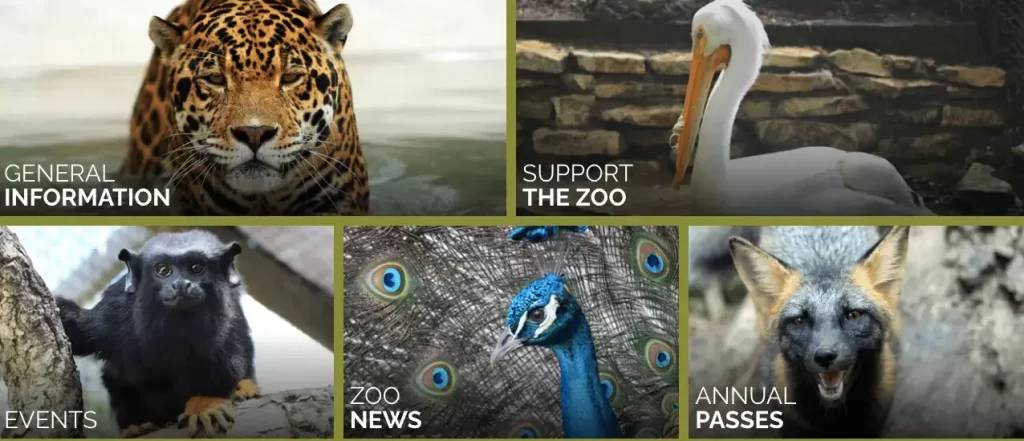 Your family can enjoy many exciting events, special programs, and captivating animals and natural habitats. This remarkable place promotes animal conservation as well as learning and safety.
They have experts on staff to educate visitors about wildlife and offer exciting educational opportunities for families and schools.
With its diverse collection of animals, stimulating experiences, and commitment to conservation, the Texas Zoo is an excellent destination for all interested in nature.
The zoo is open daily from 9 am to 4 pm, except for a few holidays. Visit the Texas Zoo and explore all its unique wildlife!
13/ Fossil Rim Wildlife Center
The Fossil Rim Wildlife Center is a must-visit for nature enthusiasts. This 1,800-acre wildlife preserve is home to over 1000 animals of 50 different species, including cheetahs, giraffes, and rhinos.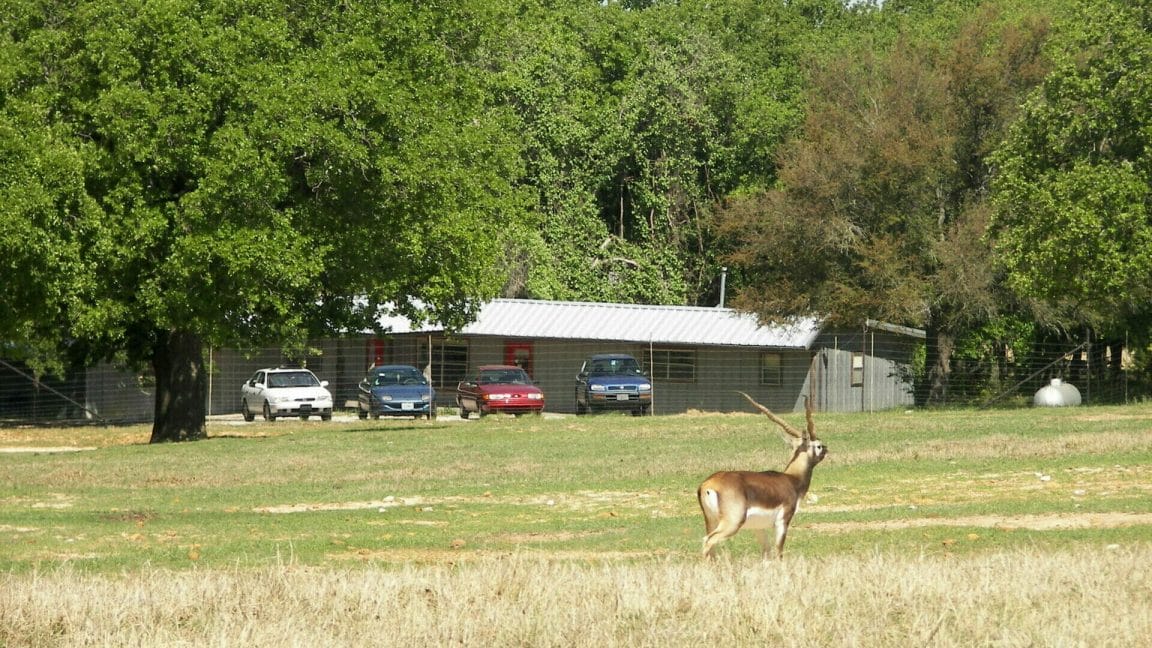 It's one of the biggest zoos in Texas. Visitors can explore the park on an exciting 5-mile drive across a beautiful landscape filled with fascinating animals.
During the drive, you can observe the wildlife up close and even hand-feed some of them.
Fossil Rim Wildlife Center is the best safari zoo in Texas, along with Natural Bridge Wildlife Ranch.
The park also offers a variety of educational programs for visitors to learn about conservation and animal care. Plus, you can participate in special activities like workshops, hikes, and more.
To make it even better, Fossil Rim Wildlife Center is open seven days a week, from 8:30 am to 3:30 pm. It's the perfect place for an unforgettable day of exploration and fun!
So, plenty of options are available if you're looking for a great zoo experience in Texas. Whether you want to explore an interactive zoo or experience wildlife up close and personal, there's something for everyone to enjoy.
Discover other parks and zoos in the US: