In this post, you'll discover the top 11 best digital nomad cities in Argentina for remotely working in South America. 
Looking for an inspiring destination with affordable living costs, great food and culture, friendly locals, and reliable internet connections?
Well, you cannot go wrong with Argentina! Also, you can book apartments, houses, and separate rooms in Argentina at affordable monthly pricing via Flatio here. That too without a deposit!
It's the third most populous South American country and the largest Spanish-speaking country in the world. It's also one of the safest South American countries right now.
And it's rich with beautiful landscapes, interesting history, thriving nightlife, and unique local cuisine.
11 Best Cities in Argentina for Digital Nomads
Many cities across this vast football-loving country offer perfect conditions for remote work, from vibrant Buenos Aires to colorful Bariloche. Let's start exploring Argentina's best digital nomad spots for remote workers.
1/ Buenos Aires
Buenos Aires is a bustling metropolis that offers travelers and those who pursue digital nomadism explore new places outside their work day.
But worry not, you can still enjoy affordable furnished living in Buenos Aires.
The city boasts some of South America's best restaurants, nightlife, and cultural experiences like theater and museums.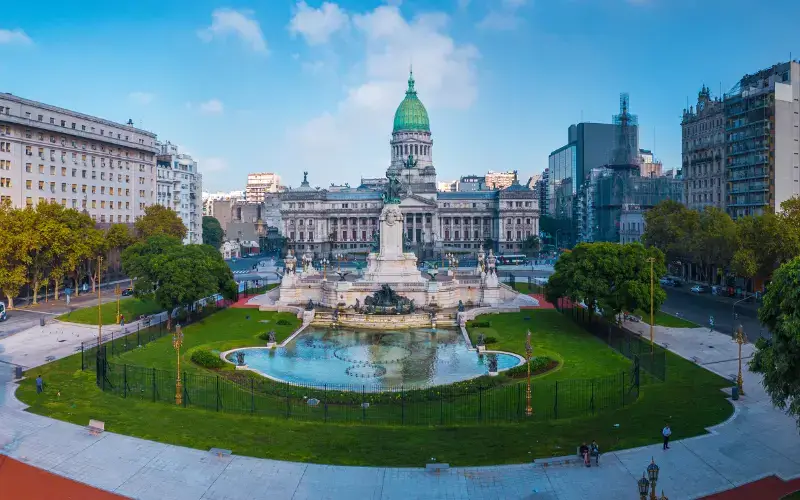 Regarding amenities, Buenos Aires has good transport links with two international airports and excellent cell phone coverage around most parts of the city.
Internet speeds are generally reliable at around 27Mbps which isn't blazing fast but will do just fine for most activities. The cost of living is moderate compared to other cities in Latin America at around $1,800/month, depending on your living arrangements.
It is one of Argentina's best digital nomad cities because it offers many job opportunities and a highly developed infrastructure.
Coworking Spaces in Buenos Aires
2/ Cordoba
Córdoba is one of Argentina's oldest cities and features beautiful colonial architecture, including churches and plazas. There are many affordable apartments and rooms in Cordoba, check out the amazing monthly rentals on Flatio.
The downtown area also offers plenty to do with a wide selection of shops, bars, and restaurants, perfect for any digital nomad's needs.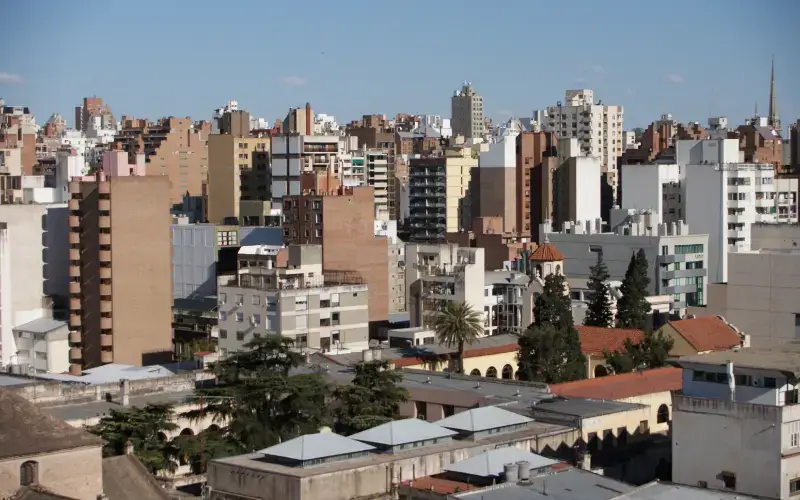 Transportation in Cordoba includes bus lines running throughout the city and an international airport connected to major hubs across South America.
Internet speeds in Cordoba are generally reliable, averaging around 20 to 25 Mbps. This is enough for most activities, such as video conferencing and streaming.
Regarding the cost of living, expenses can vary considerably depending on how you choose to live but expect to pay around $1,000/month for a room share or $2,500/month for a private apartment in one of the nicer neighborhoods close to downtown.
Cordoba is an attractive choice for digital nomads looking to spend time in Argentina. The city also has job opportunities in major IT, finance, and marketing industries. 
Argentinian Nomad Friendly Spots in Cordoba
3/ Rosario
Rosario is an excellent destination to experience the culture of Argentina while having all the amenities they need. And it's one of the best places for digital nomads in Argentina. 
You can find your digital nomadic home in Rosario at affordable pricing – equipped with fast internet and more.
This area has abundant cultural opportunities to explore and enjoy, from historical museums to stunning waterfront parks. Whether taking a stroll in one of the tranquil parks or learning about the city's past, there is something here for everyone.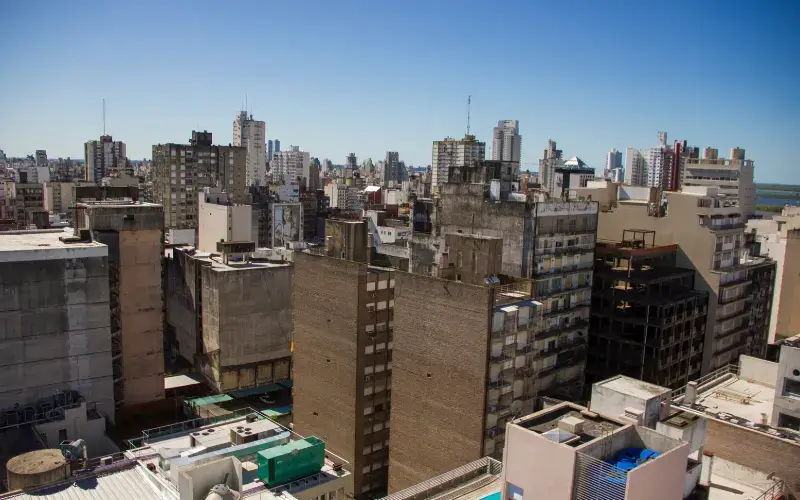 Internet speeds come in at around 26Mbps, making them similar to Cordoba. Residing in this area of town requires an average budget of between $1500 and $2000.
Transportation in Rosario is easy, with three international airports, a bus network, and bike lanes throughout the city.
Rosario has a good selection of IT companies and other industries, such as finance and marketing, for job opportunities.
Ultimately, Rosario is a great option for digital nomads who want to explore Argentinian culture while living and working remotely.
Coworking Spaces in Rosario
4/ Mar del Plata
Mar del Plata promises digital nomads a wonderful coastal experience, including beautiful panoramic views of the beach and the Atlantic Ocean.
Stroll through the La Perla neighborhood during the day and enjoy magnificent sunsets above local bars in the evening.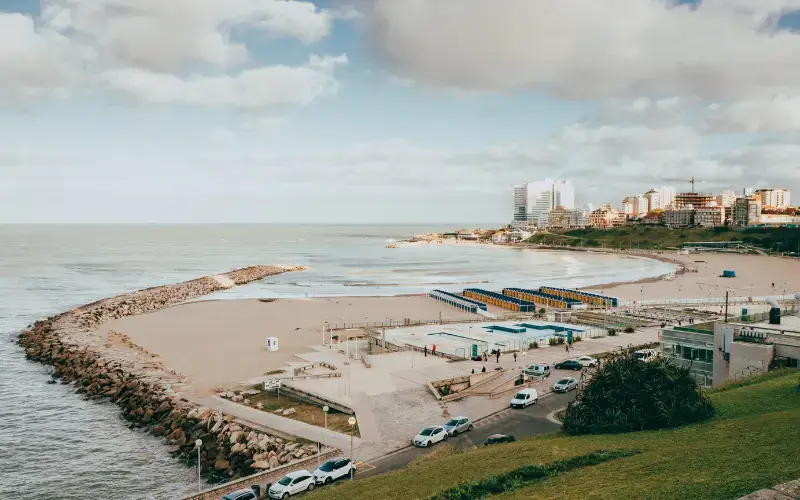 Reaching it can take some time due to its location, though buses run regularly from other major points throughout its province. Fortunately, the city has two international airports and good cell phone coverage.
Internet speeds in the city are decent, averaging 25 Mbps. Depending on your lifestyle, living expenses can vary dramatically – from as low as $1500 to upwards of $2300.
In conclusion, Mar del Plata is a great digital nomad destination if you're looking for a laid-back coastal lifestyle. It offers many amenities, including good internet speeds and job opportunities in the city's IT, finance, and marketing industries.
Digital Nomad Spots in Argentina's Mar del Plata for Work
5/ Salta
Digital nomads searching for a tranquil yet cosmopolitan atmosphere should look no further than Salta – it's the perfect destination.
The city is full of colonial charm and has plenty of cultural attractions such as historic churches and plazas. And it has many affordable apartments and houses.
Whether it's empanadas or Locro, some of the finest Argentinian dishes can be found in the local restaurants, cafes, and markets.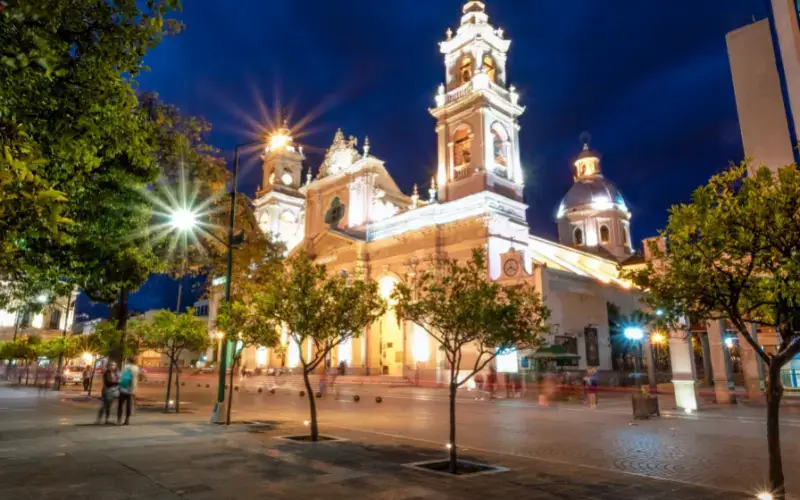 Transportation is easy with an international airport and bus network connecting to the surrounding provinces.
Internet speeds in Salta average around 28 Mbps, and living expenses vary from $1400 to $2500 per month, depending on the location and lifestyle.
The people of Salta are also very welcoming to digital nomads and provide a great opportunity to experience local culture.
All in all, Salta is an excellent opportunity for digital nomads looking to experience Argentinian culture and a relaxed lifestyle.
Coworking Spaces in Salta
6/ Ushuaia
Ushuaia, located at the outermost point of South America, is the southernmost city and an ideal hideaway for digital nomads who long to escape overcrowded tourist traps.
With its unparalleled remote location, Ushuaia offers a remarkable experience you won't find anywhere else along this coastline. And you can make it your home at an affordable rentals.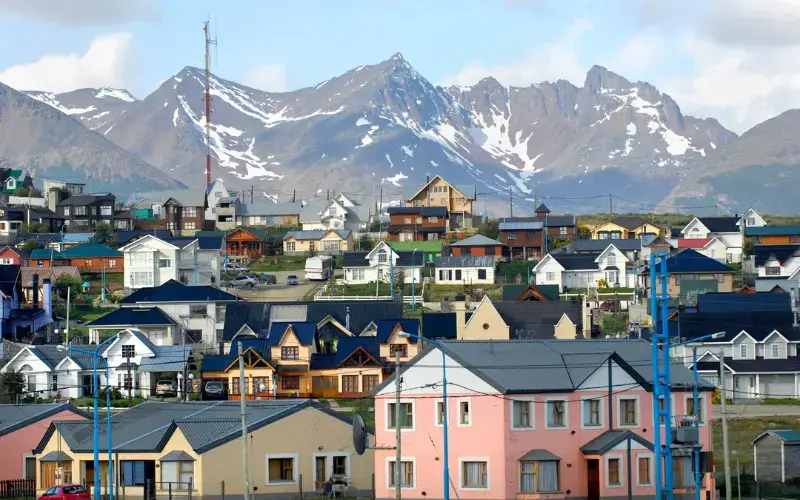 Besides its remarkable location, this city offers amazing sights like Tierra de Fuego National Park and nearby glaciers. We thrill-seekers who appreciate scaling nature reserves or leisurely kayaking in the sea will find plenty of activities.
With this connection, get ready to experience blazing-fast internet speeds of up to 24Mbps. Living expenses are also quite reasonable, ranging from $1700 to $2400 monthly.
If you're looking for an exotic digital nomad destination off the beaten path, Ushuaia is the place for you. With its unique location and many activities, this city provides an unforgettable adventure for any digital nomad.
Coworking Spaces in Ushuaia
7/ Bariloche
Bariloche is another popular option for finding great places with an interesting combination of attractions & activities. 
Plus, reliable transport links with domestic airports relating it both internally within Argentina & externally internationally elsewhere throughout its surrounding region.
And you can find a lot of affordable places to live in.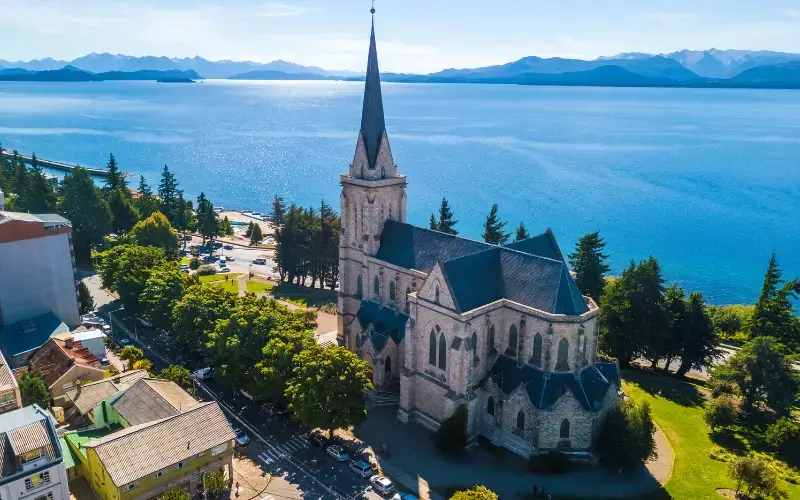 While wintertime is often associated with ski resorts, summer can still be a great time to explore Nahuel Huapi. From sailing on the lake and participating in local festivals to watching stunning sunsets, plenty of enjoyable experiences await you.
Regarding internet connection, speed here runs consistently between 22-28 Mbps, capable of performing most online tasks without interruptions.
Because of all the reasons above, I believe Bariloche is one of the best digital nomad places in Argentina, without a doubt. 
Spaces for Remotely Working in Argentina's Bariloche
8/ La Plata
La Plata is located just outside Buenos Aires; however, unlike its bigger sibling, this one offers a quieter, more relaxed atmosphere perfect for getting away from the hustle & bustle of city life.
When you need a break from the daily grind, why not take advantage of some remarkable architecture and gardens around town? Take a moment to revel in your surroundings, catch up on exploring the outdoors and admire what this beautiful city offers.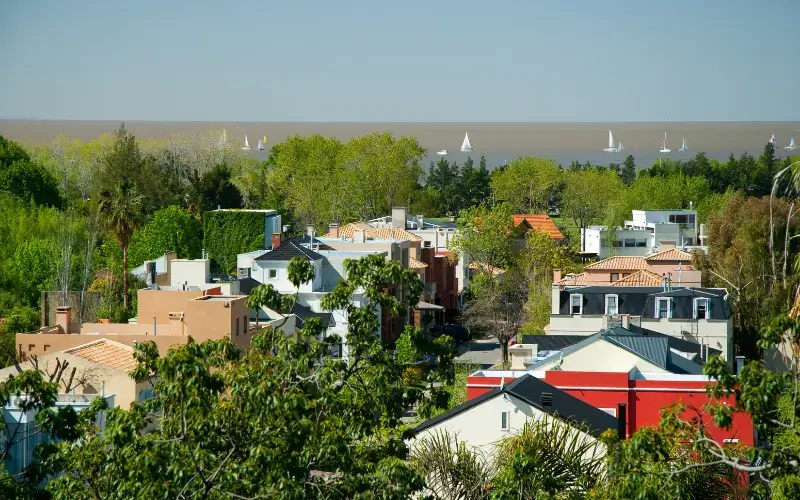 People of all ages can find something to do here, including young digital nomads looking for a change of scenery. La Plata has plenty of activities and attractions and is the perfect spot to relax and boost your creativity.
Speed-wise, reaching 26 Mbps allows one to perform almost everything without interruptions while living costs are between $2500 – $3600 per month, depending on lifestyle & location.
It's a little more expensive, but those looking to escape large crowds & experience Argentinian culture should try out La Plata. '
Coworking Spaces in La Plata
9/ San Luis
San Luis is the perfect spot for remote workers who want to experience small-town living with a rural feel while still having access to all the necessary amenities.
The city has an old colonial charm and many cultural attractions such as historic churches, plazas, and local festivities. San Luis also offers decent internet speeds at 25 Mbps, which are enough for most tasks and activities.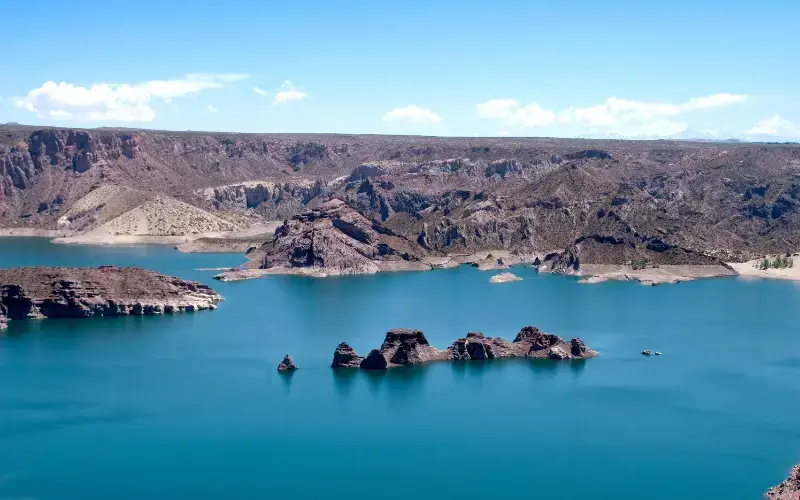 The cost of living is also relatively low, averaging around $2500/month. There are several nearby nature reserves and beaches to check out, too, adding to the appeal of this quaint city.
If you are looking for a relaxed lifestyle in an easy-going atmosphere, San Luis should be on your list.
This list of cities should provide digital nomads with plenty of options when considering their next destination in Argentina.
Coworking Spaces in San Luis
10/ Mendoza
For various reasons, Mendoza is one of the best Argentinian cities for digital nomads. The cosmopolitan city boasts a stunning natural landscape, with the Andes mountains offering a breathtaking backdrop. 
Mendoza offers a bustling city atmosphere while maintaining a relaxed life pace. This means that digital nomads can enjoy the conveniences of a big city while avoiding the stress and chaos that often come with it.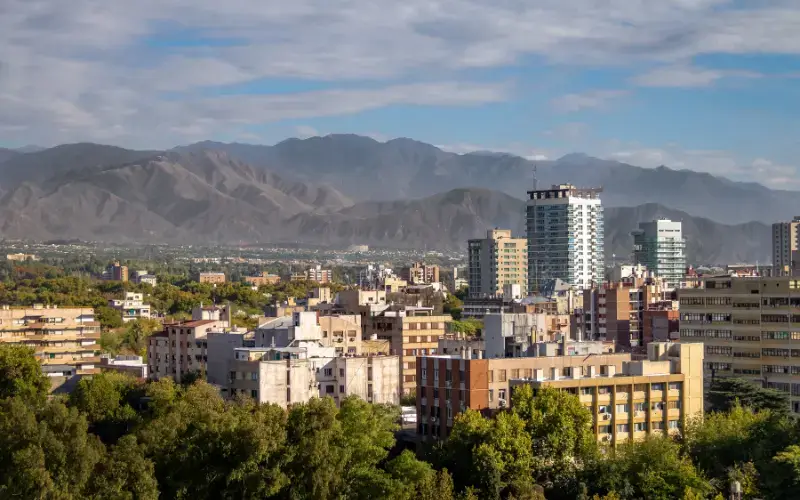 Regarding infrastructure, Mendoza offers a reliable internet connection, tons of coworking spaces, and a supportive entrepreneurial community.
Plus, the cost of living in Mendoza is far lower than in other major cities like Buenos Aires or Santiago.
I love Mendoza's tree-lined streets, Malbec wine, and world-class restaurants and spas.
Mendoza is known for its wine, with some of the best wineries in the world located just outside the city. You can participate in wine tastings, tours, and vineyard visits – perfect for networking and connecting with other professionals.
In short, Mendoza, Argentina, is a must-visit destination for any digital nomad looking for a balance of natural beauty, city conveniences, and an affordable cost of living.
Coworking Spaces in Menoza:
11/ San Martin de los Andes
Nestled in the foothills of the Andes mountains and surrounded by pristine lakes and forests, this charming city will enchant you with its natural beauty and laidback atmosphere.
It's the quieter sister of Bariloche!
But why specifically is San Martin de los Andes a great choice for remote workers and digital nomads like you?
Its affordable cost of living allows you to stretch your budget further while enjoying all the amenities you need, from cozy cafes to high-speed internet.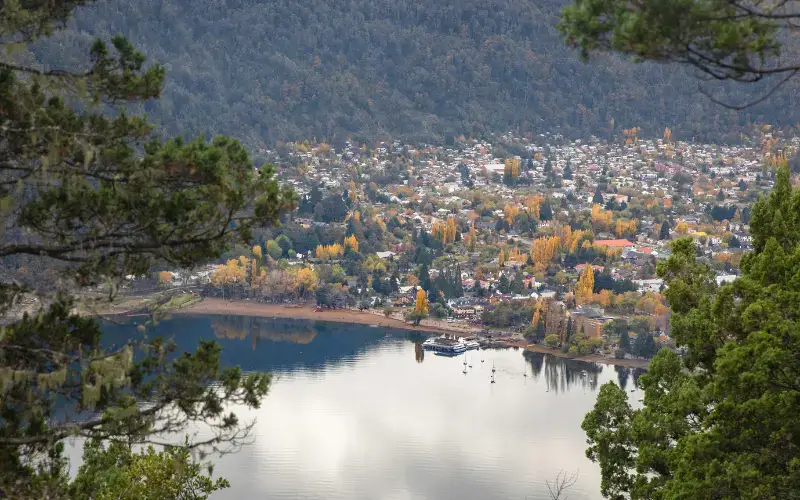 Also, its vibrant expat community makes it easy to connect with like-minded individuals and tap into a network of resources for professional growth.
And with outdoor activities like hiking, skiing, mountain biking, and kayaking at your doorstep, you'll never run out of inspiration for your projects. You can even take trips across the Andes to Chile. 
So if you want a change of scenery and a dose of adventure, San Martin de los Andes is the perfect choice for your next workstation.
Digital Nomad Spots in Argentina's San Martin de los Andes
My Final Thoughts On Argentina for Digital Nomads
Argentina is quickly becoming one of the top destinations for digital nomads and for a good reason!
Not only is it a stunningly beautiful country, but it also has a robust infrastructure that makes it easy to work remotely. 
Plus, many great places to live and work throughout the country exist. And you can find your home in Argentina at an affordable monthly rental via Flatio.
Buenos Aires is a great choice if you're looking for a bustling city with plenty of energy. The city is home to some of the best restaurants and nightlife in the world, and there are many coworking spaces and cafes there. 
And if you crave nature and outdoor activities, choose Bariloche to live and work remotely from Argentina. It is a paradise for hikers, skiers, and adventurers. 
"But I want something a bit more off the beaten path."
Great, then go for Cordoba. This charming city is known for its beautiful colonial architecture and rich cultural heritage, and it also has a growing tech scene. And it's quite affordable compared to other major cities in Argentina. 
So which of these digital nomad cities in Argentina will you choose? Let me know in the comments below because I always reply :) Also, discover more about digital nomadism here.