The government has announced a new Malaysian visa to entice digital nomads with a low cost of living. You can apply for a remote work visa with your family.
In this post, you'll learn about the Malaysia digital nomad visa requirements, fees, application process, and more.
A digital nomad visa is a special visa for people working online. It allows you to live and work in a country for a certain time, usually a year.
You must earn the required income and meet other requirements to apply for the visa. Click on the blue button to learn more about this.
Malaysia's DE Rantau Nomad Pass 
The DE Rantau Nomad Pass is a Malaysian digital nomad visa that allows digital nomads and remote workers to stay in Malaysia for 3 to 12 months. 
You can renew your visa for another 12 months. So, you can live and work in a Southeast Asian country for up to 2 years on this visa.
Have a look at quick details about the Malaysian digital nomad visa:
| | |
| --- | --- |
| Income Required | $24000/Year |
| Visa Fee | MYR1000 ($218) |
| Visa Fee/Dependent | MYR500 ($109) |
| Income Tax | Not Confirmed Yet |
| Allowed Stay | 3-12 Months |
Malaysia Remote Work Visa Benefits
There are many benefits of the Malaysian digital nomad visa.
For example, you can:
Also, the Malaysia Digital Economy Corporation (MDEC) offers the DE Rantau program, which includes special services and facilities to ease your stay and make it productive.
The MDEC has established numerous "nomad-ready hubs" and ecosystem partners nationwide. That means you can find all the necessary resources to work and live comfortably in Malaysia.
With all these great benefits and resources available, there's no reason not to take advantage of everything Malaysia offers!
Malaysia Digital Nomad Visa Requirements
The requirements for the Malaysian remote work visa as of now include:
You Must Provide Proof of Work
You must provide an active project or employment contract for more than 3 months. The project's clientele may be both local and international.
But with the employment contract, The employer must be based outside of Malaysia. The good news is that you don't need to show your payment history. I'll update here if it's required!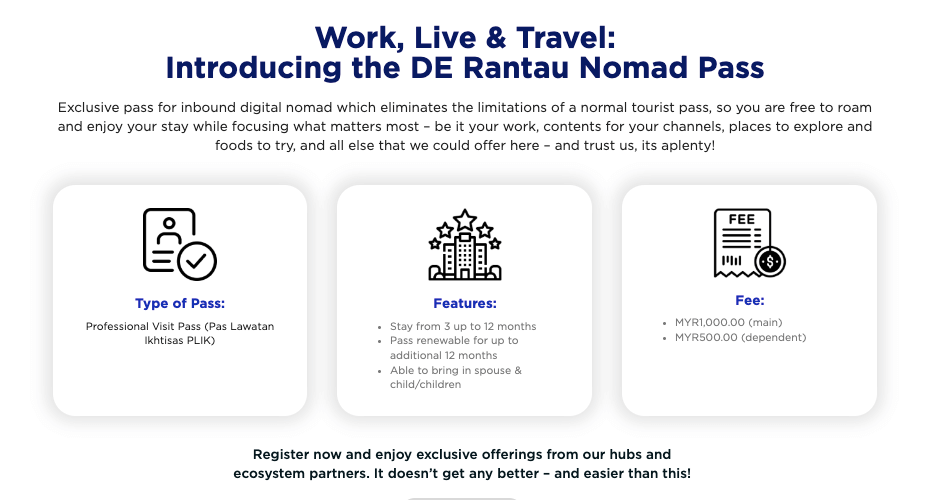 Let me share some examples of digital professions that allow you to work remotely from Malaysia:
And the list goes on!
The Malaysian digital nomad pass may require international health insurance and criminal background checks.
How to Apply for the Malaysia Digital Nomad Visa?
Malaysian remote work visa applications are now open. You can apply online through the MDEC website.
The application process for the DE Rantau Nomad Pass is still being finalized.
But it will most likely include an online application, submission of supporting documents, and payment of the visa fee (1000MYR for you and MYR500 for each dependent).

The good news is that you can include your spouse and kids below 18 years old in your visa application. And there's no limit on the number of entries you can make into Malaysia.
Once your application is approved, you'll receive a visa approval letter. After you arrive in Malaysia, you must register with the MDEC within 14 days and submit your biometrics (fingerprints and photographs).
And that's it! You're ready to discover #WorkFromMalaysia opportunities with DE Rantau.
Other Visa Options for Digital Nomads in Malaysia
Most digital nomads and remote workers rely on a tourist visa that allows you to stay 14 to 90 days in Malaysia, depending on your home country. 
But legally, you cannot work on a tourist visa. Should you? Let me know in the comments below :p
The Malaysia Multiple Entry Visa is a great option for those who intend to visit Malaysia multiple times within three months.
It allows for a stay of either 15 or 30 consecutive days with each entry, and you can use it up to three times.
This visa is perfect for those who want to explore all Malaysia offers without worrying about renewing their visa each time they enter the country.
Other types of visas would allow you to work in Malaysia, such as investor and professional visit passes. 
An investor must make a fixed deposit of at least $2 million at any Malaysian bank. You can withdraw the amount after 5 years.
With that said, the Malaysia digital nomad visa, called the DE Rantau Nomad Pass, is the only visa you should go for! But why should you pick Malaysia to become your next digital nomad destination?
Malaysia for Digital Nomads?
Have a look at the country's profile
| | |
| --- | --- |
| Government Type | Constitutional Monarchy |
| Currency | Ringgit (MYR) |
| Major Languages | Malay & English |
| Average Climate | Tropical (25.4°C) |
| Internet Speed | 35Mbps |
| Average Rent | $300-$400/month |
| Places to Work From | Many many |
| Safety and Security | Commendable |
Malaysia is one of the best Asian countries for digital nomads because of:
And so much more! Let's get into a little detail now.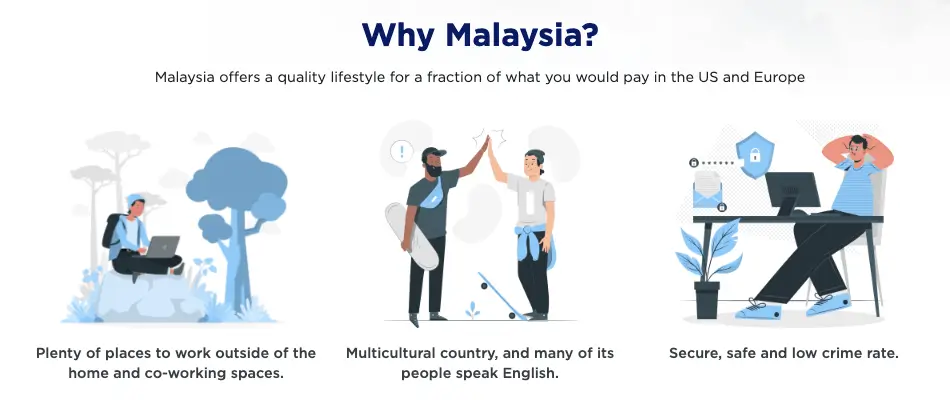 1/ Low Cost of Living
The cost of living in Malaysia is less than $1000 per month for an individual and around $2400 for a digital nomad family. This estimate includes food, internet, rent, phone expenses, and social life costs.
2/ Fast Internet Connectivity
According to the Speedtest Global Index by Ookla, Malaysia has ranked the 39th country worldwide for fixed broadband speeds and 62nd for mobile broadband speeds.
Malaysia's average broad download speed is 85 Mbps, while the average mobile internet download speed is 30.5 Mbps. These speeds are fast enough to get your work done without any hiccups!
3/ Multiculturalism and Diversity
Malaysia is a culturally diverse country. The official religion of Malaysia is Islam, but you'll find a harmonious mix of people from different religions living here.
You'll find churches, temples, and mosques standing side by side in many places! And most people here in Malaysia speak English, so you don't have to worry about the language barrier.
4/ Commendable Healthcare and Education
Malaysia has excellent healthcare and higher-education systems. The schooling is okayish! But you can find many awesome schools in popular cities like Kuala Lumpur. And that's important for digital nomad families.
5/ Beautiful Landscapes and Beaches.
Malaysia is a beautiful country with plenty of natural landscapes and beaches to explore. There's so much to see and do, from the highlands to the islands in Malaysia!
Places like Langkawi, Penang, and Perhentian Islands will take your breath away.
7/ Low Crime Rate
You should apply for Malaysia digital nomad visa because Malaysia is a relatively safe country. The crime rate here is low, and you'll feel safe walking around at night. And the crime rate in Malaysia is decreasing day by day.
Top Coworking Spaces in Malaysia
Coworking spaces are important for digital nomads as they provide a place to work and meet other like-minded people. You'll find many coworking spaces and cafes to choose from in Malaysia
Let's find out more on this right now.
Coworking Spaces in Kuala Lumpur
Coworking Spaces in Penang
Coworking Spaces in Langkawi
Coworking Spaces in Kota Kinabalu
That's it for now! Let's find some of the top places you can stay as a digital freelancer in Malaysia.
Best Places for Digital Nomads & Remote Workers in Malaysia
Malaysia is a great choice if you're looking for a great place to work as a digital nomad. There are many cities, islands, and towns to choose from. Let's look at some of Malaysia's best places for digital nomads.
1/ Kuala Lumpur
Kuala Lumpur is the capital city of Malaysia and one of the most popular places for digital nomads. The city has a great infrastructure, and you'll find many coworking spaces, cafes, and restaurants here.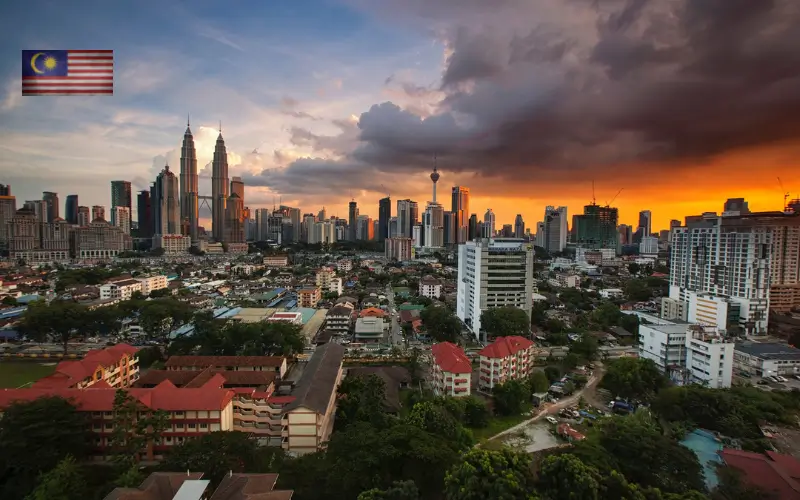 2/ Penang
Penang is a foodie's paradise and one of Malaysia's most popular places for digital nomads. The island has many coworking spaces, and you'll find many cafes and restaurants here.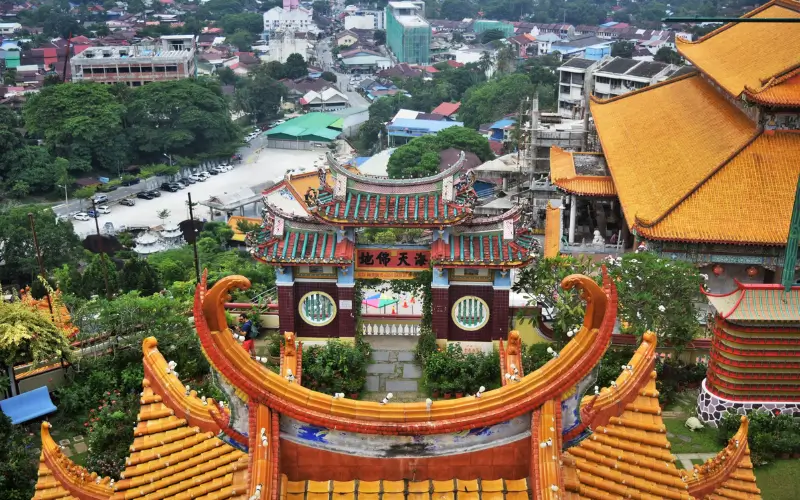 3/ Langkawi
Langkawi is an island paradise and a great place to work as a digital nomad. The island has beautiful tropical vibes and a laid-back atmosphere. And you'll find plenty of things to do here.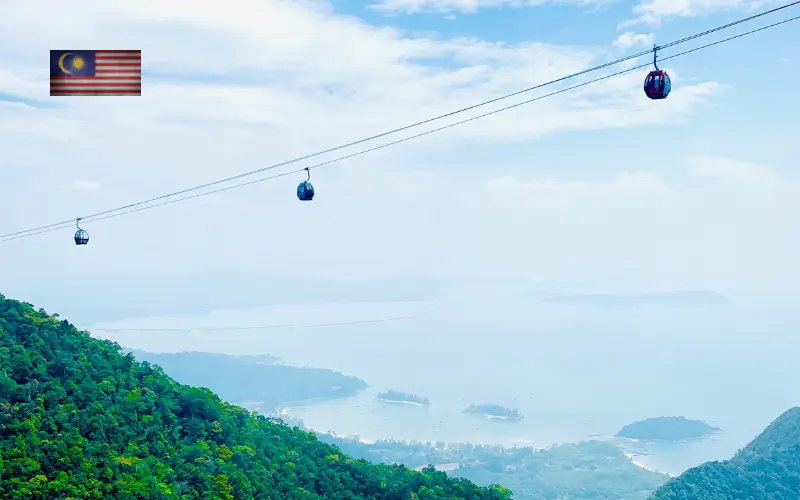 4/ Kota Kinabalu
Kota Kinabalu is the capital city of Sabah, and it's a great place to work and live as a digital nomad. The city has all the amenities you need, and it's also close to nature. You'll find mountains, islands, and cultural villages nearby.
5/ Melaka
Melaka is a UNESCO World Heritage site with a rich history, and you'll find many digital nomad-friendly cafes here. You'll also love street art, food, cultural sites like museums, etc.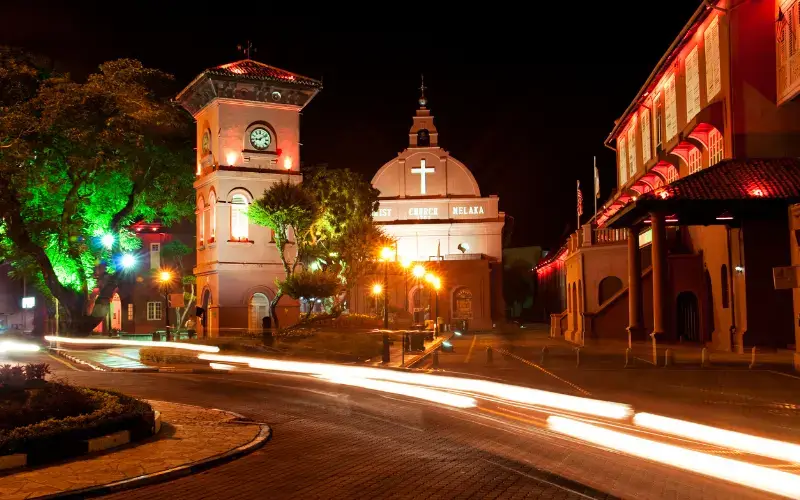 Whether looking for an affordable place to live and work or simply wanting to explore a new culture, Malaysia is the perfect destination for digital nomads. So what are you waiting for? Start planning your trip today!
FAQs for the Malaysian Digital Nomad Visa 2023
Now that you know the reasons for visiting Malaysia and the Malaysian digital nomad visa requirements, let me answer some FAQs about the visa.
1/ Who Can Apply for Malaysia Remote Work Visa?
Anyone can apply for a Malaysian remote work visa if they meet the requirements. And that includes proof of minimum annual income of $24000, remote work, and a valid passport. You may also need to pay for visa fees and health insurance.
2/ How Much Does Malaysia Digital Nomad Visa Cost?
The DE Rantau Nomad Pass visa fees are MYR1000 (approx. $218) for you and an additional MYR500 (approx. $109) per dependent.
Yes, being a digital nomad is a legit way of life, and many people do it worldwide. But you need a special digital nomad visa to work and live in a foreign country like Malaysia as a digital nomad.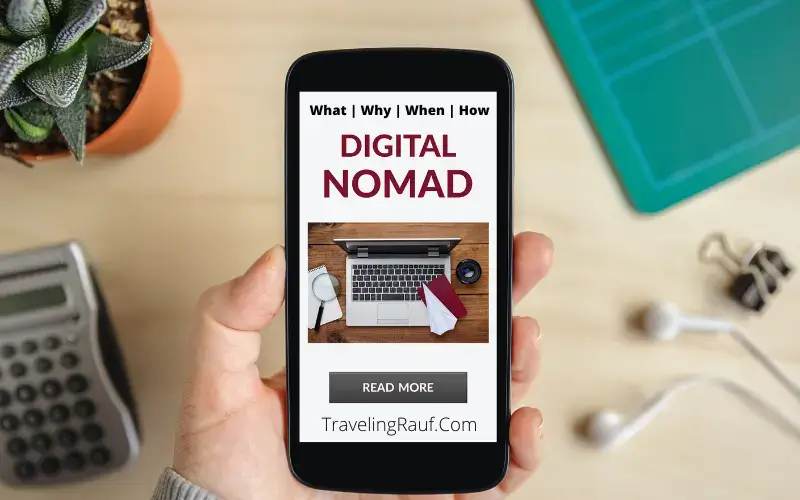 4/ What is the Duration of a Malaysia Digital Nomad Visa?
You can stay in Malaysia for 3 up to 12 months with DE Rantau Nomad Pass, which is renewable for up to additional 12 months. So you can do remote work and live in the country for up to 2 years in total if you want to. 
5/ Which Countries Offer Digital Nomad Visas?
Many countries offer remote work visas, and each country has different requirements. I have covered UAE digital nomad visa, Costa Rica digital nomad visa, and Thailand digital nomad visa for now.