Dreaming of a Greek getaway but concerned about your budget?
Worry not! I'm about to spill the beans on some awe-inspiring and pocket-friendly alternatives that will transport you to paradise without emptying your wallet. 
Or you may have already visited this beautiful European country and want to visit some unique yet similar places.
So buckle up, and discover places like Greece to visit but cheaper. These destinations rival the Greek beauty, culture, and experiences. 
But remember, all the destinations in the world are unique in their ways! And there are simply no alternatives at all. 
I find places with similar vibes and a few criteria. Earlier, I wrote about the European Maldives, Towns like Giethoorn, Ibiza alternatives, and more. 
With that said, let's dive in!
Making Sense of Greece & Criteria to Choose the Alternatives
Ah, Greece! The land of ancient wonders, breathtaking vistas, and a culture that dances to its rhythm. And let's not forget about the blue-domed churches in Santorini. No wonder travelers have fallen head over heels for this Mediterranean marvel. 
No place in the world is like Greece! It has everything from jaw-dropping Santorini sunsets to the ancient wonders of Athens and the sun-kissed beaches of Crete. 
The legends of mythology, the lip-smacking cuisine, and the warm embrace of Greek hospitality create an irresistible cocktail of travel goodness. 
So, I have chosen these places based on the things given above Greece is famous for. 
Keep your eyes peeled for destinations with the following:
Rich historical tapestry.
Jaw-dropping landscapes.
A vibrant local culture and cuisine.
13 Places like Greece to Visit But Cheaper
These destinations may not replicate Greece entirely, but they share elements such as beautiful coastlines, cultural heritage, and a laid-back atmosphere that evoke a spirit similar to what Greece is famous for.
1/ Florida, US – Similar Ambiance and Coastal Charm
Florida is an excellent choice if you're looking for the best places like Greece in the US with a similar coastal ambiance and charm.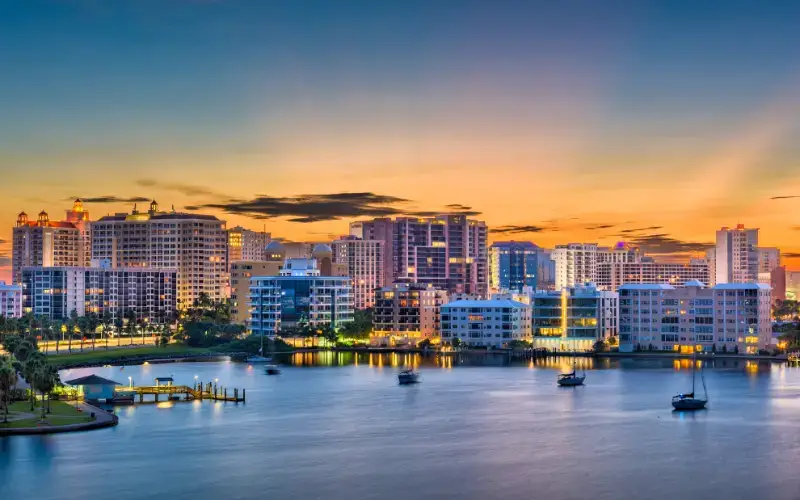 Florida offers a unique blend of relaxation and excitement with its stunning beaches, vibrant cities, and diverse cultural experiences. 
1.1/ Miami: The Magic City
Florida's vibrant Miami neighborhoods of South Beach and Wynwood beckon with their colorful street art and lively atmosphere. 
Indulge in a melting pot of flavors, from Latin American to Caribbean cuisines, and soak up the sun on the sandy shores of Miami Beach.
1.2/ Key West: Island Paradise
Key West is one of the best places like the Greek islands, brimming with laid-back vibes and a thriving arts scene. Explore the charming streets lined with pastel-colored houses, soak up the lively energy of Duval Street, and witness the breathtaking sunsets that paint the sky in hues of gold and orange.
1.3/ St. Augustine: Historic Beauty
Discover the allure of St. Augustine, the oldest continuously inhabited city in the US. Lose yourself in the narrow cobblestone streets, admire the Spanish colonial architecture, and immerse yourself in the city's rich history like in Greece. 
1.4/ Naples: Gulf Coast Luxury
Experience a touch of luxury on Florida's Gulf Coast in Naples. Enjoy pristine beaches, upscale shopping, and championship golf courses. Indulge in the vibrant culinary scene and bask in the beauty of the Gulf of Mexico's turquoise waters.
1.5/ Amelia Island: Seaside Serenity
Find serenity on Amelia Island, a tranquil retreat with uncrowded beaches and Victorian charm. 
Take leisurely walks along the shoreline, explore the quaint streets of Fernandina Beach, and immerse yourself in the island's rich history at Fort Clinch State Park.
2/ Mani Peninsula – Santorini Alternative in Greece
Mani Peninsula is one of the best places like Santorini in Greece. It's a hidden gem that radiates Santorini vibes with its unique twist!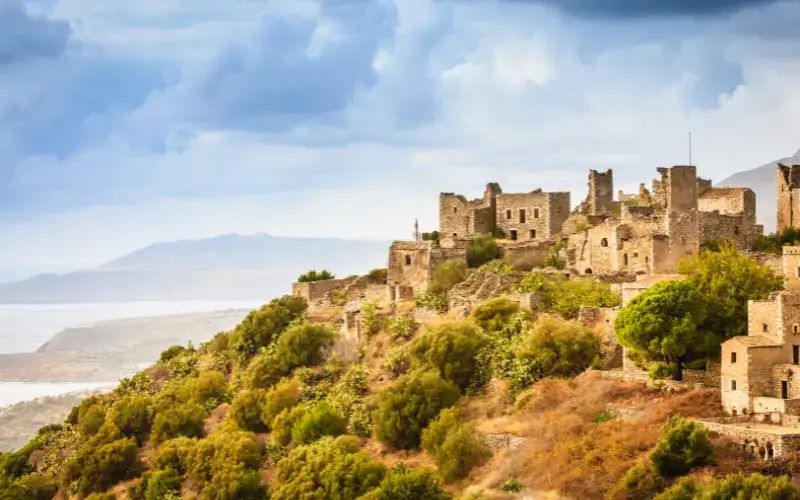 Prepare for a road-trip extravaganza through a landscape that will leave you breathless. Picture castle towns atop hills, granting spectacular panoramic views of the mesmerizing sea. 
Explore these fortified gems, immerse yourself in the local communities, and savor the flavors of one of Greece's most delectable cuisines.
Also it has a rich history. Engage with the proud descendants of Ancient Spartans, who will regale you with tales of daring cursors, swashbuckling pirates, and perhaps even hidden treasures. 
Wander through the enchanting stone alleys of Areopolis or embark on a thrilling boat ride to the awe-inspiring Diros Caves. 
Mani Peninsula promises an unforgettable journey through one of Greece's best-kept secrets, from the breathtaking vistas to the mouthwatering cuisine and the captivating tales that echo through its stone walls.
3/ Amalfi Coast in Italy – Similar Coastline & Seaside Towns
For those captivated by Greece's coastline and enchanting seaside towns, the Amalfi Coast in Italy offers a comparable allure. That's why it's one of the best places like Greece in Europe.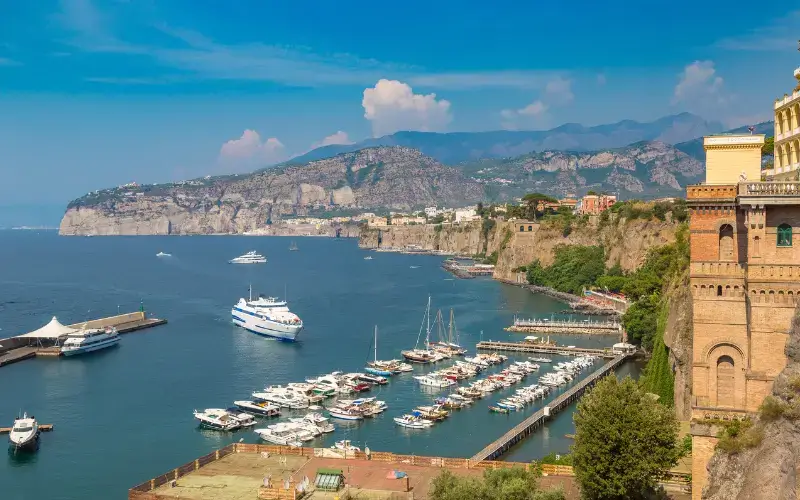 With breathtaking views, picturesque cliffside villages, and azure waters, the Amalfi Coast is a Mediterranean gem with charm and beauty.
The town of Amalfi, nestled between rugged cliffs and the shimmering Tyrrhenian Sea, is a destination rich in history and natural beauty.
Perched high above the Amalfi Coast, Ravello offers a peaceful retreat with panoramic views of the coastline below. Visit Villa Cimbrone and its breathtaking Terrace of Infinity, where the azure sea seems to merge with the sky.
With its pastel-colored houses cascading down the cliffs to meet the sparkling sea, Positano is the epitome of coastal beauty.
Sorrento, perched atop cliffs overlooking the Bay of Naples, serves as a gateway to the Amalfi Coast. Admire the views of Mount Vesuvius and the stunning sunsets over the sea. Taste the famous Limoncello liqueur made from the region's fragrant lemons. 
4/ Dubrovnik in Croatia – Breathtaking Architecture & History
Croatia has become increasingly popular with its idyllic coastline and charming medieval towns in recent years. However, compared to Greece, it still offers relatively lower prices.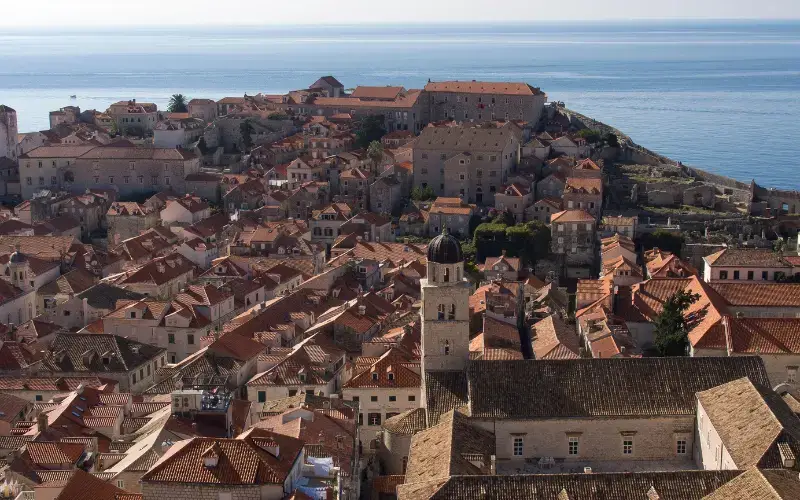 Discover the stunning Plitvice Lakes National Park, a UNESCO World Heritage Site. And unwind on the beautiful beaches of the Dalmatian Coast, dotted with charming islands like Hvar and Korcula.
Dubrovnik is the perfect alternative to Greece with its ancient vibes, stunning coastal beauty, and delicious cuisine. 
Explore the city walls and historic landmarks reminiscent of Greece's rich history. Bask in the turquoise waters and relax on picturesque beaches that rival Santorini. 
Indulge in mouthwatering Mediterranean flavors and fresh seafood that will leave you craving more. Dubrovnik offers a Greek-inspired experience with a Croatian twist. Opa!
5/ Cyprus – Cheaper Place Similar to Greece 
Say hello to Cyprus, a budget-friendly haven practically shouting, "Come on over and experience all the Greek goodness without breaking the bank!"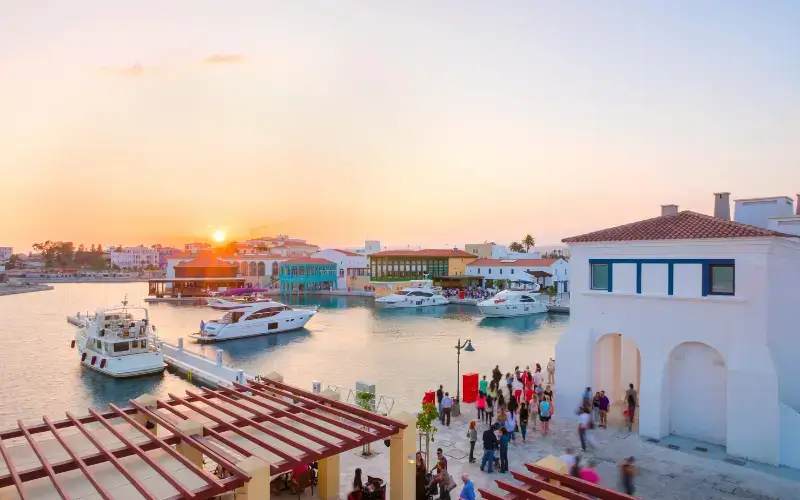 Cyprus has a special connection with Greek culture. Most of the population here is Greek Cypriots, so you know you're in for an authentic Greek experience. 
And let me tell you, the Cypriot and Northern Cypriot regions are some of the safest places, despite some past tiffs over the island's future.
And you can enjoy pristine beaches, crystal-clear waters, and historical sites that'll transport you back in time, just like Greece. 
Explore ancient ruins.
Stuff your face with mouthwatering Mediterranean cuisine.
And get ready for some serious warm Cypriot hospitality.
You can soak up the sun, dive into history, and soak in Cyprus's unique charm without auctioning off your belongings. This is the ultimate Greek-infused paradise that won't drain your savings. 
6/ Aswan in Egypt – Off-the-Beaten Alternative 
Aswan is one of Egypt's hidden gems to visit if you are craving an adventure off the beaten path. It's a secret rendezvous with ancient wonders, vibrant culture, and jaw-dropping natural beauty.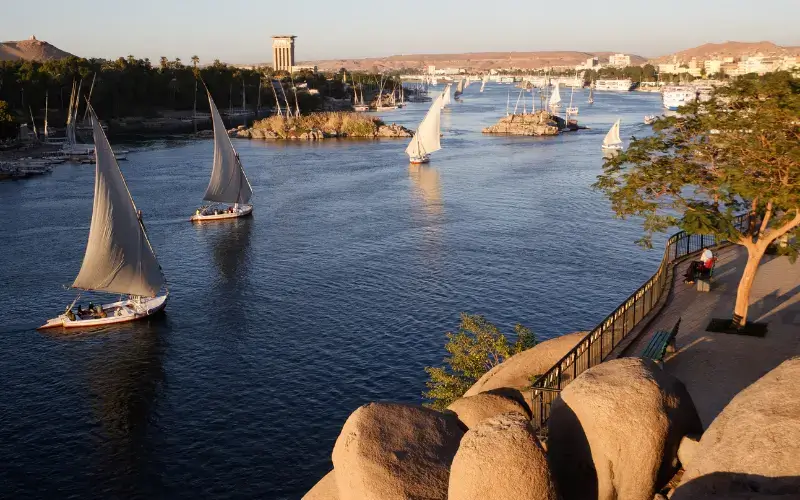 Like blue-domed churches in Greece, you'll find beautiful temples here in Aswan. Philae Temple on Agilkia Island is a total showstopper. 
Also, hop on a traditional felucca boat and sail the serene Nile to reach this island oasis. It's like stepping into a time machine that takes you back to Greece's awe-inspiring archaeological sites.
If you love history, brace yourself for Abu Simbel, an archaeological site that'll leave you gasping for air. Built by the mighty Pharaoh Ramses II, these temples are carved into the mountainside. 
While in Aswa, soak up the vibrant Nubian culture in the charming Nubian villages. Picture strolling through streets bursting with houses painted in vibrant shades of blue, pink, and orange. 
This island oasis is the perfect spot to unwind and recharge, combining ancient history and natural beauty in a way Greece would envy.
7/ Luxor in Egypt – Similar Coastline Experience
Luxor is a fantastic alternative to Greece in Egypt. While it may not boast a traditional coastline, Luxor's magical setting along the banks of the mighty Nile River will transport you to a world of ancient wonders and enchanting experiences.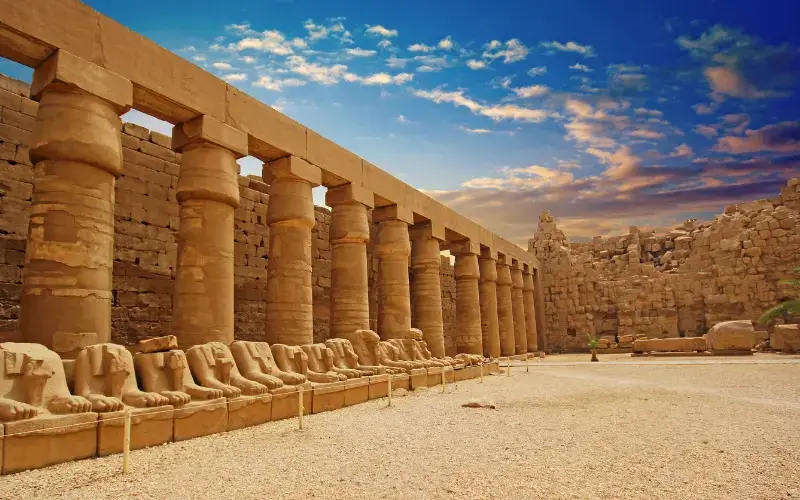 Luxor is like stepping into the world's largest open-air museum, where ancient temples and archaeological sites await your discovery. For example, Karnak Temple is a masterpiece adorned with towering columns and intricate hieroglyphs.
Also, check out Luxor Temple, right in the city's heart, a beautifully preserved complex that comes to life when the night illuminates its glorious beauty. 
Take a hot air balloon ride and witness the sun's golden glow casting a spellbinding aura upon Luxor's temples and lush green fields. It's a magical scene straight out of a Greek dream.
Cool off with a felucca ride along the Nile, embracing the gentle breeze and picturesque riverbanks. Treat yourself to a romantic sunset cruise, painting vibrant hues across the tranquil waters.
While lacking sandy shores, Luxor's Nile River location offers a blend of history, culture, and natural beauty akin to Greece's coastal charm. 
8/ Istanbul in Turkey – Unique & Mesmerizing Landscapes
Looking for a Greek-like experience without actually being in Greece? Istanbul in Turkey is the perfect alternative to sweep you off your feet.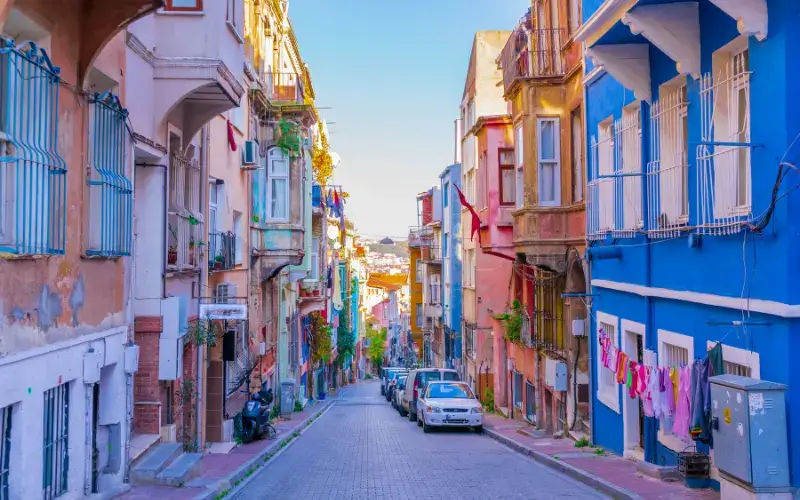 Stroll through Istanbul's vibrant streets and witness the seamless blend of ancient wonders and modern marvels. You'll be in awe at every turn, from the iconic Hagia Sophia to the contemporary skyline.
But Istanbul's charm doesn't end there. 
Embark on a boat ride along the Bosphorus Strait, where Europe and Asia meet in a breathtaking display of beauty. 
For an unforgettable retreat, escape to the Princes' Islands, just a short boat ride away. Explore car-free islands adorned with Victorian-era mansions and lush gardens. 
Bask in the serenity of pristine beaches and enjoy leisurely picnics by the waterfront. It's a hidden paradise away from the city's hustle and bustle.
And let's not forget about the mouthwatering cuisine. Treat your taste buds to succulent kebabs, savory Turkish delights, and aromatic Turkish tea. 
So, pack your bags, embrace the spirit of adventure, and get ready to immerse yourself in Istanbul's captivating landscapes. It's a destination that will transport you to a world reminiscent of Greece, leaving lasting memories and a smile on your face.
9/ Mallorca, Spain – Similar Mediterranean Vibes
Mallorca is another Greek-like alternative that offers a unique and enchanting experience with its stunning beaches, rich culture, beautiful landscape, and Mediterranean vibes.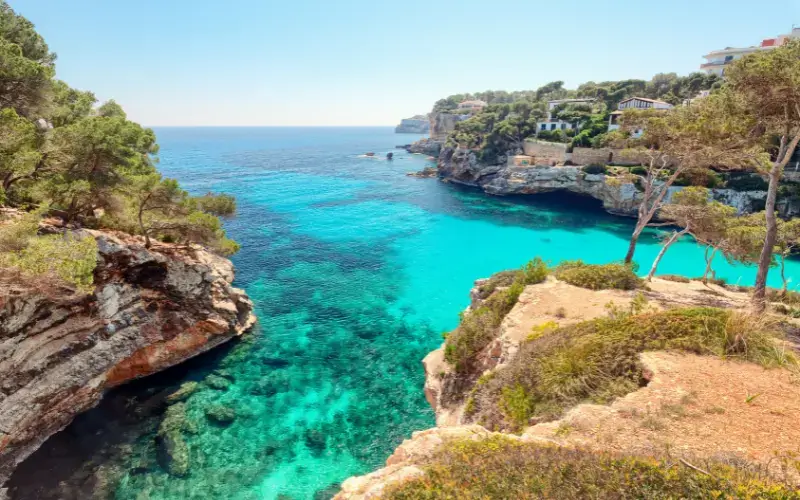 Mallorca is renowned for its stunning beaches with crystal-clear turquoise waters and soft golden sands. You can relax under the Mediterranean sun, swim in the refreshing waters, or indulge in exciting water sports.
Also, it's steeped in rich history and culture. You can explore charming historic towns and villages like Palma de Mallorca, where you can wander through narrow streets lined with traditional architecture and discover hidden gems around every corner. 
Immerse yourself in local traditions and festivals, such as the lively Sant Joan Festival, where fireworks, bonfires, and music create a vibrant atmosphere.
Mediterranean Cuisine: Indulge in the flavors of the Mediterranean with Mallorca's delicious cuisine – from fresh seafood dishes to traditional Spanish tapas and local specialties like paella.
And finally, Mallorca offers diverse landscapes and many outdoor activities that rival the Greek islands. 
From dramatic mountain ranges like the Serra de Tramuntana, a UNESCO World Heritage Site, to rolling countryside, olive groves, and vineyards, there's no shortage of natural beauty to explore.
10/ French Riviera – One of the Better Alternatives to Greece
The French Riviera is a top choice for any traveler because of its glamorous beaches, charming coastal towns, art, and culture.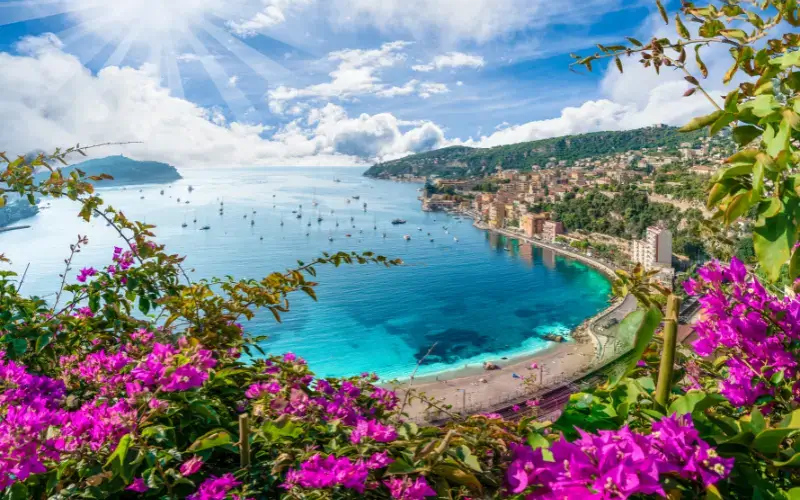 You can experience the allure of the French Riviera's stunning beaches, known for their elegance and vibrant atmosphere. And explore picturesque towns like Nice, Cannes, and Saint-Tropez, where you'll find a blend of history, culture, and luxury.
The French Riviera is a hub for art and culture, with renowned museums, galleries, and festivals showcasing world-class talent. 
And you can also indulge in the region's exquisite cuisine, from fresh seafood to Provençal specialties, accompanied by fine French wines.
Also, French Riviera offers a refined and cosmopolitan ambiance, from upscale resorts and boutique shops to glamorous nightlife. All in all, it's a captivating alternative to Greece, combining coastal beauty with a touch of French sophistication.
11/ Corsica – Mediterranean Coastline & Rich Culture
Let me enlist Corsica on the list because of its Mediterranean coastline, rich cultural heritage, and a sense of adventure that will leave you enchanted.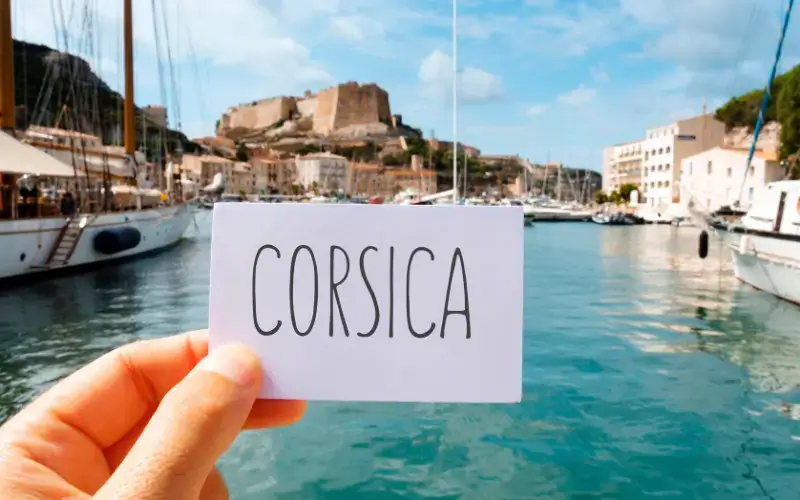 Corsica boasts pristine beaches, hidden coves, and turquoise waters, offering a Mediterranean paradise comparable to Greece.
And you can also explore rugged mountains, lush forests, and dramatic cliffs, immersing yourself in Corsica's diverse and awe-inspiring landscapes.
Also, Corsica's unique blend of French and Italian influences is reflected in its cuisine, traditions, and charming villages. 
And there's no shortage of things to do there. You can enjoy thrilling activities like hiking, diving, and sailing, taking full advantage of Corsica's outdoor playground.
From vibrant local markets to traditional festivals, Corsica invites you to immerse yourself in its authentic and vibrant culture.
12/ Malta – Similar Historical & Cultural Heritage
If you're looking for a destination similar to Greece's historical and cultural heritage, look no further than Malta.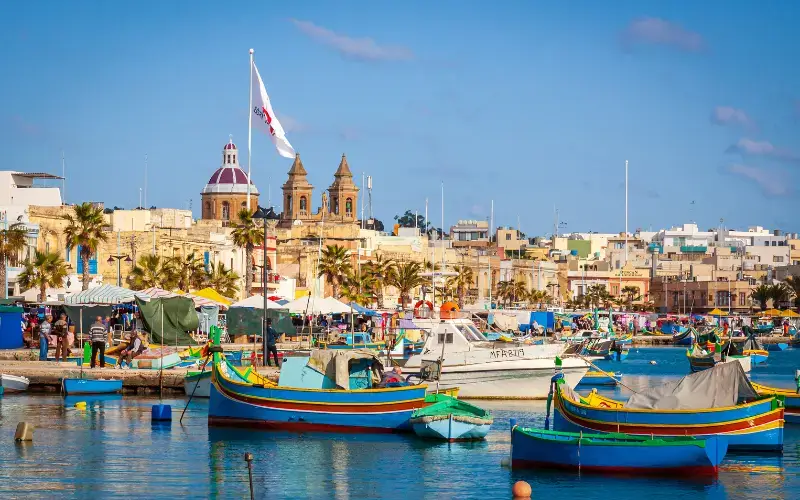 Explore the ancient ruins, megalithic temples, and medieval fortifications that showcase Malta's rich historical past.
Malta is home to three UNESCO World Heritage Sites, including the ancient city of Valletta and the prehistoric temples of Ħaġar Qim and Mnajdra.
You can also admire charming architecture with influences from various civilizations, such as the Knights of St. John and the Arabs. 
And you'll fal in love with traditional Maltese festivals, processions, and cultural events that bring the island's heritage to life.
The beauty of Malta's sister islands, Gozo and Comino, is on the next level with their picturesque landscapes and tranquil beaches.
So, the historical treasures, cultural celebrations, and Mediterranean charm make Malta comparable to Greece. 
13/ Montenegro – Places like Greece but Cheaper
Looking to experience the Greek vibes without breaking the bank? Look no further than Montenegro, a hidden gem that offers a budget-friendly alternative.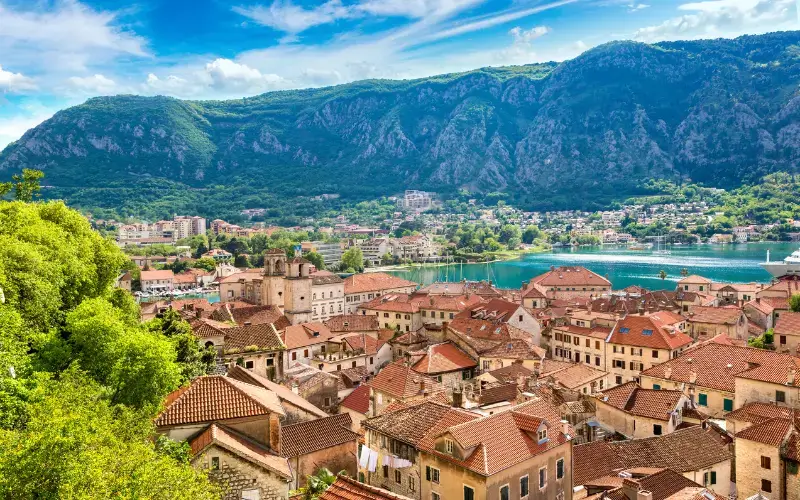 Montenegro boasts stunning beaches with crystal-clear waters that rival the Greek islands but without the hefty price tag. Soak up the sun, dip in the refreshing sea, and enjoy the coastal beauty without worrying about your wallet.
You can also discover the enchanting old towns of Kotor and Budva, where time seems to stand still. Lose yourself in the maze of narrow cobblestone streets, marvel at medieval architecture, and soak in the rich history that permeates every corner. 
Montenegro is a nature lover's paradise. The country is blessed with breathtaking landscapes, from the majestic mountains of Durmitor National Park to the awe-inspiring Bay of Kotor. 
Uncover Montenegro's fascinating history.
Visit medieval monasteries.
And wander through well-preserved fortress cities.
From the UNESCO-listed Bay of Kotor to the historic town of Cetinje, the country is a treasure trove of historical gems waiting to be discovered.
And you can also treat your taste buds to the flavors of Montenegrin cuisine without burning a hole in your pocket. 
Montenegro offers a coastal experience that rivals Greece but with added affordability. So, if you're craving a Mediterranean adventure without the hefty price tag, Montenegro is the place to be.
FAQs for the Best Places Similar to Greece
Now the questions and answers time! 
What place is similar to Greece?
The most similar places to Greece include Italy, Spain, Malta, Corsica in Europe, Florida in the US, and Egypt in Africa-Asia. These places have similar but unique coasts, architecture, history, and things to do. 
What culture is Greek most similar to?
Greece shares close linguistic ties with Armenian and Indo-Iranian languages among the branches of Indo-European languages with living descendants. These connections, known as Graeco-Armenian and Graeco-Aryan, suggest a strong genetic relationship and shared heritage between the Greek, Armenian, and Indo-Iranian cultures.
What Greece is similar to Santorini?
Naxos is an affordable alternative to the expensive and crowded Santorini and Mykonos. It offers artisanal gastronomy, world-class museums, and a charming atmosphere. And you can indulge in delicious local dishes. 
Is Italy or Greece cheaper?
When it comes to cost, Italy is a tad pricier than Greece. But note that ferry expenses can increase your overall trip cost in Greece if you plan to island-hop. So, keep that in mind while budgeting your trip. 
Ultimately, the decision between the two depends on your cultural preferences and whether you fancy spending more time lounging on sandy shores or immersing yourself in Italian splendor.
Have I missed out on some places like Greece but cheaper? Let me know in the comments below – because I always respond to them. And explore other similar destinations to revive your experience.