Hamilton Island, in the Whitsunday Islands of Queensland, is famous for its relaxed vibes and natural beauty. Locals call it the "Hamo" with love.
You'll fall in love with the stunning beaches on Hamilton Island. But if you can't find your way there or have already visited the island and want to try something different, visit these 11 places similar to Hamilton Island.
Just like any other place in the world, Hamilton Island is incomparable! But I have tried my best to come up with the places like Hamilton Island, which also includes the islands near Hamilton.
11 Best Places Similar to Hamilton Island in Australia
And I have chosen these places based on what Hamilton Island is famous for:
If you feel connected to a place you've visited, you'd love to explore the Similar Places section of TravelingRauf.Com because I cover a lot of destinations with similar vibes.
For example, I've listed amazing islands and places like Hawaii in Australia.
That said, let's start expanding the love to Hamilton 🙂
1/ Lord Howe Island
Lord Howe island is a small island near Hamilton island, so you can easily visit it with enough time.
It is an iconic tourist destination known for its spectacularly pristine beaches, majestic mountains, and breathtaking views of the Pacific Ocean.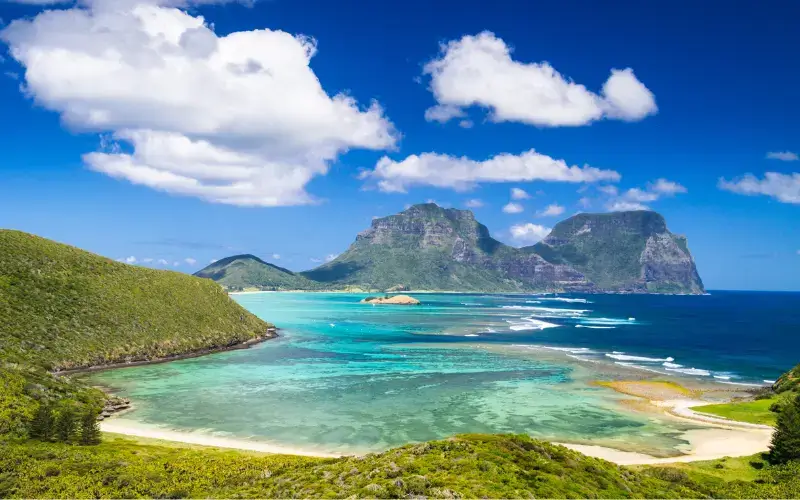 Lord Howe's group of islands boasts a spectacular topography, and I home to numerous endemic species, especially birds. That's why UNESCO has protected its unique ecology as a World Heritage Site.
Lord Howe is Known for its high-end resorts, championship golf courses, and top-notch diving and fishing spots.
Whether you're looking to get away from it all or indulge in some luxury, Lord Howe island can give you an unforgettable experience.
2/ Bedarra Island
Bedarra island is one of the best islands for honeymooners. It's a romantic paradise off Australia's coast, featuring powdery white sand beaches, crystal clear waters, and lush tropical rainforests.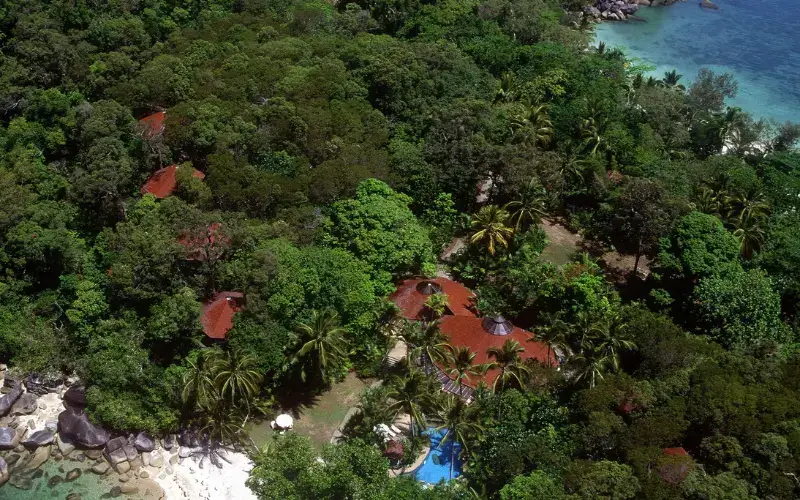 For couples looking to relax and enjoy some quality time together, Bedarra island offers a unique mix of tranquility and adventure that no other destination can match.
Bedarra island is a natural playground where travelers spend their days swimming or snorkeling in the pristine blue waters.
They explore the island's many walking trails or soak up some sunshine on one of its many secluded beaches.
Like Hamilton island, Bedarra offers plenty of activities for those looking for a bit more, such as kayaking and fishing.
With its stunning scenery and incredible atmosphere, it's no wonder why honeymooners flock to Bedarra Island for an unforgettable experience.
3/ Bruny Island
If you're looking for a unique travel destination, look no further than Bruny island. Located in the south of Tasmania, Australia, this paradise is an excellent alternative to Hamilton island.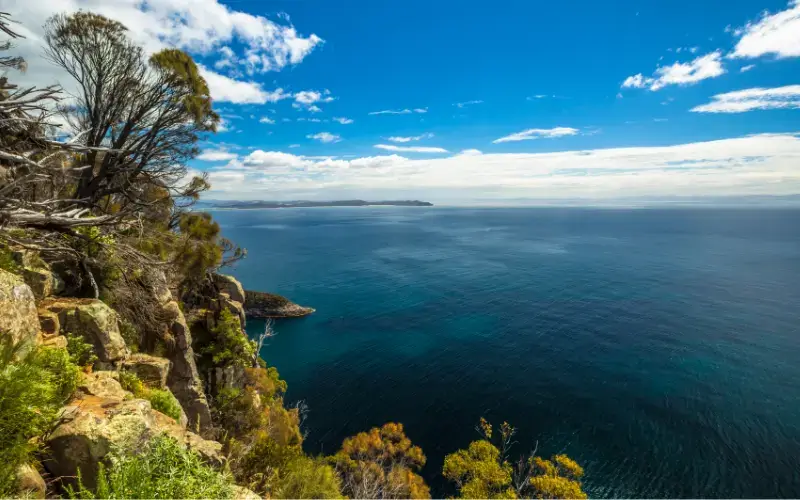 Australia's Bruny island feels like a Pacific island because of its unique geography and stunning scenery.
Famous for its white sand beaches, the island boasts breathtaking views of the Southern Ocean and incredible wildlife, including dolphins, seals, and sea birds.
You can explore the stunning Bruny island national park or tour the island's wineries, restaurants, and galleries.
Bruny offers plenty of activities, such as fishing, kayaking, and surfing, making an unforgettable holiday experience for Hamilton lovers.
4/ Kangaroo Island
Kangaroo island is a popular destination similar to Hamilton island, located off the south coast of Australia. It's known for its landscape and isolated location, with an area more than ten times that of Singapore.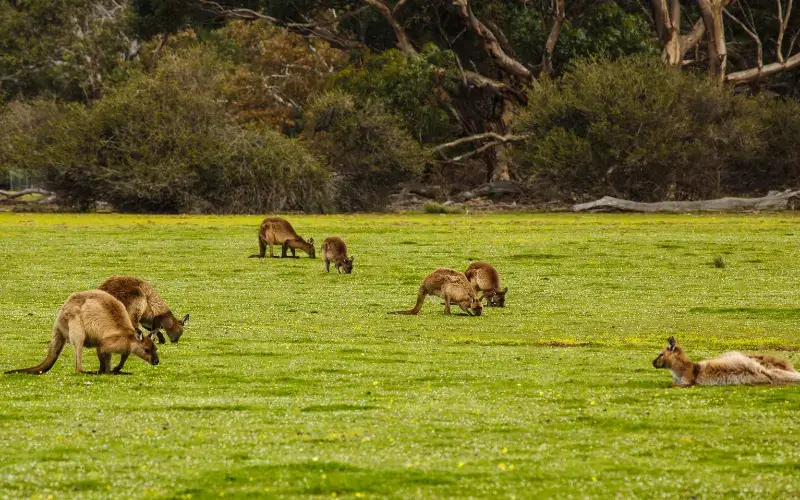 From November to December, Kangaroo Island and Tasmania's islands are the ideal destinations for travelers looking for milder weather than Hamilton Island. I highly recommend visiting them during this period!
Kangaroo island's history dates back more than 23 million years, and it has been home to Aboriginal and European settlers for hundreds of years.
Kangaroo Island offers visitors a range of activities, from surfing and cycling to walking tours and wildlife encounters.
The island boasts spectacular coastal views, pristine beaches, and stunning wildlife, making it the perfect place for a one-of-a-kind Australian holiday experience.
5/ Magnetic Island
The magnetic island offers travelers a truly unique Australian experience, rivaling the beauty and charm of its sister island Hamilton.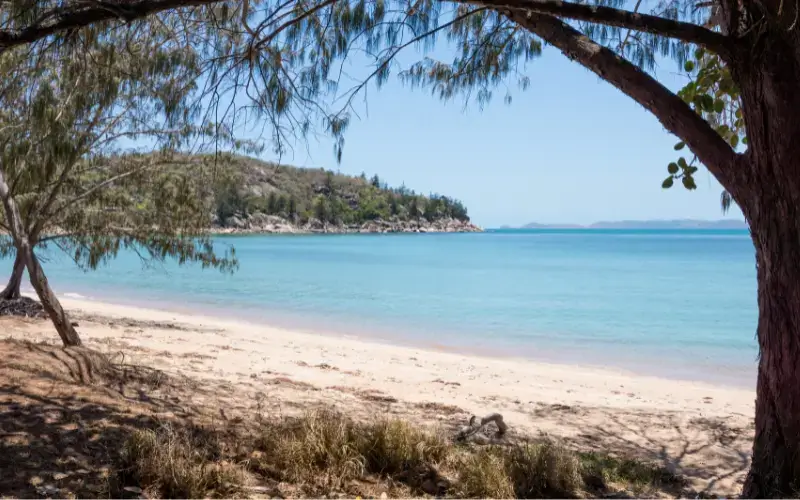 Located off the coast of Townsville in North Queensland, the island is known for its picturesque beaches and its unique wildlife. It has abundant rare and endangered native species, such as koalas and wallabies.
With 23 beaches, 24 bays, and over 8,000 hectares of the national park, it offers plenty of activities for travelers looking for adventure or relaxation.
You can go scuba diving, snorkeling, and fishing, as well as explore the rugged bushland trails on a guided tour.
Magnetic island also offers kayaking, bushwalking, and four-wheel driving experiences – something for everyone!
Whether you're looking for a relaxing holiday or an action-packed break, Magnetic island is sure to provide an unforgettable experience.
6/ Fraser Island
Fraser island is a famous island similar to Hamilton island, located off the east coast of Australia.
It's known for its unique dunes, lush rainforest, and freshwater lakes, making it a perfect spot for honeymooners and couples looking for a romantic getaway.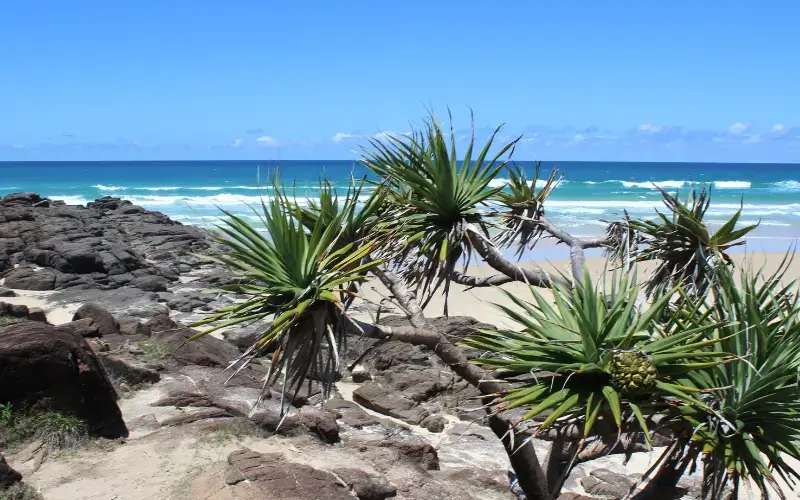 With over 100 beaches along the island's coastline, Fraser island offers visitors the opportunity to explore its natural beauty. The best time to visit Fraser Island is between April and November due to the cooler and sunny weather.
During this period, visitors can participate in countless activities, including swimming with dolphins, hiking up Mount Tempest, or going on a 4WD tour through the many tracks.
With many things to see and do, Fraser Island will surely provide an unforgettable experience for honeymooners and couples!
7/ North Stradbroke Island
North Stradbroke Island is a stunning destination off the coast of South East Queensland, Australia.
As an attractive substitute for Hamilton island, this spot is praised for its beaches, untamed bushland, and translucent waters.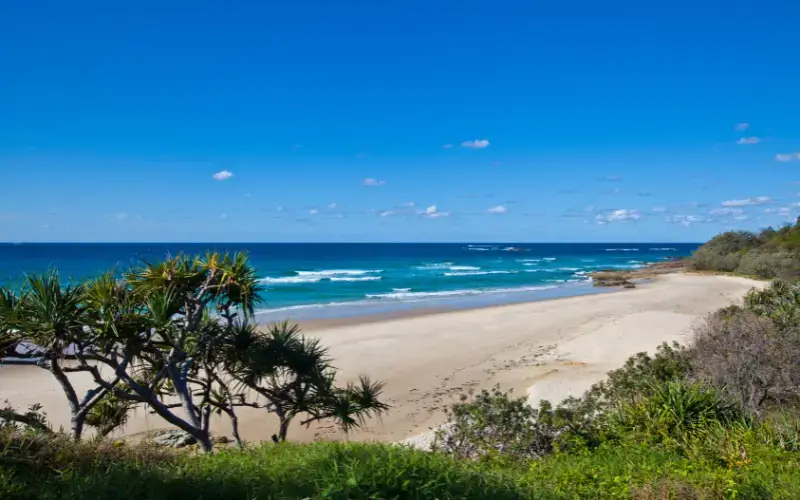 North Stradbroke island allows you to relax on one of its 40 surf beaches and explore its lakes and lagoons.
Embark on thrilling experiences such as kayaking, sand tobogganing, and whale watching. There are also plenty of nature trails to get close to the island's unique wildlife.
The island also boasts incredible views from its many lookouts, making it an excellent spot for photographers and nature lovers.
Undoubtedly, North Stradbroke island will surely provide a memorable experience for those looking for an alternative to Hamilton.
8/ Norfolk Island
Norfolk Island is a small island located off the coast of Australia in the South Pacific Ocean. It is popularly known as the site of the first European settlement on Australian soil.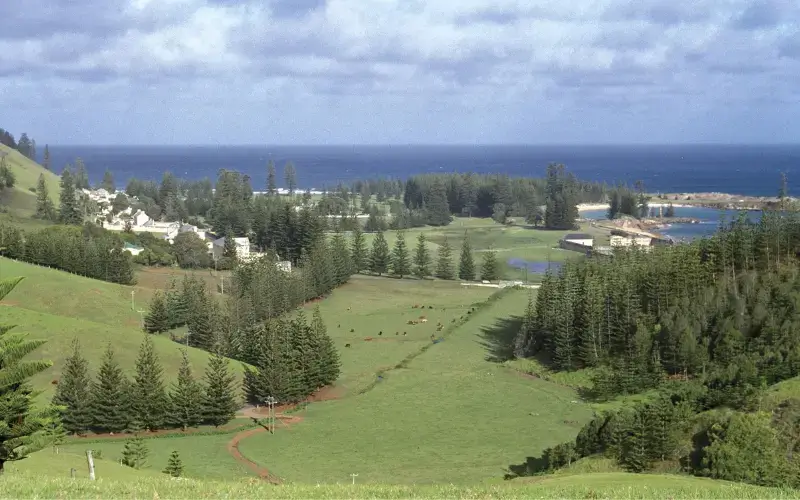 Norfolk Island is a stunning destination with breathtaking landscapes and abundant wildlife. Visitors to Norfolk island can enjoy various activities, including swimming, fishing, hiking, or simply relaxing on its many white sand beaches.
The best time to visit is between April and October when temperatures are milder, and humidity is lower.
Like Hamilton island, visitors can also explore its rich history, visit museums and participate in cultural experiences.
With natural beauty and cultural attractions, it's easy to see why Norfolk Island has become such a popular holiday destination for Australians and tourists alike.
9/ Tiwi Islands
The Tiwi islands are two small islands located in the Timor Sea off the coast of Northern Australia. Known for its stunning landscapes and unique culture, the Tiwi islands are a popular holiday destination for Australians.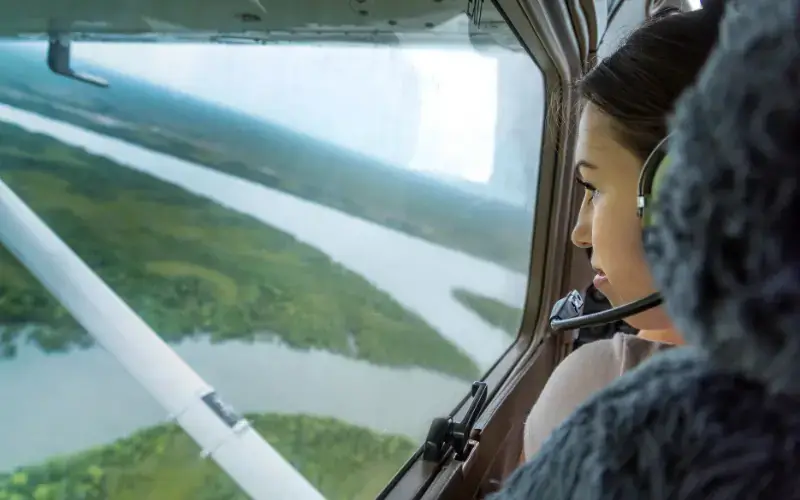 Visitors can participate in various activities, such as fishing, snorkeling, camping, and bird-watching. The native flora and fauna of the islands also make it a great spot for nature lovers.
Travelers to the Tiwi islands can enjoy luxury accommodations, restaurants, bars, and vibrant nightlife like Hamilton island. The islands offer an unforgettable experience, making it one of Australia's most popular holiday destinations.
10/ Rottnest Island
Rottnest island is one of Australia's most beloved holiday destinations, just off Perth's coast. Boasting crystal clear waters, powdery white sand beaches, and stunning scenery.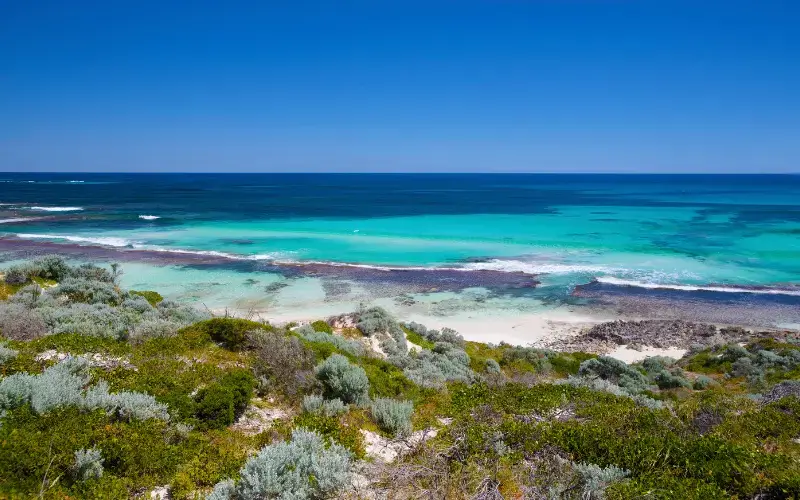 It's easy to see why Rottnest island is such a popular spot for tourists worldwide. You can enjoy swimming, snorkeling, fishing, and surfing. Also, you can explore the island's many attractions, including the Quokka Sanctuary.
The island also features several luxury accommodations, restaurants, bars, and bustling nightlife. Like Hamilton island, Rottnest island offers plenty of sunshine and relaxation but has its unique character, making it a truly incredible destination.
The place offers something for everybody, whether looking for adventure or simply wanting to relax and enjoy the views. 
11/ Daydream Island
Daydream Island is located in the Whitsunday Islands, the same group of islands that Hamilton Island is a part of. Daydream Island is located about 6.5 kilometers (4 miles) east of Hamilton Island and can be reached by boat or helicopter.
So, it's the nearest island to Hamilton. It's one of Australia's most beautiful tropical getaways. I mean, look at this beauty: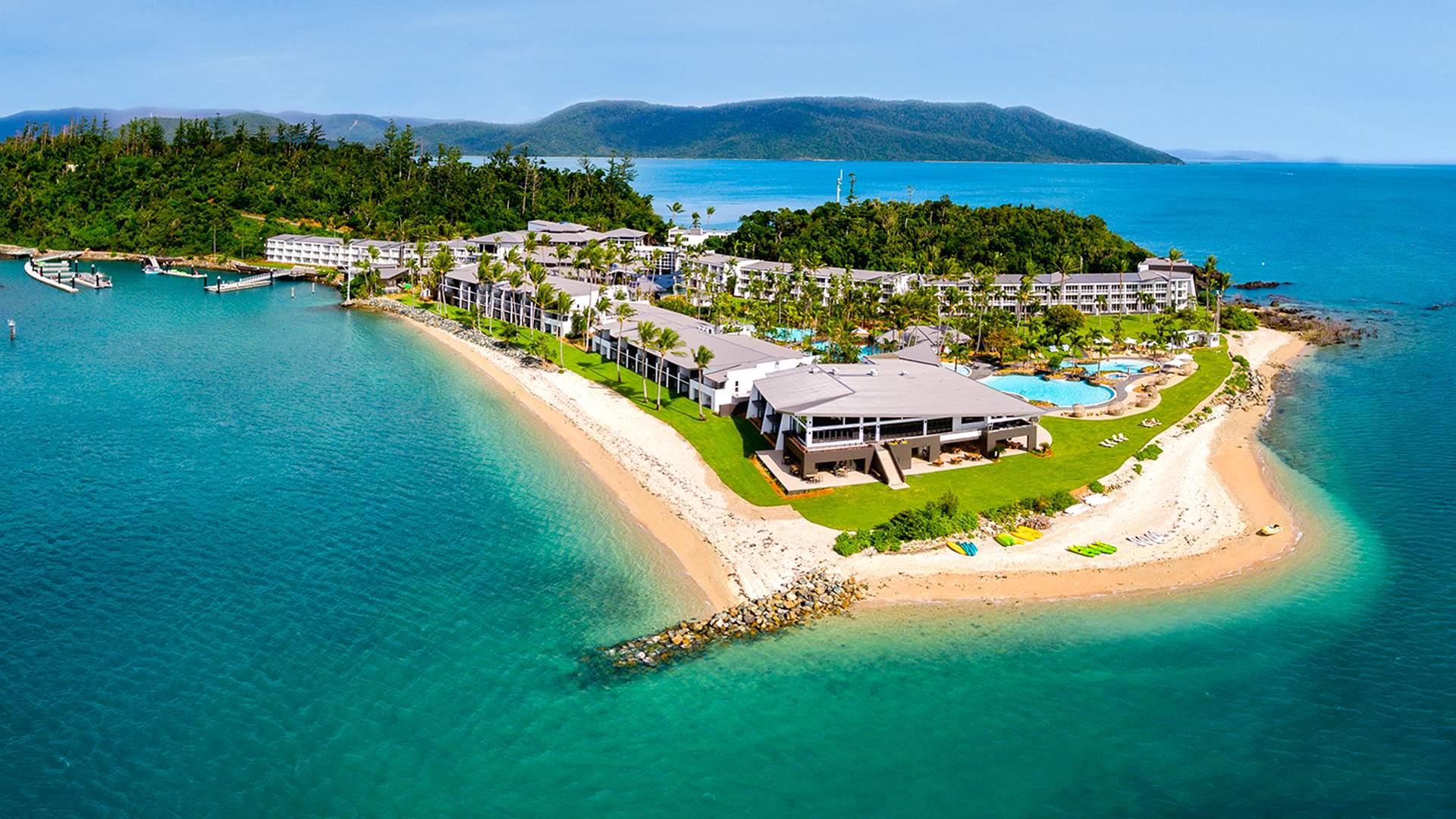 With its picture-perfect beaches and lush tropical jungles, it's no surprise that this gorgeous island resort is a top vacation spot for travelers.
Whereas Hamilton has its unique character with plenty of activities to explore, Daydream Island caters to those looking for a tranquil atmosphere with fewer crowds.
You can indulge in various activities such as scuba diving, snorkeling, fishing, and kayaking or relax and unwind at the tranquil spa. The island also boasts a resort that offers several luxury amenities, including restaurants and bars.
For those looking for an authentic getaway experience, Daydream island offers relaxation in an unspoiled natural environment that will leave lasting impressions.
FAQs for Hamilton Islands and Places like Hamilton Island
I try to make every post extremely useful for you on TravelingRauf. So, let me answer a few questions about Australia's beautiful islands.
Is Hamilton Island expensive?
Hamilton Island is Australia's famous luxury destination for tourists. So yes, it is a bit expensive compared to other islands worldwide. But you can choose affordable accommodations, tours, and restaurants to plan things on a budget.
Is there anywhere cheaper than Hamilton Island?
Yes, many islands around Australia offer an equally beautiful experience as Hamilton at much less cost. These include Norfolk Island, Tiwi Islands, Rottnest Island, and Daydream Island.
What is the prettiest island in Australia?
Australia is home to many beautiful islands with unique charm and appeal. It's challenging and unfair to pick just one "prettiest" island. Also, it depends on personal preference, so let me know which one you think is the prettiest.
Is Hamilton Island worth visiting?
Absolutely! Hamilton Island offers an unforgettable experience with its stunning beaches, islands, restaurants, and activities. It is worth visiting for anyone looking for a tropical paradise with plenty of sunshine and relaxation.
Is there a town near Hamilton Island?
Yes, the closest town to Hamilton Island is Airlie Beach, a coastal town located on the mainland, which serves as a gateway to the Whitsundays.
In addition to Airlie Beach town, many nearby towns and cities are located on the mainland and nearby islands, such as Shute Harbour port town, Proserpine rural town, Bowen, and Cannonvale.
Shute Harbour is a small port town located near Airlie Beach, which provides regular boat services to the Whitsunday Islands.
Just inland from Airlie Beach lies Proserpine, a rural town known for its sugar cane farming and proximity to the Whitsunday Coast Airport.
To the north of Airlie Beach lies Bowen, a coastal town famous for its beaches, fishing, and mango farming. Other towns nearby include Cannonvale, a suburb of Airlie Beach with plenty of amenities available.