With safety concerns rising, it's important to do your research before planning a trip to Costa Rica. It's one of the safest South American countries right now.
In this post, you'll discover the most affordable and safest places in Costa Rica to vacation as a traveler and live as an expat. 
I'll also answer some questions, such as, "Is Costa Rica safe to visit right now?" at the end of the post. Sounds exciting? Let's start!
13 Affordable and Safest Places in Costa Rica to Vacation
Costa Rica offers visitors stunning beaches, incredible wildlife, and friendly locals, making it an ideal destination for many. But safety should always be a priority, so it's essential to know which places are the safest when relocating here.
Let me share some of the best spots to call a safe home in Costa Rica.
1/ Tamarindo
Tamarindo is located on the northwest coast of Costa Rica and is known for its stunning beaches and incredible surfing opportunities.
It's also one of the country's safest towns; crime rates here are generally very low, and it's considered a safe place for tourists and expats.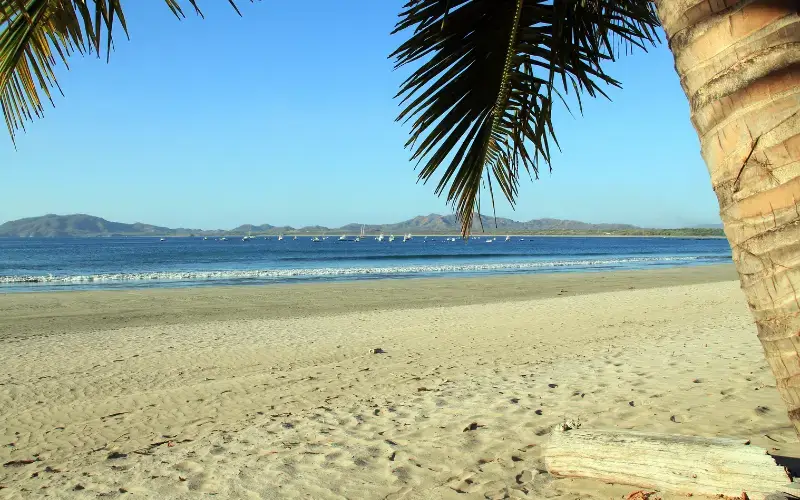 The town has many amenities, including restaurants, bars, and shops. Its proximity to the beach makes it an ideal spot for relaxing after exploring.
The local police force also regularly patrols the area around Tamarindo, ensuring minimal crime.
2/ Manuel Antonio
Manuel Antonio National Park is one of Costa Rica's most popular tourist destinations. Plenty of amenities are nearby, like restaurants, hotels, and shops. And the police presence is vital due to the many visitors that come through daily.
The park is home to some of the country's most diverse wildlife. It also has many trails and scenic lookouts perfect for exploring or taking in incredible views.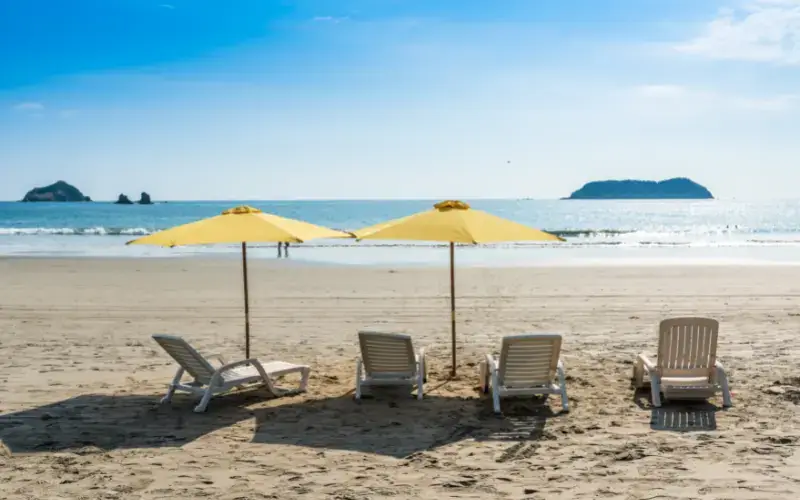 Manuel Antonio is an excellent spot for travelers who want to be close to the action while feeling safe and secure.
It's also an excellent spot for nature lovers; Manuel Antonio National Park provides beautiful rainforest views and plenty of chances to spot rare species of plants or animals.
3/ Jaco
Jaco sits just two hours southwest of San Jose (the capital city) on the central Pacific coast of Costa Rica.
While Jaco can get quite busy during the high season due to its popularity among tourists looking for surf spots or nightlife options, it has much lower crime levels than other similarly-populated cities in Central America.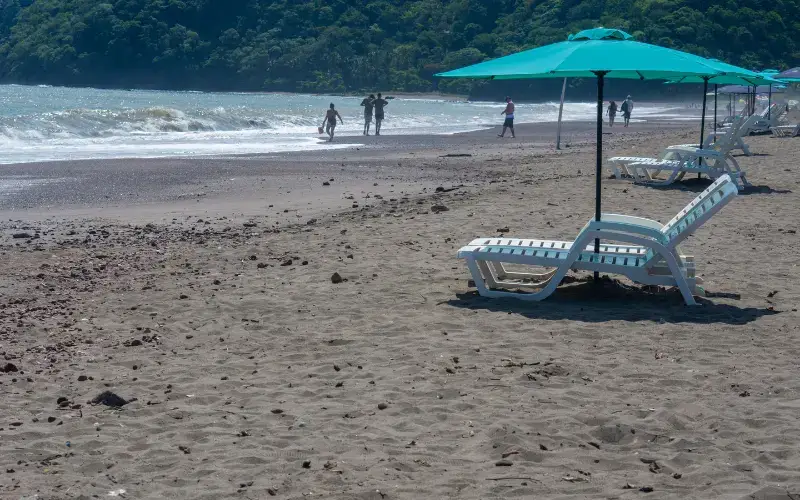 The town has many amenities, including supermarkets, pharmacies, and banks. There are also plenty of restaurants, cafes, bars, and clubs.
Plus, if you're looking for outdoor activities, Jaco Beach is one of the best surfing spots in Costa Rica. Its stunning views and warm waters make it the perfect place to relax and enjoy nature.
No matter what you're looking for, this location offers safety, convenience, and many things to do. So pack your bags and get ready for an unforgettable adventure!
4/ San Ramon
San Ramon lies in Costa Rica's Central Valley region and offers an incredibly peaceful atmosphere thanks to its beautiful rolling hillsides and rural feel.
It's one of the most affluent areas in all of Latin America. Most citizens have higher incomes and are more likely to be educated with greater access to resources like healthcare centers or infrastructure systems than in poorer parts of the country.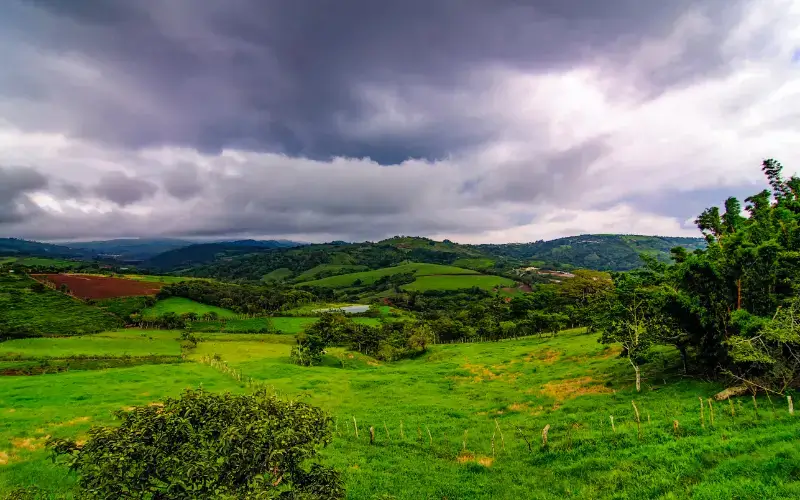 It is arguably the safest place to live in Costa Rica, with crime rates substantially lower than in other country areas. 
The community is well-educated and prosperous, meaning many people have access to resources and infrastructure systems unavailable in other areas.
Overall, San Ramon is an excellent choice for those looking for a safe place to call home in Costa Rica. With its peaceful atmosphere and abundance of resources, it's the perfect spot if you.
5/ Santa Teresa/Mal Pais
This idyllic area is one of only five regions in this beautiful country that offer a true respite from everyday life. While Santa Teresa has become a bustling surf town, Mal Pais has retained its laid-back vibe.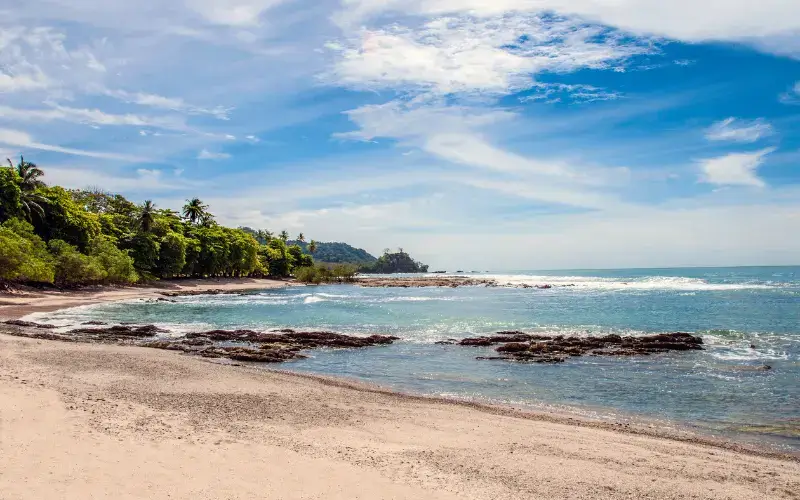 Visit these safe Costa Rican places if you dream of sunsets glimmering off unspoiled beaches and lush rainforests primed for wildlife-viewing adventures. You can enjoy horseback riding or hiking to hidden waterfalls far from the hustle-bustle of life.
During peak hours, both islands have plenty of lifeguards on duty to vigilantly monitor the safety of their kid-friendly beaches.
Security teams are also there in full force during nighttime walks through their streets, providing a sense of security for pedestrians.
6/ Atenas
Atenas is a small town located in the Central Valley region of Costa Rica, about an hour from San Jose.
It's known for its year-round temperate climate, perfect for outdoor activities like hiking and birdwatching. The town has excellent infrastructure, reliable transportation, and access to basic amenities.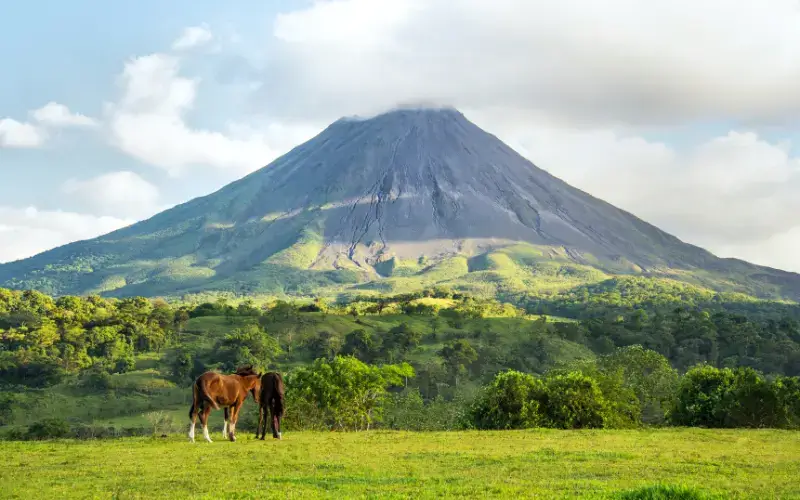 The town has a quaint atmosphere and plenty of restaurants, cafes, shops, and markets for all your needs.
What's more – the area is home to some of the most stunning views in Costa Rica. Whether rolling mountain ranges or lush rainforests, Atenas offers a great place to escape and explore nature.
In conclusion, Atenas is an ideal destination for those looking for a safe and pleasant place to call home in Costa Rica.
7/ Arenal
Arenal is one of the safest places in Costa Rica, popular among tourists for its stunning views of Arenal Volcano.
While Arenal is widely known as one of Costa Rica's natural destinations, it is also the epitome of safety.
Although crime rates may rise during peak tourist season, with its heightened security protocols and vigilant police force, you can rest assured your visit to Arenal will be a worry-free experience.
Law enforcement continuously patrols the area, ensuring residents and tourists feel safe daily.
Arenal has various activities and attractions, from hot springs and national parks to horseback riding and zip lines. Its temperate climate allows plenty of outdoor activity throughout the year, making it the perfect spot for nature lovers.
8/ Heredia
Heredia has a well-developed infrastructure and reliable public transportation, making it easy to get around. Also, it offers plenty of cultural attractions such as museums, theaters, and churches.
Heredia also boasts an excellent safety record, there's a strong police presence in the area, and crime rates are low. The city is still growing but has remained mostly untouched by large-scale tourism, preserving its small-town charm.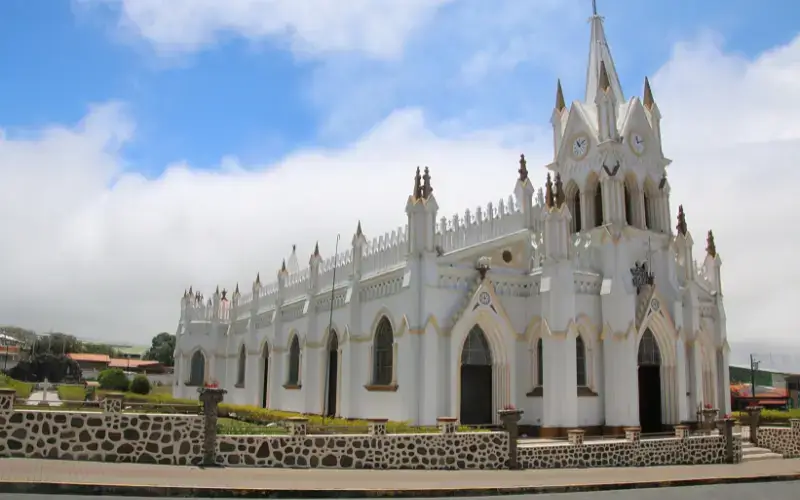 This safe Costa Rican town offers a great mix of urban amenities and natural beauty surrounded by mountains on three sides.
It's considered one of the safest areas in Costa Rica, and crime rates here are much lower than in other parts of Central America. 
9/ Escazu
The district of Escazu within San Jose has been named one of the safest cities in Latin America due in part to its wealthy population who have access to resources like high-quality medical care. 
This makes them more likely to report offenses when they occur rather than remain silent, as can often happen in poorer areas worldwide where access to justice is low.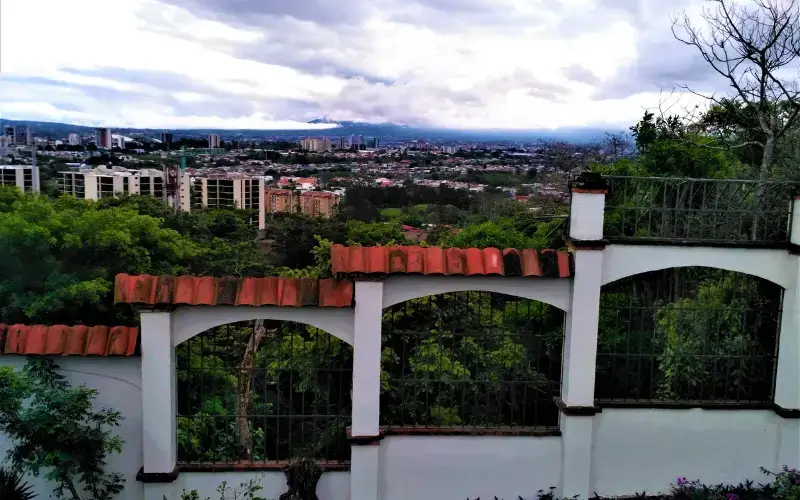 The police force in Escazu is also highly trained, ensuring that they can handle any situation. Moreover, security guards throughout the area make it one of the most secure places to live or visit throughout Costa Rica.
Escazu is an excellent destination for those looking for a safe and luxurious experience in Costa Rica.
Not only does it provide plenty of things to do to keep you entertained, but its affluent population ensures that crime rates remain low. It's the perfect spot for a peaceful and secure stay in Costa Rica.
10/ Hojancha
Hojancha is one of the safest cities in Costa Rica and is embraced by lush mountain ranges along three sides, providing a small yet peaceful atmosphere.
The town has a friendly and welcoming population with a low crime rate. Local police forces are vigilant in surveilling the area, and most residents feel safe living in Hojancha.
Perfect place for those wanting peace while still enjoying all that nature has to offer from countless beaches scattered across this rural escape spot!
The town rarely experiences violence or criminal activity, making it ideal for families worried about relocating abroad with children in tow!
11/ Drake Bay
Drake Bay is an isolated area on the Osa Peninsula near Corcovado National Park, making it another great option. The park is renowned for its biodiversity, making it the perfect spot for nature lovers.
The area is well patrolled by local police and private security guards, ensuring that areas of Drake Bay are safe to explore day or night without worry. Crime rates in this part of Costa Rica are among the lowest in the country, with most offenses being non-violent.
It's a great destination for those wanting to explore the natural beauty of Costa Rica in a safe and secure environment. Drake Bay is ideal for families looking for an adventure without compromising safety.
Drake Bay is the perfect destination for a place to live abroad. Strict entrance restrictions ensure everyone's safety and security; additional guards are hired whenever necessary. If you want peace of mind knowing that your neighborhood is secure and protected, Drake Bay should be at the top of your list!
12/ Uvita
Uvita is one of the most affordable and safest towns in Costa Rica, located in the southern part of the country.
Uvita sits directly south of Manuel Antonio (on the central western coast just north of Manuel Antonio National Park), which means not only do visitors get stunning panoramic views encompassing both land & sea but also an incredibly secure atmosphere.
The local police forces are highly trained and vigilant in patrolling the area, with few reported cases of crime or violence.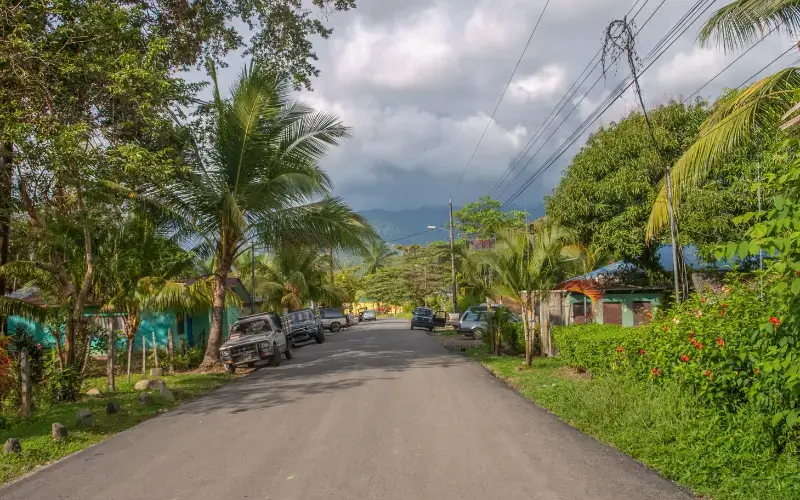 Here in Uvita, citizens and visitors alike can participate in the diverse array of underwater activities or luxuriate on the sandy beaches without discomfort.
It is a fantastic place to stay if you're looking for an adventure without compromising safety. With beautiful beaches and incredible wildlife, Uvita provides the perfect spot to explore Costa Rica in a secure environment.
13/ La FortunaLa
Last but not least, La Fortuna is a small town near the Arenal Volcano National Park in the northwestern part of Costa Rica.
It offers beautiful views and a safe atmosphere for travelers and locals alike. The police presence throughout the area is strong, with officers regularly patrolling to ensure everyone feels secure when they are out and about.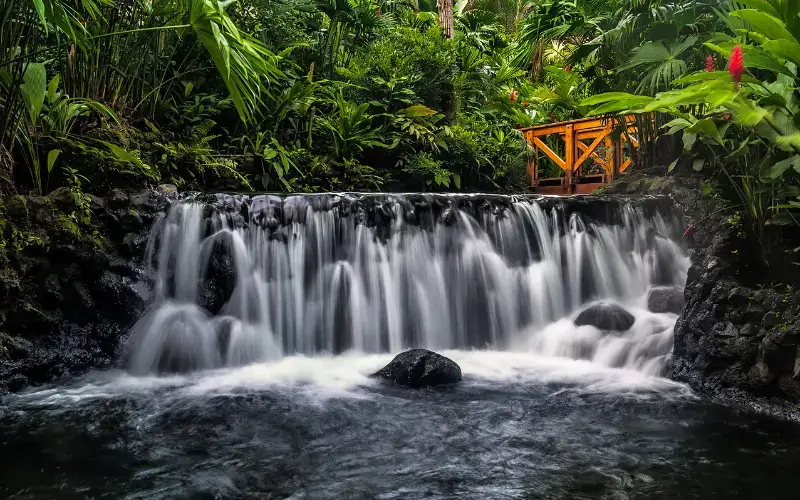 In addition, the local population is very friendly and welcoming towards visitors, taking extra care to ensure their guests are safe and feel at home in Fortuna.
La Fortuna also offers proximity to some of Costa Rica's best attractions, like hot springs, waterfalls, and the Arenal Volcano. Its combination of safety and adventure makes it the perfect spot for those looking to explore all Costa Rica offers in a secure environment.
From beaches, volcanoes, and national parks, to police surveillance and friendly locals – La Fortuna is ideal for anyone looking for a safe and exciting place to live abroad!
FAQs for the Safest Cities in Costa Rica to Visit
Let me answer a few questions about Costa Rican safety now. 
Is Costa Rica safe to travel to now?
According to Global Peace Index, Costa Rica is one of the safest countries in Latin and Central America. It has a stable government and a low crime rate, making it a great destination for travelers, digital nomads, and expats.
What are the top safety tips when visiting Costa Rica?
While Costa Rica is a safe country to visit, no place is completely immune to crime. Taking basic safety precautions can go a long way in ensuring a safe and enjoyable trip. Here are a few tips:
Stick to well-lit areas.
Be mindful of your belongings.
Use reputable transport only. 
Be cautious with the wildlife of Costa Rica. 
Get travel insurance to cover any unexpected incidents.
Stay safe while swimming. 
And avoid drug use or possession. 
Remember, most people in Costa Rica are friendly and welcoming, so don't let safety concerns keep you from experiencing all this beautiful country has to offer.
What is the safest part of Costa Rica?
Costa Rica is generally safe to travel to. But the safest parts of Costa Rica must be Puerto Viejo, Manuel Antonio, Monteverde, Guanacaste, Puerto Jiménez, and Tamarindo! Read the entire post for more. 
Is Costa Rica safe for solo female travelers?
Costa Rica is safe for solo female travelers. It's the safest in Latin America. But like any other travel destination, taking care of your safety is always important. 
What are the most affordable places to live in Costa Rica?
Guanacaste Province and Cartago Province are great options for those seeking safety in Costa Rica. Guanacaste features many beach towns, making it perfect for those looking to escape to a tropical paradise. Choose Liberia as your base if you choose the province. 
Conversely, Cartago provides a more traditional Costa Rican experience with plenty of cultural and historical attractions to explore. No matter which province you choose, safety is the number one priority, and both offer plenty of opportunities for a fun, safe, and memorable trip.
Visit these places like Costa Rica but cheaper! 
Which of these safest places in Costa Rica are you going to visit? Let me know in the comments below because I always reply 🙂