Are you ready to see the breathtaking sights of South America but uncertain about which countries are safe for tourists?
Awesome! Because I'll share the top 9 safest South American countries to visit right now. 
I'll consider GPI when writing about these safe destinations in South America, offering an enjoyable and safe experience.
Global Peace Index (GPI) ranks countries according to their level of peace and safety for tourists and locals alike. Countries with a lower number on the safety index are deemed safer than those with higher numbers.
So grab your passport and read on as we explore some of South America's best parts that won't risk your safety.
Top 9 Safest South American Countries to Visit in 2023
If you are short on time, let me share the table of the 9 safest countries in South America for solo female travelers, family guys, or other types of tourists. 
1/ Uruguay
GPI 2022: 1.8
Overall Ranking: 46/163
Uruguay is an underrated nation in South America, known worldwide for its stunning scenery and laid-back lifestyle. This small country boasts lush rolling hills, miles of golden beaches, and awe-inspiring sunrises that make the perfect backdrop to your vacation.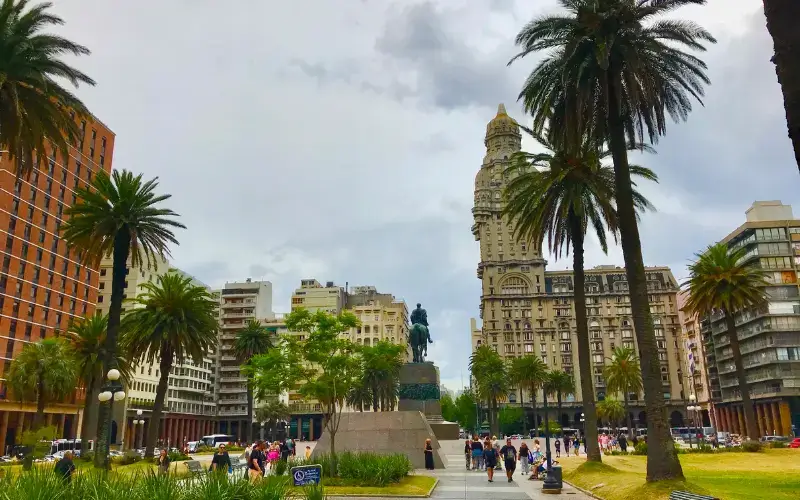 Uruguay is known for being one of the safest South American countries, ranking 46th out of 163 countries according to the Global Peace Index.
This makes it an ideal destination for travelers looking to explore the region without worrying about security issues.
The country offers many activities and attractions that all visitors can enjoy. 
If you are a history buff, you can take this guided trip to Colonia del Sacramento from Montevideo!
And you'd also love to visit charming colonial towns such as Colonia del Sacramento and Punta del Este. Or you can book this private and personalized tour of Montevideo City. 
Those looking to experience Uruguay's unique culture can explore traditional markets and sample delicious local cuisine like chivito (a steak sandwich) and dulce de leche (caramelized milk).
No matter which activities you choose here, Uruguay promises an unforgettable getaway!
2/ Chile
GPI 2022: 1.84
Overall Ranking: 55/163
Chile is the second safest country in South America according to the Global Peace Index, ranking 55th out of 163 countries.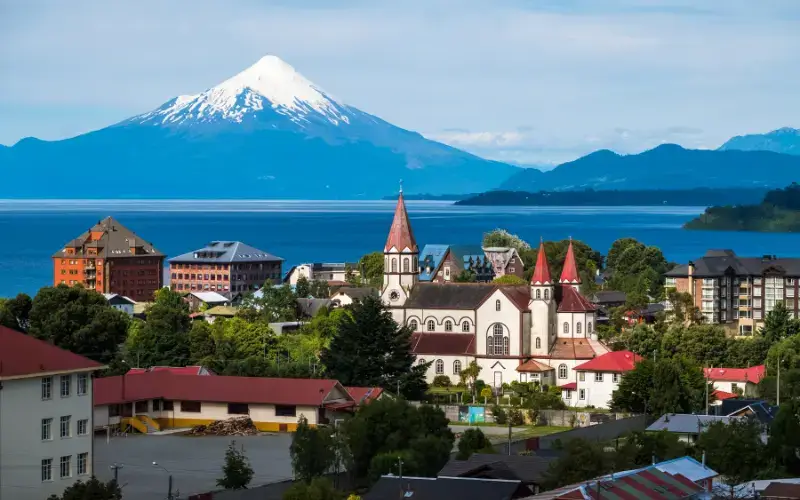 Chile boasts a stunning variety of natural wonders and outdoor attractions. Take breathtaking views from atop snow-capped volcanoes, explore glaciers, or experience majestic sunrise views over the vast Atacama desert.
To dive into the past, take this tour of Valparaiso Port and Viña del Mar. Nature lovers will want to visit Pumalin Park and Torres del Paine National Park for opportunities to hike and camp in some of South America's most beautiful settings.
In addition to its natural beauty, Chile offers plenty of experiences.
Visit vibrant cities such as Santiago de Chile or Valparaiso for their unique blend of modern city life and historical landmarks like La Moneda Palace or the Metropolitan Cathedral.
There are also various artisan markets around the country where you can find traditional crafts and flavors specific to this region of South America.
Regardless of your choice to explore, Chile promises a journey that won't soon be forgotten!
3/ Argentina
GPI 2022: 1.911
Overall Ranking: 69/163
Argentina is also among the safest South American countries to visit, with extremely low crime rates and a peaceful environment. Argentina has many digital nomad cities to live and work remotely from there.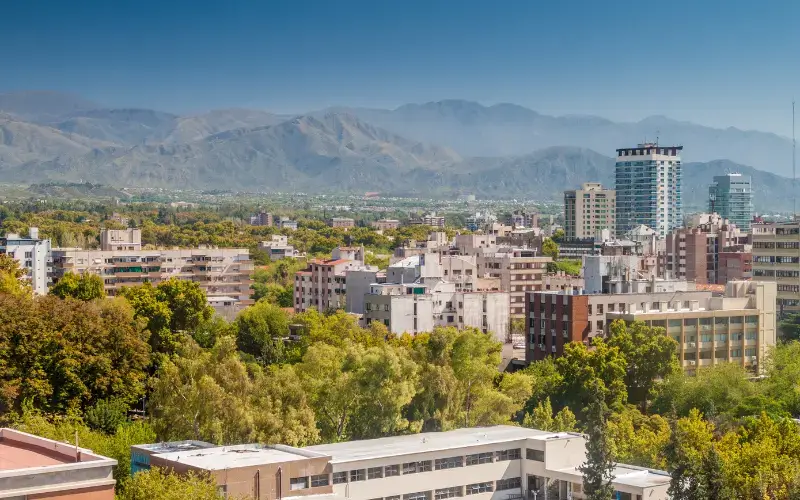 With its secure environment and abundant attractions, this area is perfect for globetrotters seeking to investigate the neighboring regions without any safety concerns.
Argentina offers visitors a wealth of activities and attractions, from cultural experiences like visiting traditional markets and sampling local delicacies like dulce de leche to outdoor adventures like trekking through Patagonia's dramatic landscapes.
There is something here to suit all interests. Popular sights include Iguazú Falls, which straddles Argentina and Brazil and is considered among the world's greatest waterfalls.
Or you can also explore the vibrant cities of Buenos Aires and Córdoba. Or take the Gaucho day tour ranch from Buenos Aires in San Antonio de Areco. 
From the majestic Perito Moreno Glacier in Patagonia to the captivating Tierra del Fuego National Park, indulge yourself in Ushuaia and Bariloche ski resorts for an unforgettable experience.
4/ Paraguay
GPI 2022: 1.976
Overall Ranking: 77/163
Paraguay is one of the safest countries to visit in Central and South America, allowing travelers to explore a unique destination.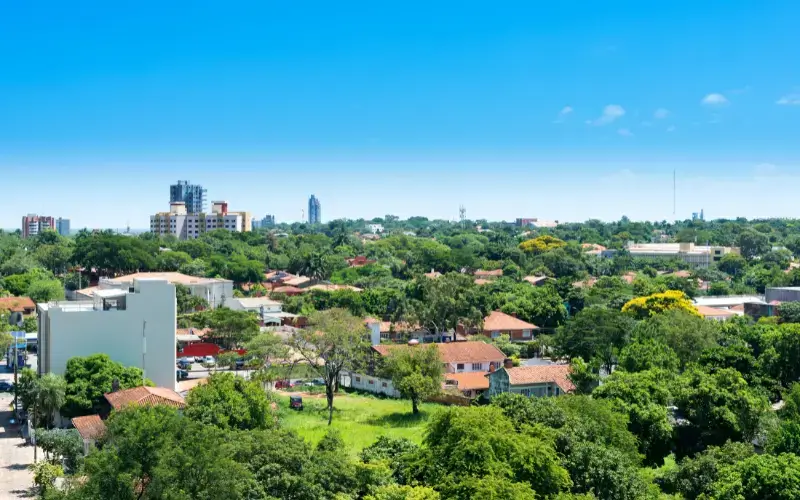 Paraguay is home to various activities and attractions catering to different travelers. Nature lovers will appreciate the stunning landscapes of Ciudad del Este. While culture buffs can explore old towns and markets where you'll find traditional food and crafts.
You'd also love this birding and nature Chaco tour to enjoy the best of Paraguay's landscapes.
Outdoor adventurers can head out for an adventure tour through the jungle or experience world-class mountain biking trails in Ybycui National Park. And you can participate in various cultural events like Carnival Land, Fiesta de la Virgen de Caacupé.
Paraguay has endless delight and opportunities, boasting mesmerizing natural wonders and bustling cities. Come explore this amazing country and find out what it has to offer.
5/ Ecuador
GPI 2022: 1.988
Overall Ranking: 79/163
Ecuador is a safe and welcoming destination for travelers looking to explore South America, with 5th place in the region and 79th place on the list of safest countries in the world.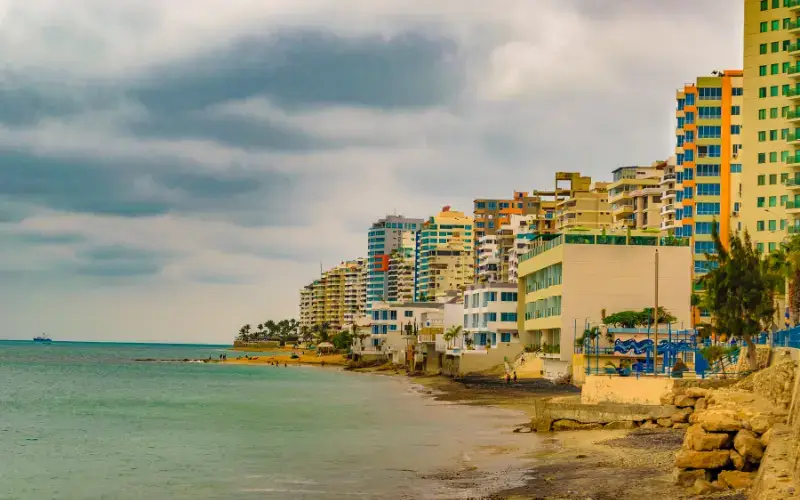 Whether looking for a serene experience in the great outdoors or an electrifying nightlife, Ecuador offers something to delight all travelers with its gorgeous landscapes and lively colonial cities.
Blissful travelers and nature lovers will revel in the breathtaking beauty of the Galápagos Islands with this 5-day tour as they journey to gaze upon a variety of remarkable wildlife. Or hike through lush rainforests at Mindo and Coca-Cola National Park.
You can experience the best of South America with this 3-day Andes adventure tour. It's a stunningly beautiful country with extraordinary ecosystems and landscapes. 
This amazing destination is also home to many UNESCO World Heritage Sites. Ecuador promises an unforgettable experience, so book these popular tours to Ecuador now.
6/ Bolivia
GPI 2022: 1.989
Overall Ranking: 80/163
Bolivia is one of the safest South American countries for tourists, and here's why.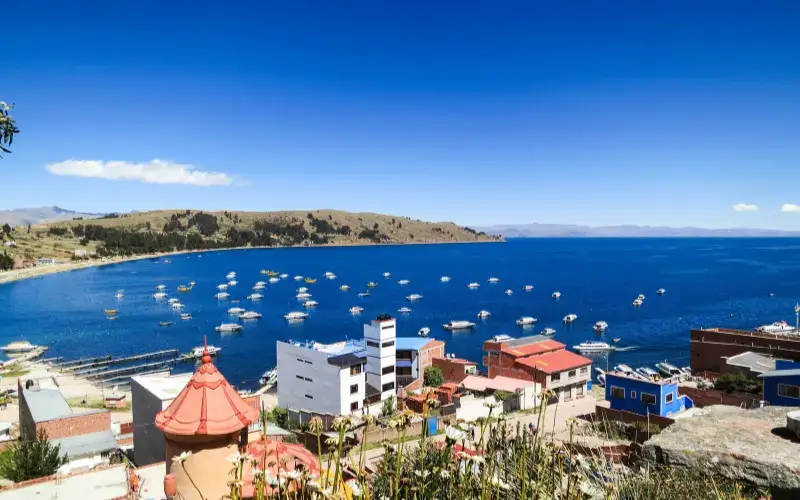 Despite its often tumultuous history, Bolivia has seen a period of relative political stability over the last few decades.
In addition to being a politically stable country, Bolivia is also known for its low crime levels. The Global Peace Index (GPI) ranks Bolivia 80th out of 163 countries, meaning it is one of South America's safest places to visit.
With stunning natural scenery and vibrant cities full of culture and history, visiting this diverse country can be a rewarding experience for any traveler, and it's much more secure than many other countries in the region.
Though Bolivia's economy is not as strong as some of its neighbors, poverty levels are still relatively low compared to other South American countries. This means that crime related to economic desperation is rarer here than in other places.
Without a doubt, Bolivia is a great place to visit for travelers looking for an adventure in South America.
And there are tons of things to do there. But I'd only recommend taking this 3-day tour to the Uyuni Salt Flat and the colored lagoons. 
Or try more tours:
7/ Peru
GPI 2022: 2.091
Overall Ranking: 101/163
Peru is a beautiful and safe destination for travelers looking to explore South America, with 5th place in the region and 101st place on the list of safest countries in the world.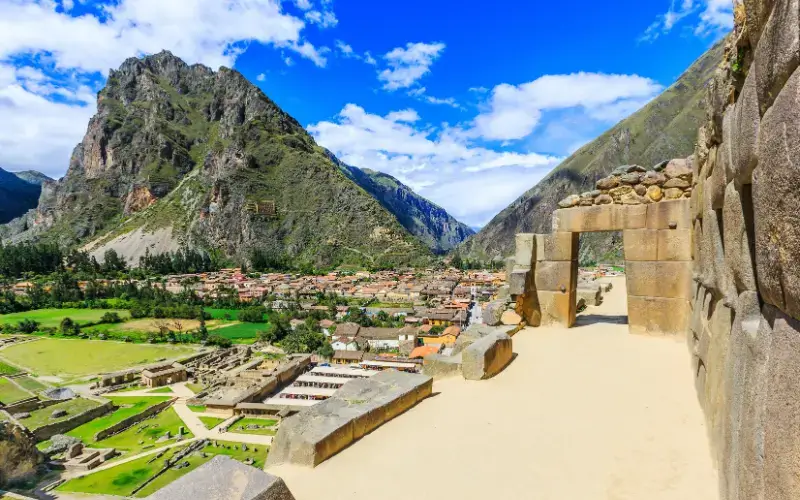 This country offers travelers a unique and rewarding experience. The country's varied landscapes are ideal for hiking and exploration, with plenty of historical sites, stunning mountain peaks, and fascinating wildlife.
You can take a 2-day tour to bask in the beauty of Machu Picchu and Sacred Valley. 
Also, explore distinctive cultures like those from the Chachapoyas and Nazca civilizations with this tour. Vibrant markets are filled with handmade textiles and delightful artisanal crafts for visitors.
For those enamored by the beauty of nature, Peru is a pure paradise. Lose yourself in its abundant Amazon rainforest and see an array of exotic wildlife or a leisurely cruise down its mighty Amazon River.
Adventurers will also find thrilling activities like climbing snow-capped mountains or white water rafting along crystal-clear creeks.
Peru promises an unforgettable experience of its vibrant culture and its awe-inspiring scenery. Book these Peru tours:
8/ Guyana
GPI 2022: 2.14
Overall Ranking: 107/163
Guyana is an outstanding and secure oasis for tourists wishing to traverse through South America, ranking 8th in the region and 107th among the most dependable countries on Earth.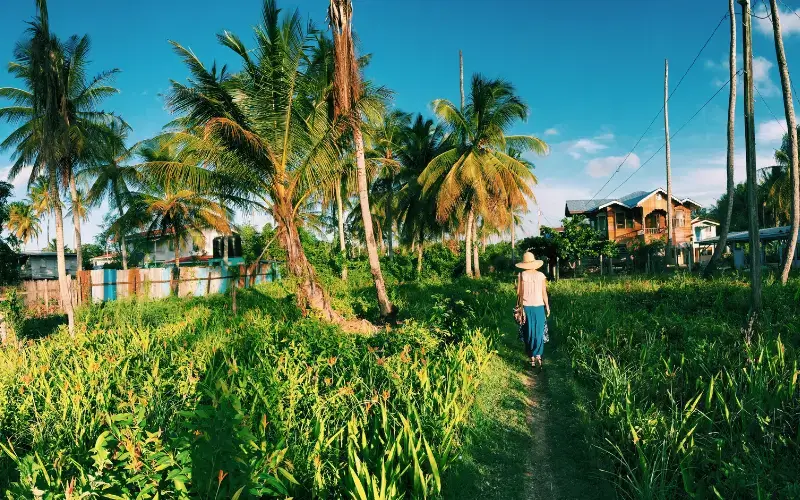 Nature lovers will surely appreciate Guyana's lush rainforest and abundant wildlife, including towering waterfalls, diverse bird species, and even pink dolphins.
It would be unfair to skip this 5 island hopping tour in Guyana while you're there. History buffs can explore Kaieteur National Park, which has some of the world's oldest cave drawings, or visit the colonial-era capital city of Georgetown.
Adventure enthusiasts won't miss out on white-water rafting along Guyana's many rivers or exploring its vast national parks.
A journey to Guyana promises an unforgettable experience, no matter what piques your interest. With its captivating culture, history, and wealth of unique wildlife, there is something for everyone here.
9/ Brazil
GPI 2022: 2.465
Overall Ranking: 130/163
Brazil is an incredibly safe and secure destination for travelers, with a 9th place ranking in the region and 130th place ranking on the list of safest countries in the world.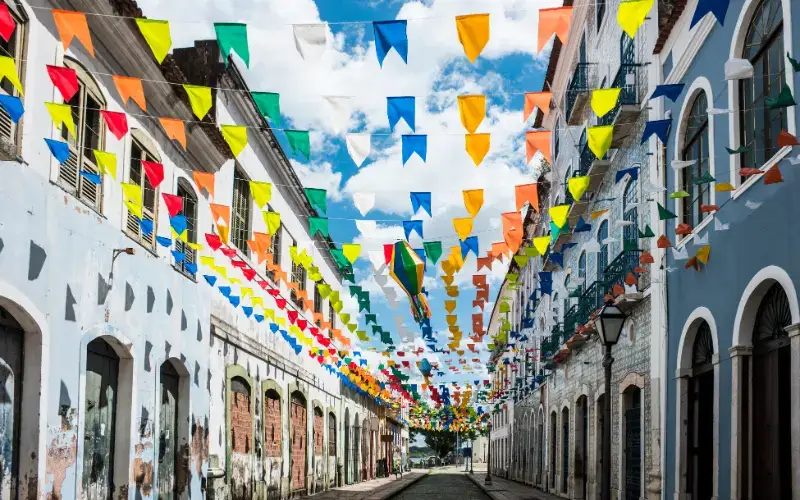 As the most populous country in South America, it offers travelers so much to discover and explore. Brazil has fascinating cultures, rich cuisines, stunning landscapes, and vibrant cities.
From the lush Amazon rainforest to Copacabana Beach in Rio de Janeiro, there's something here for everyone. You can trek through jungle trails, listen to samba music at a Carnaval festival or visit famous soccer stadiums in São Paulo.
There are also plenty of opportunities for adventure-seekers in Rio, like paragliding over Rio de Janeiro's skyline or surfing along its beaches.  
Brazil is a country full of surprises, and its captivating culture, stunning scenery, and diverse wildlife will leave visitors with an experience they'll never forget.
Get most out of Brazil with these best-seller tours:
What Now?
There are many reasons why visit a certain place or choose a travel destination.
But I suppose you have selected one of the safest South American countries, now you must book flights, reserve suitable hotels, and plan things to do there. 
Let me share my recommendation to help you enjoy your trip to South America even more. 
1/ Book a Flight to Your Choice of South American Country
After you have selected one of the safest countries in South America, you might need to book your flight there. And the most efficient way to book flights in South America while saving is this flight aggregator tool:
You can easily compare prices from multiple airlines and book your flights, but you can also earn cashback in real dollars for every booking you make through our platform. 
That's right; you can earn money back while booking your flights! The user-friendly interface makes it easy to search for flights, compare prices, and choose the best option for your travel needs.
So why not book your next flight with us and start earning real cashback? 
2/ Reserve Suitable Places to Stay in South America
Done with the flight booking? Awesome! Now you must choose the best hotels according to your needs and budget. 
Enter your desired country along with expected check-in and check-out dates to see the most suitable places to stay there. 
3/ Plan Things to Do in South America
There are tons of things to do in each South American country. And the best way to enjoy everything a country offer is to book the best tours using this tool. 
Let me share my top favorites based on your choice of country. 
FAQs about the Safety of South America
Let me answer a few questions about security, safety, and peace in South America. 
What is the most stable country in South America?
With a global peace index score of 1.8, Uruguay has been ranked South America's most stable, peaceful, and safe country. Uruguay has solid political stability, a long-standing tradition of democracy, free and fair elections, low corruption, and a strict rule of law.
Is Chile or Argentina safer?
The 2022 Global Peace Index ranks countries based on security and safety and shows that Chile is safer than Argentina. Chile ranked 55th, and Argentina ranked 69th out of 163 countries. But both countries have their unique safety challenges. 
What are some of the safest countries in Central America?
Panama and Costa Rica are among the safest countries in Central America. Both countries have relatively low crime rates compared to other countries in the region, and they are also known for their political stability and strong economies. 
Which North American countries are the safest?
According to GDI, Canada, Costa Rica, and Panama are North America's top three safest countries. Also, these countries have well-developed tourism industries, making them relatively safe and secure. 
By the way, I love Costa Rica, so I've written many posts about it. Explore these safest places in Costa Rica and similar places to Costa Rica if you have already been there.
And by the way, Costa Rica offers a visa for digital nomads if you want to work remotely from there. 
So which of these safest South American countries will you visit first? Let me know in the comments below :)