Connecticut is home to some of the best aquariums and zoos in the US, making it a great destination for nature lovers and families looking to enjoy a fun-filled day out.
These petting zoos in Connecticut showcase exotic animals, fishes, birds, and more. You can learn a lot of things about marine life while you're in the CT area. 
From illuminating experiences to interactive exhibits and special events, there's an array of activities available for you to explore and learn. 
6 Popular & Best Petting Zoos in Connecticut (CT)
In this blog post, I'll look at some of Connecticut's best zoos and wildlife parks.
1/ Beardsley Zoo – Bridgeport CT
Beardsley Zoo is the biggest zoo in CT, with an area of 18117 acres. It offers 305 animals and has often been a point of celebration in the world of conservation biology.
The wildlife park is the birthplace of endangered animals such as Amur leopards, Amur tigers, golden lion tamarins, and red wolves.
Found in Bridgeport, the Zoo offers educational resources to teach the public about these species that are on the brink of extinction.
Its exhibits give visitors an intimate look into the lives of these creatures and their habitats while displaying a dedication to wildlife preservation.
In addition to that, there are always special events and activities at Beardsley Zoo, so you can keep your visit interesting.
Also, it's a free zoo in CT ONLY on Saturdays, according to a report. You should still confirm it from the official site.
Visit the Beardsley Zoo in the Bridgeport, CT area, which is open year-round from 9:00 am to 4:00 pm!
2/ Action Wildlife – Goshen CT
Action Wildlife in Goshen is a family-friendly paradise for animal lovers. This 116-acre Zoo and museum houses above 350 animals, such as Asian elephants, yaks, snow leopards, zebras, and many more.
Notable attractions include the African Savanna, Animal Musical Montezuma's Revenge, and Goomba, the camel ride. Action Wildlife is your go-to destination for a fun day with animals.
Visiting Connecticut's zoos is the perfect way to spend your day and get up close with various fascinating creatures.
From the renowned Beardsley Zoo in Bridgeport to Action Wildlife in Goshen, Connecticut, it has something for everyone regarding animal attractions.
Action Wildlife invites you to join the adventure from 9:00 am9:00 am – 4:00 pm4:00 pm daily. Visit Goshen and discover all of its natural treasures today!
3/ Denison Pequotsepos Conservation Center – Mystic CT 
The Denison Pequotsepos Nature Center is a non-profit environmental education center in Mystic, Connecticut, with 350 beautiful acres of unique woodlands, wetlands, and meadow habitats.
It is undoubtedly one of the best wildlife parks in Connecticut!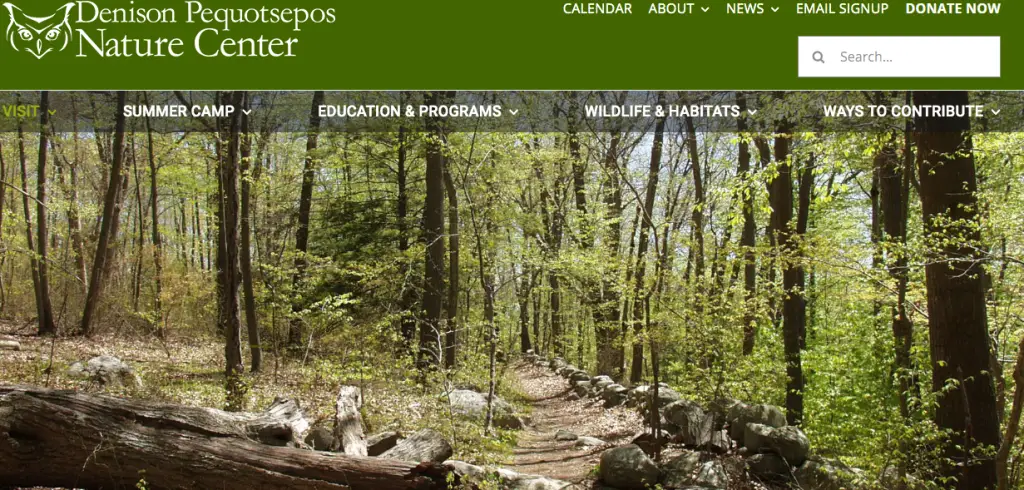 For more than three decades, this Nature Center has served as a sanctuary for hundreds of birds and animals that can be encountered in stimulating and interactive ways.
You have the opportunity to do tons of things:
Observe wildlife in its natural beauty.
Learn about wild creatures' remarkable abilities.
Experience nature through trails amidst dense woods.
And explore educational programs.
The center also offers events reflective of seasonal celebrations of exploration beyond just seeing animals, like birdwatching days, fostering the enjoyment of being outdoors!
From Monday to Saturday, the Denison Pequotsepos Conservation Center welcomes you from 9:00 am until 4:00 pm. On Sundays, come in at 10:00 am for a day of exploration and discovery!
4/ Sharon Audobon Center – Sharon CT 
The Sharon Audobon Center is one of the best zoos in Connecticut, thanks to its mission to protect birds.
This mission is evidenced by its 1147 acres dedicated to creating a safe and healthy environment for birds of all varieties. 
From their aviaries and observation decks, visitors can watch the birds in their natural habitat, providing an incredibly unique experience in zoology.
In addition to its mission, Sharon Audobon Center offers educational programs to its visitors, allowing them to learn more about bird conservation and how they, too, can be part of protecting our feathered friends.
Plus, this Zoo has a range of activities and events suitable for all ages. From bird walks to photography workshops, visiting the Sharon Audobon Center is an educational and fun experience.
Visitors are welcome to explore non-releasable wildlife, nature center exhibits, and gift shop on Thursdays through Saturdays from 1:00 pm – 4:30 pm. Additionally, you can take advantage of the trails open daily at sunrise and close up with the sunset.
5/ Highwire Deer and Animal Farm
This list of zoos in Connecticut would be incomplete without the mention of Highwire Deer and Animal Farm.
With a big farm to explore, visitors can interact with a wide variety of animals:
Mini horses.
Alpacas.
Deer.
Goats.
Lemurs.
A llama.
Zebra.
Capybara.
Kangaroo.
Donkeys.
And all kinds of birds.
Highwire's "One of a Kind Animal Experience" allows visitors to get up close with the animals and learn more about them. Whether you want to pet, feed or even ride these animals, your experience will be unforgettable.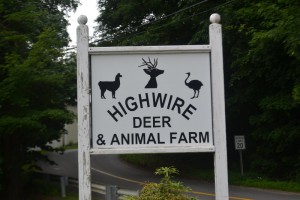 Unfortunately, due to the current events, rules and regulations have been put into place, causing Highwire Deer and Animal Farm to close during these difficult times temporarily. We are looking forward to being able to see the animals again soon!
No need to fret! You are welcome to explore our animal farm when the gates reopen. Be sure to check out its official website for any upcoming updates.
6/ Riverside Reptiles Education Center
Riverside Reptiles Education Center is one of the most popular zoos in the CT area and is a must-visit for anyone visiting the area.
An expansive 13,000 square feet of space awaits you with awe-inspiring creatures that will leave you in wonder.
The collections include snakes, frogs, toads, and turtles from all over the world. There are also interactive displays that let visitors learn more about each reptile.
Riverside Reptiles also has an onsite shop where visitors can purchase reptile accessories and adopt their pets.
Riverside Reptiles Education Center offers educational programs, workshops, and special events so everyone can get an up-close look at these amazing animals.
The center is open Tuesday through Sunday from 10:00 am to 4:00 pm, while Monday remains closed.
Top 3 Best Aquariums in Connecticut
Aquariums in the CT area allow visitors to explore the underwater world of marine life. With a variety of fish and coral, these aquariums provide a unique experience for everyone.
1/ The Maritime Aquarium – Norwalk CT
The Maritime Aquarium, located in Connecticut, is the perfect place to enjoy a family outing.
With 75 live exhibits, the aquarium boasts over 7,000 animals of 177 different species, all living in harmony with each other in 177,000 gallons of water.
It provides excitement and education for aquarium-goers, and the venue also offers cafes, gift shops, and a 4D Theater to add to the interactive experience.
The aquarium also runs a variety of conservation efforts and programs designed to increase awareness about wildlife.
Visitors to the marine population exhibit will be delighted by a stunning array of creatures, from enormous sharks and harbor seals in their new habitat to graceful sea turtles, stingrays, game fish, jellies, crabs, lobsters, and mollusks. 
It's an incredible opportunity to observe some remarkable species up close.
Whether you are looking for a fun day out or want to learn more about marine life, The Maritime Aquarium has something for everyone!
The aquarium opens its doors at 10:00 am and closes promptly at 5:00 pm. So make sure you come early to enjoy the full experience!
2/ Mystic Aquarium
Mystic Aquarium is a marine aquarium located in Mystic, Connecticut.
The aquarium has ten unique and interactive zones where visitors can explore more than 800 species of animals totaling over 100,000 individuals.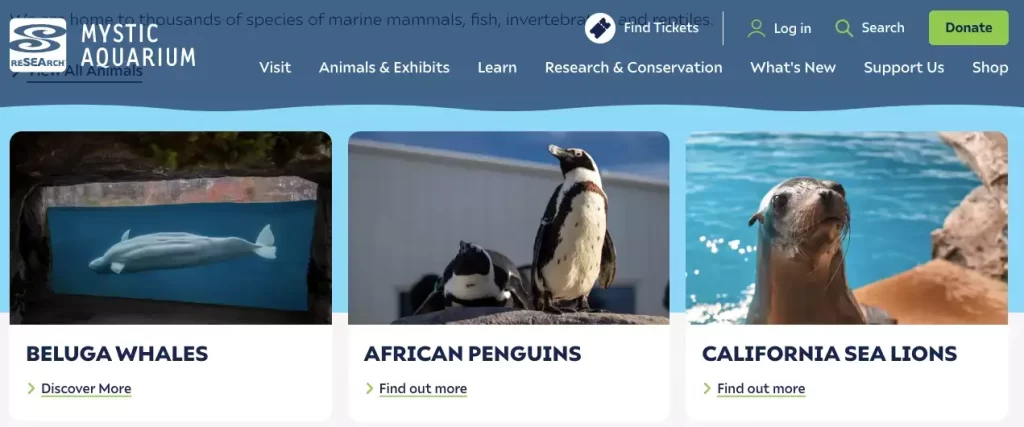 Among these incredible marine species, visitors can observe fascinating sea lions, come inches away from sharks and pet sting rays and engage with interactive activities and live shows.
From the deep sea's wonders to the ocean's beauty, the aquarium is a splendor for marine life enthusiasts. It offers visitors the opportunity to explore and experience a variety of aquatic animals up close.
Mystic Aquarium offers a vast selection of exciting educational opportunities allowing Connecticut to experience marine life like never before.
Mystic Aquarium is open daily from 10:00 am – 6:00 pm and closed on Thanksgiving Day and Christmas Day. Be sure to check the website for updates in case of any changes.
3/ SeaQuest Connecticut
At SeaQuest Connecticut, one of only two US facilities holding Steller sea lions, you can explore one of the best aquariums in Connecticut.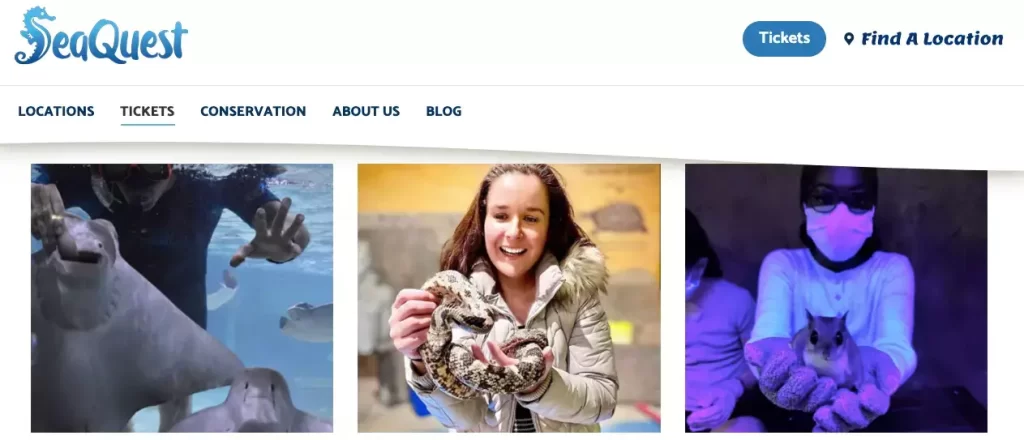 SeaQuest differs from traditional aquariums because it offers interactive activities and hands-on experiences with its residents. 
Visitors can meet, touch, and feed various animals, for example, by hand-feeding stingrays in Stingray Bay or by diving in the Shark Tank.
The facility's education programs also allow guests to explore and learn about the incredible creatures in their habitat. 
The knowledgeable staff explains various facts about the inhabitant's anatomy, behaviors, and ecology while engaging in fun activities.
Whether you're traveling as a family or alone, SeaQuest Connecticut promises to be an unforgettable experience.
SeaQuest is operational all seven days of the week. However, it's best to double-check timing updates on the aquarium's website as they may vary.
Witness Wildlife Animals in Other Zoos in the US:
You might want to explore these zoos in the US as well:
So here you go; you've got the list of the most popular and best aquariums and zoos in Connecticut, US. Where are you headed? Let me know in the comments below.