In this post, you'll discover the best water parks in Mexico, with thrilling water slides, tons of activities, and attractions to keep you and your kids busy with water.
From exhilarating water slides to relaxing lazy rivers, and wave pools, these Mexican water parks offer an array of exciting attractions for kids and adults alike. 
Kids love parks and zoos! So, don't forget to explore amusement parks in Mexico and Mexican national parks. 
Let's start playing with water in Mexico for now. 
Best Water Parks in Mexico
| Name | Location | Attractions |
| --- | --- | --- |
| Water Park Tepetongo | Closest to Mexico City | Underground rivers, beaches, cultural shows, animal exhibits, Mayan ruins. |
| Xel-Há Park | Riviera Maya | Snorkeling, cliff jumping, zip-lining, and floating river. |
| Xcaret Park | Riviera Maya | Underground rivers, beaches, cultural shows, animal exhibits, and Mayan ruins. |
| Playa Mia Grand Beach | Cozumel | Water slides, wave pool, floating park, beach, kayaking, paddleboarding. |
| Maya, Lost Mayan Kingdom | Costa Maya | Water coasters, wave pool, lazy river, zip-lining, hosts cultural events |
| El Rollo Parque Acuático | Tlalnepantla | Water slides, wave pool, kids' area, picnic areas, food court, live shows |
| Ventura Park | Cancun | Water and amusement park, water slides, zip-lining |
Grab your sunscreen, get your swimsuit ready, and let's dive in!
1/ Water Park Tepetongo, Mexico City
Located just outside of Mexico City, Tepetongo Water Park in San Luis Potosi offers an unforgettable experience for visitors of all ages.
Visit: The Best Water Parks in Mexico City Here.
At Tepetongo, you can enjoy a wide range of activities, including:
Thrilling water slides.
Hot spring area.
Wave pool for a beach-like experience.
Lazy river for a more relaxing experience.
With its exciting water slides, a serene lake, and a large swimming pool, Tepetongo offers a perfect summer getaway for visitors of all ages. 
But that's not all; the park also features a volleyball field for sports enthusiasts and boats for those who want to enjoy a leisurely ride on the water.
Wait, there are more reasons to visit Tepetongo.
The park is always clean, and the staff is friendly and welcoming. It's a great place to bring the whole family, and plenty of food options are available throughout the park.
If you're feeling peckish, Tepetongo has you covered with its barbecue area and restaurants that offer mouth-watering food to satisfy your cravings. 
But if you prefer to bring your food, you can enjoy a picnic in the park's lush green spaces.
Honestly, it's the ultimate destination for anyone looking to spend a day filled with fun, relaxation, and good food in the heart of Mexico City.
2/ Xel-Há Park, Tulum
Xel-Há Park is a must-visit destination for water park enthusiasts visiting Tulum, Mexico. It boasts an extensive natural aquarium that extends over 14 acres of land, featuring various species of marine life.
One of the best things about Xel-Há Park is its all-inclusive experience. Visitors can indulge in unlimited snorkeling, kayaking, ziplining, and guided tours, all included in the admission price.
And it's an all-inclusive Mexican water park:
The park is also famous for cliff-jumping activities, where adrenaline junkies can leap faith into the freshwater below.
For those looking for a more relaxed experience, plenty of hammocks and beach chairs spread throughout the park, allowing visitors to soak up the sun and enjoy the natural beauty of their surroundings.
Xel-Há Park also boasts several restaurants, bars, and snack bars, ensuring visitors never go hungry or thirsty.
They can treat themselves to a cold drink at the bar overlooking the park's lagoon.
3/ Xcaret Park, Playa del Camen
Xcaret Park is one of Mexico's most popular water parks in Playa del Carmen along the Yucatan Peninsula. This park offers a wonderful combination of natural beauty and fun amusements for visitors of all ages.
Choosing Xcaret Park for your vacation destination is excellent because it offers many attractions, including snorkeling, swimming with dolphins, water adventures, and cultural shows.
This park provides a unique experience to visitors by offering them to learn about Mexican culture while enjoying the park's aquatic beauty.
The park offers many activities based on Mexican culture, such as traditional Mexican music, folklore dances and performances, and art displays of Mexican history.
All these activities are held in an open-air theater so visitors can enjoy the great natural wonder.
Regarding water activities, Xcaret Park offers a variety of options, including Snuba diving, rafting, hanging bridges, ziplining, and various water sports activities.
You can also explore underground rivers, which are the park's highlights. 
Xcaret Park is the perfect water park destination for visitors who love Mexican culture and natural beauty and wish to enjoy numerous aquatic amusements.
4/ Playa Mia Cozumel Beach Park
Playa Mia Grand Beach Park, on the west coast of Cozumel, is one of the best water parks in Mexico on the beach. It's a paradise for visitors, offering crystal clear water and white sand beaches.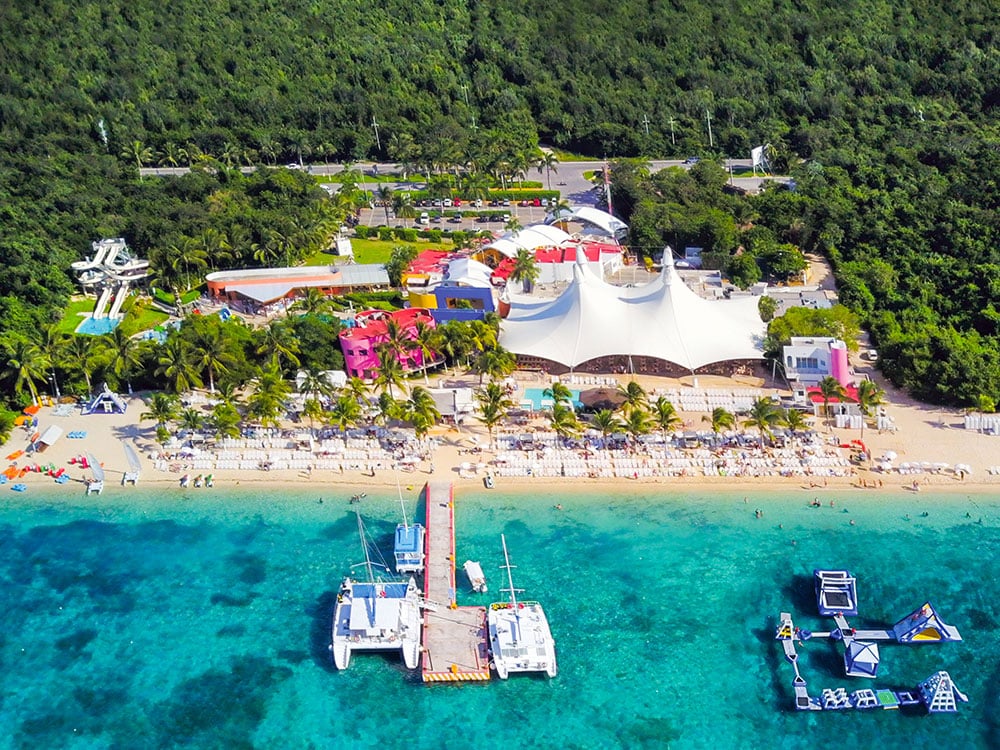 The park offers many activities, including swimming, snorkeling, beach volleyball, kayaking, paddleboarding, water slides, and more. You can relax and enjoy the sun or shade with plenty of lounge chairs and umbrellas. 
The many enjoyable options are among the best reasons to visit Playa Mia. You can choose from different packages to suit their needs, including all-inclusive packages with unlimited food and drinks.
Your family will surely have fun in Playa Mia Grand Beach Park.
Delicious food options include Mexican specialties, pizzas, and even vegan options. The park also has a bar serving various drinks, including margaritas, beer, and cocktails.
Visitors can purchase tickets online or directly at the entrance to the park. In addition, the park offers transportation services from hotels and cruise terminals in Cozumel.
Playa Mia Grand Beach Park is an excellent option for a relaxing beach day. With its beautiful location, variety of activities, and unlimited enjoyment options, this park is a must-visit destination in Cozumel, Mexico.
5/ Maya, Lost Mayan Kingdom
Located in Mahahual, Quintana Roo, Maya, Lost Mayan Kingdom is a water park that takes visitors through Mayan mythology and history.
This park offers a unique and immersive experience for its guests, combining excitement and education in one place. 
Featuring over 10 water attractions, visitors can enjoy a variety of water adventures, such as slides, rapids, and a lazy river. For those who prefer to stay dry, there are also activities such as ziplining and a ropes course.
One of the park's most impressive features is the massive replica of the famous Chichen Itza pyramid. I mean, look at this grand beauty:
You can climb to the top and enjoy a panoramic view of the park and the surrounding jungle.
Alongside the pyramid, witness the life-size replicas of ancient Mayan structures such as the Temple of Warriors and the Observatory.
The park also offers educational shows that showcase Mayan culture and traditions. Visitors can watch reenactments of traditional Mayan ball games and learn about ancient Mayan rituals and beliefs.
7/ El Rollo Parque Acuático
 El Rollo Parque Acuático, located in Morelos, is one of the best water parks in Mexico. It combines water slides, pools, and thrilling rides perfectly. 
This water park is designed for adults, kids, and families looking to have a great time. With more than 15 slides, each with a unique twist, you're guaranteed a blast. 
One of the park's main attractions is the Giant Wave Pool. Here, you can experience the joy of riding waves just as if you were surfing in the ocean.
The Lazy River is another must-visit attraction, where you can relax in a slow-moving river and let the water's current take you around the park.
The Hurricane and the Kamikaze are just two options for thrill-seekers. Visiting El Rollo Parque Acuático is more than just enjoying the water attractions.
8/ Ventura Park, Cancun
Ventura Park is an amazing option for those who want to experience more than just a water park. It's one of the best amusement parks in Mexico's luxury city, Cancun.
From ziplining to go-karting, from virtual reality to arcade games, there's something for everyone at Ventura Park.
But it's a full-fledged water park as well. One of the main attractions at this park is the "Wet'n Wild" section, which has several thrilling water rides and pools to cool off in.
You can try the Kamikaze or the Bubba Tub or even ride the longest lazy river in Cancun. If you want a break from the water, head to the "Fun World" section for adrenaline-pumping activities like bungee jumping or a roller coaster. 
Ventura Park also has a delicious food court with plenty of options to satisfy any craving. You can find it all here whether you want Mexican cuisine or something more international.
The park is a fantastic option for visitors and locals who want fun with friends and family. So, grab your sunscreen and head to this amazing park for a day full of adventure and excitement!
FAQs for the Top Water Parks in Mexico
Time to answer your questions now.
What water park in Mexico has a huge slide?
Xplor in Riviera Maya boasts the only 5-in-1 waterslide in the world, making it the biggest water park slide in Mexico, called Xplor's Toboganxote. Starting from a 135-ft drop, you'll ride a raft, enter a sphere, move like a pendulum, and finally reach the wave pool.
Where is the 2 biggest waterpark in the world?
Ice Land Water Park, located in Ras Al Khaimah, United Arab Emirates, and Caribbean Bay Water Park, located in Gyeonggi-do, South Korea, is among the largest water parks in the world. With various thrilling rides and attractions, these water parks are must-visit destinations for any water park enthusiast.
There are many Mexican amusement parks, such as Six Flags, Xcaret Park, Selva Magica, and Ventura Park. And some of the most amazing national parks in Mexico are Bahía de Loreto National Park, Arrecife Alacranes National Park, Arrecifes de Xcalak National Park, and many more. 
Which of these best water parks in Mexico will you visit first? Let me know in the comments below, and subscribe to my newsletter there.