So you want to call the Americas your home as a digital nomad.
Or you're just curious about the best places for digital nomads in Mexico to work remotely. You'd like to check out this list of the 15 best cities in Mexico for digital nomads. 
Mexico, officially called the United Mexican States, is a geographical part of North America, a cultural part of Latin America, and a historical part of Ibero-America.
Check these Mexico alternatives to taste similar but unique vibes.
So, exploring this country that has become a popular destination for digital nomads would be interesting. Why?
It's inexpensive to live here. In most cities, you can easily find a comfortable living place for less than $1,000 monthly. You should check out these cheapest and safest places to visit in Mexico.
The weather is excellent. Mexico is warm and sunny year-round, making it a perfect place to work outdoors. 
And there are a lot of things to do. From exploring ancient ruins to lounging on the beach, you'll never get bored in Mexico.
From lively metropolises to charming small towns, there's something for everyone on this list! So take a look and see which one is calling your name. 
But first, let me share my top favorites.
Best Cities in Mexico for Digital Nomads
1/ Playa del Carmen
The city has a variety of coworking spaces offering internet and a great environment to get work done.
There is also a large community of digital nomads in Playa del Carmen, which makes it easy to meet people and make friends. The city has fun things to do, including beaches, restaurants, and nightlife.
The cost of living in Playa del Carmen varies depending on your lifestyle. A modest one-bedroom near the beach can cost you only $800 to $900 monthly with rent and bills (if you're cautious with electricity and the AC).
Condos are probably the most popular area in Playa, so living there would be a little more expensive. 
The internet speed in Playa del Carmen is average, with a download speed of only 10 Mbps. That's the only downside I could find about living a digital nomadic life there. 
Also, visit the best beaches in Chiapas, Mexico while you're there.
2/ Mexico City
Mexico City is the ideal destination for digital nomads who want access to a big city's amenities without spending a fortune. 
You can find shared apartments starting at around $500 per month, and many coworking spaces ares available throughout the city.
And if you want to enjoy extravaganza lifestyles, many high-end luxury hotels exist in Mexico City.
While Mexico City has a lot of fun things to do, it can be a little too crowded for some. Also, the quality of hospitals and education is low. 
But digital nomads and slow travelers still love this place because of all it offers! The city is safe, friendly to the LGBTQ community, easy to do business with, and so on!
Also, the internet speed is better than in most places in the United Mexican States. For example, the average download speed in the country is 23 Mbps. Not bad, right?
Also, Mexico City has endless things to do, from visiting world-class museums to sampling delicious street food.
3/ Tulum
Tulum is a beautiful beach town located on Mexico's Caribbean coast. Thanks to its sandy beaches and tropical vibes, it's become increasingly popular with digital nomads in recent years. 
There are many coworking spaces and digital nomad cafes in Tulum as well.
And when you don't want to work, you can explore the nearby Mayan ruins or dip in one of the many cenotes (natural swimming holes).
It's important to note that the cost of living in Tulum is higher than in most cities in Mexico. For example, a two-bedroom apartment can cost $1500 to $2000 monthly. Not much? Go for it. 
There are a lot of trendy restaurants and luxurious villas to try out there. 
But if you cook at home and stay in a more modest accommodation, you can live on $1,000 monthly in Tulum. This will cover your rent, food, transportation, and other essential expenses. 
4/ Cancún
Cancun is one of the best islands in Mexico for digital nomads. The city is known as a beach paradise, with over 14 miles of white-sand beaches and turquoise waters that attract thousands of tourists annually.
Go for Cancun if you haven't yet chosen a place to work remotely as a digital nomad, as it offers something for everyone. 
The island has plenty of modern amenities, such as excellent transport, strong infrastructure, inexpensive cost of living, and excellent internet connection.
The digital nomad scene in Cancun is growing fast, with many coworking spaces allowing you to work remotely. Many restaurants, bars, and clubs also offer entertainment and delicious local food.
Discover the best bars in Cancun right now.
5/ Puerto Vallarta
Puerto Vallarta is another excellent option for beach lovers who want access to a big city's amenities. 
This resort town has gorgeous beaches, plenty of restaurants and bars, and plenty of things to do when you like a break from work.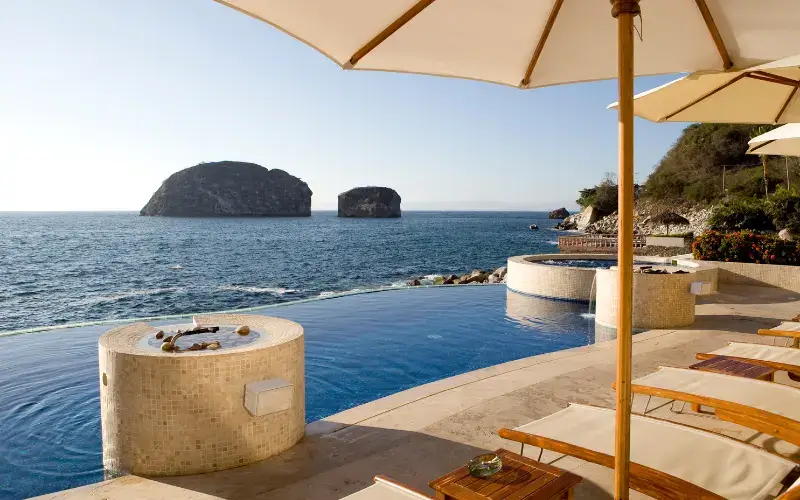 The city is surrounded by mountains, offering plenty of outdoor recreation opportunities. You can surf with waves as well! 
In addition to its natural attractions, Puerto Vallarta has a rich culture reflected in its architecture, art, and food. The city is home to many museums and other cultural venues.
This city is also a great place to enjoy sports. The area has numerous golf courses, and the city hosts international tennis tournaments. 
You can find shared apartments starting at around $600 per month, and many coworking spaces ares available throughout the city center. The internet speed in Puerto Vallarta is average (2 to 10 Mbps).
Also, this Mexican city's well-developed infrastructure makes it easy to get around. Aren't these reasons enough to make Puerto Vallarta one of Mexico's top digital nomad cities?
6/ Guadalajara 
Guadalajara is worth considering if you're interested in moving to a big city but want something cheaper than Mexico City. 
This lively metropolis is located in western Mexico and offers everything you could want from urban living: 
Excellent public transportation
Plenty of restaurants and bars
And plenty of cultural attractions like museums and theaters.
And this Mexican city has a lot of coworking spaces and digital nomadic cafes scattered throughout the city. What else do you want from one of Mexico's best digital nomad cities?
7/ La Paz
La Paz is a beautiful city located on Mexico's Baja California peninsula. Accommodation options range from hostels and Airbnb to upscale boutique hotels, and there are many coworking spaces to choose from. 
A single person's living cost in La Paz is approximately $500 per month. And the internet connectivity is excellent, with an average speed of 27 Mbps. 
There are many things to do in La Paz. For example, you can explore the nearby Mayan ruins or dip in one of the many cenotes (natural swimming holes).
8/ Mazunte
Mazunte is a small beach town on Mexico's Pacific coast of Oaxaca. Digital nomads and slow travelers love its stunning beaches and laid-back atmosphere. 
The average cost of living in Mazunte is $720 per month, and the internet speed is 18-21 Mbps.
There are several coworking spaces in Mazunte to finish your work remotely. You can explore the nearby turtle sanctuary or dip in one of the many cenotes (natural swimming holes) when you're not working.
9/ Oaxaca City
If you're looking to escape the rat race and work remotely in a culturally rich environment, Oaxaca is perfect for digital nomads.
Oaxaca City, the foodie capital of Mexico, offers an amazing hospitality experience and mouth-watering cuisine. 
These days, digital nomads in Oaxaca are enjoying the ultimate laid-back lifestyle.
While there are some great coworking spaces in town, WiFi can be hit or miss depending on where you are. 
Oaxaca City is one of the most beautiful and vibrant cities in Mexico. Located in the Oaxaca Valley, the city is surrounded by mountains and has a temperate climate. 
The cost of living here is low ($900-$1500/month) compared to other large Mexican cities like Mexico City or Guadalajara.
And because it's a walkable city, you won't need to spend much on transportation. There are some public transportation options and taxis, but you likely won't spend much on either. 
10/ San Miguel de Allende
San Miguel de Allende is one of Mexico's best digital nomad cities. The weather is perfect; there's a great arts and culture scene. 
The cost of living is a little high ($1500) but manageable.
Food expenses can also be relatively high in San Miguel. Eating out in restaurants will generally be more expensive than cooking at home. You can expect to spend around $400 per month on groceries.
But you can find many affordable restaurants and food stalls throughout the city that offer delicious local cuisine.
There are a few things to remember if you decide to move here. 
The WiFi here can be spotty. Also, it's a small town, and there aren't many coworking spaces. So you might want to rent an apartment with a good internet connection.
Overall, San Miguel is a great place to live if you want to slow down and focus on your work. The people are friendly, and there's always something interesting happening in the city.
11/ Mérida, Yucatán
Mérida, the culture capital of Yucatán, is a great place to base yourself if you are a digital nomad. The city offers big-city living yet small-town charm with all amenities. And it's one of the cheapest and safest places in Mexico.
Merida is perfect for low-key digital nomads and culture lovers. But you can still do and see many things in Merida to keep you busy.
The only downside is the weather. So if you don't like hot tropical weather, don't choose Merida as your base camp. 
The cost of living in Merida is also low; you can easily live for under $900 per month. And the internet speed is also good enough! 
12/ Querétaro
Querétaro is one of the most underrated cities in Mexico for digital nomads. The digital nomadic life in Querétaro is a great option for those who want to get away from the hustle and bustle of the city. 
There are plenty of remote work opportunities available, and the city center is UNESCO-listed, which means there is plenty to see and do.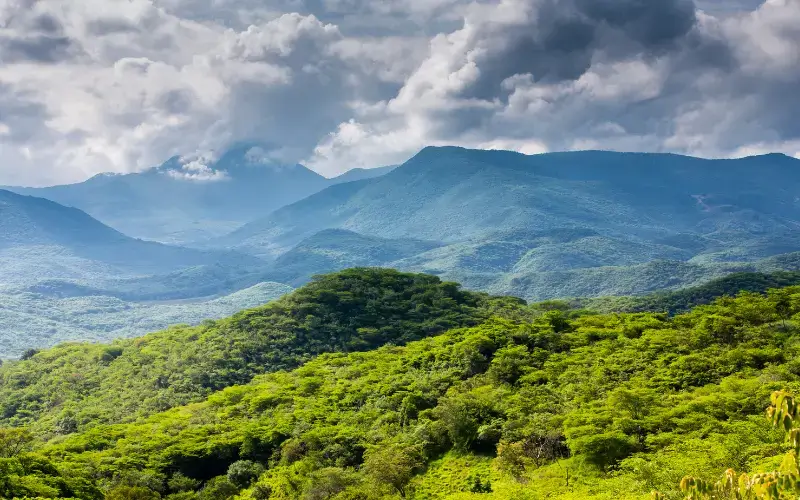 Plus, the locals are incredibly friendly and welcoming, making it a great place to settle in for a while.
 You don't need air conditioning to keep you warm or cool. The cost of living in Querétaro is around $900 per month, which is very reasonable. But the transport can be a little more expensive here than in other Mexican places. 
13/ Guanajuato
Guanajuato is a great place to live a digital nomadic life. Many cafes and restaurants offer free WiFi, and the city is filled with culture and history. 
Also, many day trips nearby are perfect for tourists and digital nomads. For example, you can visit the ancient city of San Miguel de Allende, the stunning caves of Cacahuamilpa, or the charming town of Dolores Hidalgo.
The cost of living in Guanajuato is reasonably priced, with one-bedroom Airbnbs starting at around $500 per month. Food is also relatively inexpensive, costing around $3-5.
However, transportation can be more expensive here than in other places, so you may want to factor that into your budget.
14/ Puebla
If you're looking for one of the best digital nomad places in Mexico, look no further than Puebla. This charming colonial city is located about 2 hours from Mexico City's international airport, making it easy to connect to the world. 
Plus, Puebla offers a great mix of culture, history, and affordability, making it perfect for digital nomads and remote workers.
The cost of living in Puebla is $500 per month, making it easy to afford quality housing, food, and transportation. And there's no shortage of amazing restaurants here serving up some of the best Mexican food you'll ever taste. 
Puebla is also home to some beautiful colonial architecture, making a great backdrop to your work day. 
Mexicans are known for their warm hospitality, and Pueblans are no exception. You'll quickly feel like part of the community here, which can be a great comfort when working from home. 
So if you're looking for a great place to live and work in Mexico, check out Puebla.
15/ Monterrey
Monterrey is a great place to settle as a digital nomad and expat. The city is located in the northern region of Mexico and has an abundance of modern amenities, great transport links, and active nightlife.
The city has top-notch internet speed for working remotely. It's also home to many multinational companies, making it a hub for the tech industry in Mexico. The city is home to many universities and colleges offering higher education.
Monterrey also has a vibrant cultural scene with numerous museums, galleries, and theaters. It also has a great range of restaurants, cafes, bars, and nightlife spots that appeal to digital nomads and expats.
The city is well-connected, with excellent transport links to other areas of the country and nearby cities in Mexico.
FAQs for the Best Digital Nomad Places in Mexico
Now, I'll answer some of the most frequent questions about the best destinations for digital nomads in the United Mexican States. 
Where do most expats live in Mexico?
Most expats and digital nomads live in Mexico city, of course. And the largest hotspot is Lake Chapala, home to the world's largest concentration of US expats.
Is Mexico City good for digital nomads?
Mexico City is good for digital nomads and expats because it offers reliable WiFi, coworking spaces, and a large community of remote workers. The cost of living is relatively low, making it a great destination for digital nomads.
What city in Mexico has the best internet?
Monterrey in Mexico has the best internet speed, with an average of 34 Mbps, according to SpeedTest. After that comes Heroica Veracruz, Santiago de Querétaro, and San Luis Potosi, each with an average download speed of 30 Mbps.
Are there good coworking spaces in Mexico?
Yes, many great coworking spaces in Mexico offer reliable WiFi, comfortable workstations, and meeting rooms. Some of the best coworking spaces for digital nomads in Mexico include WeWork, La Oficina de Millenials, and Co-Loft.
Does Mexico tax digital nomads?
Yes, living in Mexico as a digital nomad or remote worker requires you to pay from 0% to 30% tax, depending on how much you earn. You can find more information on the Mexican Tax Authority website.
Does Mexico have a digital nomad visa?
Mexico doesn't have a specific visa for digital nomads, but they can get a temporary residence visa which allows them to stay in Mexico for up to 2 years. You must meet certain requirements, including having enough financial stability and proof of health insurance.