Have you ever dreamed of going to Hawaii but can't find the time or money? Well, don't worry! Plenty of other places in the US mainland and Canada offer similar experiences and stunning views.
Let me share 6 places like Hawaii on the US mainland and 7 similar places to Hawaii in Canada.
Aloha!
6 Places like Hawaii in USA Mainland
These places are similar to Hawaii in the US because they are all beautiful and have turquoise water.
1/ San Juan Islands, Washington
The San Juan Islands are located in the northwest corner of Washington State and are made up of 172 named islands.
The climate is mild and similar to Hawaii, with temperatures ranging from the mid-30s to the mid-70s.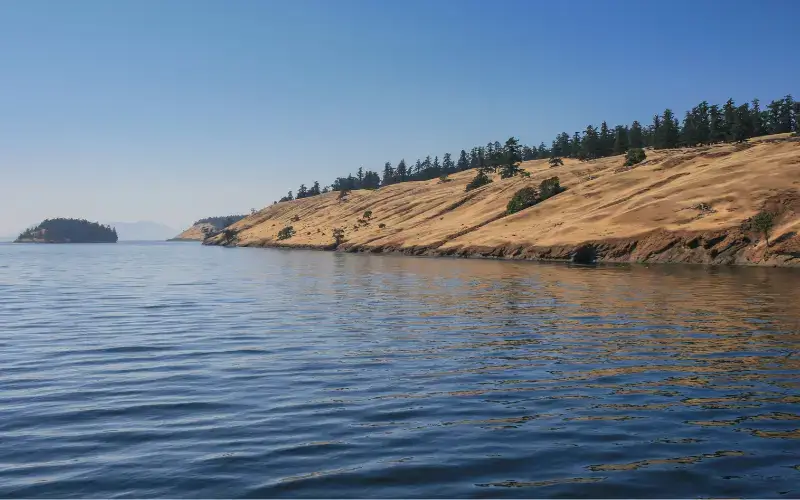 These islands are known for their lush forests, stunning views, and tranquility. You can explore the islands by kayaking, hiking, or taking a ferry to visit small towns and local shops.
The cost of living is also relatively low, making it an excellent destination for budget travelers. There is no public transport on the islands, so visitors must bring their cars or rent bikes or golf carts to get around.
2/ Assateague Island, Maryland
Assateague Island is a 37-mile-long barrier island off the coast of Maryland and Virginia. The island is famous for its wild ponies, beautiful beaches, and diverse wildlife.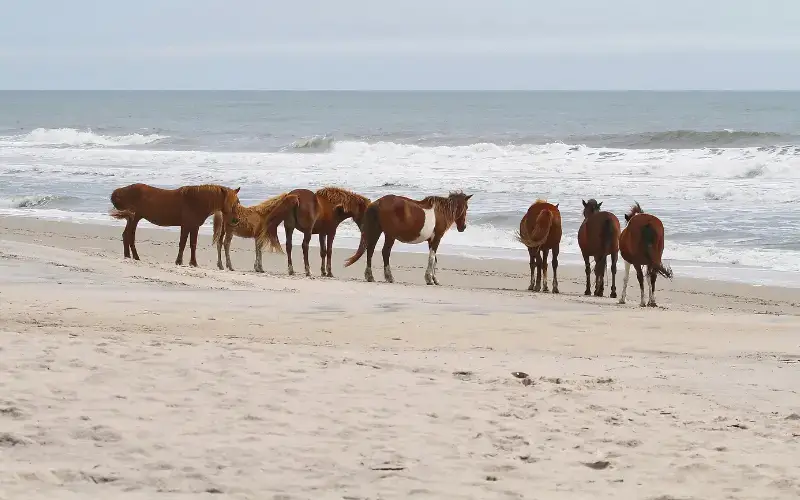 In addition to relaxing on the beach or exploring the island's nature trails, visitors can also go kayaking, horseback riding, and fishing.
Camping is popular on Assateague Island, with several designated RV and tent camping areas.
Like Hawaii, the San Juan Islands is known for its lush forests, stunning views, and tranquility. Both destinations are also perfect for budget travelers looking for a relaxing getaway.
3/ Sapelo Island, Georgia
Sapelo Island is a state-managed barrier island located off the coast of Georgia.
The island can only be accessed by ferry and has limited development, making it an excellent destination for those looking to escape the hustle and bustle of city life.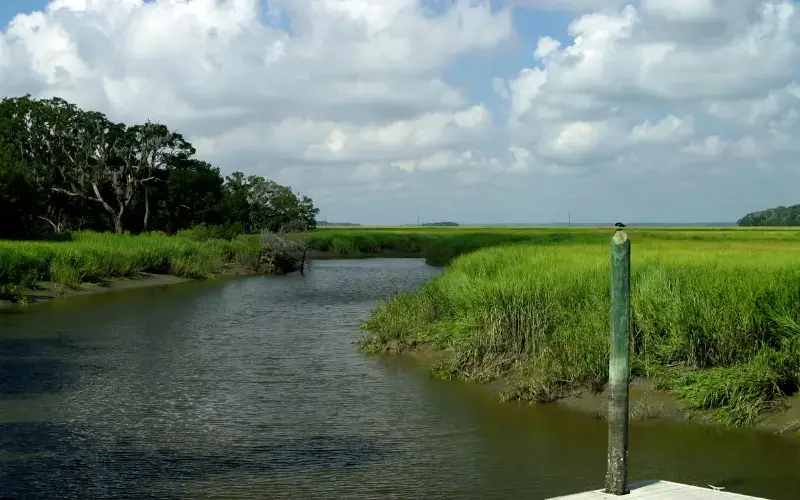 Sapelo Island is an excellent alternative to Hawaii because it offers many of the same benefits, such as stunning views, tranquility, and diverse wildlife, but at a fraction of the cost.
The island is also home to the Georgia Sea Turtle Center, a must-visit for animal lovers. Sapelo Island is accessible only by ferry, so book your tickets well in advance.
4/ Culebra, Puerto Rico
Culebra is a beautiful island 20 miles off Fajardo, Puerto Rico coast. The island is famous for its beautiful beaches, crystal-clear waters, and laid-back atmosphere.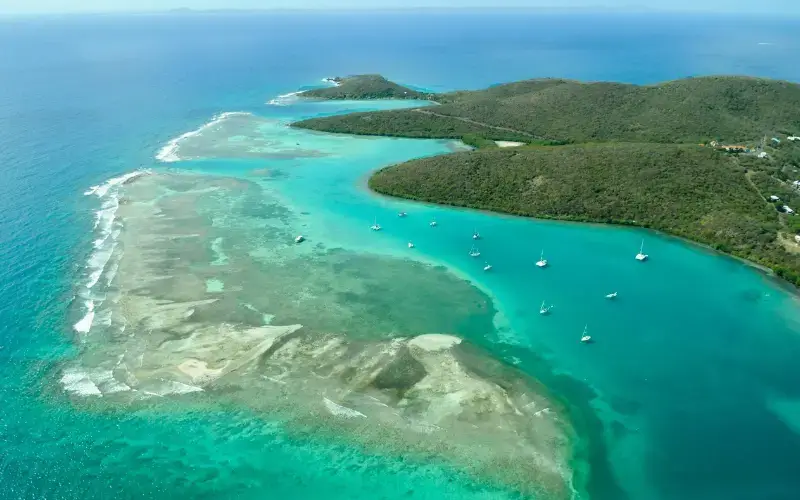 There are plenty of coral reefs and marine life to explore in Culebra's clear waters. With miles of beaches to choose from, you're sure to find a spot that's perfect for you.
The island is known for its clear turquoise waters, white sand beaches, and colorful marine life.
Culebra is often compared to Hawaii because of its lush vegetation and stunning scenery. However, Culebra is much smaller and less developed than Hawaii.
This makes Culebra a perfect place to relax and enjoy nature.
5/ Florida Keys
The Florida Keys are must-mention places similar to Hawaii in the US mainland.
They are a chain of tropical islands located off the southern tip of Florida. These islands are popular fishing, boating, snorkeling, and scuba diving destinations.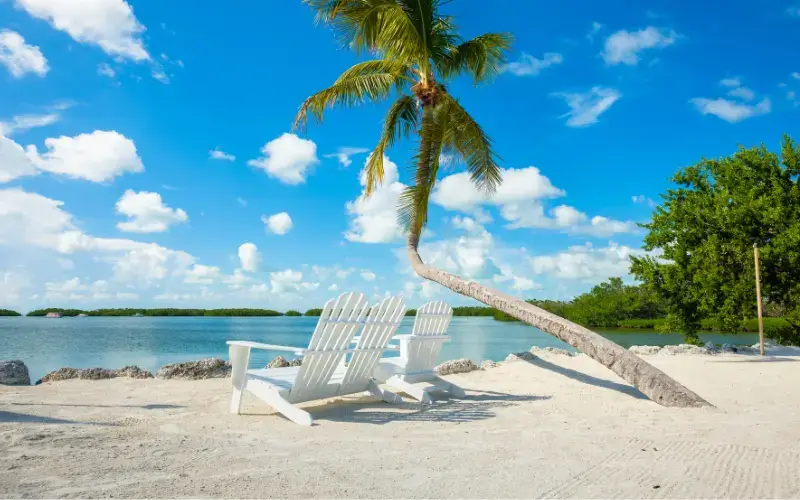 The southernmost city on the Keys, Key West, is famous for its many bars, Mallory Square's nightly Sunset Celebration and the Ernest Hemingway Home and Museum.
You can do many things, from fishing to boating and snorkeling, while you are there. Like Hawaii, the Florida Keys offer stunning views and plenty of water-based activities.
6/ California
California is located on the west coast of the US mainland. It is the most populous state in the country, with over 39 million residents.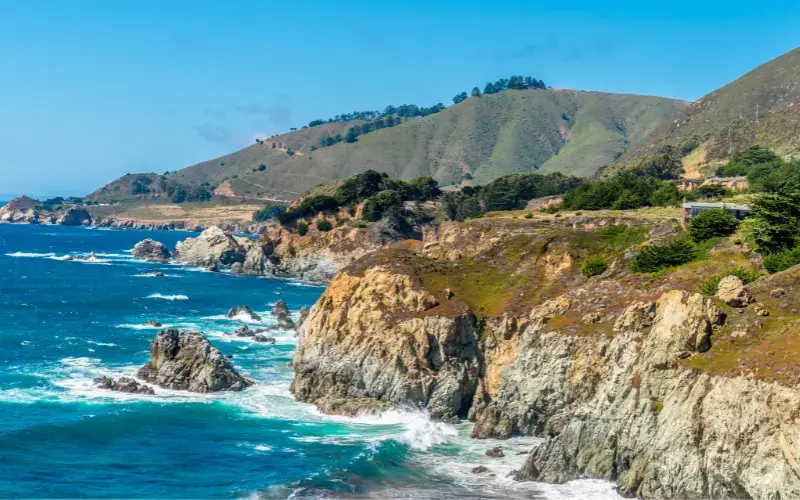 The state is known for its mild climate, diverse landscape, and popular tourist destinations like Hollywood.
There Are Many Places like Hawaii in California
If you're looking for a tropical getaway but don't want to deal with the hassle (and expense) of flying to Hawaii, never fear!
California has plenty of tropical destinations that are just as beautiful, and you won't even need a passport.
Let me share the top 4 places in California that are like Hawaii, without the travel time (or the crowds).
1/ San Diego
With its balmy weather and gorgeous beaches, San Diego is often called "the Hawaii of Southern California." in addition to its many beach towns—like La Jolla, Del Mar, and Coronado.
San Diego also has a bustling downtown area with great shopping and restaurants. And if you're looking for adventure, you can always take a day trip to Tijuana, Mexico.
2/ Miami
If you're looking for an actual Hawaiian-style vacation complete with palm trees and luaus, Miami is the place for you. It's known for its 247 nightlife, pristine beaches, and mind-blowing skyline.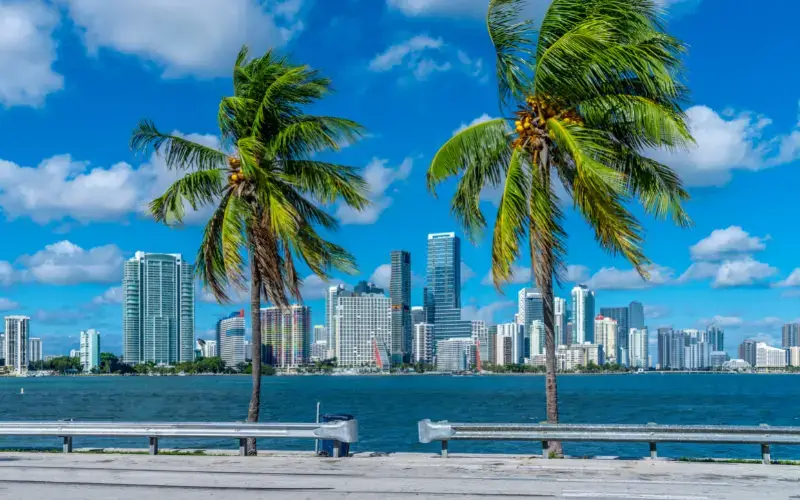 This city has everything from world-class shopping on Lincoln Road to white sand beaches to Cuban food that will make your taste buds dance. Just be sure to pack your sunscreen; it's hot in Miami!
3/ Lake Tahoe
Lake Tahoe is the perfect destination if you're looking for a mix of outdoor adventure and relaxation.
The freshwater lake is surrounded by hiking trails, scenic lookouts, and luxurious resorts. At these resorts, you can take advantage of amenities like massages and gourmet meals.
And, of course, no trip to Lake Tahoe would be complete without spending at least one day on the lake itself. Whether you rent a boat or go for a swim, you're sure to have a blast.
4/ Capitola Beach
Lastly is Capitola Beach, located in Northern California just south of Santa Cruz. This beach town in the US has a laid-back vibe that will make you feel right in Hawaii.
When you're not lounging on the sand or swimming in the ocean, check out Capitola village, where you can find unique shops and delicious food.
Then end your day with a sunset stroll along Capitola Wharf—a truly magical experience.
Each destination offers a unique and beautiful experience regardless of where you go on this list. Let me answer a few relevant questions now.
Top 7 Places like Hawaii in Canada
There's no doubt that Hawaii is one of the most beautiful places in the world. But did you know Canada has its share of breathtaking, just as amazing destinations?
From rocky coasts and misty forests to charming mountain towns and pristine lakes, Canada is home to places similar to Hawaii.
Check them out if you have explored such tropical places in the US and want to go a little further.
1/ Southampton Beach, Ontario
This is the closest place on this list to Hawaii in terms of feel. The sand is white, and the water is crystal clear. It's the perfect place to relax and soak up some sun.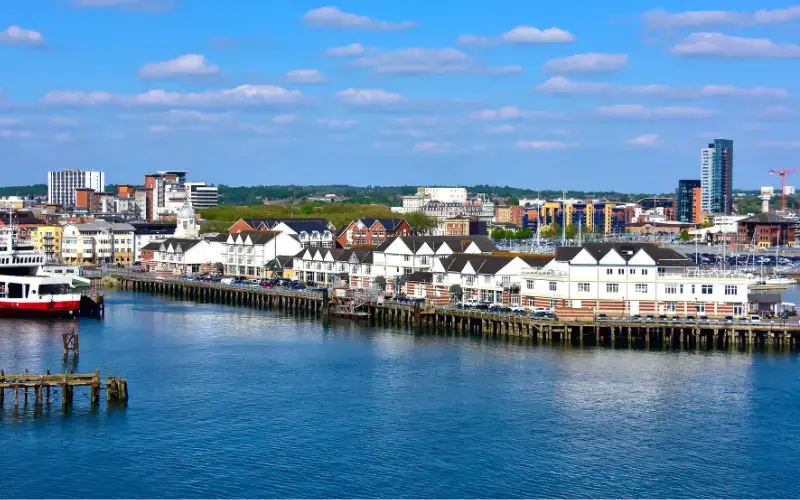 The cost of living and transportation in Southampton Beach vs Hawaii can be quite different. While Hawaii is more expensive overall, living in Southampton Beach can be higher if you're not careful.
2/ Tribune Bay Provincial Park, British Columbia
Tribune Bay Provincial Park is located on Hornby Island, a part of the larger Vancouver Island. This park is known for its stunning views, lush forests, and rocky coastline.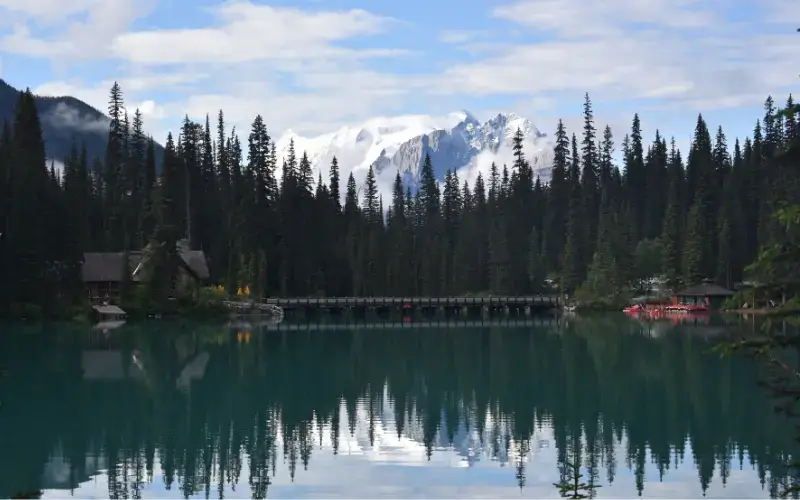 If you're looking for a quiet, peaceful getaway, Tribune Bay Provincial Park is the perfect place to visit. You'll feel like you're worlds away from the hustle and bustle of everyday life.
Unlike Hawaii, Tribune Bay Provincial Park's weather can be pretty cool and rainy. Pack suitable clothing and gear if you visit during the cooler months.
3/ Port Stanley, Ontario
Port Stanley is a small town located on the shores of Lake Erie in Ontario. It's known for its charming downtown area, beautiful beaches, and stunning sunsets.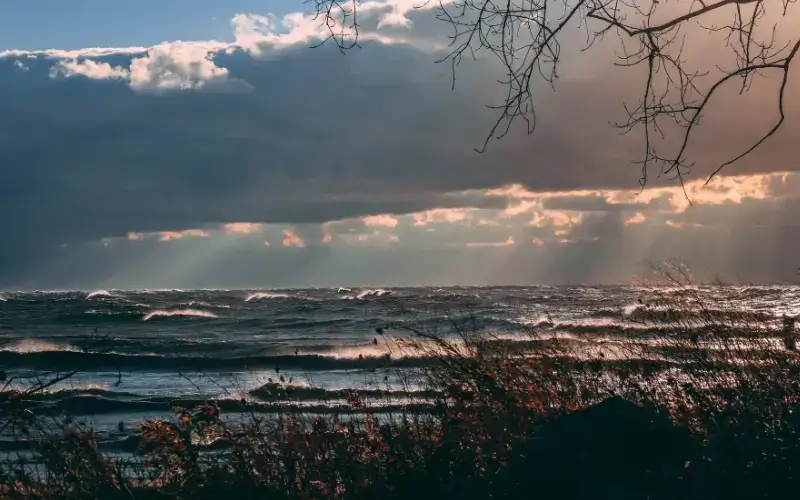 This quaint little fishing village will make you feel right at home. There's nothing better than fresh seafood; you'll find plenty of it here. Don't forget to check out the local lighthouse while in town. 
Like Hawaii, Port Stanley can be pretty touristy during the summer months. Book accommodations early if you plan on visiting during peak season.
4/ Magdalen Islands
These islands are located in the Gulf of St. Lawrence and are breathtaking. The scenery is unlike anything I've ever seen, and the people are so friendly.
This is the place for you if you want a truly unique experience. While on the Magdalen Islands, you can watch whales, go hiking or relax on the beach.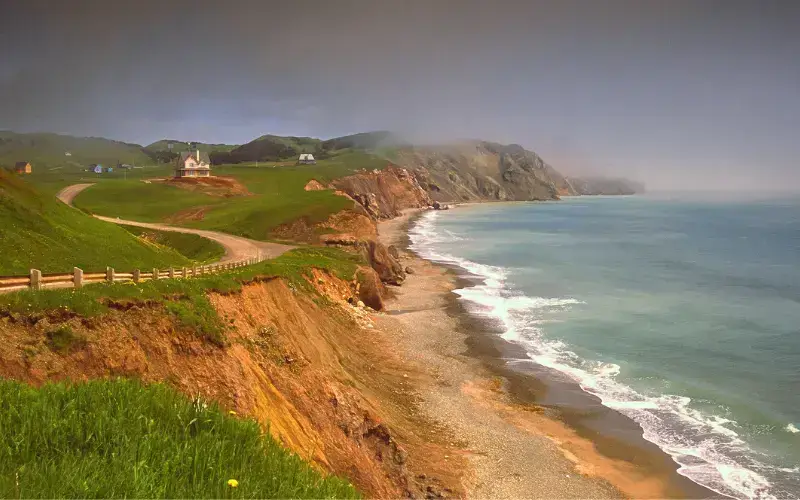 The Magdalen Islands can be quite challenging as there are no direct flights from major Canadian cities. You'll need to take a flight to Montreal or Halifax and then take a connecting flight or ferry to the islands.
5/ Sandbanks Provincial Park
Sandbanks Provincial Park is famous for its stunning dunes and turquoise water. It's the perfect place to relax on the beach, swim, or even try water sports.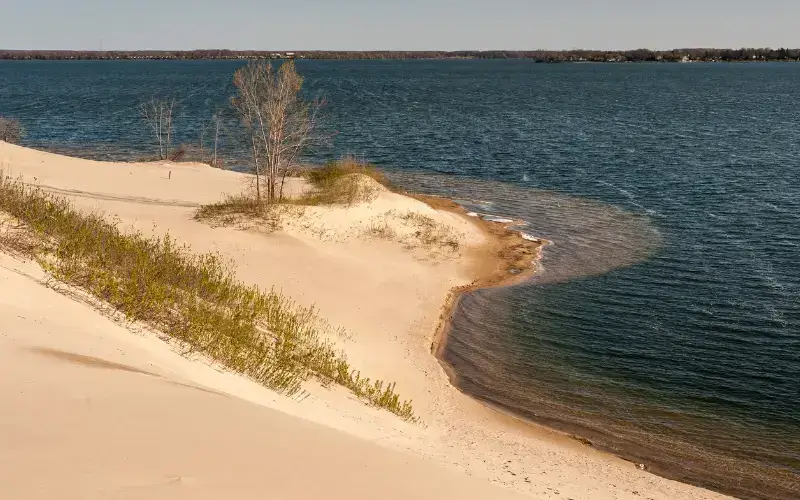 The weather in Sandbanks can be pretty hot during the summer, making it a great destination for those looking to escape the cold winters.
However, be prepared for large crowds during peak season, just like in Hawaii. Also, Sandbanks has a high cost of living. But it's worth it!
6/ Kalamalka Lake
Kalamalka Lake is located in Vernon, British Columbia. It's a popular destination for fishing, swimming, and kayaking.
Unlike Hawaii, Kalamalka Lake is a freshwater lake. This makes it a great option for those looking to avoid the ocean.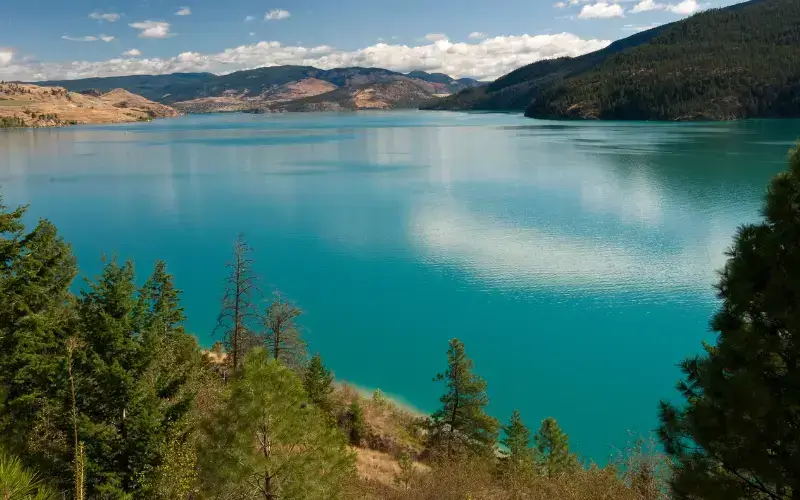 You can do many things like kayaking, swimming, hiking, and camping.
The scenery is also quite beautiful, making it a great alternative to Hawaii in Canada. The cost of living in Vernon is also significantly lower than in Hawaii.
7/ Borgles Island
This island is known for its stunning beaches and lush forests off the coast of Georgia. It's famous for its picturesque sunsets and tranquil atmosphere.
Borges Island is the perfect destination for those looking to relax and disconnect from the outside world. It's also a popular spot for camping and birdwatching.
Overall, Borgles Island offers a similar experience to Hawaii but with fewer crowds and lower prices. It's worth checking out for your next island getaway.
If you love Hawaii but you're looking for something a little bit different, consider visiting one of these 6 similar places to Hawaii on the US mainland and 7 unique places in Canada. 
From beaches and national parks to quaint fishing villages, there's something for everyone on this list!