Slow travel is about taking your time and exploring a travel place slowly. With slow travel, you can immerse yourself in the culture, experience the local customs, and know yourself.
I love this type of travel as it allows me to connect to the world better. But honestly, digital nomadism is more practical for me.
Anyway, let me share the 11 best slow travel books to help inspire you to slow down your travels and enjoy them more. 
If you want to learn about sustainable tourism or live a more content and fulfilling life, these books can help. You might also want to read these top-rated US travel books after that.
What is Slow Travel
Slow travel is about taking your time and enjoying each experience. Whether you're traveling for a week or a year, slow travel can help you have more meaningful experiences.
Travelers can unlock unique learning and growth opportunities that would otherwise remain hidden by slowing down and taking more time to explore their surroundings.
While slow travel has many benefits, it can take time to know where to start. That's where these guides or books for slow travelers can come in handy.
Top 11 Slow Travel Books
These books will change how you think about slow traveling and digital nomadism.
1/ Slow Travel: A Movement 
Penny Watson's book, Slow Travel: A Movement, has become an essential part of the slow travel movement.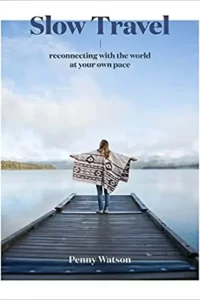 Not only has it provided valuable insight into the world of budget-conscious travel, but it has encouraged a new way of looking at travel experiences.
Slow travel encourages people to savor their time away rather than rush through their travels to see as much as possible.
The author's ideas have resonated with travelers, inspiring them to immerse themselves more fully in their destination culture.
Slowing down and tuning into the native environment is essential to achieving meaningful encounters. 
Penny Watson's Slow Travel should be at the top of your booklist if you're a traveler who wants to make your journey richer and more meaningful.
2/ Slow Travel With Children
Traveling with kids can be one of the most rewarding experiences for a family, yet it can be daunting, especially for families.
Eva Cirnu's book Slow Travel with Children is a short guide to slow traveling with babies and young children. It helps parents make slow travel easier, stress-free, affordable, and possible.
This book focuses on simplifying and explains the need to slow down the pace when traveling with kids. It is an ideal book for families looking to start their journey of slow travel adventures. 
Additionally, this short guide offers readers encouragement and every step needed when starting slow traveling. Parents can explore different ways to take their babies and kids on vacations.
3/ Unforgettable Journeys
Taking a journey and exploring the world benefits your body and mind.
With Unforgettable Journeys: Slow Down and See the World, DK Eyewitness provides an invaluable resource that allows travelers to get the most out of their trips.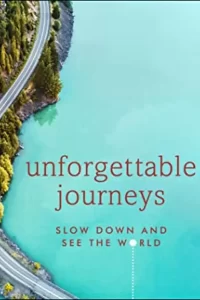 Featuring 200 stunning entries from around the globe, the book showcases many of the best places and stories from around the world.
From vibrant cities to fascinating culture-filled towns, this slow travel guide will help you make sense of all you see during your travels.
With compelling imagery to entice readers further into the book and detailed background information about each destination, this book will meet the needs of any traveler looking to get more out of their voyage.
Reading the book can expand your knowledge and appreciation of what you see.
4/ Slow Travel
Jennifer M. Sparks' book, Slow Travel: Escape the Grind and Explore the World, is a must-have resource for anyone who wants to immerse themselves in purposeful travel.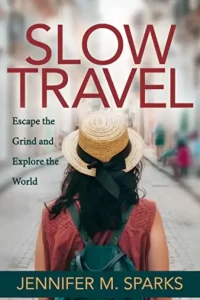 This guide encourages readers to slow down, take a breather, and immerse themselves in different destinations' people, cultures, and experiences. 
Readers will learn about different traveling approaches, from staying longer in one location to going off the beaten track. 
After going through this read, you can enjoy meaningful experiences beyond superficial sightseeing tours. Sparks also shares tips on saving money and making your trips sustainable while on the road.
Whether you want inspiration or practical advice, there's something here for everyone!
5/ Travel Anywhere (And Avoid Being A Tourist)
Travel Anywhere is the book for you if you want to find inspiration for your next destination and stay updated on travel trends.
Written by seasoned globetrotters Fathom, Gerba, and Rosati, this slow travel guide contains charming anecdotes and essential advice for slow travelers and cultural explorers. 
The book also offers advice on the following:
Accommodation options from hostels to hotels. 
Smart strategies for maximizing one's time at each destination.
And tips on local delicacies.
This guide is perfect for anyone who loves adventure. It captures the sights of travel and the sounds and sensations.
Travel Anywhere is the perfect guidebook for slow travelers, whether first-time travelers or someone looking for unique experiences.
6/ The Idle Traveller: The Art Of Slow Travel
Dan Kieran's The Idle Traveller: The Art of Slow Travel examines the importance of mindful and purposeful travel.
Through stories from his travels and discussions with experts in the industry, Kieran reveals the power of slow travel in allowing for discovery.
He argues that by taking an unhurried approach to exploring our surroundings, we can discover things about ourselves and our world that would otherwise be overlooked.
With its poignant reminder of the value of meaningful exploration, this book will affect readers long after they've finished it.
7/ Wild By Nature
One of life's best presents is being able to explore the unknown. Sarah Marquis explored further than most when she journeyed from Siberia to Australia.
And later, she wrote a book about her experience titled: Wild By Nature: From Siberia To Australia, Three Years Alone In The Wilderness On Foot.
With limited supplies and skills learned from various indigenous cultures, she crossed thousands of miles for three years in beautiful and remote regions on Earth.
During this time, she encountered unique wildlife, including Gobi gorillas, Tasmanian devils, yak herds, and many more.
She has written about these species in her book and experiences with unlikely humans along her incredible journey.
With her detailed and thrilling stories, Sarah Marquis will captivate any reader looking for an authentic exploration story in Wild By Nature.
8/ Jupiters Travels
Explore the world in a new light with Ted Simon's book, Jupiters Travels.
This epic tale recounts the 4-year journey that Ted Simon undertook on his Triumph Motorcycle to travel across 45 countries and 5 continents.
Many travelers today might feel like they have seen it all. Ted Simon proves there are always hidden gems and surprises waiting to be discovered.
Readers will join him as he crosses treacherous roads, navigates risky landscapes, and faces different cultures.
Through witty anecdotes and vivid descriptions, this captivating read offers insight into how beneficial exploration can be. Jupiter's Travels will get you itching to explore the world. Follow Ted Simon as he takes you on a journey around the globe!
9/ The Eco-Conscious Travel Guide 
Written by environmental activist Georgina Wilson-Powell, The Eco-Conscious Travel Guide is the ultimate companion for conscientious and slow travelers.
Its purpose is to contribute to a better understanding of eco-friendliness by revealing ingenious ways to explore a new place without leaving a negative footprint.
With simple tips and tricks, it makes eco-traveling accessible to anyone.
You'd love to read these US travel guides.
More than just a collection of facts and suggestions, this book also celebrates communities worldwide and encourages readers to use their travels as an opportunity for personal growth.
The book is ideal for any curious explorer looking to educate themselves before taking off on an adventure.
10/ Destination Earth
Nicos Hadjicostis, in his book Destination Earth: A New Philosophy of Travel, has filled a unique void in the world of travel guides. This book is not just another guide to booking an exotic beach getaway; it's more than that.
It's filled with Hadjicostis' philosophy on seeing the world, encouraging readers to explore beyond merely touring beautiful destinations.
He dives deep into the culture, history, and customs of each place he visits. And he also reveals how travel can shape a person's life.
World travelers looking for something more than a superficial trip will undoubtedly appreciate this offering from Hadjicostis.
An overall must-read for anyone wanting to make the most of their travels!
11/ Slow Is Fast: On the Road At Home 
Slow is Fast: On the Road At Home by Malloy, Zimmerman & Keene is one of the best slow travel books for sustainable travelers. It provides an inspiring and informative look into how you can experience a destination more deeply by slowing your pace.
From van life to bike touring and countless other forms of transport, this book provides detailed chapters on how to plan for a journey.
It also offers an interactive approach to discovering one's best travel pace. The book also focuses on the journey rather than reaching the destination quickly.
You might want to read these best US travel books after that.