So you want to enjoy the turquoise waters and white sand beaches of the Maldives but still don't want to miss Turkish food, culture, and hospitality.
That's awesome because I'll share the best places like Maldives but cheaper in Turkey, worth visiting!
You should visit the Maldives for many reasons, but Turkey is also an excellent choice for a beach vacation. You can combine the visit to Turkey with the Maldives tour.
The criteria for choosing these destinations are that they should have the following:
Clear blue waters.
Sandy beach.
Less crowd.
A blue sky.
So, I'll share the most mesmerizing islands and beach resorts in Turkey that offer a Maldives-like experience. Sounds great? Let's start 🙂
12 Places like Maldives in Turkey You Must Visit
Earlier, I covered the best places like the Maldives in Europe. But if you specifically find the mini Maldives in Turkey, these destinations will make you feel like you are in the Maldives.
1/ Bozcaada, Çanakkale
Bozcaada is an Aegean island in the Çanakkale province of Turkey, filled with the beauty of grape wines, magic, and much more. The place lets you feel open, free, and fun.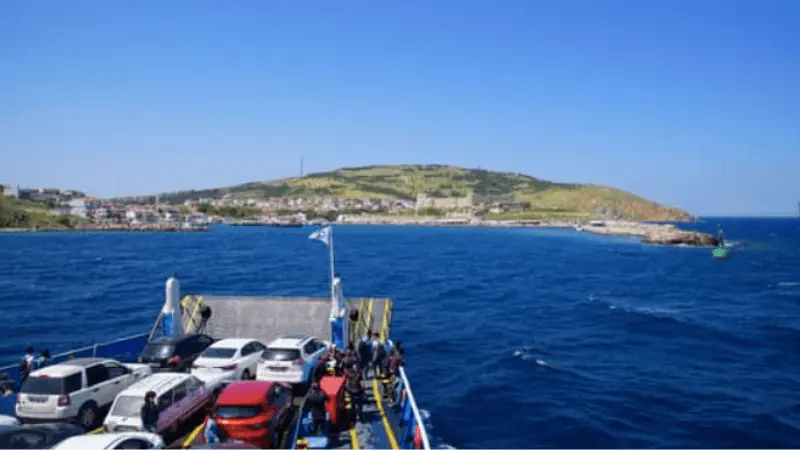 You can enjoy a bike tour or hang out with friendly locals. You will have all the time to explore the beaches further! Climb on top of the castle and conquer your world; you will see many historical places.
Doesn't that experience sound like or even better than the Maldives?
Places to Stay in Bozcaada: Hotel Kaikias, Bozcaada Odessa Otel, and Teos Otel Bozcaada
2/ Gökçeada Island
If you are looking for the adrenaline rush, chaos, and fun, then Gökçeada is your place. The island offers all the water and wind sports, thanks to the high tides in the Aegean Sea. And it's called the island of harmony:
The place doesn't just have a lot to offer for adventure seekers and is rich in history and culture. You can explore ancient ruins, go for long walks on the serene beaches, or enjoy the peacefulness of this lovely Turkish island.
Also, you'll get to visit Greek places and old churches to touch the history. Gökçeada offers a laid-back lifestyle, just like the Maldives. Try traditional food like Cicirya to taste the culture deeply. 
Places to Stay in Gökçeada: Petrino Gökçeada Hotel & Kitchen, The Castle Boutique Hotel, Gökçeada Azra Apart Otel
3/ Cunda or Alibey Island
Cunda Island, or Alibey Island, is a Greek landmass with ancient ruins, modern churches, hotels, and museums.
Cunda is one of the most beautiful and largest of Turkey's 22 Ayvalık Islands archipelago. During your stay, you can go for long walks on the serene beaches and enjoy the tranquility of churches and the library.
There are a lot of picture-perfect spots in Cunda, just like in the Maldives. For example, the evil eye trees, old wooden houses, and colorful streets.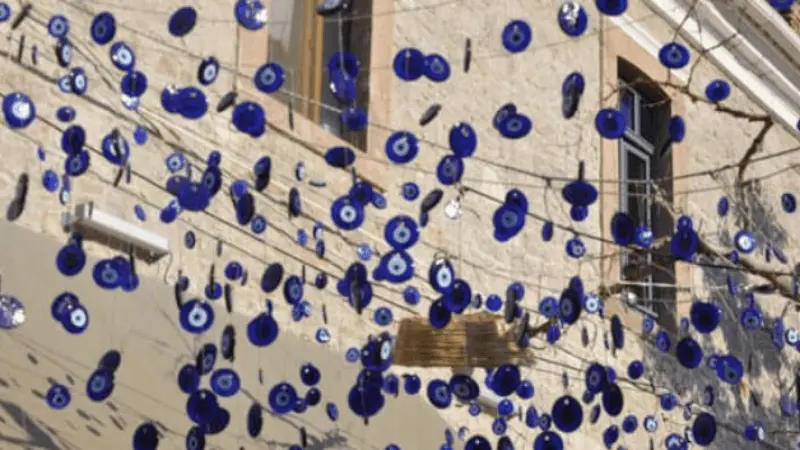 The island provides a rich cultural experience and the luxury of your life, making it one of the top places like the Maldives in Turkey.
Places to Stay on Alibey Island: Lunaria Guest House and Bay Nihat Lale Hotel
4/ Kabak Beach, Fethiye
Kabak Beach is your place if you want something unspoiled, natural, and breathtaking. It's one of the best-kept secrets in Turkey and the country's coastal dream, without a doubt.
This is where the road ends, where perhaps the world itself does. It's a tiny cove that offers magnificent hikes, refreshing waterfalls, breathtaking vistas, and a few wooden chalets.
What else do you expect from a place like the Maldives in Turkey?
The place is only accessible by boat, making it even more special. Once you reach there, you'll feel like you're in paradise with almost no one to bother you.
Places to Stay in Kabak: Kabak Mama's and Nautical Hotel
5/ Kaş Town
Kaş is a worth-visiting seaside town located on the Mediterranean coast in Turkey. The breathtaking views will make you feel like you're in a Maldivian resort.
This town has many luxurious Turkish beach resorts like the ones in the Maldives, with crystal clear water and a blue sky with tons of boat tours and water activities.
Scuba diving and paragliding in Kas are a must. You can enjoy the delicious seafood in one of the many restaurants.
The place is also rich in history, with plenty of Roman ruins to explore. You can explore the sunken city of Kekova or go for a traditional Turkish bath experience.
There are plenty of restaurants and cafes to keep you busy and well-fed during your stay. And there are many beaches to relax and sunbathe, just like in the Maldives.
Kaputas Beach
Küçük Çakıl Plajı
Büyük Çakıl Plajı
Inceboğaz Beach
Limanagzi Beach
Places to Stay in Kas: FLY INN and Rhapsody Boutique Hotel Kaş
6/ Butterfly Valley
Butterfly Valley is one of the most beautiful and secluded places in Turkey. The place is only accessible by boat and is famous for its natural beauty and tranquility.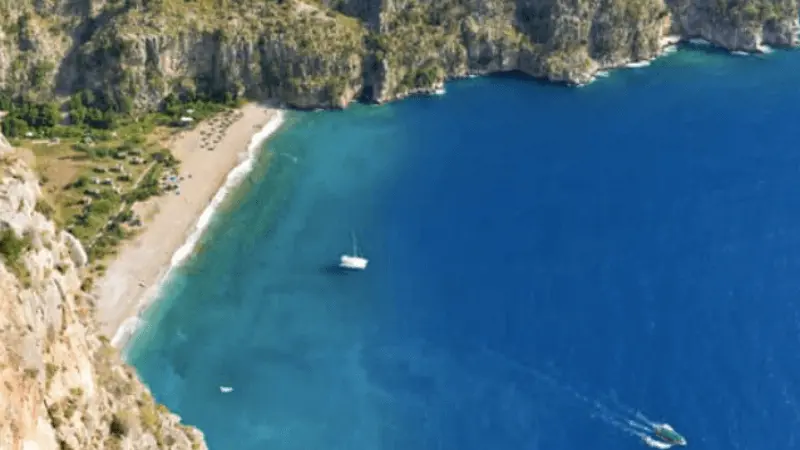 The valley got its name from the hundreds of butterfly species in the area. However, you'll probably not see them during your stay. But you'll experience the peace of the place, which is just like the Maldives.
Cliffs surround the valley, with a beautiful beach where you can relax and sunbathe. There are also a few restaurants and cafes in the area. And you can do a lot of activities like paragliding in Butterfly Valley of Fethiye.
Places to Stay in Butterfly Valley: You cannot stay in the valley but near it, like in Faralya Misafir Evi and Faralya Limon Hotel.
Also, read: 13 Tropical Places Like Maldives in the UK
7/ Gemiler Island
Gemiler Island is a sanctuary that provides every luxury of the world, but the island is left in its natural state. It's located off the coast of Turkey near Fethiye, so you can visit it easily and explore the wildlife, people, and history.
Many archeologists and historians have different theories about this island, as it helped many Christians in their time of need. 
The island contains blue and clear water with ships to allow you to explore the sea further. It's untouched and safely kept from the crowd, making spending your vacations peaceful.
However, this island does contain some breathtaking churches and ruins telling the tales of people who used to live there.
Places to Stay in Gemiler Island: Green Pine Beach & Bungalows Luxury Concept and Abandoned Village of Kayaköy 
8/ Büyükada
Büyükada is one of the Princes' Islands in the Marmara Sea near Istanbul. It's famous for its cultural cuisine and vibrant life. The island is usually crowded yet provides the environment to blow off steam.
Büyükada is a fantastic place for swimming because the water is so pure! You can also go for an amazing boat ride and other activities there.
You can book the Prices' Islands tour and visit places like Aya Yorgi Church, Adalar Museum, and Nakibey Plaji. This place is a combination of both the modern and old world. If you love the Maldives, you'll love Büyükada even more!
Places to Stay in Büyükada: Ada Palas Boutique Hotel and Kosk Orman Hotel`
9/ Akdamar Island
Akdamar island serves you with blue skies, turquoise water, and marine life. So go snorkeling or swimming here with a carefree life. This destination also holds exceptional value because of the biblical stone reliefs.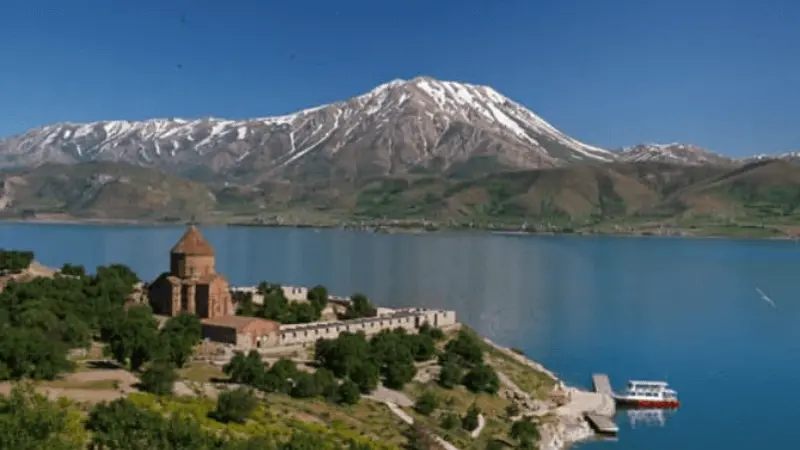 It also offers a rich historical background and beautiful churches to visit and explore. The history of Akdamar is mesmerizing, without a doubt. 
And what's more exciting is that Akdamar island lies close to Lake Van, Turkey's 3rd largest lake! So you'll have an opportunity to visit this beautiful body of water here.
Blend in with locals and try their street cuisine to experience the place to your core. Have fun in a similar place like the Maldives but much cheaper. 
Places to Stay in Akdamar: Ramada and Doubletree by Hilton Hotel
10/ Kekova Island
Explore and stroll around ruins, take a yacht trip, go boating, swim, snorkel, and more on Kekova island. The place is famous for turquoise water, clean land, clear blue skies, and vibrant marine life.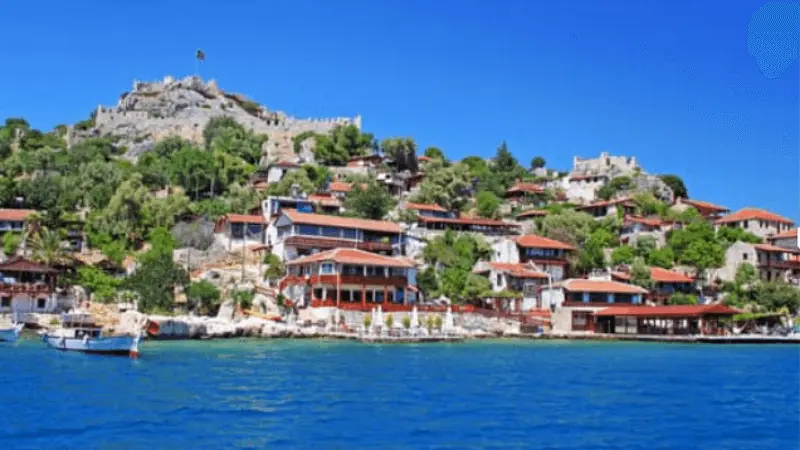 The place will leave you fulfilled and satisfied with sunbathing. Kekova is the ideal place to get rid of some work and vacation to keep your mind at peace.
Kekova has the ruins of a once-great city, so you can dive into the history there. So take the trip now to experience this mini version of the Maldives at a lot lower price 🙂
Places to Stay Kekova: Kekova Pansiyon and Istlada Taş Ev Apart Demre Kekova
11/ Kizkalesi Island
Are you looking for a spot to spend your honeymoon? Or do you want to surprise your soul mate with a fancy vacation? Kizkalesi is the most romantic island there can be. It's also called the Maiden's Castle or Deniz Kalesi.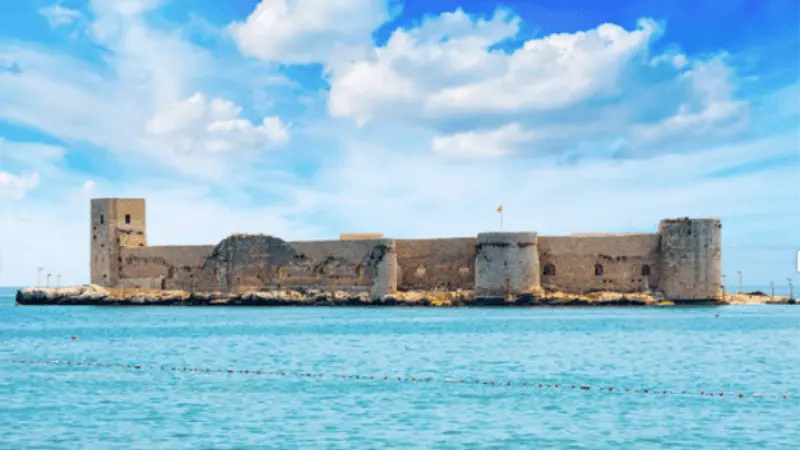 So don't forget to visit the Fortress of Kızkalesi to feel the elegant, royal vibes with your partner or alone. The place is located on the Mediterranean Sea and is valuable for being one of the oldest historical buildings.
The views from Kizkalesi are mesmerizing; you can see the beautiful city, mountains, and crystal-clear water. It's an excellent spot to take pictures and make memories. The air of Kizkalesi speaks love in your ears.
Places to Stay Kizkalesi: Water Castle Suits and Kızkalesi Mavi Deniz Hotel 
12/ Heybeliada
This paradise will appeal to people who adore the outdoors, art, literature, and museums. Heybeliada or Heybeli Ada has fancy accommodations and the calmness required in a busy environment.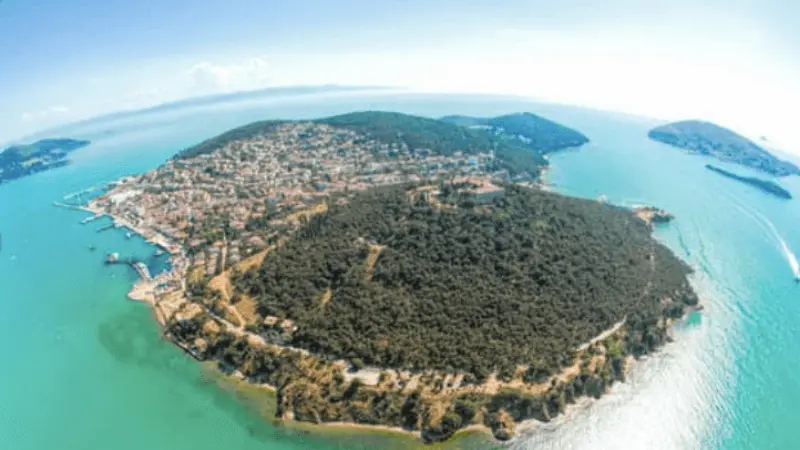 You may visit Sait Faik's museum in Heybeliada, the home of the famous writer Sabit Faik.
Take a stroll in the land and let it sink in you; be open to cultural diversity, history, and unique stories. It's a place to wander around, meet interesting people and explore beautiful places.
The charm of Heybeliada beats the Maldives in every way because it gives you the blue and clear shore with much more.
Places to Stay: Heybeli and Kosk Orman
FAQs for Similar Places Like the Maldives in Turkey
Enjoy the city life in the country, but you must go to the Turkish islands to cherish the beach life like the Maldives. Let me answer a few questions about Maldives that might be in your mind right now.
Which coast is the best in Turkey?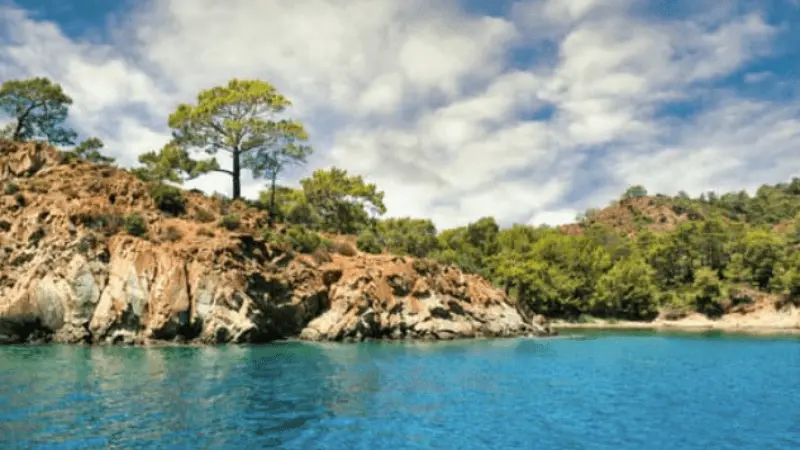 The Aegean and Mediterranean coasts are the top two coasts of Turkey. They offer the best island vibes, beaches, and resorts. Some top Turkish beaches include Kabak Beach, Mermerli Beach, Cleopatra Beach, and more.
What are the top islands in Turkey?
There are over 500 islands in Turkey, with Imbros being the largest. The top islands in Turkey include Akdamar, Tenedos, Alibey, Gökçeada, and more.
The best ones include SENTIDO Perissia, SENTIDO Lykiaworld Oludeniz, Rixos Premium Tekirova, and the list goes. Visit this post to discover more beach resorts in Turkey.
What are the top places similar to the Maldives in Turkey?
Most of the islands and beaches in Turkey offer Maldivian vibes and lifestyles, like Kekova Island, Kizkalesi Island, Heybeliada, and the ones on the list in this post. I hope you visit these places like the Maldives in Turkey and have an incredible time!