In this post, you'll discover the most amazing cities, towns, and places like Nashville in the US. 
As someone who loves to travel and explore new places, I always seek destinations that offer unique yet similar experiences. Earlier, I have covered places like Nantucket and other alternative places. 
While Nashville, Tennessee, is often hailed as the ultimate music and food city, many other US cities are just as vibrant and exciting.
Whether you're a music lover, a foodie, or an outdoors enthusiast, many places offer the same energy and charm as Nashville. So, let's start exploring them right away.
My Criteria for Choosing These Cities Like Nashville 
To choose places similar to Nashville, I'll consider these essential factors:
The prominence of live music venues.
Presence of a diverse music scene.
Influence of a particular music genre.
Supportive infrastructure for emerging artists.
And thriving arts community.
Sounds fair? Let's start uncovering cities that share a passion for music and cultural expression akin to Nashville.
From the jazz clubs of New Orleans to the honky-tonks of Austin, many cities have deep roots in music and offer a lively nightlife scene. 
Also, cities like Memphis and Detroit have rich cultural histories and are home to some of the most iconic music landmarks in the country.
But it's not just about the music. Places similar to Nashville, such as Portland, Oregon, and Asheville, North Carolina, offer thriving food and drink scenes. Seattle and San Francisco offer stunning natural landscapes and outdoor activities just like in Nashville. 
Let's dive a little deeper into these Nashville alternatives. 
13 Places Like Nashville With Similar Vibes
Let's get straight to these alternative destinations that offer a little bit of everything, like Nashville.
1/ Austin 
Austin's music scene is so level that the city is called the live music capital. It has several yearly music festivals, including South by Southwest (SXSW) and Austin City Limits Music Festival.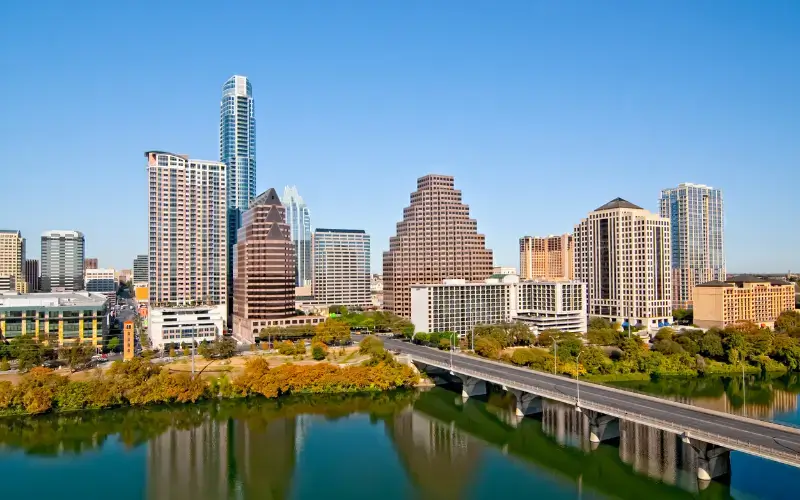 The vibrant music culture in Austin encompasses a wide range of genres, such as rock, blues, country, folk, and indie. And you can find tons of bars and music venues where you can catch local and national acts.
The city's iconic Sixth Street is renowned for its live music venues, where talented local artists and well-known bands perform nightly. 
From intimate stages to larger concert halls, Austin offers many options for music enthusiasts to discover new sounds. Moreover, the city's support for emerging artists is evident in its numerous open mic nights, jam sessions, and music showcases.
In addition to music, Austin has a thriving food scene, with many great restaurants and food trucks.
And that's not all! The city has several parks and outdoor spaces, including Lady Bird Lake and Zilker Park.
The city's vibrant atmosphere and diverse cultural landscape make it an ideal Nashville alternative for those seeking a lively music scene and a rich artistic experience.
2/ New Orleans
With a rich musical history, New Orleans is one of the best places like Nashville. Jazz, blues, and zydeco are all big parts of the city's culture.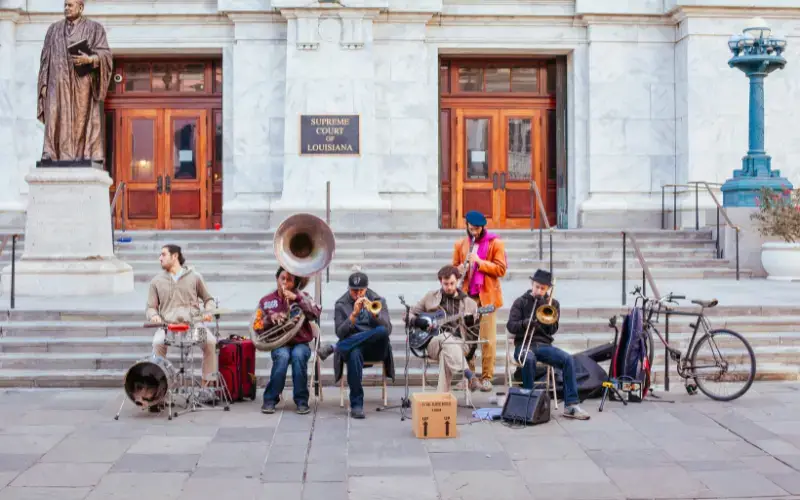 The city's legendary music festivals, like the New Orleans Jazz & Heritage Festival and the French Quarter Festival, attract renowned artists and music enthusiasts worldwide.
And you can hear live music in many of the bars and clubs in the French Quarter and other neighborhoods. The iconic Frenchmen Street is a haven for live music, offering various jazz, blues, and soul performances.
In New Orleans, brass bands and second-line parades fill the air with infectious rhythms. The city's musical legacy is celebrated through its numerous jazz clubs, such as Preservation Hall, where traditional jazz is kept alive.
Louisiana's New Orleans is also famous for its food, with gumbo, jambalaya, and beignets. The city has unique architecture and many historic sites, including the St. Louis Cathedral and the French Market.
3/ Memphis
Memphis, Tennessee, is synonymous with the blues. This city on the banks of the Mississippi River has nurtured some of the greatest blues musicians of all time, including B.B. 
King and Howlin' Wolf. Beale Street, the heart of Memphis's music scene, is lined with iconic blues clubs. There, you can immerse yourself in the soulful sounds of the genre.
Graceland, the former home of Elvis Presley, stands as a testament to Memphis's rich musical heritage. 
The city is also home to the Stax Museum of American Soul Music and Sun Studio, where Elvis, Johnny Cash, and Jerry Lee Lewis recorded their legendary tracks.
With its unique blend of blues, soul, and rock 'n' roll, Memphis offers a distinctive musical experience that inspires musicians and captivates audiences.
3/ Asheville
Asheville, North Carolina, is smaller than Nashville but has a similar vibe regarding its music, arts, and culture scene. The River Arts District, home to over 200 artists' studios, offers visitors a glimpse into the city's thriving arts scene.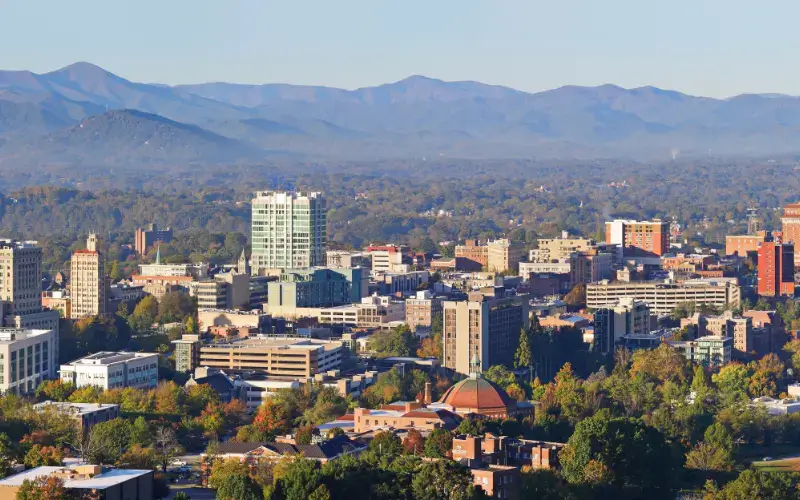 Asheville is a magnet for artists and musicians. The city embraces creativity like a warm hug, with talented individuals showcasing their craft in various forms. 
You'll find funky art galleries, intimate music venues, and talented street performers downtown. Trust me; the local talent will have you tapping your feet and feeling the rhythm in no time!
But Asheville isn't just about the artsy side of things. It's also a nature lover's paradise. 
The mountaintop views in Asheville will leave you in awe and offer the perfect backdrop for jamming sessions or serene moments of inspiration.
Good music goes hand in hand with good eats and sips. So you can also enjoy good food here, along with refreshing brews. It's a hub for craft beer lovers. 
4/ Seattle
Let's journey from the sounds of Nashville to the eclectic vibes of Seattle now. While these cities may be miles apart, they share a common thread that weaves through the fabric of their music and arts scenes.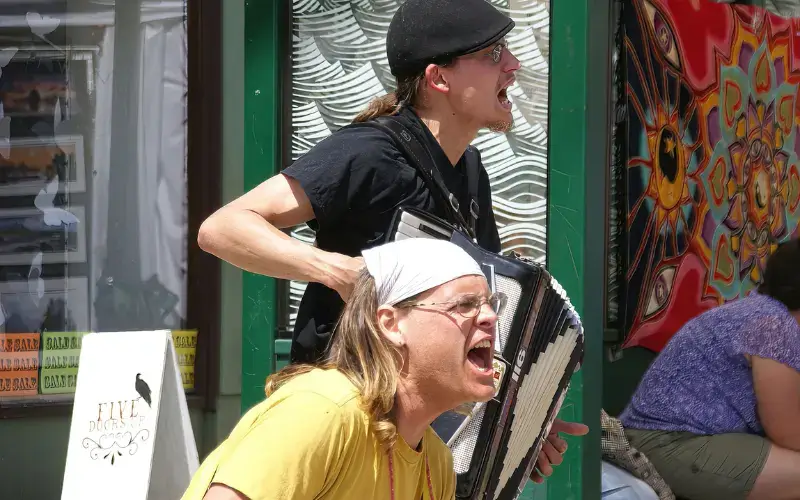 Nirvana, Pearl Jam, and Soundgarden — these iconic bands emerged from the depths of Seattle's underground music scene and rocked the world with their raw energy. 
But hold on, don't just think grunge defines the city's musical landscape. 
Seattle is a melting pot of genres, a vibrant playground for musicians to explore their sonic boundaries. 
The city's venues, like The Crocodile and The Showbox, are pulsating with the sounds of local talents and international sensations, ensuring your auditory cravings are satisfied.
And let's not forget the legendary Seattle coffee culture. It's a caffeine-infused haven for artists to gather, exchange ideas, and let their creative sparks fly. 
Sip on a steaming cup of java, soak in the atmosphere, and let the artistic energy seep into your veins. Isn't it a better alternative to Nashville? 
5/ Portland
Portland, Oregon, has become a haven for indie and folk music. The city embraces a DIY ethos and a strong sense of community, making it an ideal place for independent musicians to flourish.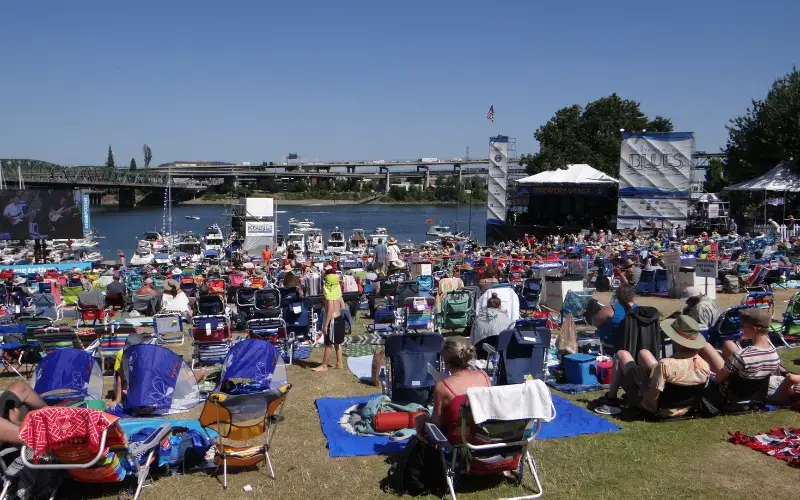 The intimate venues in Portland, such as the Doug Fir Lounge and Mississippi Studios, offer a platform for emerging artists to showcase their talent.
Portland's music scene is characterized by its emphasis on authenticity and craftsmanship. The city's folk festivals, such as the Pickathon, attract local and international folk artists.
Apart from its music scene, Portland is known for its thriving arts and craft community, with numerous galleries, artisan markets, and creative spaces. 
The city's commitment to sustainability and eco-consciousness aligns with its artistic endeavors, making it a vibrant and progressive destination for artists and one of the top fun places like Nashville. 
6/ Chattanooga
Chattanooga, where the music magic happens! This Tennessee gem is rocking its way onto the music scene, nestled in the breathtaking Tennessee River Valley.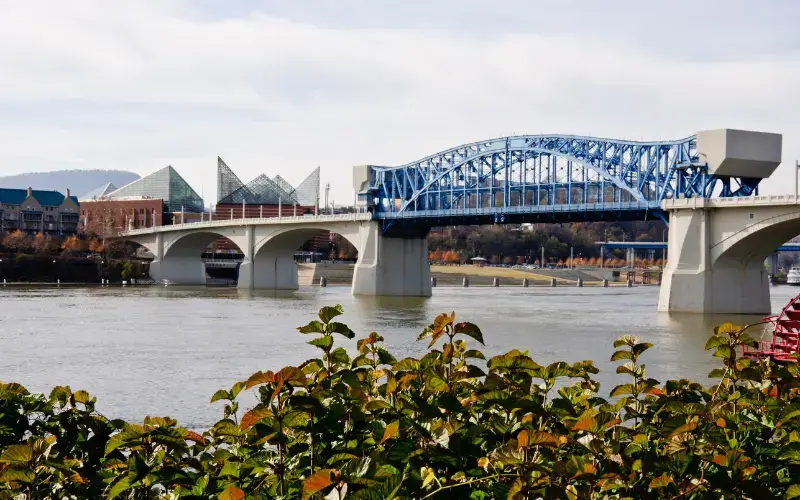 From the sweet strums of Appalachian tunes to the lively beats of bluegrass, Chattanooga's musical heritage sets the stage for toe-tapping performances.
From cozy coffee shops that make your heart sing to grand concert halls that make your soul soar, Chattanooga has a spot for every melody. 
And let's not forget the festivals! The Riverbend Festival combines diverse sounds, while the Nightfall Concert Series lets you groove under the stars.
Chattanooga's artsy side is in full swing. Discover galleries that make brushstrokes dance, museums that showcase creativity, and theaters that transport you to other worlds. 
The Hunter Museum of American Art and the Chattanooga Theatre Centre are just a taste of the cultural feast.
Chattanooga is like a canvas for innovation. The city's urban renewal turns old into gold, transforming industrial spaces into vibrant art districts. 
And with scenic landscapes that make your heart skip a beat, Chattanooga offers a stunning backdrop for your artistic adventures. The mountains, rivers, and valleys inspire masterpieces at every turn.
7/ Lexington
Lexington, the world's horse capital, is not just about hooves, saddles, hospitals, and the University of Kentucky. It's a vibrant city with some unexpected similarities with the renowned Nashville.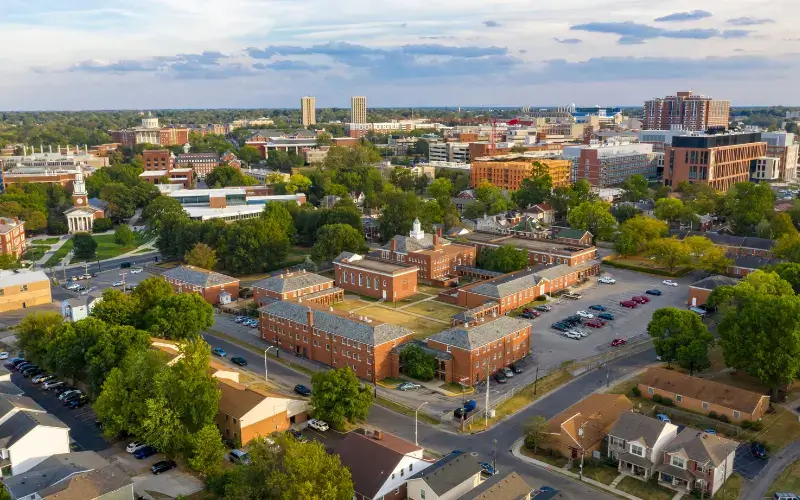 Lexington's thriving music scene dances to a different tune. More rock-and-roll and Americana than country, it sets the stage for an unforgettable sonic experience. 
While you won't find live bands in every restaurant like Nashville, the farmers' market comes alive with the sounds of talented buskers, adding their melodic touch to the vibrant atmosphere.
While Nashville may have its greenways, Lexington's neighborhoods showcase a tapestry of mature trees that form canopies of tranquility. In just a short drive, you can find yourself surrounded by the beauty of the countryside.
And let's not forget the warm welcome that awaits you. Lexington's Southern charm envelops visitors and transplants alike, offering a genuine sense of hospitality that makes you feel right at home.
So, whether you love the music that rocks its soul or are enticed by the allure of Lexington's thriving cultural scene, this city promises a blend of charm, excitement, and genuine Southern hospitality.
8/ Clarksdale
Clarksdale holds an essential place in the history of American music as the birthplace of the blues. This small city in the Mississippi Delta is steeped in musical heritage and continues to be a pilgrimage site for blues enthusiasts worldwide.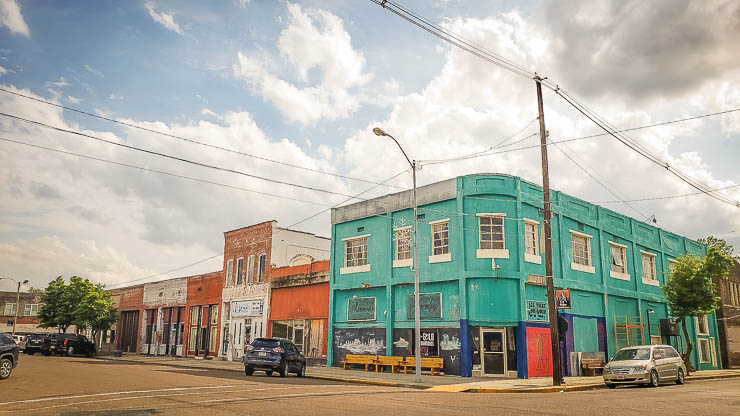 Clarksdale is renowned for associating with legendary blues musicians such as:
You can explore the rich history of the blues by visiting iconic landmarks like the Delta Blues Museum and the Crossroads, where Robert Johnson is said to have made his famous deal with the devil.
The city's music scene is vibrant and alive, with numerous juke joints, blues clubs, and live music venues. 
Ground Zero Blues Club, co-owned by actor Morgan Freeman, is a popular destination where visitors can experience authentic live blues performances and soak in the soulful atmosphere.
Clarksdale's music festivals, such as the Sunflower River Blues and Gospel Festival, draw renowned blues artists and showcase the best of the genre. 
These events provide a platform for established musicians and emerging talents, ensuring the continuation of the blues tradition.
Beyond its blues heritage, Clarksdale is also home to a thriving arts community. It's a must-visit destination for music lovers in the US. 
9/ Charleston
This charming city in South Carolina is a treasure trove of history, architectural splendor, and a music scene that'll make your heart sing.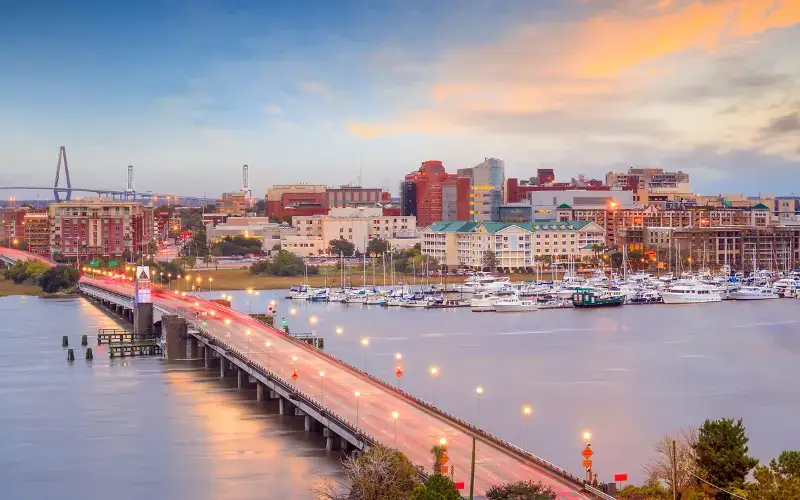 Charleston's music scene is a symphony of diverse genres that will get your toes tapping and your soul grooving. 
From the sultry sounds of jazz and blues to the heartfelt melodies of country and gospel, Charleston embraces a range of musical styles that reflect its cultural heritage. 
Picture yourself in the Charleston Music Hall or the Pour House, where local and touring artists take the stage and transport you to a world of pure musical magic.
But wait, there's more! Charleston has a musical heritage deeply rooted in the enchanting Gullah-Geechee culture. 
With African influences that permeate their traditions, the Gullah-Geechee people have created a musical legacy that captivates audiences with rhythmic beats and soulful vocals. 
And the party doesn't stop there! Charleston knows how to throw a music festival like nobody's business. The Spoleto Festival USA takes center stage, showcasing a spectacular blend of performing arts, including music, theater, and dance.
But Charleston isn't just about the music—it's a canvas for all art forms to flourish. 
10/ Charlottesville
Welcome to Charlottesville, the Nashville of Virginia, where the music flows like a river, and creativity knows no bounds.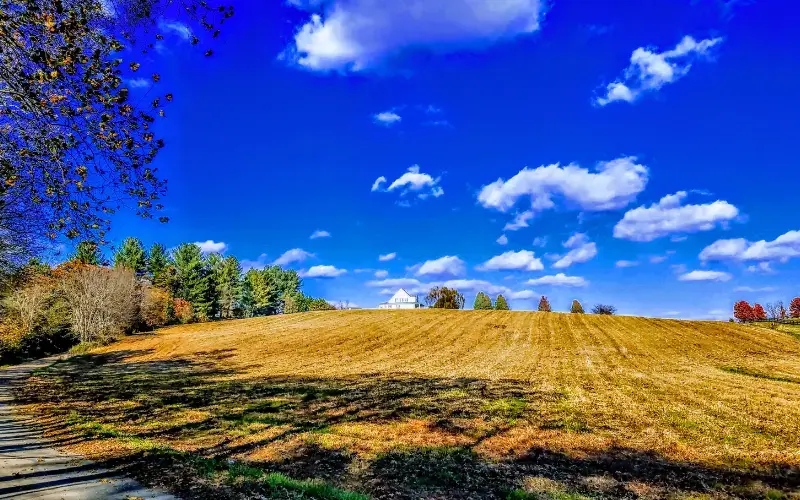 Charlottesville's music scene is a symphony of diverse genres that will make your ears perk up, and your heart sing. 
From the timeless beauty of classical compositions to the smooth jazz rhythms that'll have you swaying and from the foot-stomping energy of indie rock to the heartfelt storytelling of folk music, this city has something for everyone. 
Thanks to the University of Virginia's music department, you can catch talented musicians and incredible performances all year round. 
You can also visit iconic venues like the Paramount Theater and the Jefferson Theater, where local talents and international stars leave you with unforgettable memories.
The nearby mountain communities have kept alive the soulful sounds of banjos, fiddles, and heartfelt vocals, creating an atmosphere that transports you back in time. 
Downtown Charlottesville is a hub of artistic expression, and the energy in the air is electric. 
The city also hosts the prestigious Virginia Film Festival, a celebration of the silver screen that attracts filmmakers from far and wide. 
Don't forget to visit the Fralin Museum of Art and the Kluge-Ruhe Aboriginal Art Collection, where diverse visual art forms will open your eyes to different cultures and perspectives.
Now, let's talk about satisfying those taste buds! 
Charlottesville's culinary scene is a symphony of flavors that pairs perfectly with the music in the air. And let's not forget about the breathtaking beauty of Charlottesville's natural surroundings. 
But the most magical part of Charlottesville is its sense of community and its embrace of diverse artistic expressions. It's undoubtedly one of the best places like Nashville for music lovers, foodies, and outdoor adventurers.
11/ Muscle Shoals
Muscle Shoals is one of the best places similar to Nashville for music lovers! This small town packs a powerful punch for music and creativity, just like its famous counterpart.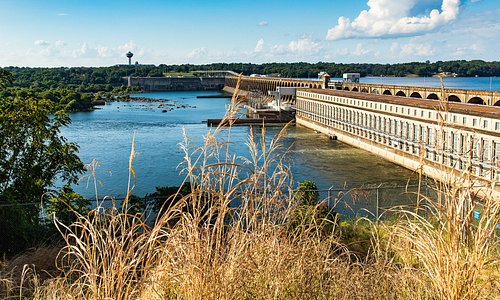 Muscle Shoals is steeped in legendary musical history. 
Iconic artists like Aretha Franklin and Otis Redding graced the studios of Fame Studios and Muscle Shoals Sound Studio, putting this town on the global music map. It's no wonder they call it the "Hit Recording Capital of the World."
The music scene here is a vibrant blend of soul, blues, rock, and country. And the sense of community among artists is palpable, just like in Nashville. It's a place where music thrives and collaborations flourish.
But it's not just about the music. Muscle Shoals is a town with natural beauty that complements its artistic spirit. The serene Tennessee River and picturesque landscapes provide a breathtaking backdrop for your musical journey.
12/ New York City
Brace yourself for a musical adventure in the city that never sleeps – New York, the Nashville of the North.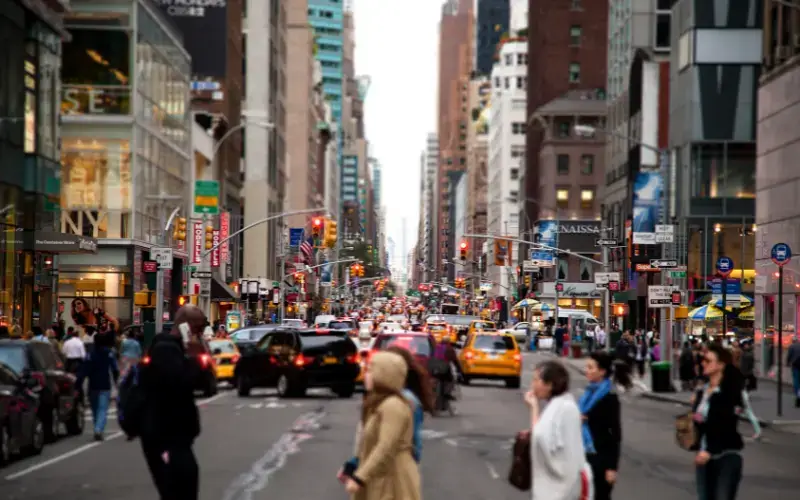 This bustling metropolis is not just about towering skyscrapers and Broadway shows; it's a melting pot of musical brilliance and artistic expression, just like its Southern counterpart.
New York's music scene is as diverse as its population. From the iconic jazz clubs of Harlem to the indie rock venues of Brooklyn, there's a genre for every ear. 
Countless legendary artists have emerged from the streets of New York, leaving an indelible mark on the world of music.
Just like Nashville, New York is a hub for live performances. You can catch electrifying concerts in renowned venues like Madison Square Garden or intimate gigs in hidden underground spots. 
As you roam the streets, you'll stumble upon street performers, buskers, and impromptu jam sessions that make the city feel alive with music. From the iconic Central Park to the bustling subway stations, the city becomes a stage for artists to captivate passersby.
13/ Bristol
Looking for a musical adventure that's off the beaten path? Look no further than Bristol, the remarkable Birthplace of Country Music!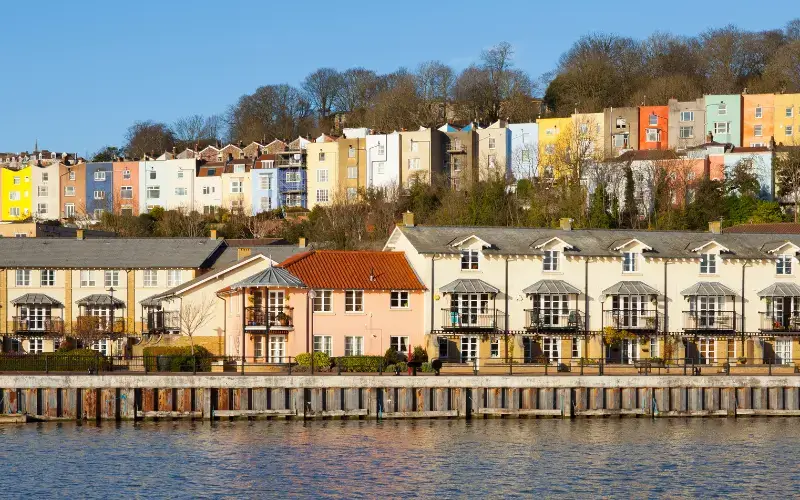 Nestled on the border of Tennessee and Virginia, this charming city offers a delightful alternative to the famous tunes of Nashville.
Bristol's claim to fame lies in its historic Bristol Sessions of 1927, where country music legends like the Carter Family and Jimmie Rodgers laid down their timeless tracks. It's like stepping back to the very roots of country music! 
To fully appreciate this musical milestone, swing by the Birthplace of Country Music Museum. Trust me; it's an absolute must-visit!
But Bristol isn't just about preserving the past—it's alive with the sounds of bluegrass and country in the present day. 
Get ready to tap your feet and dance at the Bristol Rhythm & Roots Reunion Festival, where local and national acts unite to celebrate the region's musical heritage.
Bristol has got you covered if you're a fan of the twang of bluegrass. The annual Bristol Bluegrass Festival is a gathering of some of the most talented pickers and fiddlers around.
But Bristol isn't all about music! it's a cultural hub too! Wander through downtown Bristol, and you'll be greeted by vibrant murals that add a splash of color to the streets. 
Pop into local art galleries to admire the works of talented regional artists. Oh, and don't miss the Bristol Sign Museum, where vintage neon signs bring a touch of nostalgia to the city's cultural tapestry.
And with the majestic Blue Ridge Mountains as your backdrop and the picturesque South Holston Lake nearby, you can indulge in outdoor adventures while still soaking up Bristol's vibrant cultural scene. It's the best of both worlds, my friend!
So, pack your bags and prepare for a musical journey like no other. It's Bristol, one of the best places like Nashville in the US, with similar music, food, and outdoor activities.