So you are planning your trip to Mexico's most visited city and want to know Cancun's important and famous places, including Mexican amusement parks and bars in Cancun.
That's awesome because I'll share must-visit attractions and the most popular landmarks in Cancun in this post. 
Exploring a city's landmarks, monuments, and historical architecture can be one of the most enriching experiences during a trip. It offers a glimpse into the past and tells us about the city's culture and story. 
Cancun is about more than just the beautiful beaches and party scenes. It also has a deep history of ancient Mayan civilization, blended with modern-day attractions. 
Do You Know: Cancun is one of the safest places in Mexico to visit and one of the best Mexican digital nomad cities.
Top 23 Famous Places to Visit in Cancun, Mexico
Visiting Cancun's top landmarks, like Chichen Itza, Tulum, and Coba, allows you to connect with the city's rich history and culture. Let's dive into things to do, places, and buildings to see in Cancun right now. 
1/ Cancun's Hotel Zone
Cancun's Hotel Zone, also known as Zona Hotelera, is an iconic 14-mile-long strip of white sandy beaches and turquoise waters boasting world-class resorts and endless entertainment options.
From luxury shopping centers to lively nightclubs and delicious restaurants, the Hotel Zone has something for everyone, making it one of the most popular places in Cancun to visit and stay. 
And make sure to distinguish the Hotel Zone from Cancun Centro or downtown Cancun. 
If you live in the Centro, you can take a bus (that runs this route every 5 minutes) to get to the Hotel Zone for around 50 cents. 
You can do a lot of things in the Cancun Hotel Zone:
Party at Coco Bongo
Relax at one of the best beaches
Go shopping and aquariums.
Enjoy the breathtaking Cancun views from the Scenic Tower. 
Take a selfie with the famous Cancun sign. 
Do water activities like paddleboarding, parasailing, and more. 
Visit the scenic Nichupte Lagoon.
Explore El Rey Archaeological Zone
Visit the ruins and museums.
Cancun's Hotel Zone is a haven for luxury travelers, with the best all-inclusive resorts and top-notch hotels. These are some of the top ones:
2/ Torre Escénica: The Highest Attraction in Cancun
Located in the heart of the Hotel Zone, Torre Escénica, aka Cancun Scenic Tower, offers breathtaking views of Cancun and the Caribbean Sea from its 80-meter-high rotating platform.
The tower provides a unique perspective of the city, its beaches, and the Nichupte lagoon. Torre Escénica is a must-visit attraction for anyone who wants to appreciate Cancun's beauty from above and capture the perfect Instagram shot!
Open daily from 9 am to 9 pm; you can enjoy the tower's observation deck and the rotating platform while listening to a bilingual audio guide that narrates the history of Cancun and its landmarks.
3/ Punta Cancun Lighthouse
Punta Cancun Lighthouse is one of the most iconic and famous landmarks in Cancun. It is located at the tip of Punta Cancun and serves as a beacon to guide ships safely into port.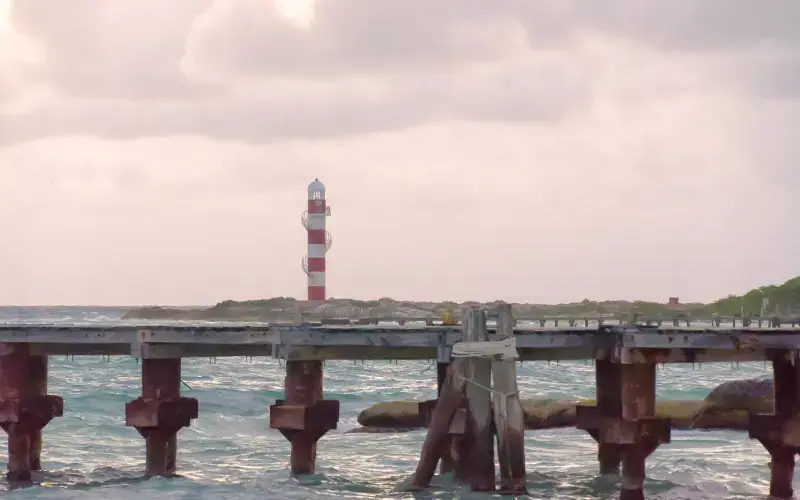 The lighthouse has been standing since 1852, providing visitors with an amazing view of downtown Cancun and the Caribbean Sea.
The surrounding park also features benches, walking trails, and boardwalks to explore.
Visitors can learn about the history of this majestic structure or simply admire its beauty from afar. Punta Cancun Lighthouse is a great place to escape the city life's hustle and bustle!
4/ Nichupté Lagoon: The Most Natural Attraction in Cancun
Nichupté Lagoon is a peaceful paradise just minutes from Cancun's city center. It spans over 7000 acres of pristine mangrove forests and lagoons, giving visitors a unique opportunity to explore the area's natural beauty.
The lagoon is also home to abundant wildlife like fish, turtles, birds, and crocodiles!
Visitors can take guided tours to learn more about the local flora and fauna or enjoy fishing or birdwatching by the water's edge.
From leisurely boat rides to kayaking excursions, Nichupté Lagoon offers something for everyone looking to relax and soak up the sights of this stunning natural setting in Cancun.
5/ The Pink Lake in Las Coloradas
Located on the Yucatán Peninsula, the Pink Lake in Las Coloradas is a natural wonder with its stunning pink hue. This must be one of the most famous places in Cancun if it's not already!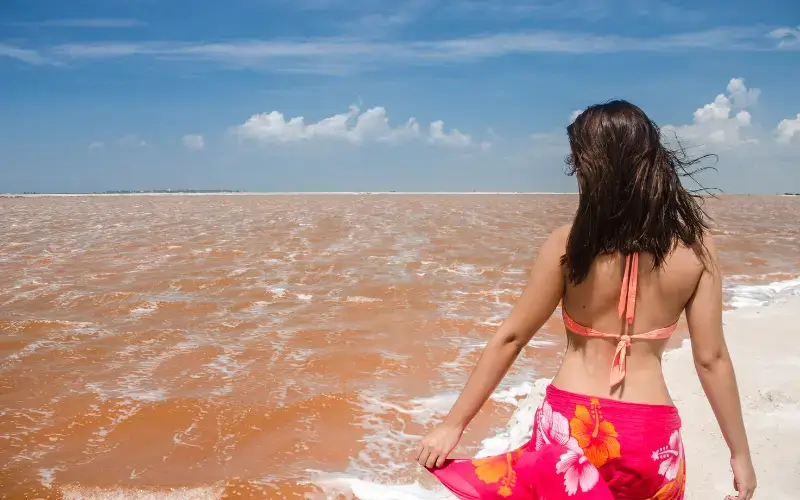 But why is the lake pink? Well, the color of the water is due to the high concentration of salt and microorganisms such as algae and brine shrimp. That makes it a top must-visit attraction in Cancun. 
You can take a boat tour to see the lake up close and learn about the area's salt production history.
6/ Tulum Archaeological Zone
The Tulum Archaeological Zone is one of the most popular destinations in Cancun. It's an ancient Mayan city famous for its well-preserved ruins and stunning views of the Caribbean Sea.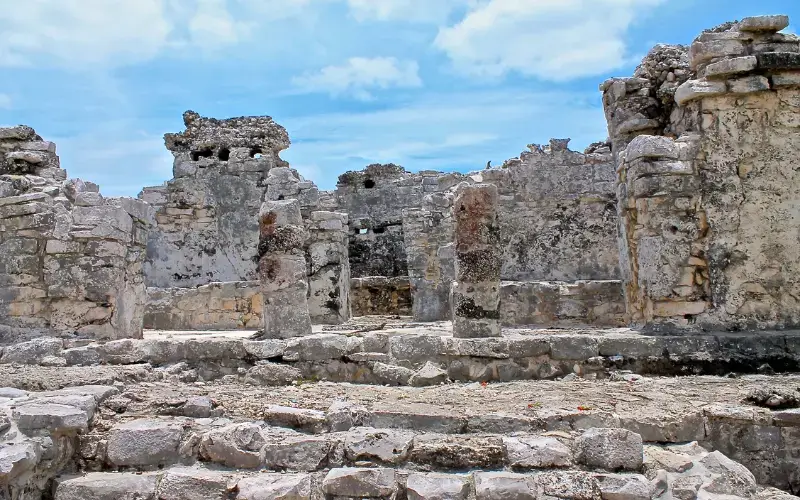 At the site, you can explore the impressive defensive walls and learn about the history and culture of the Mayan people. And while you are in love with the town, you'd love to other places like Tulum. 
The Mayan ruins of Tulum are important to the cultural heritage of Cancun and a must-visit site for history lovers.
The ruins date back to the Late Postclassic Period and are on the edge of a cliff overlooking the Caribbean Sea. You can take a guided tour or explore independently, but remember to bring plenty of water and wear comfortable shoes for climbing.
7/ La Isla Shopping Village for Shopping Lovers
La Isla Shopping Village is one of Cancun's premier shopping destinations. This luxurious outdoor mall features more than 200 stores and restaurants, making it the perfect place to find unique souvenirs and sample the delicious local cuisine.
Along with upscale shops, the village also boasts a variety of entertainment venues, such as an IMAX theater, bowling alley, and aquarium.
There's also a water park with thrilling slides and pools, perfect for cooling off in the hot Mexican sun!
La Isla Shopping Village is the ideal spot to find everything you need during your stay in Cancun – from fashionable clothing to exquisite jewelry.
Whether you're looking for a unique shopping experience, an unforgettable night out, or want to sit back and relax, La Isla Shopping Village has something for everyone!
Top Cancun Parks
One of the best things to do in Cancun is to explore its natural beauty through parks. Let's explore my favorite ones, but you can spend an entire month visiting these parks in Cancun. 
Also, explore all the best national parks in Mexico.
8/ Xcaret Park
Xcaret Park is one of the most iconic landmarks in Cancun. Located in the Riviera Maya, this eco-archaeological park is one of the most visited attractions in Mexico.
Xcaret offers a variety of activities for all ages, from exploring its Mayan ruins to swimming in underground rivers.
You can get up close and personal with some of the park's wildlife, such as jaguars, turtles, flamingos, and more.
The park also has a variety of restaurants serving regional and international cuisine, as well as traditional Mayan dishes. Ensure you leave enough time to explore the park's cultural performances, shops, and artisanal markets.
Xcaret Park is an exciting way to learn more about Mexico's history, culture, and nature all in one place. It's a must-see for anyone visiting Cancun!
9/ Ventura Park
Ventura Park is one of the best amusement parks in Mexico. It features an array of thrilling rides and attractions designed to provide hours of fun for the whole family.
The park has a variety of roller coasters, water slides, bumper cars, and more. Several restaurants are located within the park so you can refuel after a day of excitement!
Ventura Park offers canoeing, kayaking, and snorkeling in its crystal-clear lagoons if you want something quieter.
Visitors can even participate in traditional Mayan ceremonies or join special music showcases held at various locations throughout the park.
Ventura Park is sure to provide fun and excitement to anyone visiting Cancun!
10/ Parque de las Palapas: Paved City Park
Parque de las Palapas is one of the most iconic attractions in Cancun. Located right in the heart of downtown, it's a favorite spot for locals and tourists alike. The park features a beautiful open-air amphitheater surrounded by colorful palm trees.
The park hosts a variety of concerts, plays, and other performances throughout the year.
Also, Parque de las Palapas has plenty of activities to keep kids entertained, such as playgrounds and carnival rides.
On Sundays, the park hosts a traditional Mexican market where locals sell everything from handmade jewelry to fresh produce. This is a great opportunity to learn more about the local culture while finding unique souvenirs to take home.
Parque de las Palapas offers plenty of sports fields for those looking to get active, from basketball courts and soccer pitches to beach volleyball nets. It's also perfect for jogging or enjoying an afternoon picnic with friends or family.
Parque de las Palapas is an amazing place for families looking for something fun and exciting during their stay in Cancun!
11/ Loma Bonita Cancun's Jungle Park
Loma Bonita is one of the most interesting places in Cancun that every traveler should know. 
So embrace your inner Tarzan, and prepare for an adrenaline-pumping adventure! This eco-park is not for the faint of heart, with ziplining, off-road tours, and other thrilling activities that will make your heart race.
And if you're up for a challenge, try their bungee swing or choose the "extreme" zipline option. Trust me, Selvatica (zipline) is a must-visit for adventure seekers.
12/ Xplor Park: Cancun's Most Amazing Park
Xplor Park is an adventure park in the heart of the Riviera Maya jungle. With exciting activities, it's no wonder why Xplor Park is a top attraction in Cancun.
Thrill seekers can enjoy ziplining through the lush greenery or rafting in underground rivers, while nature lovers can participate in a peaceful float along the river.
The park also offers family-friendly adventures like driving through caves in amphibious vehicles, swimming through underground rivers, and much more. Xplor Park is a must-see destination for anyone traveling to Cancun.
13/ Xoximilco Theme Park
Xoximilco is a unique, fun-filled attraction located in Cancun. The park offers visitors the opportunity to experience Mexican culture through lively boat rides, traditional music, delicious food, and dancing.
Xoximilco draws inspiration from the famous floating market of Xochimilco in Mexico City, creating an authentic and colorful atmosphere. The park is perfect for families, couples, and groups of friends looking for an exciting night out in Cancun.
Each boat ride is led by a lively "Gondolier" who encourages guests to dance, sing and have a great time. Xoximilco is a great way to experience Mexican culture while having fun, eating delicious food, and making lasting memories.
Must-Visit Cancun Museum & Ruins
One of the best things to do in Cancun is to visit its museums and ruins to feel the Mexican city truly. 
14/ Chichen Itza Maya Ruins
Chichen Itza is an amazing and iconic pre-Columbian archaeological site in Mexico's Yucatan Peninsula. It has been named one of the New Seven Wonders of the World.
The site dates back to the Mayan civilization of 600-900 AD, a testament to their complex engineering abilities. Different rulers built it over centuries, with construction continuing until around 1200 AD.
You can climb the steps of El Castillo, the famous pyramid at Chichen Itza, explore other temples and structures on site, and even take a guided tour to learn more about this majestic place.
Chichen Itza is known for its impressive structures, such as the sacred cenote and many other temples, plazas, and pyramids. These sites are to be noticed during your trip to Cancun!
15/ Cancun Underwater Museum
The Cancun Underwater Museum is a unique and famous attraction among visitors to this Mexican paradise. It is the world's largest underwater museum, with over 500 life-sized sculptures of people and animals.
Nonprofit organization MUSA (Museo Subacuático de Arte) created this underwater museum to conserve the species and habitats in the Yucatan Peninsula. It's one of the coolest places in Cancun, without a doubt. 
The sculptures are made from eco-friendly materials that promote the growth of coral reefs, thus helping to protect the delicate marine ecosystem in Cancun.
You can explore the sculptures by taking a snorkeling or diving tour, giving you an up-close look at this fascinating underwater museum. The museum is one of the most important places in Cancun to visit as a tourist. 
You'll see sculptures of people, animals, plants, and more – all made from eco-friendly materials that provide a home for local sea creatures.
The Cancun Underwater Museum is a must-see for anyone visiting the area and an amazing way to connect with nature uniquely and unforgettably.
16/ Mayan Museum of Cancun
The Mayan Museum of Cancun is one of the city's most important cultural attractions. Here you can learn more about the history and culture of the ancient Maya people who once inhabited this area.
The museum has a large collection of artifacts, including sculptures, ceramics, paintings, and more – all offering insight into life during the pre-Hispanic era.
The museum also offers interactive exhibits about different aspects of Mayan cultures, such as cuisine, music, art, and medicine. There are workshops where visitors can learn how to produce traditional crafts like pottery or jewelry.
The Mayan Museum is a great place for visitors to learn about the history and culture of this fascinating region in Mexico. It's an important part of any visit to Cancun!
17/ San Miguelito: Archeological Site in Cancun
Located in the beautiful Yucatan Peninsula of Mexico, San Miguelito is an iconic Mayan temple that has become one of Cancun's most popular places.
This divine architectural structure stands at an impressive height of 20 meters and features distinctive decorations, sculptures, and frescoes—all paying homage to ancient Mayan culture.
San Miguelito is a stunning display of Mesoamerican architecture and construction methods unique to this region. Local guides are on hand to help visitors appreciate the original purpose of each part of the complex and each intricate feature, such as its nine steps which symbolize transformation.
San Miguelito provides travelers with an educator opportunity to learn about local history and admire exceptional archaeological finds. That's why, it's one of the most important places in Cancun. 
Cancun's Beaches & Islands
Cancun is most famous for its beautiful beaches and surreal islands. Let's start with the top ones in your first tour to Cancun. 
18/ Playa Delfines
Playa Delfines is Cancun's most famous beach destination. It offers stunning views of the Caribbean Sea with brilliantly colored blue waters and powdery white sand beaches.
The beach offers the famous Cancun Sign Selfie Spot, where every Instagram traveler takes a photo here. 
The beach is ideal for swimming, sunbathing, or admiring breathtaking scenery.
You can participate in various activities, such as jet skiing, parasailing, or sailing, to make your day even more exciting. Plenty of restaurants along the beach provide delicious food and drinks, so you don't have to leave the area to enjoy a meal.
19/ Isla Mujeres
Isla Mujeres is one of the most popular and beloved destinations in Cancun. It's an island off the coast of Cancun's mainland, just a few minutes from the city center.
The name "Isla Mujeres" translated to "Island of Women" in English and was named this way because of the small figurines of goddesses found on the island.
Isla Mujeres is a paradise for beach lovers. With crystal clear waters, white sand beaches, and breathtaking views, it's no wonder why people flock here during their stay in Cancun. The island also offers snorkeling, diving, kayaking, and more.
The local food is also a highlight of Isla Mujeres. You'll find something delicious here, from traditional Mexican dishes to seafood specialties!
Don't forget to try the island's famous "Tostadas de Ceviche," a dish made with marinated raw fish. Isla Mujeres is the perfect place to relax and enjoy an unforgettable experience in Cancun.
20/ Isla Contoy
Isla Contoy is a small island located off the coast of Cancun. It's one of the best-kept secrets in the area, and it's home to some of the most stunning landscapes in Mexico.
The island is protected by national park status and has been declared a "Natural Monument," – making it a great place to visit if you want to escape from bustling city life.
In Isla Contoy, you can explore its lush jungle trails and beautiful beaches. Guided tours will also help you learn more about the local wildlife, such as birds, sea turtles, and iguanas.
You can also take part in activities such as kayaking, fishing, snorkeling, and diving. Isla Contoy is a great place to get away from it all and experience the beauty of nature in Cancun.
Cancun Nightclubs & Bars for Nightlife
After beaches and luxury, Cancun is famous for its never-ending nightlife! Let's explore its top spots for spending your night out right now. For more, visit these top bars in Cancun.
21/ The City Nightclub Cancun
The City Nightclub Cancun is a must-see spot for partygoers visiting the city.
Featuring some of the best DJs in the world, breathtaking visuals and performances, and an exceptional sound system, The City Nightclub is an absolute must-visit for anyone who loves clubbing.
With a chic and modern interior design, The City Nightclub is the perfect place to dance the night away with friends. It's by far the best nightclub in Cancun, without a doubt. 
Moreover, part of the admission fee is credited towards drinks, so you can enjoy some of the best drinks while you dance the night away.
22/ Coco Bongo Cancun 
Coco Bongo is a famous nightclub in Cancun Hotel Zone that offers an unforgettable party experience.
Although the entrance fee can be steep, visitors rave about the amazing service, drinks, and shows that make it worth it.
Many guests have described it as one of the best parties they have ever attended, with energetic performances and a lively atmosphere.
Don't take my word; see what one of its visitors says about it:
"It was one of the best parties I have ever been to! At the very beginning, I was annoyed as we paid 130$ per person for entrance, and in the huge queue, at least 15 times different people came to us to ask if we had tickets or offered paid upgrades or tables. I entered with thoughts like, "what we paid for?" but then realized I was worth every cent. The performance was so great… cool music, professional artists, max waiting time for the drinks was 5min. I spent time from 9 pm to 1 am dancing and singing. If you are in Cancun, you should spend a night there!"

Justyna Szuter.
23/ Señor Frogs Bar in Cancun
Señor Frog's is one of the most famous bars in Cancun Hotel Zone known for its lively atmospheres and fun activities, such as karaoke and dance contests.
And that's not all! Senor Frogs offers great Mexican food and authentic special drinks. 
The bar is in the Hotel Zone and offers indoor and outdoor seating with ocean views. If you want to taste the real Mexico and enjoy a memorable night in Cancun, Senor Frogs Bar is necessary. 
FAQs for Famous Places to Visit in Cancun
In this section, I'll answer some of your questions about famous places and the top attractions in Cancun, Mexico. 
Where to Stay in Cancun?
There are many great places to stay in Cancun, from budget hostels to midrange hotels to luxury resorts. So which accommodation options you want depends on your budget and needs.
Let me give you my top choices for each category:
Luxury: Ritz-Carlton Cancun
Midrange: Renaissance Cancun
Budget: Coco Hostel
What is Cancun Best Known for?
Cancun boasts beautiful beaches, clear waters, and warm weather across 14 miles of coastline, drawing tourists worldwide. Nightlife enthusiasts can enjoy a vibrant scene with restaurants, bars, and clubs.
Cancun's rich Mayan heritage is experienced through Chichen Itza and Tulum for a unique ambiance of history and culture.
What's the Best Month to Visit Cancun?
The best month to visit Cancun is December to April, when the weather is dry and sunny, with an average temperature of 80°F. But remember that this is also peak season, which means higher prices and more crowds. If you are on a budget or prefer a quieter atmosphere, consider visiting Cancun from June to October. 
Is Cancun the Most Visited City in the World?
Many organizations, including Forward Keys, designate Cancun as the world's second-most-visited city. The Mexican city set a new record recently when its international airport welcomed over 30 million visitors in 2022.
What is the Famous Building in Cancun?
The most famous building in Cancun is probably "Torre Escénica del Embarcadero de Cancún" or simply "Torre Escénica," aka Scenic Tower. And these are some of the most popular landmarks in Cancun:
Cancun Scenic Tower
Cancun Underwater Museum
Mayan Museum of Cancun
Archaeological Zone of Kohunlich
El Meco Archaeological Site
Iglesia de Cristo Rey
Iglesia de Nuestra Señora del Carmen
Isla Mujeres and Isla Contoy
San Miguelito Archeological Site
Punta Cancun Lighthouse
Cozumel
Tulum Archaeological Zone
Xplor Park
What is the Oldest Resort in Cancun?
The oldest resort in Cancun is probably the Club Med Cancún, which opened in 1976. The resort even helped build the airport to promote tourism in the Mexican city, according to TravelWeek. 
But then you can see the Hotel Camino Real in this old photo shot in 1975. 
Why Are There Statues Underwater in Cancun?
The underwater statues in Cancun result from an innovative project called "The Silent Evolution." Launched in 2009, the project aimed to create an artificial reef while helping restore marine life in Cancun.
The installation of the statues has not only promoted the growth of coral and other marine life but has also provided visitors with a unique diving and snorkeling experience. 
Is Cancun Just for Partying?
While Cancun is best known as a party destination, there are many things to do. You can explore its Hotel Zone, go on a Cancun city tour, visits its downtown, dive into the blue sea, busk on the beaches, and do snorkeling, zip lining, paddle-boarding, shopping, and more. 
So which of these famous places in Cancun have you already visited? Let me know in the comments below because I always reply 🙂