While Bora Bora is one of the most popular tropical paradises, many places like Bora Bora in Europe may offer a similar experience, if not the exact one! 
I'll choose travel destinations you can call the European Bora Bora based on what it's famous for.
And you know it's known for crystal clear waters, white sand beaches, vibrant culture, activities, and most importantly, tropical vibes. 
But hey, there are no exact replicas of Bora Bora anywhere in the world. No place on Earth is similar to the other. If you cannot find your favorite spot, you'd love to explore these European alternatives to the Maldives. 
23 Places like Bora Bora in Europe
These destinations don't precisely offer tropical vibes like Bora Bora, as Europe is not a tropical region at all. However, some areas, like certain islands, offer a somewhat tropical experience due to their warm climates and beautiful beaches. 
Let's dive into them!
1/ Lofoten Island, Norway
If you dream of a tropical paradise but want an alternative to the typical destinations, Lofoten Island in Norway should be on your radar.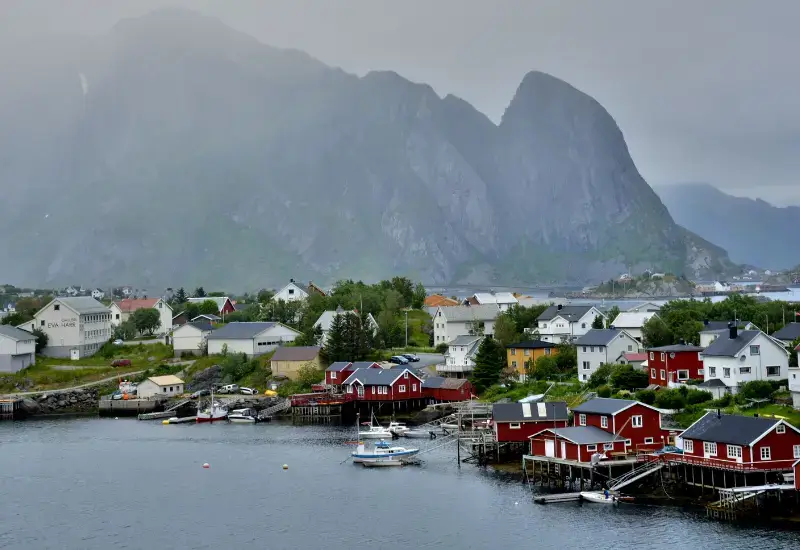 Bora Bora is known for its turquoise lagoons and overwater bungalows. Lofoten Island offers a different kind of beauty that's just as breathtaking. It's one of the best places better than Bora Bora regarding the landscape. 
The majestic landscape includes soaring mountains, remote beaches, and stunning fjords, providing endless outdoor adventures and incredible photography opportunities. 
Lofoten Island also boasts unique fishing villages with colorful wooden houses built on stilts, offering a glimpse into traditional Norwegian life. 
And if you're lucky, you may even catch a glimpse of the mesmerizing Northern Lights, which can be seen from the island during certain times of the year. 
With its rich cultural heritage, skiing opportunities, and outdoor activities, Lofoten Island is the perfect European alternative to Bora Bora for those looking for an unforgettable adventure in a stunning, off-the-beaten-path location.
2/ Isle of Skye, Scotland
If you're captivated by the tropical allure of Bora Bora but desire a European adventure, the Isle of Skye in Scotland is an excellent alternative.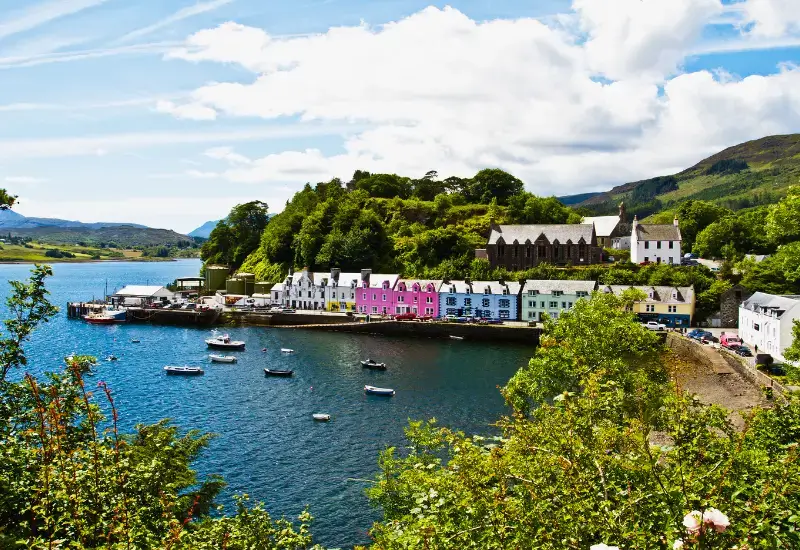 Known for its rugged beauty, it rivals Bora Bora's stunning landscapes with towering mountains, dramatic sea cliffs, and hidden waterfalls. The island's rich cultural heritage, steeped in Gaelic traditions, offers a unique blend of history and culture. 
Outdoor enthusiasts will revel in hiking, cycling, and kayaking opportunities, with chances to spot seals, dolphins, and whales along the coastline. 
The local cuisine is a gastronomical delight, featuring traditional dishes made from fresh, locally-sourced ingredients. 
Accommodations range from quaint cottages to luxury hotels, offering a stay as unique as the island. The Isle of Skye delivers a unique island experience, making it a perfect European counterpart to Bora Bora.
3/ Ksamil, Albania
If you're seeking an alternative to Bora Bora's idyllic beaches and tropical allure, consider the lesser-known gem of Ksamil, Albania.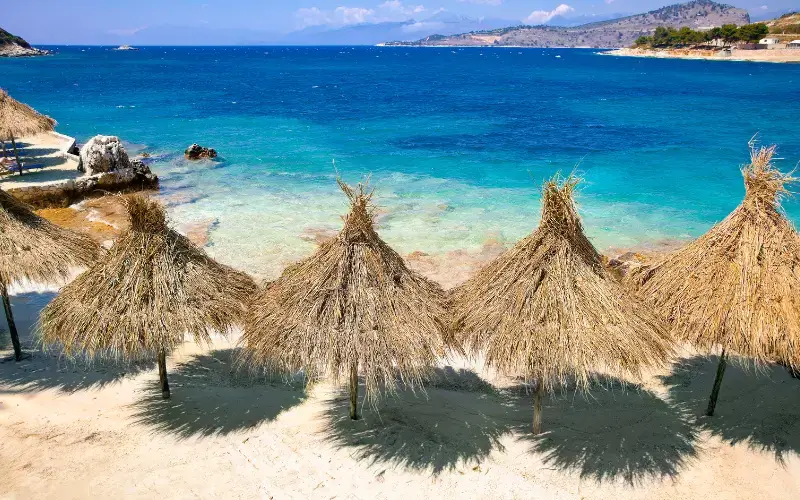 This European paradise boasts pristine beaches with crystal-clear waters and white sands reminiscent of Bora Bora's famous lagoons. 
The surrounding lush greenery enhances the tropical atmosphere, while a cluster of small islands offers peaceful getaways with hidden coves to explore via boat tours. 
Ksamil's natural wonders offer unique sightseeing opportunities, including the UNESCO World Heritage Site of Butrint National Park and the mesmerizing Blue Eye Spring.
Savor traditional Albanian dishes made from fresh seafood and local produce, adding a culinary adventure to your experience. 
The most enticing aspect is Ksamil's affordability. With reasonable prices for accommodation, food, and activities, it's a budget-friendly choice offering a tropical island experience that rivals Bora Bora's.
4/ Algarve, Portugal
Algarve is a fantastic alternative to Bora Bora in Portugal. Its stunning beaches with crystal-clear waters and golden sands rival Bora Bora's famous lagoons. 
The Algarve is also a golfer's dream, with over 30 world-class golf courses designed by top golfers. Food lovers can enjoy fresh seafood and traditional Portuguese dishes while enjoying breathtaking sea views. 
Adventurers will find plenty of outdoor activities, from hiking to surfing, with opportunities to explore hidden coves or even go dolphin-watching. 
The region's rich history can be explored through its ancient castles and museums, adding a cultural dimension to your visit. 
With beautiful beaches, great golfing, delicious cuisine, diverse outdoor activities, and historical attractions, the Algarve offers a European island-like experience that can match Bora Bora's tropical allure.
5/ Madeira, Portugal
Madeira, Portugal, is a splendid alternative to Bora Bora. Its breathtaking scenery, with lush hills, rugged coastlines, and hidden waterfalls, rivals the tropical beauty of Bora Bora.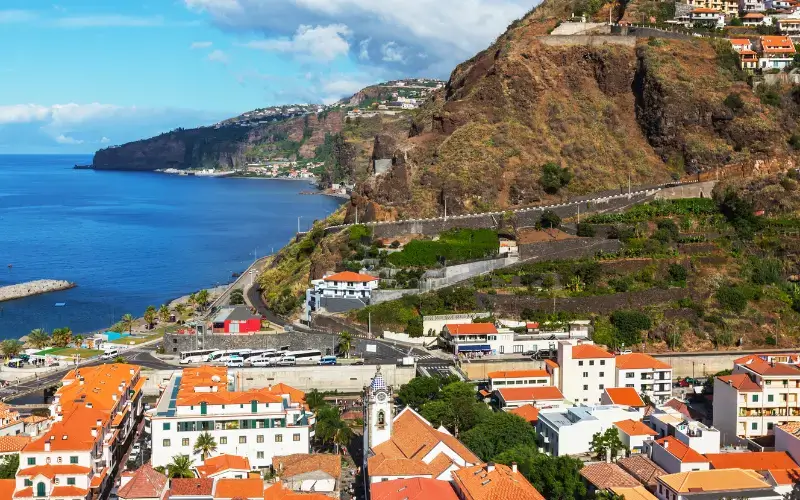 he island's mild climate, often called the "island of eternal spring," allows for year-round outdoor activities like hiking, cycling, and water sports. 
Madeira's rich cultural heritage is evident in its museums, historic sites, and traditional festivals. The local cuisine, featuring fresh seafood and traditional Portuguese dishes, offers a unique gastronomic experience. 
Luxury accommodations range from 5-star resorts to traditional Portuguese Quintas, catering to different tastes. 
With its stunning landscapes, pleasant climate, outdoor adventures, historical attractions, delicious food, and luxury lodging, Madeira provides a European island experience akin to Bora Bora's allure. 
6/ Porto Santo Island, Portugal
Porto Santo Island in Portugal is one of the best Europen alternatives to Bora Bora. Its golden beaches, such as the famous 9km long Porto Santo Beach, rival Bora Bora's famous lagoons.
The island's mild climate is perfect for year-round outdoor activities. 
Natural wonders abound, including panoramic viewpoints like Pico do Facho and volcanic caves like Grutas do Zé Franco. Outdoor enthusiasts can enjoy hiking, cycling, golf, and diving, with opportunities to spot dolphins, whales, and sea turtles. 
The island's rich history and culture are reflected in its historical sites and traditional festivals. Wellness seekers will appreciate the island's spas and natural springs, known for their therapeutic properties. 
With beautiful beaches, a pleasant climate, natural wonders, outdoor activities, historical attractions, and wellness options, Porto Santo Island offers a unique European island experience.
7/ Hvar, Croatia
Hvar is one of the best places like Bora Bora in Europe, offering beautiful beaches and lagoons. Luxury accommodations in Hvar match Bora Bora's luxury, with options like the Adriana Hvar Spa Hotel or private villas offering sea views.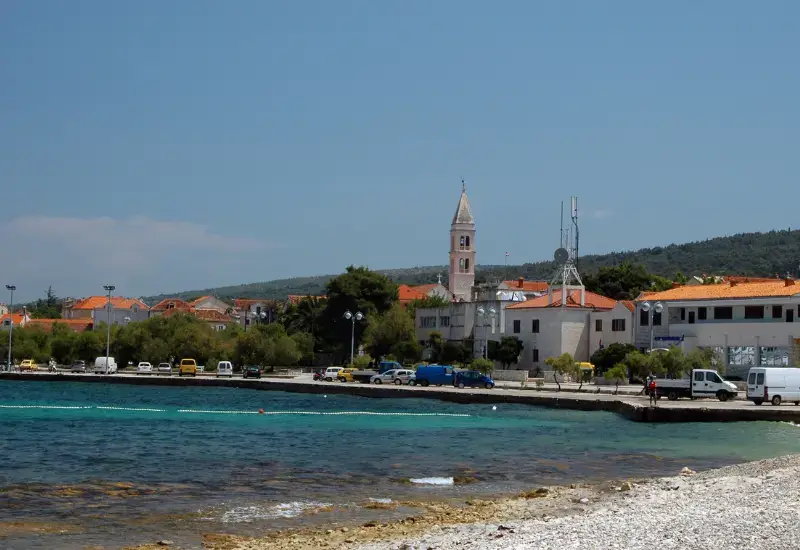 The island is an outdoor adventurer's paradise, with activities from hiking to boat tours. Hvar's cuisine is a fusion of Mediterranean and Croatian flavors.
Known as the "Croatian Ibiza," Hvar is also one of the best party destinations with a vibrant nightlife. With stunning beaches, luxury lodging, outdoor adventures, delicious food, and lively nightlife, Hvar offers an authentic island experience. 
And it's not just Hvar, the entire Dalmatian Coast is an excellent alternative to Bora Bora in Europe. 
8/ Dubrovnik, Croatia
Dubrovnik offers a European experience that matches Bora Bora's allure. This UNESCO World Heritage Site boasts a blend of history and natural beauty. 
The ancient city walls and baroque buildings starkly contrast Bora Bora's tropical setting. Views from the city walls and Fort Lovrijenac are breathtaking, rivaling Bora Bora's famous panoramas. 
A short boat ride takes you to Lokrum Island, where crystal-clear waters are perfect for swimming or snorkeling.
Dubrovnik's cultural attractions, such as museums, churches, and galleries, add depth to your visit. The city hosts numerous festivals, like the Dubrovnik Summer Festival, bringing a vibrant scene.
9/ Mallorca, Spain
Mallorca is also one of the best places similar to Bora Bora in Europe. Its beautiful beaches and crystal-clear waters mirror Bora Bora's famous lagoons.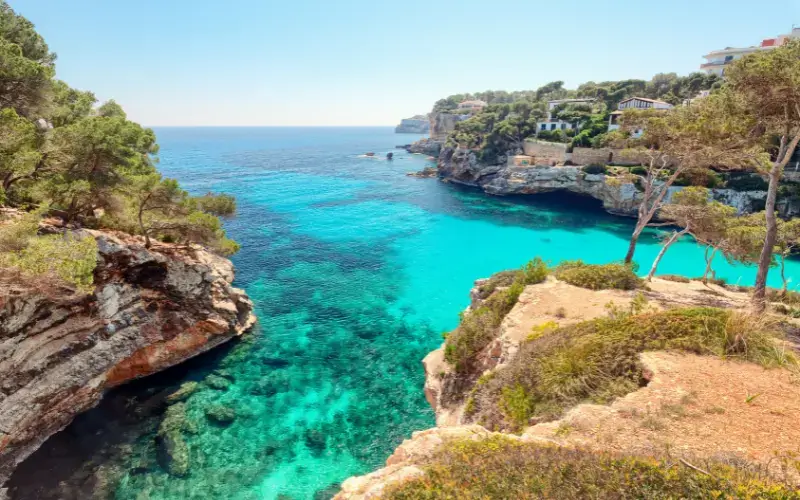 The island offers a variety of activities, from swimming and snorkeling to hiking and exploring picturesque villages. 
Adventurous visitors can enjoy water sports such as kayaking or sailing. Mallorca's diverse dining scene serves delicious local cuisine.
The vibrant nightlife in Mallorca, ranging from traditional tapas bars to modern clubs, rivals Bora Bora's lively scene. 
10/ Costa del Sol, Spain
The coastline of Costa del Sol provides ample opportunities for swimming, snorkeling, sailing, and other water activities. Dining along the coast is a delight, with numerous restaurants serving delicious seafood dishes, rivaling Bora Bora's culinary scene. 
Beyond its stunning beaches, Costa del Sol boasts numerous cultural attractions, from ancient castles to botanical gardens and cathedrals. 
Day trips to nearby cities like Malaga or Granada add depth to your visit. Costa del Sol provides a European tropical paradise experience akin to Bora Bora's renowned charm with beautiful beaches, clear waters, delicious food, and rich culture.
11/ Canary Islands, Spain
The Canary Islands have beautiful beaches, lush forests, and unique volcanic landscapes. Like Bora Bora, they offer many activities – sunbathing on white sand beaches, exploring ancient villages, or hiking through forests or volcanoes.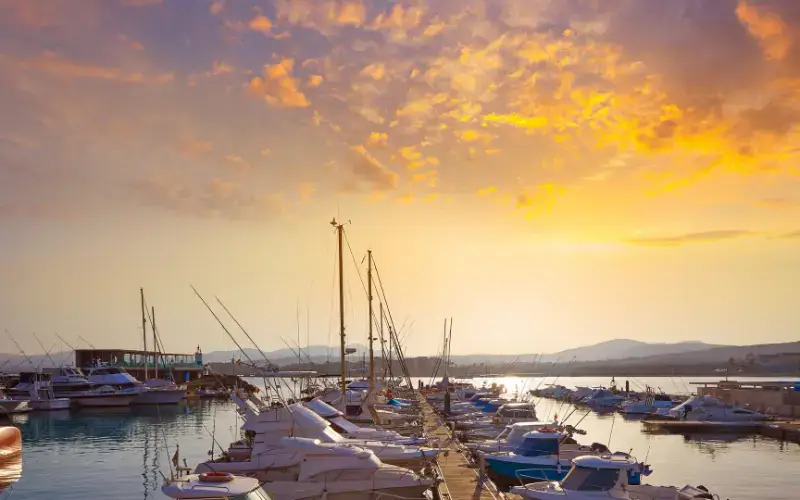 The Canary Islands are a hotspot for European water sports, with options like windsurfing, kitesurfing, scuba diving, and snorkeling. On land, you can enjoy golfing or cycling around nature reserves. 
The Canary Islands offer something for everyone, whether you prefer relaxing on the beach or exploring the outdoors. With year-round sunshine and warm temperatures, these islands provide a tropical escape similar to Bora Bora but closer to home.
12/ Sardinia, Italy
Sardinia is proudly called the "Bora Bora of Europe." because of its clear turquoise waters and beautiful beaches. The island's coastline is full of hidden coves and secluded bays, surrounded by cliffs and greenery. 
The places in Sardinia offer top-class features like private beaches, infinity pools, and fancy restaurants. You can snorkel, scuba dive, or kayak to see amazing marine life. It also has some of Italy's best hiking trails. 
13/ Capri, Italy
Capri is often called the "Bora Bora of Italy" and is known for its stunning natural beauty and luxurious amenities.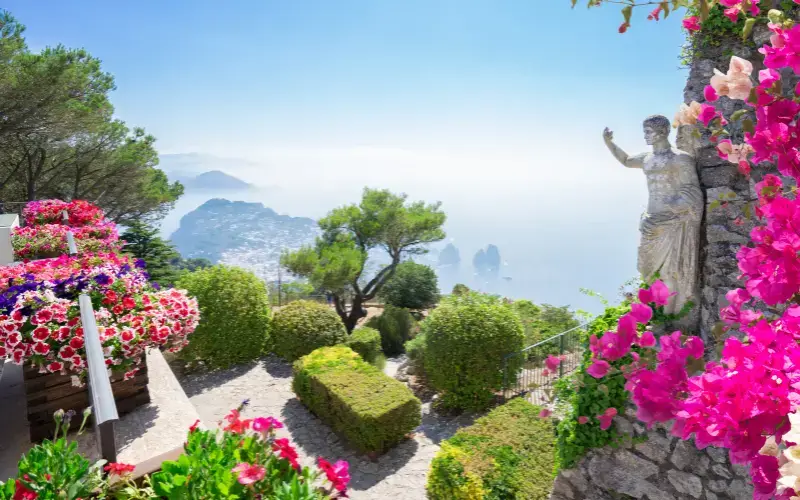 Capri offers breathtaking scenery, rich culture, and diverse activities. You can explore the charming streets of fashion boutiques and quaint cafes or swim in the Blue Grotto, a sea cave illuminated by ethereal blue light. 
The island boasts upscale hotels with panoramic views and world-class services, making it a destination for those seeking a luxurious escape. With its cultural exploration and beach-side relaxation mix, Capri offers an experience akin to Bora Bora.
14/ Amalfi Coast, Italy
Like Bora Bora, the Amalfi Coast offers stunning sea views, towering cliffs, and numerous beaches. This Italian gem is known for its picturesque seaside towns like Positano, Ravello, and Amalfi, each offering unique attractions. 
From exploring hidden grottos to dining at cliff-side restaurants with spectacular views, the Amalfi Coast is a haven for travelers. Its turquoise waters, historic sites, and vibrant local culture make it a worthy alternative to Bora Bora.
15/ Sicily, Italy
Sicily, Italy, provides a tropical getaway with stunning turquoise waters, lush green mountains, and rich cultural history. This island is a beach destination and a place of discovery.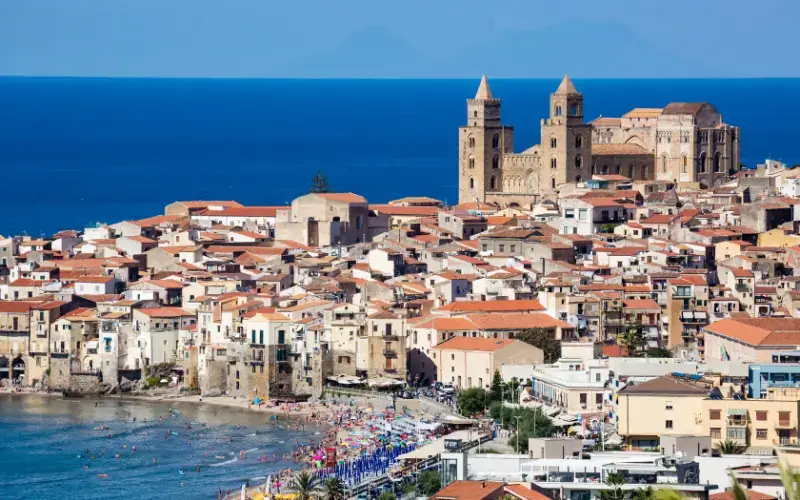 You can visit archaeological sites like the Valley of the Temples, explore Mount Etna, or enjoy Sicilian culinary delights. Its diverse landscape and cultural heritage make Sicily comparable to Bora Bora.
16/ Cinque Terre, Italy
Cinque Terre, Italy, mirrors Bora Bora's charm with its breathtaking scenery and crystal-clear turquoise waters. This UNESCO World Heritage site comprises five villages, each offering unique attractions. 
You can swim, snorkel, take boat tours, or hike along scenic trails. The colorful houses clinging to steep terraces overlooking the Mediterranean Sea create a captivating sight.
17/ Cyprus
Cyprus has breathtaking beaches and clear waters. This European island like Bora Bora has pretty landscapes. You can swim, snorkel, sail, or dive in the sea. There are also many restaurants and bars to try out.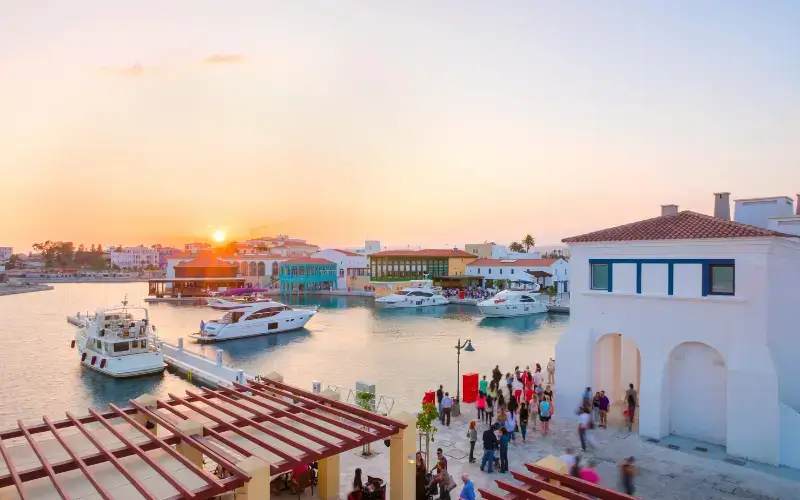 Like Bora Bora, Cyprus has a warm, sunny climate all year round. This makes it an excellent place for a relaxing holiday in the sun. 
People in Cyprus are very welcoming, so visitors always feel at home. When it comes to places to stay, Cyprus has a lot of options. You can choose from luxury resorts, villas, cheap hotels, or apartments. 
18/ Crete, Greece
Crete has amazing views with cliffs and hilltops where you can watch the sunset. 
The island has 650 miles of coastline, so it's perfect for beach lovers. 400 of Crete's beaches are Blue Flag certified, which means they have clean water, are safe and care about the environment.
Crete also has cities like Chania and Heraklion with old walls. These walls show the island's history and are a must-see. It also has many traditional villages. Visitors can learn about local culture and try Greek food there.
One great place is Rethymno Town Beach. It's over 12 miles long and has water sports, restaurants, and bars. From there, you can see the Mediterranean Sea! 
19/ Santorini, Greece
Santorini, Greece, is similar to Bora Bora because of its beautiful views and clear waters. This island in the Aegean Sea has fantastic beaches where you can swim or snorkel. It also has many wineries and hiking trails.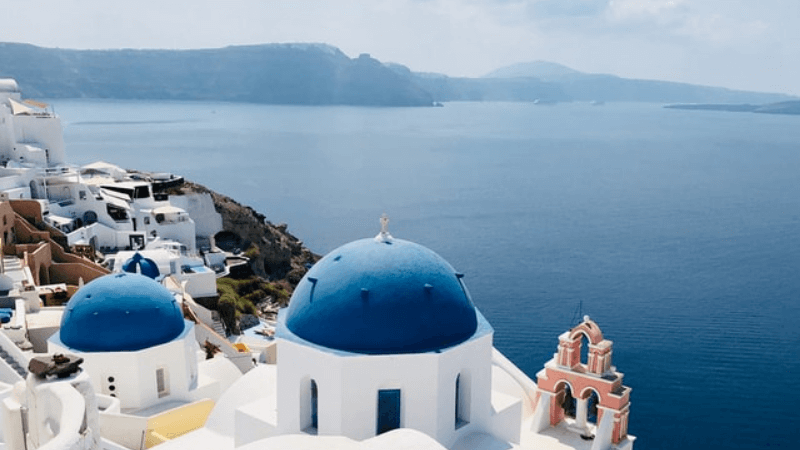 From these trails, you can see the caldera and other islands. Santorini has a unique landscape with colorful cliffs that rise from the blue sea. This is because a huge volcano erupted thousands of years ago. 
The island also has many luxury hotels. These hotels have everything you need for a relaxing holiday. So, if you want a romantic trip or want to explore a new place, Santorini has something for you.
20/ Mykonos, Greece
Mykonos has a great atmosphere and beautiful beaches. It's in the Cyclades Islands of Greece, and people worldwide love to visit. 
Mykonos is famous for its white buildings, pretty harbor, and exciting culture. It has small streets full of shops, restaurants, and bars. Visitors can relax at beach clubs or try tasty Greek food at local eateries. 
There are also many water activities like swimming, snorkeling, scuba diving, and sailing. The water is very clear, and the views are amazing.
With its great atmosphere, stunning beaches, and fun activities, it's one of the best places in Europe! So, if you want a romantic trip or a fun night out, Mykonos is a good choice. 
21/ Zakynthos, Greece
Zakynthos is in the Ionian Sea near Greece and is known for having some of the best beaches in the world.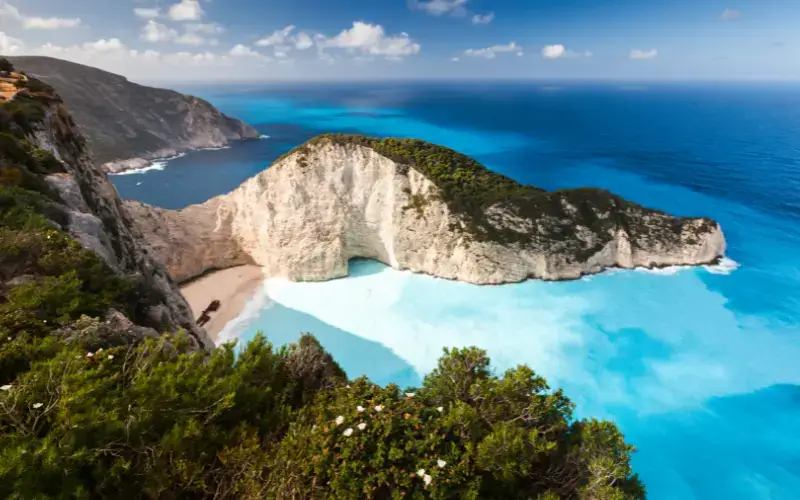 The inside of the island is full of green plants and tall volcanic peaks. The coast has clear water and soft white sand. Zakynthos has many quiet coves and sandy shores if you want a romantic place. 
One popular spot for couples is Shipwreck or Navagio Beach because it's secluded and very pretty. With its fantastic beaches, green landscapes, and romantic vibe, it's no wonder so many people visit each year!
21/ French Riviera, France
The French Riviera is a luxurious tropical place in Italy, having beautiful beaches, blue waters, and green jungles. You don't have to travel far to enjoy the same things as in Bora Bora.
One of the best things about both places is their overwater bungalows. The French Riviera has some of the fanciest ones in Europe. 
You can find them at resorts like St Regis Bora Bora. These bungalows have beautiful views of lagoons and mountains and have everything you need.
You can also do many activities on the French Riviera. You can snorkel or scuba dive in the clear water. You can explore the islands and beaches. There's also fun nightlife and tasty food.
So if you want a tropical paradise like Bora Bora but closer to home, try the French Riviera.
23/ Corsica, France
Corsica also has beautiful mountains, beaches, and clear water. It's in the Mediterranean Sea and has many activities and attractions. You can visit old towns, forests, villages, cliffs, caves, and gorges.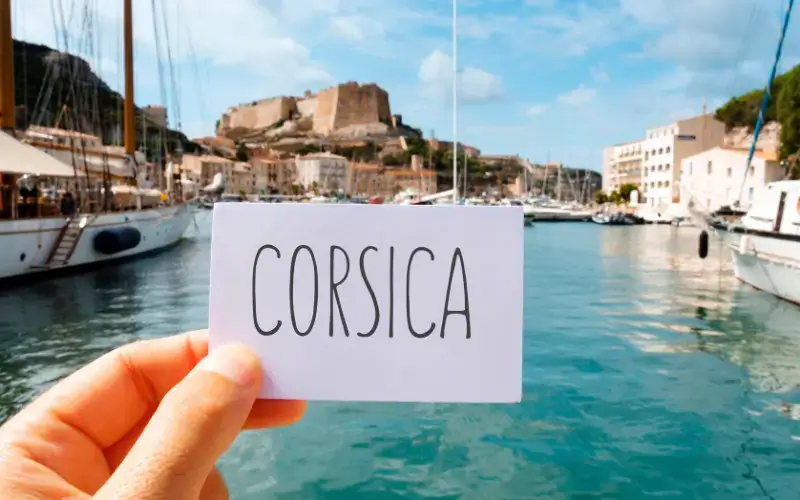 Corsica is known for its natural beauty. It has white sand beaches and tall mountains. It's great for a relaxing holiday or an exciting adventure. You can swim, snorkel, kayak, or sail there.
The island also has a lot of culture. There are medieval towns with stone streets that have cafes and restaurants. They serve traditional French food. You can also go to local markets to buy fresh food and unique souvenirs.
With its stunning nature, fun activities, and rich culture, it's one of the top places to visit in Europe, similar to Bora Bora. 
FAQs for European Bora Bora Alternatives
Let me answer questions about European places like Bora Bora.
Is Bora Bora in European Union?
No, Bora Bora is not part of the European Union. It's far from the EU and is in French Polynesia, an overseas collectivity attached to the French Republic and associated with the European Union as an overseas country or territory (OCT).
Is Bora Bora close to Europe?
Unfortunately, Bora Bora is not close to Europe. Bora Bora is located in the South Pacific Ocean, while Europe is in the world's northern hemisphere. The distance between the two is approximately 10,000 miles (16,000 kilometers).
The flight time to Bora Bora from Europe can vary depending on the route, layovers, and airline. Typically, the journey can take 18 to 30 hours, requiring at least one or two stops along the way. 
What island is comparable to Bora Bora?
There are many islands like Bora Bora in the world, such as Moorea, Fiji, the Maldives, Tahiti, Rangiroa, Maupiti, Seychelles, Greek Islands, Cook Islands, ABC Islands, Mauritius, Philippines, and many Caribbean islands. 
Where is Bora Bora Located?
Bora Bora is a volcanic island in the Society Islands archipelago of French Polynesia, located in the South Pacific Ocean. It's part of an island chain called the Society Islands and is approximately 160 miles (260 kilometers) northwest of Tahiti.
So is Bora Bora in France? No, it's not! Is Bora Bora in Italy? No, it's not! And is Bora Bora in Europe? No, it's not in any of the European countries. 
Where is Bora Bora in Europe?
Bora Bora is politically part of French Polynesia that is not part of Europe. But places like Santorini, Amalfi Coast, Ibiza, French Riviera, Sardinia, Dubrovnik, Greek islands, and the ones listed above can be called the European Bora Bora due to the shared similarities. 
Which European country has overwater bungalows?
Many European countries offer overwater bungalows like Bora Bora or the Maldives. For example, you'd love to visit Stella Island Luxury Resort in Greece, Palafitte Resort in Switzerland, Villaggio La Pescaccia in Italy, Clawford Lake Resort in England.
How Far is Bora Bora from France?
The distance between Paris, France, and Bora Bora is 15,987 km. The average flight time from France to Bora Bora is around 23 hours, including direct and indirect flights with possible stops in other cities. 
Do I need a passport to go to Bora Bora?
Of course, all international travelers from the US, Europe, Asia, Africa, and other parts of the world, require a passport to enter Bora Bora, French Polynesia. It's an overseas collectivity of France and its sole overseas country.