Welcome to our journey exploring the best canal cities in the world that have gained fame for their unique waterways.
With their tranquil waters and picturesque surroundings, canals have a particular appeal that makes the city's skylines beautiful. And I cover them in Waterways & Waterfalls section.
From the waterways of Venice to the canals of Amsterdam, these cities famous for canals offer unforgettable memories.
Most Beautiful Cities With Canals
Canals have played a significant role in shaping the history and culture of various cities worldwide. These waterways have become vital transportation routes, iconic landmarks, and tourist attractions. 
| Country | Canal City | Canal Length | Approx. Canals | More |
| --- | --- | --- | --- | --- |
| United States | Cape Coral | 400+ miles | 240.3 miles | The city is known as the "Venice of America." |
| Netherlands | Amsterdam | 160+ canals | 54.7 | Over 1,500 bridges connect the canals. Known as the "Venice of the North". |
| Italy | Venice | 170+ canals | 111.8 | Built on a group of 118 small islands in the Adriatic Sea. Over 400 bridges connect the canals. |
| China | Suzhou | 1,000+ canals | 138.5 | Known as the "Venice of the East." The canals are lined with gardens, temples, and pagodas. |
| Malaysia | Malacca | 200+ canals | 21.7 | A UNESCO World Heritage Site. The canals are lined with historical buildings from the Portuguese and Dutch colonial eras. |
| Laos | Luang Prabang | 30+ canals | 12.4 | A UNESCO World Heritage Site. <br>The canals are lined with traditional Laotian houses and shops.  |
| Vietnam | Hoi An | 13+ canals | 8.1 | A UNESCO World Heritage Site. <br>The canals are lined with Chinese shophouses and temples. |
| Thailand | Ayutthaya | 30+ canals | 4.3 | The former capital of Thailand. <br>The canals are lined with ruins of ancient temples and palaces. |
| Sri Lanka | Galle Fort | 1+ canal | 0.8 | A UNESCO World Heritage Site. <br>The fort is surrounded by a moat and is home to a number of canals. |
Let me share an extensive table to share all the beautiful canal cities like Venice quickly.
27+ Best Canal Cities in the World You Must Visit
Let's get straight to the most beautiful canal cities in the world.
1/ Cape Coral, Florida, USA
Cape Coral, situated in Southwest Florida, is known for its extensive canal system. It's one of the best canal cities in Florida, without a doubt. With over 400 miles of navigable waterways, it offers boating, fishing, and exploring diverse wildlife opportunities. 
Also, explore more ​picturesque canal cities in the US. 
2/ Giethoorn, Netherlands
Many canal cities in the Netherlands have no cars, but Giethoorn stands out. It's one of the best canal cities in Europe, with more than 170 km of canals winding through the landscape.
Explore places like Giethoorn In the Netherlands if you love it!
The village is peaceful and charming, with thatched-roof cottages and boats as the primary means of transportation. Also known as the Venice of the Netherlands, it is a fantastic place to explore by boat. You can do a lot of things here.
3/ Suzhou, China
China has Asia's most beautiful canal city, Suzhou. It's an ancient city with canals that have been around for centuries.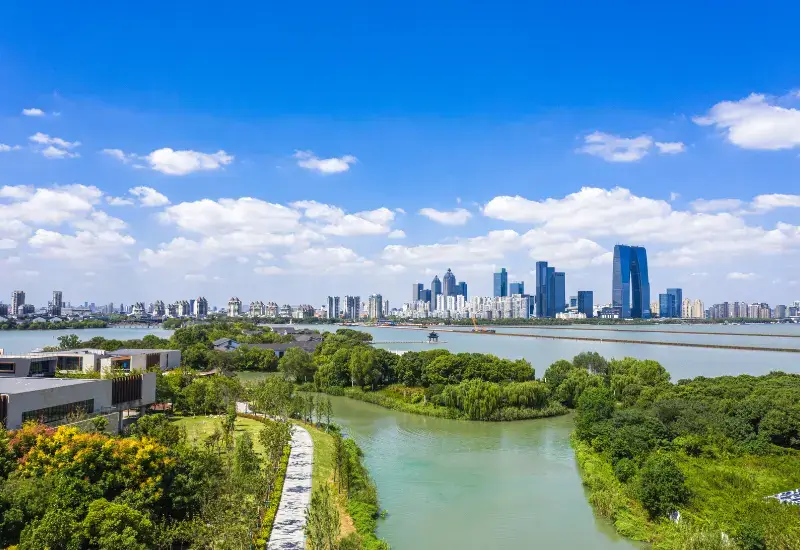 You can marvel at the canal-side teahouses and traditional Chinese gardens. The city will give you a glimpse of old China in modern-day Shanghai.
4/ Birmingham, England
Birmingham is known for its canals, which are teeming with life. It's one of the best canal cities in the UK.
The city offers a fantastic variety of entertainment and leisure activities along the waterways. You can stroll or bike ride along Birmingham's canals and explore the old industrial works.
5/ Amsterdam, Netherlands
The canals of Amsterdam are undoubtedly one of the most iconic city sights in Europe. With more than 400 bridges and over 100 kilometers of waterways, you'll never get bored of the views.
Amsterdam is home to various houseboats and boats transporting passengers or goods around the city.
6/ Newport Beach, California, USA
Newport Beach offers a unique and beautiful combination of beaches, canals, and ocean views. It's one of the best canal cities in America. Its canals extend for 10 miles from Balboa Island to Upper Newport Bay.
You can enjoy kayaking, boating, and other water activities along these peaceful waterways. And that's not it! You can explore a lot more than just canals.
7/ Fukuoka City, Japan
Fukuoka City canals are one of the best-kept secrets in Japan. The canals wind through the city, creating an almost magical atmosphere.
Stroll along its banks and admire some historical buildings or take a boat ride to explore even more of this fantastic city.
Don't forget to visit the Canal City Hakata in Fukuoka, the expansive entertainment and shopping complex. It has restaurants, a theater, a cinema, a game center, two hotels, and a canal that runs through the complex.
It's a "city within a city," a testament to Japanese innovative urban planning and design.
8/ El Gouna, Egypt
El Gouna is an oasis resort town near Hurghada in Egypt's Red Sea. It's known for its stunning canals, many of which are lined with luxurious villas and resorts. If you're looking for a unique holiday experience, then El Gouna is the place to go!
Explore the winding waterways by traditional felucca boat or take a private tour along the canals. There are plenty of things to do here, but one of the best activities is simply sitting back and enjoying the canals' tranquility.
9/ Bangkok, Thailand
Bangkok is a bustling metropolis in its depths; some amazing canals have been around for centuries. It's one of the best canal cities in Asia, without a doubt.
A boat tour of the city's canals is one of the best ways to experience it! You'll see floating markets, local homes, and temples along the canal's banks.
10/ Venice, Italy
Venice is one of the most famous canal cities in the world – not just in Europe. It's a unique city with 175 canals and 420 bridges, with no car roads.
Take a gondola ride through its canals and enjoy the beauty of Venice's palazzos, churches, and grand squares. Also, don't forget to visit its islands like Murano, famous for glass-making, or Burano, a fishing village known for its brightly colored houses.
11/ Dresden, Germany
Dresden is also one of Germany's most beautiful canal cities. The Elbe River canals are lined up with Baroque buildings, making it an ideal destination if you love scenic walks like me.
The city has canal-side attractions like cafes and restaurants, parks, and various cultural activities. But that's not it! Dresden has much to offer, such as unique museums, art galleries, and more.
12/ Annecy, France
Annecy, often called the "Venice of the Alps," is a picturesque French town between two pristine lakes. It's one of the best canal cities in France, and rightly so! Its canals connect the old city to the lake.
Take a walk along these beautiful canals and enjoy some of Annecy's most stunning views of nature. There are plenty of attractions here, like the old town with its cobbled streets, colorful houses, and markets.
13/ Bruges, Belgium
Bruges is one of the best canal cities in Europe, with its cobbled streets and beautiful canals. The city offers much – from picturesque architecture to delicious Belgian chocolate!
And you can cruise along Bruges canals or an old-fashioned horse-drawn carriage ride for amazing views of this medieval city.
14/ Seville, Spain
Seville is one of Spain's most beautiful and romantic cities. It's famous for its winding canals that boast stunning views of the country's architecture. The city replicates the ancient canal system. 
Stroll along these tranquil canals, or join in on boating activities like kayaking and paddle boarding. You'll also find plenty of restaurants, boutiques, and art galleries along the canals.
15/ Stockholm, Sweden
Stockholm, often called the "Venice of the North," boasts an archipelago interwoven with canals. This Scandinavian capital offers a unique blend of modernity and tradition. You can explore the medieval Gamla Stan, visit the Royal Palace, and take boat trips to explore the surrounding islands.
16/ Copenhagen, Denmark
Copenhagen has a rich maritime history and a network of charming canals. Exploring the canals by boat offers a captivating view of the city's colorful waterfront houses, iconic landmarks like the Little Mermaid statue, and the trendy Nyhavn district.
17/ Gorizia, Italy
Italy has many beautiful canal cities, including Gorizia. The city has a unique combination of Italian and Slovenian cultures, making it one of the most diverse cities in Italy. You can explore its gorgeous canals on foot or by boat.
18/ Gdańsk, Poland
Gdańsk is a beautiful and vibrant city in northern Poland. It's one of the best-known canal towns in Europe, with its intricate canal network running through the city's heart. Take a relaxing boat trip to explore Gdańsk's rich history and admire many historical monuments.
19/ Bucharest, Romania
Bucharest is a fascinating city that boasts an intricate system of canals.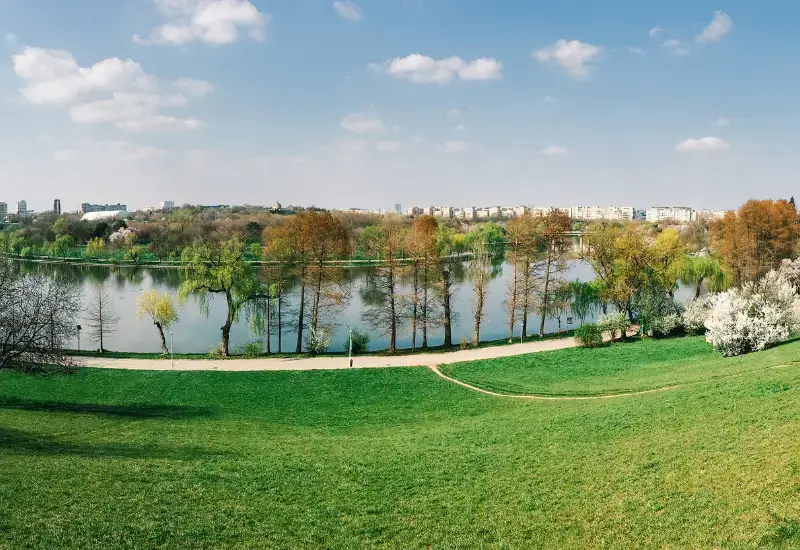 Though they weren't built for transportation, the canals still transport goods and services throughout the city. Take a stroll along these peaceful waterways. Or join in on some of the local activities like fishing or boating. 
20/ Athens, Greece
The ancient Greek city of Athens is home to a canal network that goes back centuries. Though much of the city has been built up over time, you can still find charming patches of canals throughout. While exploring these European waterways, you can also marvel at sites like the Temple of Zeus and the Acropolis.
21/ Český Krumlov, Czech Republic
Český Krumlov is a popular tourist destination and one of Europe's best canal cities. The city's canals are lined with historical buildings, making it a great place to explore on foot or by boat.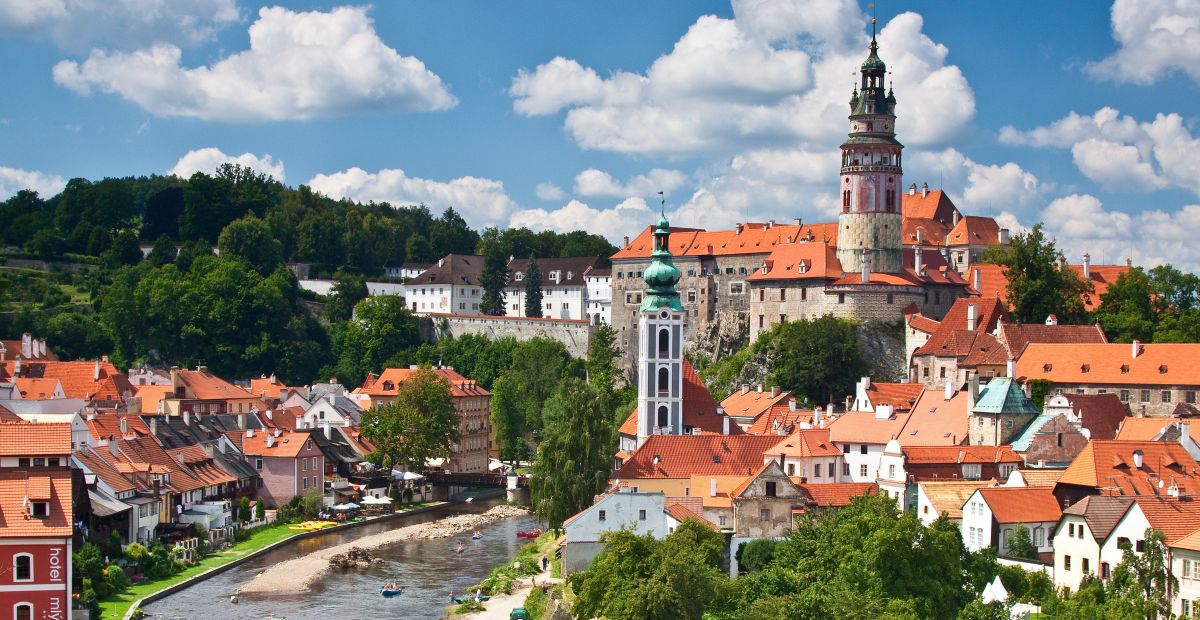 22/ Ft Lauderdale, Florida, USA
America has some of the world's best canal cities in the world. Ft Lauderdale, Florida, is one of them. Its scenic canals make it a popular destination for locals and visitors alike. You can take a boat tour to explore the city's vibrant waterfront life and many restaurants, art galleries, and shops.
23/ Xochimilco, Mexico
Xochimilco is a Mexican town located south of Mexico City. It's known for its canals, the many colorful boats that sail down them, and its floating gardens. The canals are lined with plants like papyrus, reeds, and Victoria water lilies.
24/ St. Petersburg, Russia
St. Petersburg, Russia's cultural capital, boasts a canal network that earned it the nickname "Venice of the North." You can cruise along the rivers and canals, marvel at the grandeur of the Winter Palace, and explore the Peterhof Palace and Gardens.
25/ Can Tho, Vietnam
Can Tho is a Vietnamese city in the heart of the Mekong Delta. It's full of canals lined with houses and shops, making it an ideal destination for anyone who loves to explore on foot or by boat.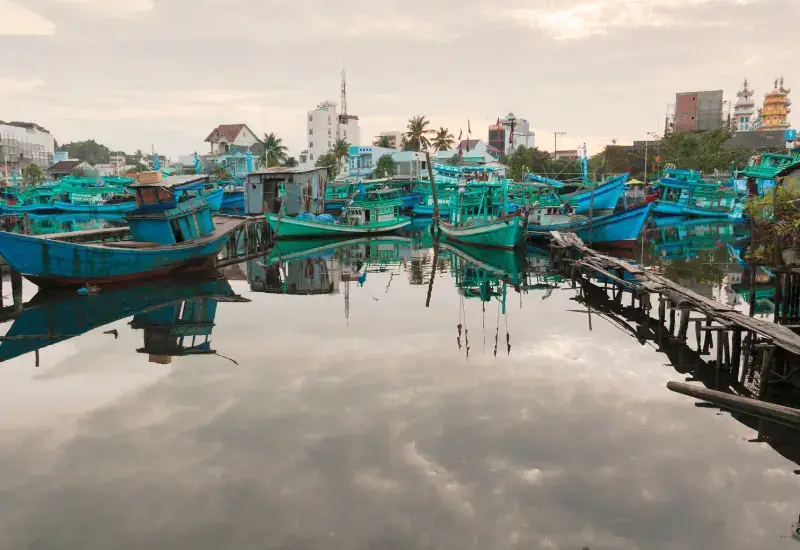 26/ Alleppey, Kerala, India
Alleppey, located in the southern Indian state of Kerala, is a popular backwater destination famous for its intricate network of canals. It's one of the best canal cities in India. You can experience a serene houseboat cruise through the palm-fringed canals.
And don't forget to witness the local way of life and immerse yourself in nature's tranquility.
27/ Tigre, Argentina
Tigre is also a canal city on the Paraná Delta in the Buenos Aires Province of Argentina. Its network of canals has earned it the nickname "Venice of South America."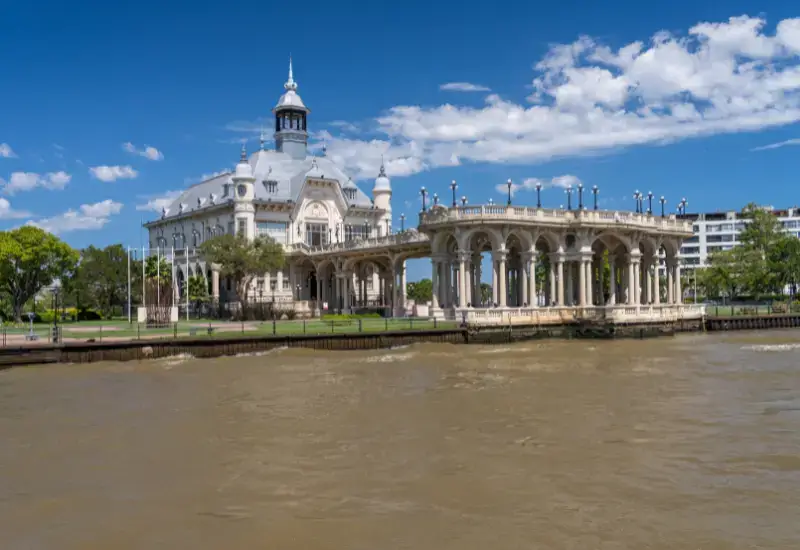 You can explore these picturesque waterways by boat or stroll around this charming town. And if you're lucky, you might spot some wildlife like capybaras, foxes, and caimans!
FAQs for the World's Cities With Beautiful Waterways
Now is the time to learn more about the world's canals.
Why are there so many canals in Venice?
Venice is located in a marshy lagoon, and the Venetians built an elaborate system of canals to transport goods, people, and water throughout the city. This system has allowed Venice to remain afloat for centuries.
What are the benefits of having canals in cities?
Canals are an important source of transport for goods and people, providing a cost-effective way to move cargo. They also help create jobs, enhance tourism, and provide recreational opportunities like boating and fishing. In addition, they often act as natural flood barriers when built on higher ground.
Which city is the most famous for its canals?
The most famous canal city is undoubtedly Venice, Italy. Its intricate system of canals and iconic buildings makes it one of the world's most beautiful cities.
But there are many other cities with stunning waterways you cannot ignore. From Amsterdam to Paris and beyond, the possibilities are endless.
Which city has the most water canals?
No, it's not Venice! Cape Coral in Florida boasts around 400 miles of freshwater and saltwater canals, leading to the Gulf of Mexico via the Caloosahatchee River and Matlacha Pass. And that makes it the city with the most extensive canal networks worldwide.
What cities does the Grand Canal connect?
The Grand Canal, also known as the Beijing-Hangzhou Canal, connects the two major cities of Beijing and Hangzhou in China. Spanning over 1,100 miles, this monumental waterway also links two of China's major rivers – the Yellow River and the Yangtze River.
What two cities did the Miami and Erie Canal connect?
The Miami and Erie Canal served as a critical water link connecting the two cities of Cincinnati and Toledo in Ohio. This impressive 274-mile (441 km) waterway offered a convenient route between the Ohio River and Lake Erie.
What city is built around canals?
Venice, known as the "Floating City," is built around a canal network as its main transportation artery. Its canals are a testament to the city's rich history and remarkable engineering., making Venice one of the best canal cities in the world.