Every place is unique; there are no exact alternative destinations at all. But in this post, I'll come up with the top places like the Azores to enjoy similar things that the Azores are famous for. 
And the Azores are famous for diverse natural wonders and unique landscapes, including volcanic formations, pristine lakes, hot springs, and breathtaking waterfalls.
This group of nine volcanic islands in the North Atlantic Ocean is known for its lush greenery, dramatic cliffs, and picturesque coastal areas. It's also one of the top European places similar to the Maldives for its beaches and blue waters. 
So based on these things, let's dive into the Azores' alternatives now.  
9 Breathtaking Places Like the Azores
One of the highlights of the Azores is their rich biodiversity. Also, they are renowned for their outdoor activities and adventure sports. You can enjoy whale watching, surfing, and hiking along scenic trails with stunning views. 
Let's cut the crap and dive into the Azores-like destinations. 
1/ Madeira, Portugal – A Place Similar to the Azores
Madeira, a captivating destination located in the Atlantic Ocean, approximately 1,000 kilometers (620 miles) southwest of mainland Portugal, shares many similarities with the Azores.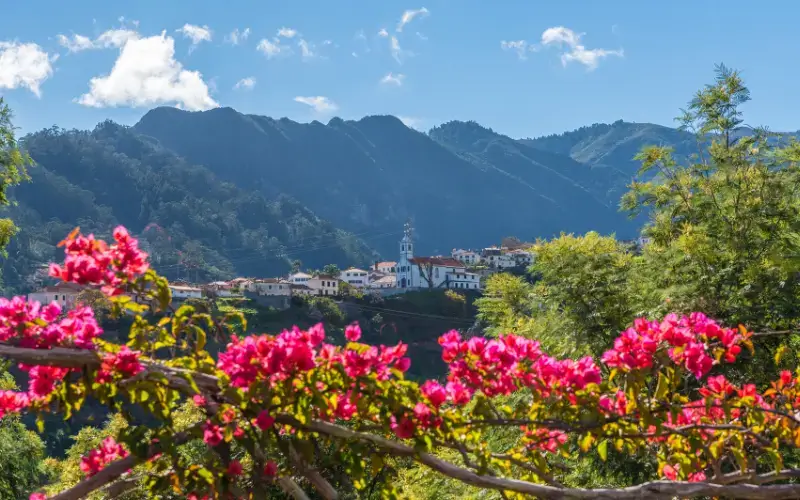 Madeira is renowned for its natural beauty, pleasant climate, and vibrant culture, making it a must-visit for travelers seeking a memorable experience and one of the best places similar to the Azores. 
The landscapes of Madeira are genuinely breathtaking, reminiscent of the wonders found in the Azores. From rugged mountains to lush valleys, the island offers diverse natural attractions. 
The Laurissilva Forest, designated as a UNESCO World Heritage Site, covers a significant portion of Madeira and is known for its ancient laurel trees and rich biodiversity. 
You can marvel at impressive cliffs, picturesque fishing villages, and vineyards that cling to steep slopes along the coastline.
Madeira benefits from a mild, subtropical climate, making it an appealing destination year-round. The island experiences pleasant temperatures, with average highs ranging from 19°C (66°F) in winter to 26°C (79°F) in summer. 
The weather in Madeira is characterized by its stability, with few temperature extremes and abundant sunshine. This favorable climate allows visitors to enjoy outdoor activities and explore the island's natural wonders at any time of the year.
Like the Azores, Madeira offers enthusiasts a wide range of adventure and outdoor activities. The island's rugged terrain attracts hikers and nature lovers, with numerous trails leading to breathtaking viewpoints and hidden treasures. 
In addition to its natural splendor, Madeira boasts a rich cultural heritage that adds to its charm. You can explore from historic towns to charming villages and festivals throughout the year. 
To complete the experience, indulge in Madeira's gastronomy, which features an array of delicious dishes. Fresh seafood, including locally caught fish and succulent shellfish, takes center stage in many traditional recipes.
Don't miss the opportunity to sample local specialties such as "espetada" (skewered meat) and "bolo do caco" (a traditional bread).
2/ Österlen – Azores of Sweden
Discover the enchanting region of Österlen in southern Sweden, often called the "Azores of Sweden." This picturesque area is characterized by its rolling hills, expansive meadows, and charming coastal towns. 
Known for its tranquility and natural beauty, Österlen offers a unique experience reminiscent of the Azores.
One of the highlights of Österlen is its stunning landscapes. As you explore the region, you'll be greeted by lush green fields with vibrant wildflowers. The gentle hills provide breathtaking countryside views, creating a sense of serenity and calm. 
Walking or cycling through Österlen allows you to immerse yourself in the area's natural beauty, with every turn revealing a new captivating scene. All these things make Osterlen one of the best places like the Azores in Europe. 
Österlen's coastline is a true treasure, just like the Azores. You'll find picturesque beaches, rugged cliffs, and charming fishing villages along its shores. 
The coastal towns of Österlen, such as Ystad and Simrishamn, exude a quaint charm with their colorful houses, cobblestone streets, and bustling harbors. Strolling through these towns will help you immerse yourself in the local culture.
Österlen also boasts a vibrant arts and crafts scene, adding to its allure. And if you're a food lover, Österlen will captivate your taste buds. The area is known for its organic farms, vineyards, and artisanal food producers. 
Österlen is a place where time seems to slow down, allowing you to relax and embrace the beauty of nature. Österlen offers a unique and tranquil experience like the Azores, with rolling hills, coastal walks, art scenes, and delicious local cuisine. 
3/ Iceland
Trust me; Iceland is truly like stepping into another world. It's unlike other places similar to the Azores listed in this post.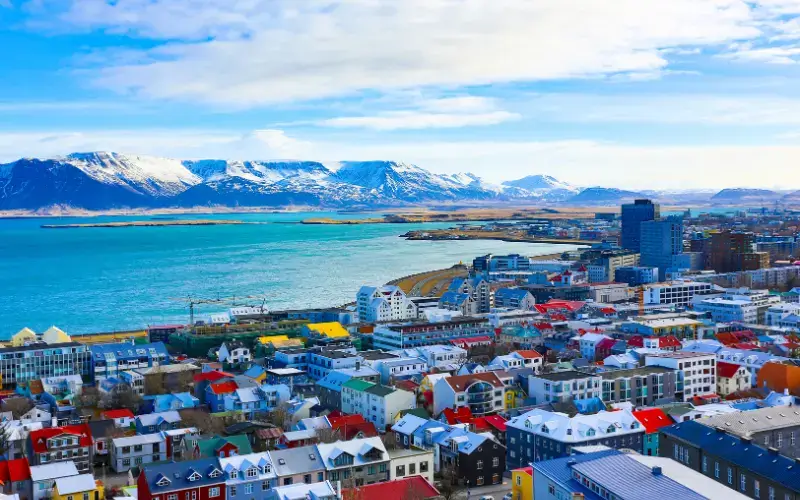 Imagine standing in awe of majestic glaciers, feeling the refreshing mist from cascading waterfalls gently caressing your face. 
But that's not all; Iceland also offers the opportunity to immerse yourself in the soothing warmth of geothermal hot springs. 
Like the Azores, Iceland is a playground for thrill-seekers and nature lovers. You can embark on exhilarating hikes through breathtaking landscapes and venture deep into mystical ice caves that seem straight out of a fairy tale.
You'll also be mesmerized by the enchanting spectacle of the Northern Lights dancing across the night sky.
Iceland's rugged and diverse terrain presents endless possibilities for adventure and exploration. From traversing volcanic landscapes to traversing black sand beaches, you'll be constantly in awe of the dramatic beauty surrounding you. 
And let's remember the fascinating wildlife encounters, from puffins nesting on cliffs to majestic whales breaching the surface of the deep blue sea.
Moreover, Iceland's unique cultural heritage and vibrant arts scene adds another layer of charm to your experience.
Iceland and the Azores share remarkable similarities that make them great alternatives. Both offer majestic landscapes, geothermal wonders, thrilling adventures, natural phenomena, rich cultural heritage, and wildlife encounters. 
4/ New Zealand
Now, let's head down to the land of Kiwis and adventure: New Zealand, one of the top places like the Azores. It boasts awe-inspiring landscapes that leave visitors spellbound.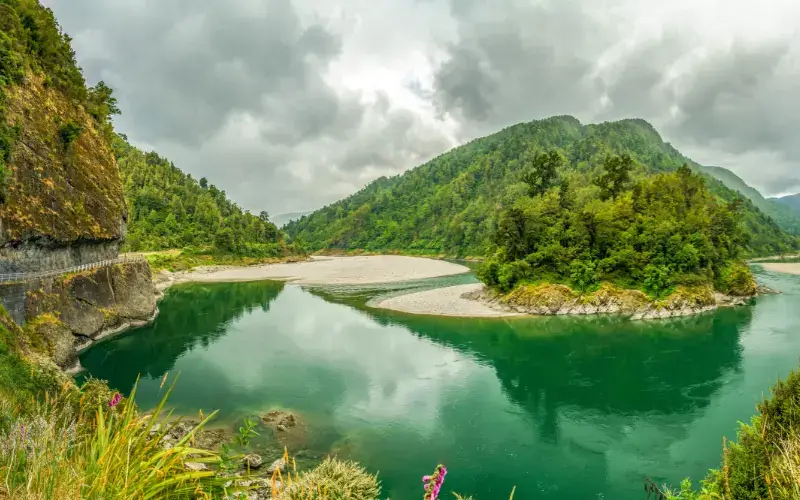 Both destinations offer a tapestry of natural wonders, from majestic mountains and rolling hills to pristine beaches and turquoise lakes. 
Explore the rugged beauty of the Milford Sound in New Zealand, with its towering cliffs and cascading waterfalls reminiscent of the dramatic coastal vistas in The Azores.
While The Azores is renowned for its volcanic activity and rejuvenating hot springs, New Zealand's North Island is dotted with geothermal areas such as Rotorua and Taupo. Immerse yourself in the thermal pools, witness erupting geysers, and marvel at the bubbling mud pools.
New Zealand is an excellent alternative to the Azores because they both are havens for wildlife enthusiasts. Also, New Zealand entices with its diverse marine life and native bird species. 
For adventure seekers, both The Azores and New Zealand provide an adrenaline rush like no other. 
Beyond their natural wonders, The Azores and New Zealand carry a rich cultural heritage. The Azores blends Portuguese and Azorean traditions, evident in its architecture, cuisine, and festivals. 
On the other hand, New Zealand celebrates its Māori heritage, offering a glimpse into indigenous culture through captivating performances, art, and storytelling. 
5/ Faroe Islands
In the North Atlantic Ocean, the Faroe Islands emerge as a terrific alternative to the Azores, offering a unique blend of natural beauty, remote landscapes, and rich cultural heritage.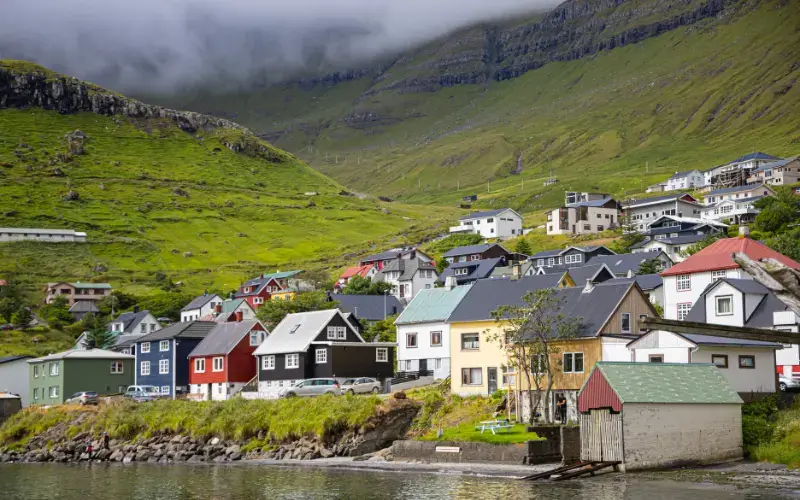 Similar to The Azores, the Faroe Islands boast untouched landscapes that captivate the senses.
The archipelago presents a dramatic scenery reminiscent of The Azores' breathtaking vistas with its rugged cliffs, rolling hills, and cascading waterfalls. 
Explore the untouched beauty of places like Sørvágsvatn, the largest lake in the Faroe Islands. Or witness the otherworldly landscapes of Kalsoy Island's Kallur Lighthouse, leaving you in awe of nature's splendor.
The Faroe Islands and The Azores have stunning coastal landscapes that spellbound travelers. The archipelago has various bird species, including puffins, guillemots, and fulmars. 
The Faroe Islands and The Azores share a deep-rooted cultural heritage that adds to the charm of these destinations. The Faroese people take pride in their unique traditions, folklore, and traditional arts.
Explore the picturesque villages with their turf-roofed houses, where you can immerse yourself in Faroese culture.
Taste traditional delicacies like fermented lamb and dried fish, the culinary heritage that mirrors The Azores' authentic flavors.
With its landscapes, fjords, wildlife, cultural heritage, and off-the-beaten-path exploration, the Faroe Islands offer a great alternative that echoes the spirit of The Azores. 
6/ Scottish Highlands
Let me introduce you to the captivating Scottish Highlands, a great destination similar to the Azores. Majestic landscapes, mystical lochs, and rich cultural heritage make it a great alternative.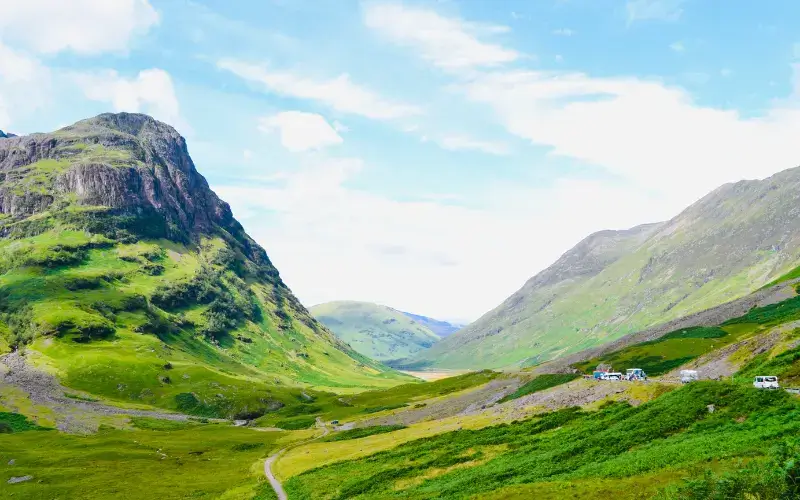 Imagine being surrounded by rolling green hills, rugged mountains, and cascading waterfalls. Loch Ness, Glen Coe, and the Isle of Skye offer breathtaking beauty. 
The tranquil lochs of Loch Lomond and Loch Tay reflect serenity, while the rugged coastline unveils dramatic cliffs and secluded beaches. Delve into Scottish folklore, visit ancient castles, and immerse yourself in Gaelic traditions. 
Outdoor adventures await—hike through scenic trails, explore mysterious glens, and spot red deer, golden eagles, and otters. 
The Scottish Highlands exude a mystical charm, providing freedom in untouched nature. This unique alternative captures The Azores' enchanting ambiance. 
Embark on a journey through the Scottish Highlands, where captivating landscapes, tranquil lochs, rich heritage, and a sense of wonder await. Uncover hidden gems and create memories in this breathtaking destination.
7/ Tasmania
Picture yourself surrounded by stunning landscapes, pristine wilderness, and rich cultural heritage. Tasmania offers a great alternative that shares the spirit of The Azores.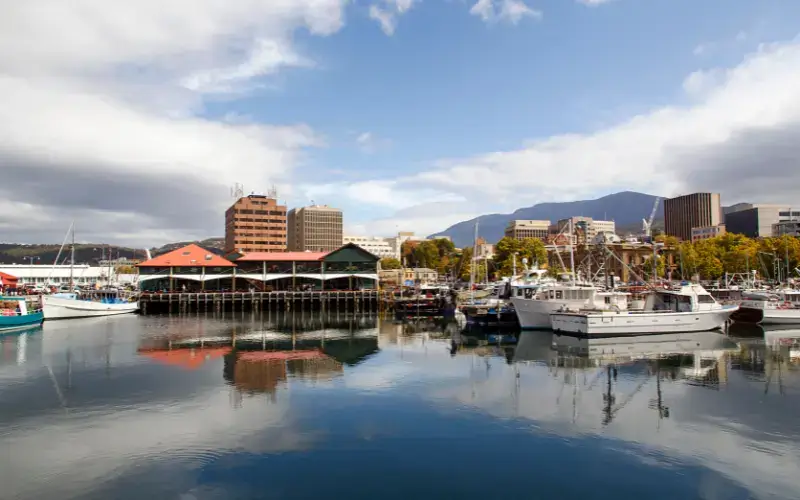 Prepare to be mesmerized by breathtaking natural beauty.
Explore the rugged mountains, dense forests, and serene lakes that adorn the Tasmanian landscape. Cradle Mountain, Wineglass Bay, and Freycinet National Park are just a glimpse of the remarkable vistas waiting to be discovered.
Like The Azores, Tasmania boasts a vibrant coastal charm. Immerse yourself in the Tasmanian coastline's secluded beaches, dramatic cliffs, and turquoise waters. 
Rich in history and culture, Tasmania invites you to delve into its intriguing past. Visit Port Arthur, a UNESCO World Heritage site, and learn about Tasmania's convict history. 
Explore charming towns like Hobart and Launceston, where colonial architecture and local markets create a unique atmosphere.
Hike through the iconic Overland Track, kayak along the Gordon River, or encounter unique wildlife such as Tasmanian devils and wombats. The pristine wilderness and abundant wildlife will ignite your sense of adventure.
Experience the mystical charm of Tasmania and indulge in the freedom of exploring this untamed paradise. The enchanting landscapes, coastal splendor, rich heritage, and outdoor adventures make Tasmania an exceptional alternative to The Azores.
8/ Norwegian Fjords
Let me take you on a journey to the breathtaking Norwegian Fjords, the top places similar to the Azores because of their natural beauty.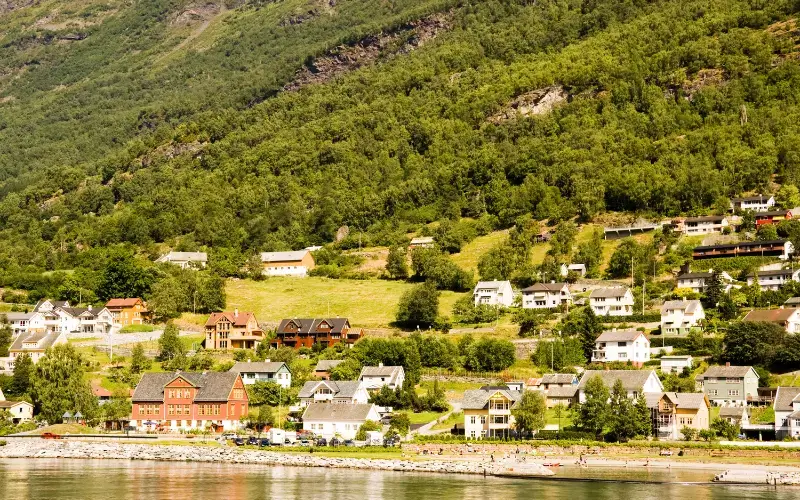 Brace yourself for an experience like no other. Imagine standing amidst towering mountains, gazing at majestic waterfalls, and immersing yourself in the serenity of deep, crystal-clear fjords. 
Norwegian Fjords offer a fantastic alternative that captures the essence of The Azores. The awe-inspiring natural landscapes can enchant you. 
Explore the dramatic fjords, such as Geirangerfjord and Sognefjord, where cliffs meet emerald waters, creating a sight that will leave you speechless. 
Just like The Azores, Norwegian Fjords boast a captivating coastal charm. Sail along the fjords' coastline, where rugged cliffs plunge into the sea and picturesque villages dot the shores. 
Norwegian Fjords are steeped in history and culture. Visit the UNESCO-listed Bryggen Wharf in Bergen, explore the ancient Stave Churches, and immerse yourself in the Norse mythology that echoes through the region. 
Norwegian Fjords' raw beauty and untamed nature beckon adventurers and nature lovers alike. The awe-inspiring landscapes, coastal allure, rich heritage, and outdoor adventures make the Norwegian Fjords an exceptional alternative to The Azores.
9/ The Canadian Rockies
The Canadian Rockies are a majestic mountain range located in western Canada, spanning the provinces of Alberta and British Columbia. 
This iconic destination is renowned for its awe-inspiring landscapes, rugged peaks, and pristine wilderness. 
The Canadian Rockies offer a playground for outdoor enthusiasts and nature lovers alike. Picture yourself surrounded by towering mountain peaks, their snow-capped summits glistening under the sun. 
The Canadian Rockies boast many stunning national parks, including Banff, Jasper, and Yoho, where you can explore breathtaking alpine meadows, turquoise glacial lakes, and thundering waterfalls. 
Embark on exhilarating hiking trails that lead you through dense forests, and witness the untamed beauty of wildlife, such as elk, moose, and bears.
In addition to its natural wonders, the Canadian Rockies are home to charming mountain towns that exude a warm and welcoming atmosphere. 
Banff and Jasper, in particular, offer a range of amenities, from cozy lodges to gourmet restaurants, ensuring a comfortable and memorable stay.
Whether you're seeking adventure or tranquility, the Canadian Rockies deliver. Engage in thrilling outdoor activities like rock climbing, white-water rafting, and skiing, or unwind amidst the serenity of nature. 
The Canadian Rockies offer an unforgettable experience, allowing you to immerse yourself in the grandeur of nature and create lasting memories. 
So there you have it! These destinations are just waiting for you to embark on an unforgettable journey. Whether you're seeking thrilling escapades, serene moments in nature, or a taste of local culture, these places like the Azores, will satisfy your wanderlust.