Whether you're looking for a romantic getaway, an adventure-packed trip, or a relaxing beach holiday, the Maldives has something for everyone. And it doesn't have to cost a fortune.
Let me share my top 19 reasons to visit the Maldives right now. And you might want to go to the Maldives for the same reasons.
I'll tell you how and why to visit the Maldives islands without breaking the bank. With this post, I'm taking a challenge to convince you to travel to the Maldives on your next vacation.
So, if you're still confused about whether the Maldives is worth visiting, read on to make up your mind.
19 Atolls with 1,192 islands make it the ultimate dream destination. So, see their natural beauty in all your senses 🙂
Also read: How to Choose a Travel Destination
Why Visit Maldives: Top 19 Reasons to Visit the Maldives
I will share the fantastic things the Maldives is and should be famous for.
1/ Stunning Maldives Beaches, Coral Reefs, and Islands
This is the number one reason most people want to visit the Maldives – it has some of the most beautiful white sandy beaches and islands in the world. And you must already know that!
The ocean water is warm and crystal clear, and the sand is soft and white.
So if you want an idyllic beach getaway, Maldives is the perfect holiday destination. You can spend your days lounging on the beach, swimming in the ocean, and exploring the islands.
And you'll still not get bored.
My kid played with sparkling white sand for hours and made different shapes.
The Maldives offers a peaceful sanctuary from the outside world, where you can relax and disconnect from your hectic life.
2/ There Will Be No More Maldives Islands
This may be a negative reason to visit the Maldives, but….! The Maldives risks disappearing due to rising sea levels and climate change.
You must go now because it may not be here in a few decades or so. 🙁
I've written this post covering more on this: Is the Maldives Sinking?
NASA and other related institutions suggest that 80% of the Maldives could be uninhabitable by 2050. It's sad, but it's the reality of the situation.
The Maldives is one of the lowest-lying countries in the world, with an average elevation of only 1.5 meters (4.9 feet) above sea level. And as the sea level rises, so does the risk of flooding and erosion.
3/ Maldives Has World's First True Floating City
The Maldives is home to the world's first true floating city, a Dutch Docklands project in partnership with the Government of Maldives. The city's roads and water canals shape the island like a real brain.
The Maldives Floating City must be one of the reasons why to visit the Maldives. When you first glimpse the island paradise, you'll believe it's from another planet.
You could even think it's a UFO's work. I mean, look at this:
The lagoon comprises more than 500 acres and is located in the Indian Ocean 10 KM from the Male airport.
The Maldives Floating City has several thousands of housing units that are all floating. It will have residential buildings, hotels, shops, and restaurants.
This one island is unique because it is above and below the water. The blue habitats will project and stimulate coral growth.
There will also be artificial banks of coral that will attach to the city's underside. This will help stimulate coral to grow naturally.
The lagoon has protected coral reefs that will provide a natural wave breaker. This, combined with the floating structures, will provide comfort and safety for the residents and travelers.
4/ Perfect for Diving, Snorkeling, and Other Water Activities
If you're looking for water sports, Maldives is the place for you. The island has many snorkeling and scuba diving destinations with an azure blue sea and abundant marine life.
I snorkeled in the Biyadhoo coral reef, an ultimate dream come true.
Water sports in the Maldives are prevalent, of course. You can go kayaking, windsurfing, kitesurfing, and much more. If you want to try something new, go swimming with reef sharks.
My family and I had a fantastic time on the fun tube, kayaking, and jetskiing on Maafushi Island.
We couldn't do other water sports because of my kid. But you want to go to the Maldives because you can have unlimited fun with water.
5/ The Maldives Has Breathtaking Marine Life
The Maldives is home to a wide variety of marine life, including:
Whale sharks
Manta rays
Dolphins
Sea turtles
Reef fishes
You can go snorkeling or scuba diving with these amazing creatures and other underwater species to create magical memories.
I cannot forget when I was underwater snorkeling with a giant turtle and many fish.
The reason for this rich marine life is a lot of plankton in the water near marine parks and reserves such as:
Manta Point in South Ari atoll.
Hanifaru Bay in Baa atoll.
UNESCO World Biosphere Reserve.
If you're lucky, you might even see a whale shark while swimming in the ocean. They're gentle giants, and it's truly a once-in-a-lifetime experience.
6/ The Maldives Can Be an Affordable Destination
The Maldives is not for luxury travelers only; it's for everyone. It's cheaper than most people think. Yes, there are luxury resorts that can cost a fortune.
But there are also plenty of budget-friendly options, including guesthouses. Look at this insane pricing of $15 per night:
I booked a hotel room for $38 per night on Maafushi Island.
Here's how to get an affordable room for you:
7/ Experience the Cultural Side of the Maldives
The Maldives is more than just a beach destination. That's what I love about this tropical archipelagic nation. It's a great place to experience the local culture.
Music and dance are essential parts of Maldivian culture.
And you can see this for yourself at a traditional Bodu Beru performance. These performances are held in the capital city of Male and are a great way to experience the local culture.
Also, you can visit local Maldives houses and markets, try traditional food and tour the Grand Friday Mosque and native islands.
8/ The Tropical Paradise Has Private Resorts & Serene Sandbanks
The Maldives is the epitome of a tropical paradise. It has pristine soft white sand, beautiful beaches, crystal clear water, and serene sandbanks.
And if you love complete privacy, there are plenty of private resorts.
And they have their private island, with a villa, private pool, and butler service. Each resort island is a private enclave perched atop pristine coral reefs.
You'll hear nothing but only the sound of the waves lapping against your villa or resort. Many such resorts and villas can be found in the South and North Male Atoll.
One of my favorite things to do in the Maldives is to find a secluded sandbank and spend the day relaxing in the sun. It's the perfect way to escape the hustle and bustle of daily life.
And lots of tour companies offer water sports packages for $50 approximately.
9/ Maldives Has Tons of Out-of-This-World Resorts & Hotels
The island paradise is home to some of the world's most beautiful resorts and hotels. And whether you're looking for a luxury resort or a budget-friendly hotel, you'll find it here.
Overwater villas.
Giant aquarium-type restaurants.
Private island resorts.
Hotels and resorts with private enclaves and infinity pools.
If you want a truly unique experience, stay in an overwater villa. These overwater villas are built on stilts over the water and offer stunning ocean views.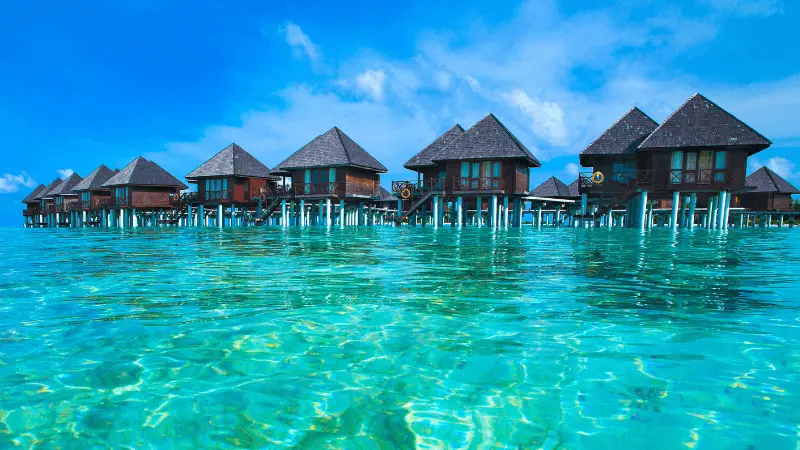 But Maldives hotels are no less; they offer the best of their services to make your stay memorable without breaking the bank.
If you're looking for an all-inclusive resort in the Maldives, consider Shangri-La Villingili Resort & Spa, Soneva Fushi Resort, and Dhigali Maldives Resort.
10/ Gourmet Food Experience With Serene Scenes
The Maldives is a foodie's dream come true with its luxurious restaurants and serene scenes. You can get an exquisite dining experience in the Maldives, which is why I love this place.
You'll find plenty of fresh seafood almost everywhere. You must try Maldivian curry that features fresh tuna.
The fresh fish soup served in the Maldives is also next-level. But you can also find international cuisines such as Italian, Japanese, and Indian.
If you stay in a resort, you'll have plenty of dining options. And if you're on a budget, plenty of street food vendors sell delicious snacks and meals.
But we didn't like the food in the Maldives because it wasn't spicy enough for us. And the reason for that is that we enjoy hot foods in Pakistan and they weren't available in the island nation.
11/ Water-Only Transportations
The Maldives is an archipelago of more than 1,192 islands, of which 200 are inhabited. And water is the only way to get around.
There are no roads connecting the islands, so you'll have to use these transport methods to get from one place to another:
A public boat called Dhani
Fast speed boat
Amazing seaplane
I'm not sure if it's one of the reasons for going to the Maldives for you, but it certainly is for me. You'll spot swaying palm trees and witness limitless blue skies when you're on your way.
I recommend taking a public ferry because it's cheaper than flying. If you don't want to miss out, go for all transportation types.
By the way, you'll still find roads in the Male or Hulhulé islands.
12/ Cruise Ships to See Maldives' Scenic Beauty
If you want to see Maldives' scenic beauty, go on a cruise. You'll get to see different Maldivian islands and experience the local culture.
A seven-day cruise holiday may cost anywhere from $500 to $2000, but it is worth the investment.
I recommend a cruise with Royal Caribbean because they offer an all-inclusive experience. And, of course, you'll get to see the gorgeous scenery of the Maldives. But you can try other companies like Norwegian Cruise Line, MSC, and Holland America Line.
13/ Enjoy the House Reef Snorkeling in the Maldives
One of the best reasons to visit the Maldives is for the house reef snorkeling. House reefs are coral gardens close to the shore, and you can easily access them by swimming or wading.
There are many Maldives islands with house reefs, and they offer some of the best snorkeling experiences in the world.
You can witness colorful fish, coral, and other marine life. And you don't need to be a certified diver to enjoy them.
14/ Underwater Restaurants in the Maldives
If you want to have an unforgettable dining experience, go to one of the underwater restaurants in the Maldives.
I recommend The Ithaa Undersea Restaurant because it's the world's first all-glass restaurant on the sea.
The restaurant is located 16 feet below the surface and offers stunning views of the reef and sea life. It's truly a once-in-a-lifetime experience, and the food is pretty good too.
Other underwater restaurants in the Maldives include 5.8 Undersea Restaurant, SEA at Dhigali Maldives, and Subsix at Niyama Maldives.
15/ Fascinating Landmarks in the Maldives
The Maldives is not all about the beaches and ocean. There is so much more to this place. And one of the reasons to go to the Maldives is its historical landmarks.
These are some of the must-see attractions:
Mulee Aage (House of the Maldivian President)
Victory Monument (Sultan Park memorial)
Hukuru Miskiiy (Old Friday Mosque)
Sinamale Bridge
Tsunami Monument
Jumhooree Maidhaan
Mulee Aage Palace
Grand Friday Mosque
Medhu Ziyaarath
Masjidhul Aisha
Hulhumale Mosque
And everything is surrounded by greenery, making it a perfect place to relax and rejuvenate.
16/ Swaying Palm Trees in the Maldives
The swaying palm trees in the Maldives are a sight to behold, and they make the perfect backdrop for a romantic getaway or a family vacation.
You'll find them on almost every island, and they are an integral part of the Maldivian landscape.
Sprawling greenery, white sand beaches, and turquoise waters make the Maldives a paradise. And the best part is that it's not as crowded as other tourist destinations.
17/ The Laid-Back Life Style of Maldives
The Maldives is the perfect place to escape the hustle and bustle of city life, except for in Male and Hulhulé islands. It's a very laid-back place where life moves at a slow pace.
You can spend days lounging on the beach, swimming in the Indian Ocean, or exploring the Maldivian island. There's no pressure to do anything, and you can take it each day.
And you can witness this while you're on the roads and at Male international airport.
18/ Perfect for a Romantic Getaway
If you're looking for a romantic getaway, Maldives is the place to be. It's famous for its overwater bungalows and luxury resorts.
If you're looking to rekindle the romance with your partner, you will find the perfect setting in the Maldives.
Plenty of intimate restaurants, secluded beaches, and romantic activities keep you both entertained. Azure blue sea, sparkling white sand beaches, limitless blue skies, and beautiful sunsets – what's not to love?
You can even get married in the Maldives if you want to.
19/ Witness the Rare Sight of the Sea of Stars in the Maldives
The Sea of Stars is one of the most beautiful natural phenomena in the Maldives. Bioluminescence occurs when phytoplankton (microscopic marine plants) are agitated by waves and glow in the water.
It's a fantastic sight; you can only witness it at night.
So ensure to swim under the stars when you're on the Maldivian island of Vaadhoo. It's rare, and you'll be one of the few people to have seen it
BONUS/ US Dollar is Widely Accepted
The local currency in the Maldives is called Rufiyaa, and the US dollar is widely accepted. However, I recommend buying some Rufiyaas as well.
You'll find plenty of ATMs and money changers, mostly in Male. And most resorts and hotels accept credit cards. So, you don't have to worry about exchanging your money before coming to the Maldives. 
If these reasons are not enough to convince you to visit the Maldives, I don't know what will. So, pack your bags and get going! The sooner you book your ticket, the better.
FAQs on Why Travel to the Maldives Islands
Now that I've given you the top reasons to visit the Maldives, let me answer some frequently asked questions about this island nation.
The best time to visit the Maldives is between November and April. This is the dry season in the Maldives, and it's also when the weather is the most pleasant. Keep in mind that prices are also higher during this time.
3/ Why is the Maldives famous for their honeymoon?
The Maldives is a popular honeymoon destination because of its stunning beaches, luxurious resorts, and romantic atmosphere. The Maldives is perfect if you're looking for a place to celebrate your love.
Yes, the Maldives is a safe country to visit. The crime rate is very low, and tourists are welcomed with open arms. Of course, you should always use common sense and take precautions when traveling to any new place.
5/ Where to stop on the way to the Maldives?
The closest city to the Maldives is Colombo, the capital of Sri Lanka. If you're coming from Europe or the Americas, you'll likely have to stop in Dubai, Abu Dhabi, or Doha before reaching Colombo.
6/ When will Maldives Floating City open?
The Maldives Floating City will open in 2027 if everything goes to plan. You can express interest if you want to be one of the first people to live in this floating city. Or maybe you want to get updates about the project.
7/ Should I go to the Maldives?
Yes, the Maldives is worth visiting! It's a beautiful country with plenty to see and do. Whether you're up for relaxation or adventure, the Maldives has something for everyone.
So, there you have it – my top reasons why you should visit the Maldives even if you're on a budget. Are you inspired to add the island nation to your travel bucket list after reading this post on TravelingRauf? Let me know in the comments below 🙂