Whether you're relocating to Idaho for work, retirement, or fun, knowing where you'll be the safest is a must to avoid dangerous cities in Idaho.
In this blog post, I look in-depth at the top 10 cheapest and safest places in Idaho to live peacefully. 
I'll provide an overview of each city and town, highlighting key features that may make it a great choice for people looking for a safe place to live. Let's dive in!
Top 10 Cheapest and Safest Places to Live in Idaho
Just 35% of people in Idaho feel concerned about crime daily, 11 percentage points below the national average. 
Data from the FBI shows that Idaho had a violent crime rate of just 2.20 per 1,000 people in 2019 — much lower than the US average of 3.7. 
This is because of strong gun laws and proactive measures taken by the government to invest heavily in its criminal justice system and promote communication between law enforcement agencies across jurisdictions.
In addition, Idaho's population is more spread out than other states, making it more difficult for criminals to access potential victims.
All these factors combined make Idaho one of the cheapest and safest places to live in America.
1/ Rexburg
First on our list is Rexburg. In Madison County, Rexburg offers its citizens a safe and secure atmosphere.
According to SafeWise's 2020 report, Rexburg was named the first safest city in Idaho, with an overall crime rate of 11 per 1,000 people.
The area also boasts a low unemployment rate and excellent schools, which makes it an ideal place for young families.
For those seeking outdoor activities, Rexburg also has plenty to offer with its nearby mountain range, rivers, and lakes.
Its population of 35,300 has grown steadily over the past decade and continues to remain low despite having a small city atmosphere.
Safety initiatives such as neighborhood watches and crime prevention programs have been implemented to ensure that all residents stay safe and secure regardless of where they live within the city's limits.
2/ Hailey
Located in south-central Idaho, Hailey is the county seat of Blaine County and is home to an estimated 9,463 people.
Home to the world-famous Sun Valley Ski Resort, this small city offers its citizens an abundance of outdoor activities and low crime rates, making it one of the cheapest and safest cities in the state.
Hailey's overall crime rate is 25 per 1,000 people, with most reported property-related crimes.
The city also offers excellent schools, high-quality healthcare, and plenty of shopping options for those looking to relax away from home.
Community involvement projects like the Hailey Neighborhood Watch are becoming more popular, allowing citizens to be actively involved in crime prevention.
With a violent crime rate far lower than the state and national averages, residents of Hailey have little to fear regarding their safety and security.
3/ Rigby
Far from Hailey lies Rigby, located with 5,241 inhabitants as of 2021 census records, this small town has grown slightly since 2000 yet still provides a haven for families looking for peace of mind alongside excellent living conditions.
Its violent crime rate remains well below the state and national average, making it one of Idaho's top places for those prioritizing safety as part of their lifestyle.
Rigby also offers its citizens plenty of outdoor activities, such as hiking, fishing, and camping in nearby parks.
Besides a fantastic selection of amenities to keep residents busy during leisure, Rigby's low crime rate makes it a great place to live.
With its low population density, Rigby provides the perfect balance of safety and convenience for those looking for a safe and secure community to call home.
4/ Middleton
Middleton is another top contender when it comes to Idaho's cheapest and safest cities.
Middleton boasts a population of 22,636 people while maintaining extremely low violent crime rates that keep its citizens secure throughout their daily routines.
The city is also known for its excellent schools and friendly atmosphere, making it a great choice for families looking for an enjoyable place to call home.
Additionally, the city has invested in crime prevention initiatives such as Neighborhood Watch programs that increase residents' sense of security and peace of mind.
This small town offers plenty of things to do while offering good job prospects. It allows many young adults to enjoy all Middleton offers without worrying about their safety and security.
5/ Buhl
Buhl is yet another smaller city in Idaho that offers its citizens a low crime rate and plenty of outdoor activities.
With a population of 5,735, this small town was once home to the world's largest root beer stand when it opened back in 1928 and continues to remain known for its friendly atmosphere today.
Last year, only 396 incidents were reported out of 1000 people in Buhl.
The city has grown steadily since 2000 and has amenities such as parks, public libraries, and community facilities that give residents plenty of options for leisure activities.
Buhl's crime rate remains low due to its increased police presence and the diligent efforts of its Neighborhood Watch program. 
Buhl is one of the most affordable and safest cities in Idaho.
The city's low population density also ensures that residents have plenty of space and privacy while taking advantage of all the amenities that Buhl offers.
6/ Preston
According to recent census records, Preston is another small town with a population hovering around 34,191 inhabitants.
Located in Franklin County, this area is renowned for its public safety initiatives stemming from a unified effort between county law enforcement personnel, local businesses, and devoted community members.
This has resulted in a very low crime rate that keeps Preston's citizens safe and secure throughout the day.
The city also offers plenty of outdoor activities, including camping, fishing, and hiking at nearby Bear Lake State Park and its golf course, ensuring that residents always have something to do during their free time.
In addition, the city's low population density gives residents plenty of privacy and space, making Preston an excellent choice for those seeking a safe and secure community near some of the best natural attractions Idaho has to offer.
7/ Fruitland
In Payette County, Fruitland is an agricultural center with a population of around 6,489 as of 2022 census records.
With a violent crime rate far below both state and national averages, residents of this small city can rest assured that their safety and security remain well established regardless of where they live within its limits.
The city's low population density allows its citizens to enjoy plenty of space, privacy, and peace of mind. It's also one of the most affordable cities of Idaho.
Also, Fruitland is home to several parks and a public library for recreational activities, ensuring plenty of things to do throughout the day.
Fruitland also has numerous initiatives, such as neighborhood watch groups helping to ensure that all citizens enjoy peace of mind while living in and around the city.
8/ Shelley
According to recent census records, situated between Meridian and Nampa in Ada County lies Shelley, home to an estimated 4,899 inhabitants. It's one of the safest and most affordable cities in Idaho.
It offers a unique blend of safety and security alongside job opportunities allowing young adults the chance to find employment while enjoying what this city has to offer.
Shelley has a few public parks in the area, ensuring that locals have some options when they need to get outside and enjoy the sunshine.
With a low violent crime rate, as one would expect from such a small town, Shelley is quickly becoming an ideal destination for those seeking peaceful living arrangements in Idaho.
9/ Meridian
Meridian offers remarkable living conditions in secure neighborhoods, making it the ideal destination for anyone looking to settle down.
Meridian offers residents relatively low violent crime rates even with a population close to 128,688 people, according to 2022 census records.
Diverse public institutions strive to ensure that all prisoners obtain adequate rehabilitation and access mental health services when essential.
By reducing recidivism rates, which are often high within larger cities across the nation, Meridian is dedicated to providing its citizens with physical safety and access to better opportunities after prison or other criminal pursuits.
This commitment from Meridian has resulted in a virtually nonexistent recidivism rate compared to other large cities.
In addition, this city offers many parks and recreational activities for its citizens. With plenty of open space, Meridian is an ideal location for those looking to settle down in Idaho.
10/ Moscow
Moscow is located near Washington State University and boasts an extremely low crime rate compared with other large secure cities throughout the state and many others around the country.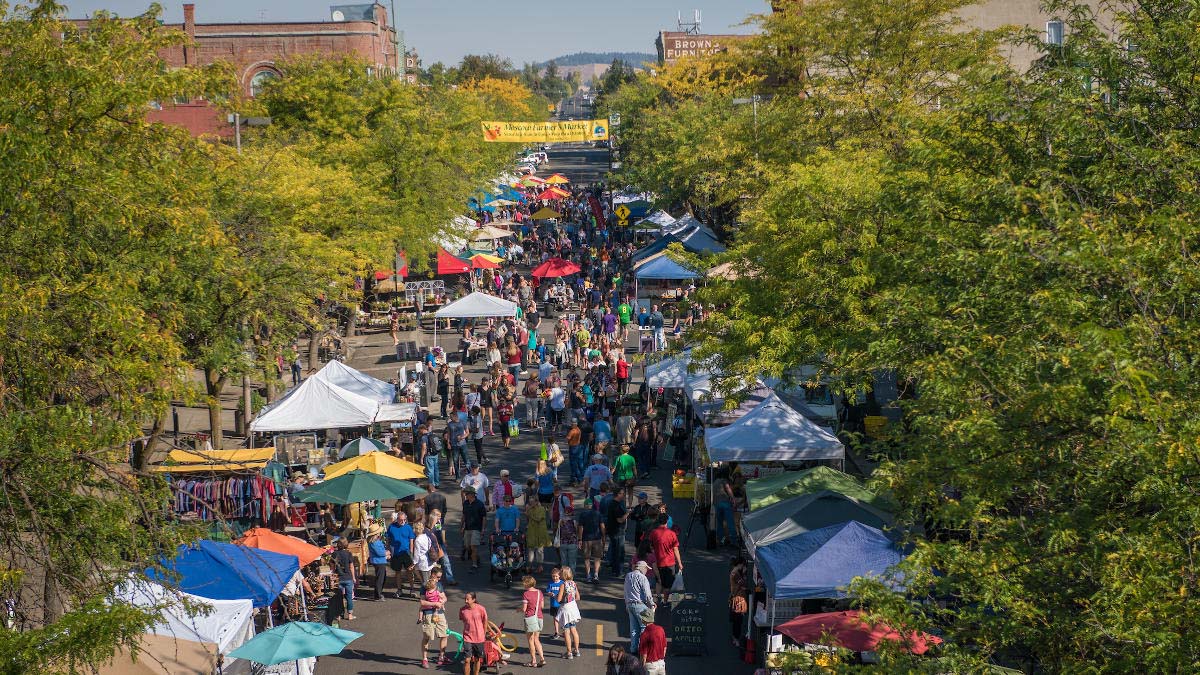 Moscow's average rate for property crimes such as burglary and theft tends to be slightly higher than average yet remains rare overall.
In contrast, its violent crime figures stand out amongst other cities in Idaho and the nation.
Regarding recreational activities and public space, Moscow has much to offer, with several parks available for relaxation and outdoor enjoyment.
At the same time, locals are encouraged to use the nearby University's library, gymnasiums, and other facilities.
Moscow also offers abundant job opportunities, making it an ideal destination to settle down and start a family while enjoying all the benefits of a secure city.
The city also has an active community, with plenty of social events and gatherings throughout the year.
Moscow is famous for Artwalk and the Prichard Art Gallery, The Lionel Hampton International Jazz Festival, Rendezvous in the Park, Festival Dance, and Renaissance Fair.
FAQs for the Cheapest and Safest Places in Idaho
Let me answer a few questions about the safety of residents in Idaho. 
What's the safest town in Idaho?
According to a recent survey by SafeWise, the town of Driggs in Idaho is the safest town in Idaho. The survey ranked Driggs as having the lowest overall crime rate in 2019, with only 0.2 violent crimes per 1,000 people and 7.1 property crimes per 1,000 people.
How does the crime rate vary between rural and urban areas in Idaho?
The crime rate in Idaho varies significantly between rural and urban areas. According to SafeWise, the rural town of Driggs had the lowest overall crime rate in 2019, with only 0.2 violent crimes per 1,000 people and 7.1 property crimes per 1,000 people. 
However, many of Idaho's largest cities have higher crime rates than the state average. For example, Boise had 2.3 violent crimes per 1,000 people and 18.9 property crimes per 1,000 people in 2019. 
Which areas in Idaho have the lowest property crimes?
According to data from the UCR System, Kootenai County has one of the lowest property crime rates per 1,000 population in Idaho. Overall, areas such as Kootenai County, Nampa, and Boise have some of the lowest property crime rates in Idaho. 
Is Idaho the safest state in the US?
Idaho is one of only nine states with fewer than 250 violent crimes per 100,000 residents. So, it's one of the top 14 safe states in the US, but the safest one, of course.
Is Boise, Idaho, safe?
35% of Idaho's residents feel concerned about crime daily. That's 11 percentage points lower than the national average. So yes, Boise is one of the cities in the US. But it's the most dangerous city in Idaho because of its large population and crime. 
What have safety measures been implemented in the most dangerous places in Idaho?
The Idaho State Legislature outlines specific laws regarding theft and other related offenses. Under Idaho Code 18-2407, stealing property valued under $1000 is considered petit theft and can result in fines or jail time, depending on the severity of the offense.
Property crime is a major concern for many people living in Idaho. Fortunately, the state has seen a decrease in property crimes over the past few years.
However, it is essential to remain vigilant and protect yourself and your belongings from potential theft or burglary.
So which of these cheapest and safest places in Idaho you'd like to live? Let me know in the comments below because I always respond to them :)