Are you looking for an adventurous destination to live and explore? Thailand is perfect for discovering the culture, delicious food, and stunning nature. And all this at an incredibly affordable cost of living and traveling! 
In this post, you'll learn the best places to live in Thailand for expats and foreign travelers.
With its unique blend of modern city life and traditional cultures, it's no surprise that many people choose to make the Land of Smiles their home.
From the tranquil beaches in the south to vibrant cities like Bangkok or Chiang Mai in northern Thailand, many amazing Thai cities suit any lifestyle. 
Remember to check the best places in Thailand for digital nomads and remote workers.
Top 7 Best Places in Thailand for Expats and Foreigners
Let's look at some of the best places to visit in Thailand as an expat or foreigner and enjoy an exciting city lifestyle cum a relaxed beach village atmosphere!
1/ Bangkok
Population: 10.69 million
Monthly Cost of Living: $630 to $2300
Bangkok is one of the most popular tourist destinations in the world. It's a vibrant and exciting city with interesting sights, sounds, and culture. 
The bustling capital of Thailand offers spectacular temples, modern malls and cultural experiences like no other. It's an excellent choice for expats and digital nomads looking for an affordable place to stay. 
Rent prices are relatively low in Bangkok, making it a great budget-friendly option. You can rent a one-bedroom in the city center starting at around 13,000 baht ($440) per month up to around 22,000 baht ($745). 
This makes it an excellent option for those looking to save money while still living in a central area with plenty of activities. And there's always a bright moment from shopping at local markets or international brands at mega malls like MBK Center. 
Exploring the timeless Buddhist temples of Wat Pho and Wat Arun can be an enriching experience. Indulge in the renowned flavors of Thai cuisine, explore Khao San Road's lively nightlife, and discover a passion that resonates with you!
Bangkok is truly a fantastic place where there's always something new to explore, not just day but also night. You can enjoy lively cocktail bars and incredible rooftop venues, giving visitors plenty of options for spending their evenings.
You'll find plenty of activities that won't cost you a fortune, even on a tight budget. So pack your bags and experience the phenomenal adventure in Bangkok!
What I Like :
Countless activities and attractions.
Vibrant nightlife scene offering exciting options.
Experience Thai life without breaking the bank.
Delicious range of Thai cuisine available all over the city.
What I Don't:
The chaotic, crowded, pollution, and traffic.
2/ Chang Mai
Population: 1.2 million
Monthly Cost of Living: $650 to $1800
Chiang Mai is an enchanting city full of bustling markets, serene temples, and lush jungle landscapes.
As one of the most culturally-rich places in Thailand, it's no wonder why Chiang Mai is a popular destination with travelers from around the world all year round. With its welcoming locals and vibrant atmosphere, this delightful city has lots to offer everyone.
For those looking to move to Chiang Mai, there are plenty of reasons why it is an ideal place to live and visit. You can find a studio apartment for as little as 3,800 baht ($110) per month to delicious street food at meager prices.
Plus, there are many digital nomadic and expat communities it's easy to make friends and socialize with like-minded individuals. 
You can do many things, like exploring ancient temples such as Wat Phra Singh, strolling through the city's old town area, and soaking in the beauty of Doi Suthep–Pui National Park, one of Thailand's remarkable National Parks like.
Are you a foodie? You can immerse yourself in delightful street food markets selling freshly-cooked Thai dishes such as Pad Thai and Som Tam!
For the daring, there are many thrilling activities, such as kayaking, mountain biking, and rock climbing. So come explore this amazing city and experience the cultural beauty that awaits you in Chiangmai!
What I Like:
Affordable rent and cost of living.
Tons of activities to explore.
Plenty of delicious Thai cuisine to enjoy.
Friendly locals and bustling nightlife scene.
What I Don't:
The city is less modernized compared to Bangkok or other larger cities.
Air quality is not as good due to the city's proximity to mountains.
Population: Over 60,000 
Monthly Cost of Living: $570 to $2000
3/ Koh Samui
Situated in the Gulf of Thailand, Koh Samui is a tropical paradise renowned for its beautiful beaches and lush scenery. Its picturesque landscape makes it an ideal destination for anyone looking to enjoy an island getaway.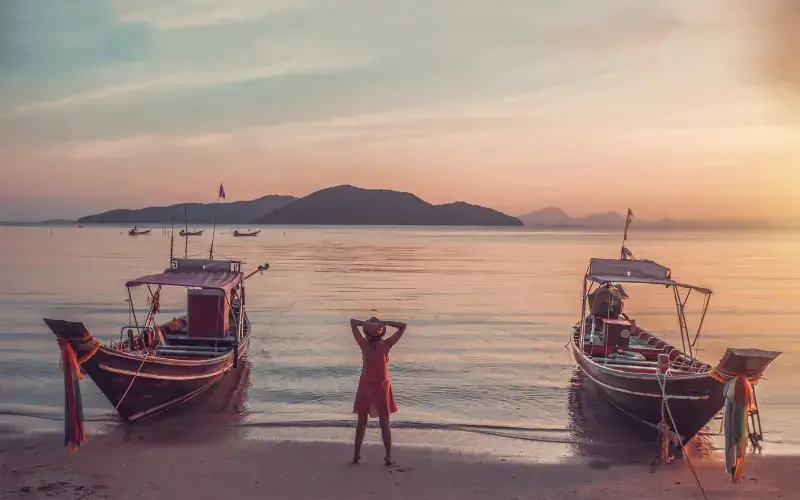 But there are many more reasons why people choose to make Koh Samui their home. This Thai island's incredible beauty and relaxed lifestyle make it an ideal destination for those seeking a simpler way of life. 
And you can witness the breathtakingly beautiful bays and coves to stunning jungles.
Koh Samui is also one of the most affordable places to live in Thailand, with rentals starting from as little as 3,000 baht ($100) monthly. Plus, with an abundance of delicious fresh seafood available at local markets. 
You can enjoy meals that won't cost you a fortune!
You'll always be energized regarding things to do in Koh Samui, from exploring the spectacular views of Ang Thong National Marine Park to enjoying a beachside massage. There are plenty of activities to keep you occupied.
Plus, the nightlife scene at Koh Samui is buzzing with live music and good vibes. So pack your bags and discover what this delightful island has to offer!
What I Like:
Beautiful views and landscapes
Reasonable cost of living
Variety of activities to explore
Delicious seafood available at local markets
What I Don't:
Limited public transportation options
Risk of natural disasters such as flooding, typhoons, and earthquakes
4/ Phuket
Population: 500,000
Monthly Cost of Living: $700 to $2000
An island in the Andaman Sea within Thailand, Phuket is often called the Pearl of the South. With its crystal-clear waters, stunning beaches, and lively nightlife, it's no wonder why Phuket has become one of the best places to live in Thailand for expats and foreigners.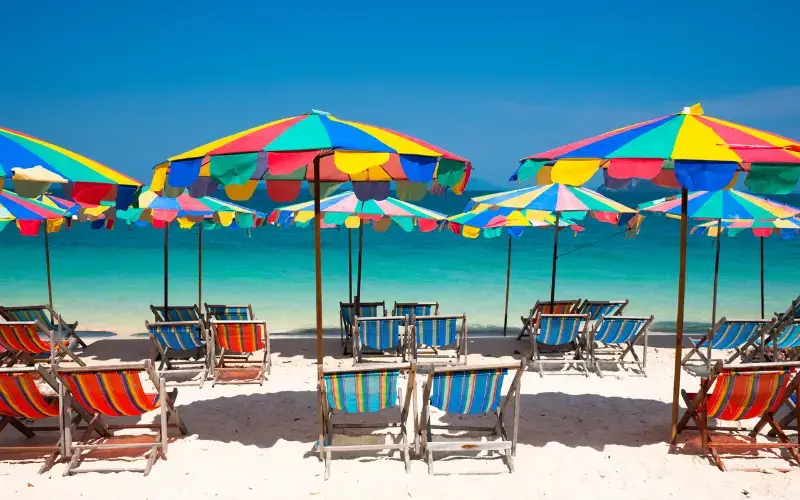 It's also an excellent place for those looking to move there permanently. There are many reasons why people choose to live in Phuket, including its ideal location.
Within proximity to some of Thailand's best islands, such as Phi Phi and Koh Samui. Its affordable cost of living, you can rent an apartment here for around 5,000 baht ($160) per month. 
And the nightlife scene in Phuket features world-famous beach clubs such as Paradise Beach Club and new music bars that always open up.
When looking at things to do on the island, expats and foreigners will be spoiled for choice.
For example, they can soak up the sun at some of Phuket's most famous beaches, such as Patong Beach, Kata Beach, or Nai Harn Beach.  And they can also try out delicious street food at numerous local markets; or venture off into some of the nearby islands.
For those seeking specific facilities, Phuket offers everything from international school campuses for families moving with children. Hospitals and medical centers offer sophisticated healthcare systems, luxurious gyms, and even opulent shopping malls.
On top of this is its beautiful scenery full of lush green forests and captivating views that keep travelers returning year after year. With so much on offer in this tropical paradise, it's easy to see why living in Phuket remains an attractive option.
What I Like:
Affordable cost of living.
Variety of activities to explore
Close to other famous islands
Offers a range of facilities for all needs
Beautiful natural scenery
What I Don't:
High season can be crowded with tourists
It depends on tourism, so that jobs may be seasonal
5/ Hua Hin
Population: 85,099
Monthly Cost of Living: $600 to $1300
Nestled between lush jungle-covered mountains and pristine white sand beaches, Hua Hin is a perfect mix of modern convenience and serene natural beauty.
Situated on the west coast of Thailand, this beachside city offers all the amenities and attractions needed to make a long-term move there a reality.
Those looking to live in Hua Hin can enjoy everything from luxurious beachfront resorts – featuring world-class pool and spa facilities – to private villas nestled along its beautiful coastline.
There are many activities for visitors, whether exploring nearby ancient temples, visiting the Khao Takiab mountain, where you can get a breathtaking view of the Gulf of Thailand, or taking a stroll along one of many sandy beaches.
There are plenty of options when dining out in this vibrant city. From authentic Thai cuisine at local street food stalls to tantalizing seafood delicacies at waterfront restaurants, you'll always enjoy your meals here.
Additionally, the cost of living in Hua Hin is surprisingly affordable – rent starts at just 4,000 baht ($130) per month, and most apartments come fully furnished.
Hua Hin delivers on all fronts, making it an enjoyable and comfortable place to call home.
What I Like:
Beautiful natural scenery
Affordable cost of living
Variety of activities to explore
Tantalizing food options
What I Don't:
It can be pretty hot and humid
There's a lot of traffic and noise
6/ Pattaya
Population: 119,532 
Cost of Living: $500 to $1000
Pattaya is one of the most popular places to live in Thailand. It is located only two hours away from Bangkok.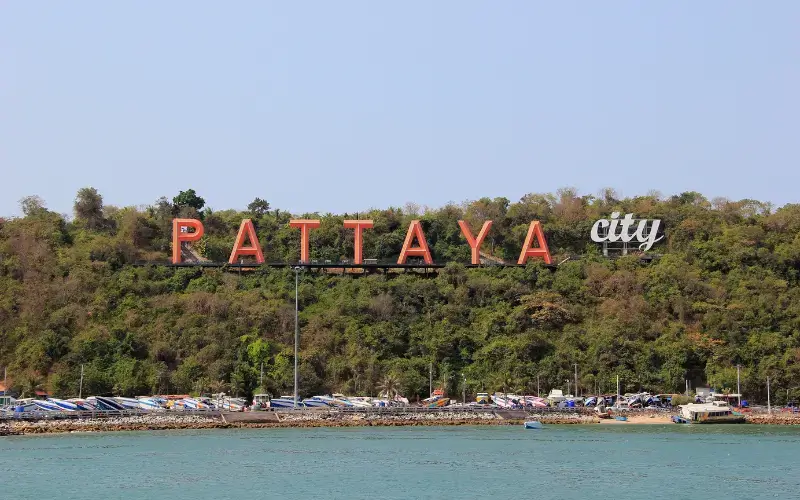 It is easily accessible yet offers its unique atmosphere, culture, and attractions. Pattaya is the perfect place for a peaceful getaway with a tropical climate, lush scenery, and endless activities.
When it comes to finding a place to stay, there's no shortage of options at hand in Pattaya. Whether you're looking for an affordable apartment starting at as low as 4,000 baht ($120) per month, you'll find something to fit your needs here.
Although known for its infamous nightlife scene (especially along Walking Street), Pattaya boasts many other attractions, including Jomtien Beach and Naklua Beach.
With so much on offer in this lively city – Pattaya remains an attractive option for those seeking a tropical escape or permanent residence in Thailand!
There's never a dull moment between exploring its stunning beaches, tasting exotic local dishes, and stepping out into some of its renowned night spots – you're guaranteed to have an incredible time here!
What I Like:
Beautiful beaches and scenery
Variety of activities to explore
Good transport links to other cities
Famous nightlife scene
What I Don't:
High season can be crowded with tourists
The cost of living has increased in recent years
7/ Lampang
Population: 63,934
Monthly Cost of Living: $600 to $1500
Located just two hours north of Thailand's bustling capital, Lampang offers tranquility and authenticity.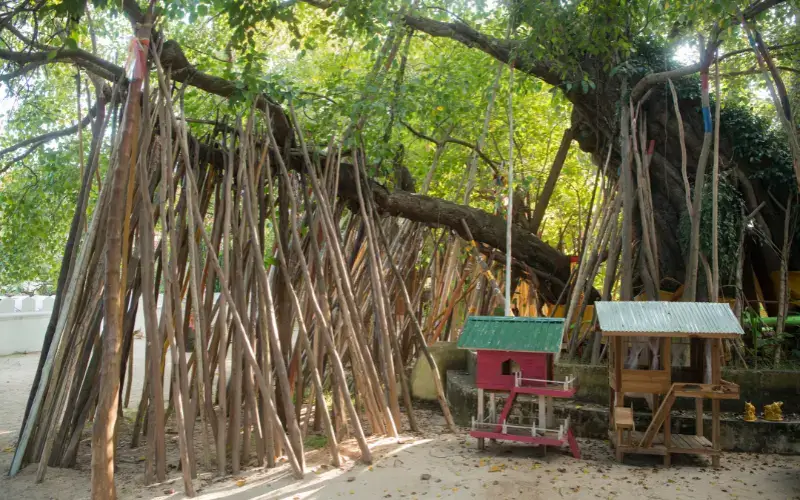 This small city offers a peaceful respite from the hustle and bustle of Bangkok while still providing plenty of modern amenities. Plus, with its affordable cost of living.
It makes it an attractive destination to call home, temporarily or permanently. Lampang has plenty to offer when it comes to entertainment and attractions.
Here, you won't be at a loss for things to do – from bustling street markets offering homegrown products to tantalizing restaurants serving classic cuisine.
Unlike other cities in Thailand, housing in Lampang remains budget-friendly, with rent starting from around 4,000 baht ($130) per month for an apartment.
You can also find apartments that come fully furnished with high-end appliances and modern decoration for an additional cost.
Boasting the perfect balance between tranquil beauty and urban convenience – Lampang is an ideal place for those looking for a temporary holiday or long-term residence in Thailand!
What I Like:
Authentic Thai culture
A peaceful and tranquil atmosphere
Affordable cost of living
Variety of entertainment options
What I Don't:
Limited international transport links
It can be pretty hot and humid during the summer months.
FAQs for the Best Places to Live in Thailand
Let me answer a few questions about the top cities to live in Thailand for expats, foreigners, and travelers alike.
Where is the nicest place to live in Thailand?
Thailand has many beautiful places to live, depending on your preferences.
If you enjoy living in a bustling city, Bangkok may be the place for you with its vibrant nightlife. If you prefer a more relaxed lifestyle by the beach, Phuket or Koh Samui may be better options. Chiang Mai is also great for its slow pace of life and breathtaking mountain views. 
Where do most foreigners live in Thailand?
Most foreigners in Thailand choose to live in Bangkok, the country's capital and largest city with a diverse expat community. And they can travel to any part of the country while keeping Bangkok as their base camp! 
Other popular Thai destinations for expats and foreigners include Chiang Mai, Phuket, Pattaya, and Koh Samui. These areas offer modern amenities, cultural attractions, and natural beauty that appeal to many expats.
Where is the safest place to live in Thailand?
Thailand is generally a safe country to live in, with Chiang Mai, Hua Hin, Krabi, Koh Samui, Chiang Rai, Kanchanaburi, Phang Nga, and Kuala Lumpur considered some of the safest places. Bangkok can be less predictable for safety. Also, try to void southern Thailand because of political and religious conflicts.
You might want to discover the best cities in Japan for digital nomads
Have you decided which of these best places to live in Thailand perfectly fits you? Let me know in the comments below because I always reply to you :)