There are tons of popular and hidden places in Naran Kaghan valleys that are must-visits. From towering mountains to crystal-clear lakes, there's something for everyone to enjoy in the Naran and Kaghan regions of northern Pakistan. 
Also, visit my Naran Kaghan Tour Guide for all the information you need to make your trip memorable. You'll know what to do, the best time to go there, and more. With that said, let's start with the list now.
24 Top Places to Visit in Naran Kaghan
If you love videos more than text, then you'd like to watch this video made by Apricot Wanderers:
But this video talks about only the top 10 sights in Naran and Kaghan Valley.
I made this list thoroughly; I haven't left anything out. First, I'll discuss towns, a mountain pass, and other tourist attractions, followed by lakes in the Kaghan Valley of Pakistan.
1/ Shogran
This is the first town you'll come across while traveling from Islamabad. It's a small village with very limited accommodation, but the views are stunning.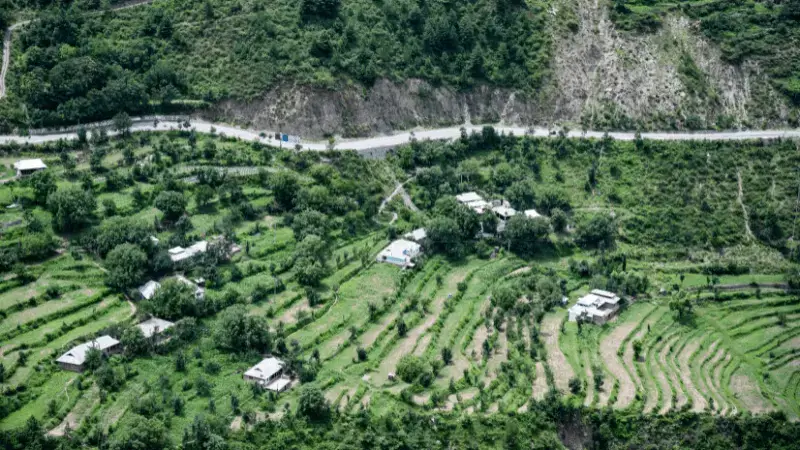 From Shogran, you can hike to Siri Paye meadows or head towards Kiwai waterfalls. You shouldn't miss Forest Rest House and Mini Zoo of Pine Park there.
2/ Kiwai Waterfall
Kiwai waterfall is a perfect picnic point for those traveling to Naran. The waterfall is located in Kiwai village. It's an easy hike from Shogran, and the views en route are also mesmerizing.
3/ Siri Paye Meadows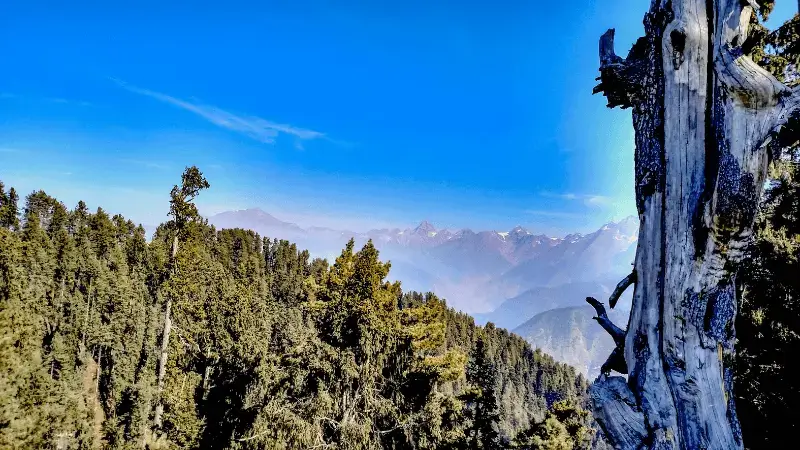 Siri Paye lake is one of the most popular tourist attractions in the area. It's a vast green plateau with 360-degree views of snow-capped mountains. You can hike to Siri Paye from Shogran or take a jeep/coaster.
4/ Babusar Top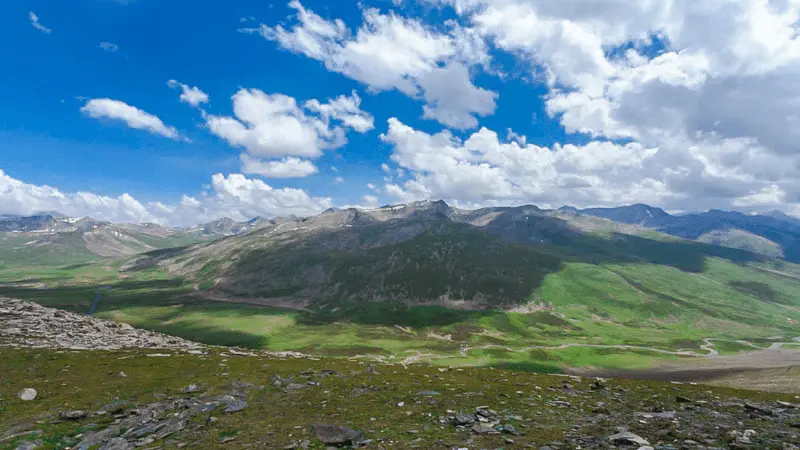 Babusar pass is the highest point you can reach via road in the Naran Kaghan region. It's located at an altitude of 4,173 meters and offers breathtaking views of Nanga Parbat (the 9th tallest mountain in the world).
You can book a jeep from Naran to reach Babusar top or drive your vehicle (only if you're an experienced driver).
5/ Naran Town
Naran is the largest town in Naran Kaghan valley and serves as a base camp for most tourists. From here, you can book a jeep or coaster for various tourist spots like Lake Saif-ul-Mulook, Lulusar lakes, Malka Parbat, and more.
There are plenty of hotels and resorts there. And don't forget to enjoy the majestic views of Lulusar-Dudipatsar National Park.
6/ Batakundi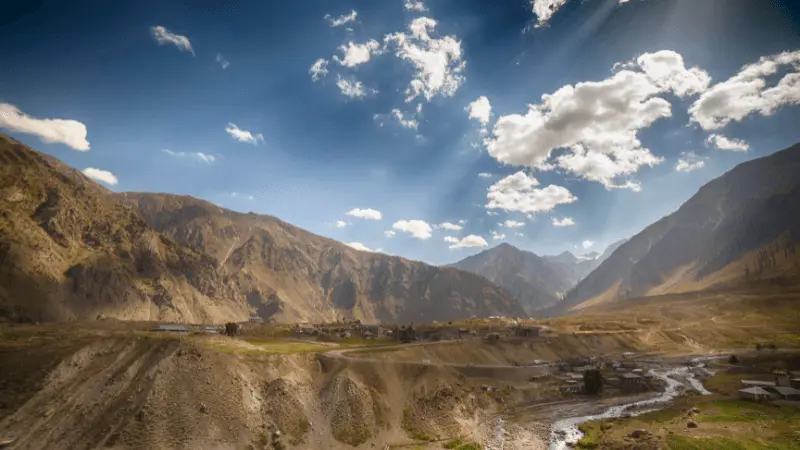 Batakundi is a small village located in the green belt of Naran Kaghan. It's famous for its orchards, and you can find plenty of apples there.
Naran Waterfall is also located nearby. Don't forget to drink fresh water while you're there.
7/ Kaghan Town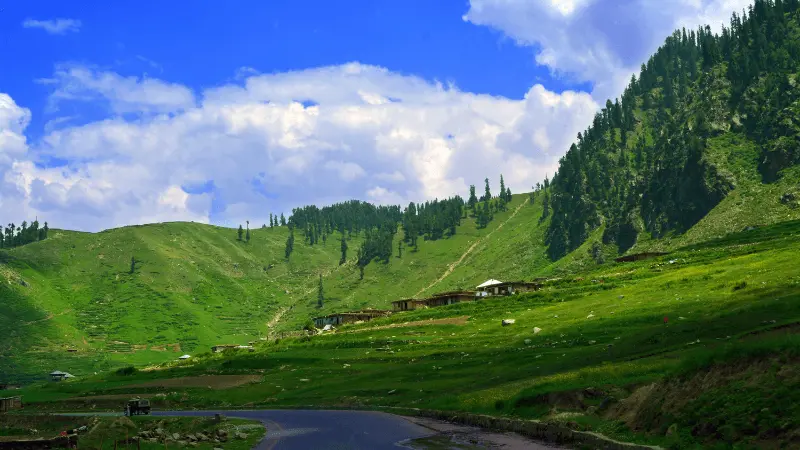 Kaghan is the second-largest town in the Kaghan valley and is located 23 km from Naran. It's the starting point of many treks, such as those to Saral Lake, Lalazar Plateau, and Paye Meadows.
8/ Lalazar Plateau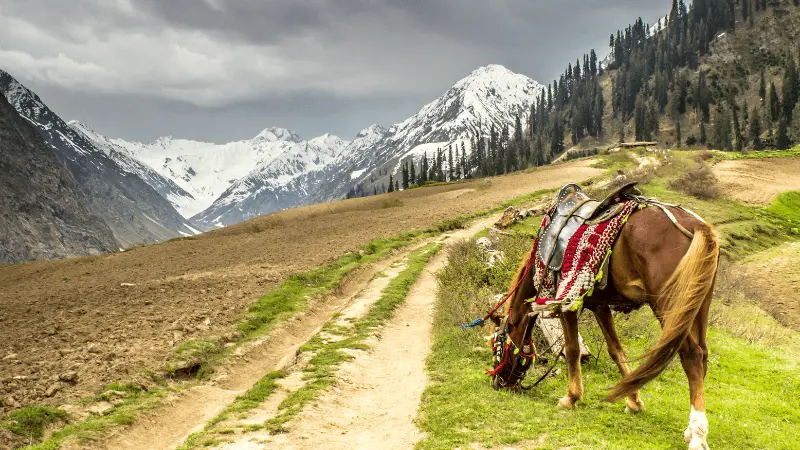 Lalazar is a heavenly tourist spot in Pakistan. It's a huge green plateau with mind-blowing views in every direction. The road to the summit is deadly, but the views from the top are worth it.
9/ Gittidas Meadow in Kaghan
Gittitas meadow is one of the hidden gems in Kaghan valley. It's a small and peaceful place located near Lulusar Lake. The views are incredible, and it's an excellent spot for camping. It's one of the hidden places in Naran Kaghan.
10/ Jalkhand Town
Jalkhand is yet another town located in the upper Kaghan valley and offers mesmerizing views of Nanga Parbat.
It's a hidden gem, and not many people know about it. The town is about 40KM away from Naran town. While you're there, don't skip Piyala Lake.
11/ Barwai
At a distance of 13 KM from Battakundi, you'll find Barwai town. It's home to a handful of guesthouses and some eateries. And it's a beautiful picnic spot and an excellent place for trout fishing en route to Naran.
12/ Jalkhad Valley
Jalkhad is a lovely valley located roughly 2.5 hour's drive from Naran. The road from Jalkadh gets rough and is divided into two roads.
One leads to Chillas, and the other takes you to Sharda and Muzaffarabad in Azad Kashmir.
It's a vast national park located in the northern parts of Kaghan valley. The best way to explore it is by going on a jeep safari. And here you'll witness Dudipatsar and Lulusar lakes. 
Breathtaking List of All Lakes in Naran Kaghan
Lakes are the must-visiting places in Naran Kaghan valleys. Many people know popular lakes like Jheel Saiful Malook and Lulusar Lake. But I'm sharing a list of less famous lakes in the region.
Ansoo Jheel
Saif-al-Malook
Dharamsar
Sambaksar
Lulusar Lake
Saral Lake
Noori Top Lake
Sat Sar Mala
Dudipatsar
Payee Lake
Piyala Lake
14/ Ansoo Lake
Ansoo lake is one of the highest lakes in the Himalayas Range. The shape is like a teardrop; thus, the name Ansoo (means tear in Urdu).
The lake has an altitude of 4,245 meters above sea level, and you can reach there by hiking from Malka Parbat basecamp.
15/ Saiful Malook Lake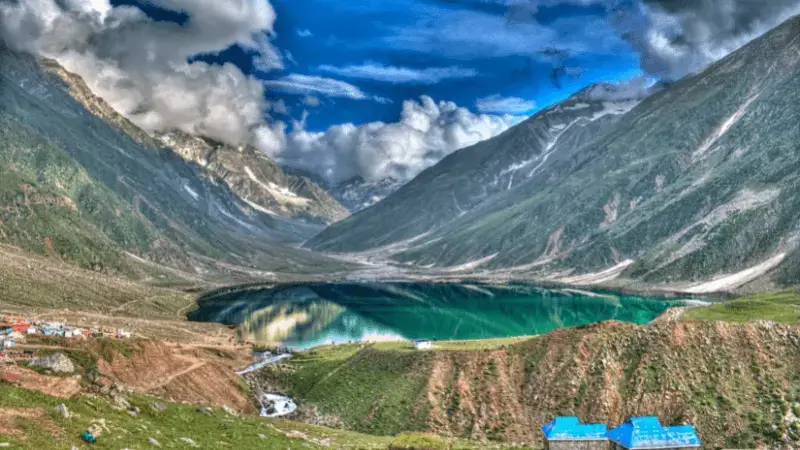 The most well-known lake in Pakistan is Jheel Saiful Muluk, located about 9 kilometers north of Naran. You can get there by jeep.
However, the road is pretty bumpy. The place gets crowded from June to September, so if you want to avoid the crowd, visit in spring or autumn.
16/ Dharmasar Lake
Dharamsar is an alpine lake in the Kaghan Valley and is located approximately 15 kilometers from Jared, at an altitude of 4,083 meters. It's on the left side of Babusar Top, next to Sambaksar Lake.
17/ Sambaksar Lake
Like Dharmsar, Sambaksar is another alpine lake beyond Naran in the Gittidas plains. However, it's a larger lake than Dharamsar. The track starts from Basel, or you can jump on the famous track to Dudipatsar lake.
18/ Lulusar Lake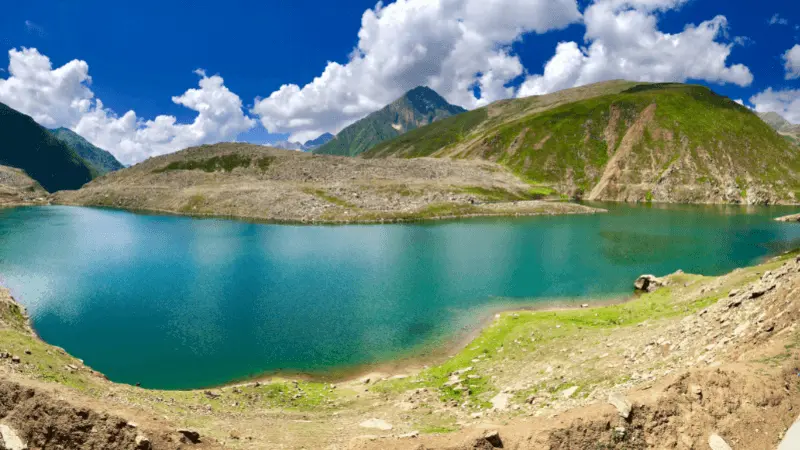 Lulusar is a mountain range and a lake known as Lulusar Lake. The lake is surrounded by mountains and is 48 km from Naran town near Gittidas. You'll find plenty of places to campings around the lake.
19/ Saral Lake
This beautiful lake is located on the border of Neelum and Kaghan Valley at an altitude of 4,100 meters. The trek to Saral lake is long from Naran and a bit challenging, but the views are mesmerizing.
20/ Noori Top Lake
Noori Top Lake lies at the border between Azad Kashmir and Kaghan valley. The place is accessible by jeeps. However, the road is quite dangerous. But the views from the top are worth it.
21/ Sat Sar Mala Lake
Love lakes? Don't skip Sat Sar Mala, a series of 6 lakes at the edge of Nanga Parbat. The lakes are located in the upper Kaghan valley near Basel. You must reach Lulusar lake to explore the breathtaking Satsar Mala lake series. 
22/ Dudipatsar Lake
Dudiapatsar Jheel is one of the most breathtaking lakes in Pakistan and is often referred to as the 'Queen of Lakes' in Lulusar-Dudipatsar National Park. The lake lies at the end of Kaghan Valley. You'll love its greenish-blue water, which is extremely cold.
23/ Payee Lake
Payee lake is a relatively unknown lake located in the center of the meadow in Payee, near Shogran. The hidden place in Naran Kaghan is surrounded by Makra Peak, Malika Parbat, Musa ka Musala, and the mountains of Kashmir.
24/ Piyala Lake
The round lake in Jalkhand is located at the edge of a meadow and is one of the most beautiful places in Naran Kaghan valley. You can easily reach Piyala Lake, about 40 KM from Naran town.
Which of These Hidden Places in Naran Kaghan Would You Visit?
Whether you're looking for adventure or just want to enjoy scenic beauty, Naran Kaghan won't disappoint you. But when to go there? The best time to visit Naran Kaghan is from May to September.
This post covers all the lakes and tourist spots in Kaghan Valley. Or did I miss any hidden gem? Which of these top sights in Naran Kaghan would you visit? Let me know in the comments below 🙂
Also, don't forget to share the post with your friends and family members. Are you ready to enjoy the amazing places to visit in Naran and Kaghan valley?