Are you looking for the perfect digital nomad destination in Europe? If so, Germany has got you covered! I'll share the best cities in Germany for digital nomads, remote workers, and ex-pats.
With an excellent public transportation system and high-speed connectivity, it's no surprise that Germany has become one of the best countries for digital nomads and remote workers.
But before getting into these 13 best digital nomad cities in Germany, you must get insured in Germany for a safe and healthy nomadic life.
Let me share my top favorites:
Berlin – The Nomadic Capital
Berlin is a vibrant capital city of Germany that offers diverse culture, creative energy, and a vast array of creative industries. Living in this city as a digital nomad has a lot to offer. 
But you must remember to protect yourself with the right type of insurance. SafetyWing has been catering to the needs of travelers and digital nomads for years.
Their nomad insurance offers an affordable solution with flexible policies tailored to your needs.
There are many coworking spaces in Berlin that offer access to communal areas and high-speed internet. You can also jump into the cafés, bars, and restaurants that cater to freelancers and content entrepreneurs. 
Also, many neighborhoods are full of exciting sights, sounds, and cultural attractions that make staying in the city an exciting experience. Plus, it's home to some of the world's best art galleries, performance venues, and nightclubs.
The city also has an excellent public transport network that makes getting around easy and affordable.
With its low cost of living compared to other major cities in Europe, it's no wonder digital nomads are making their way to this exciting city! 
2/ Munich – Bavaria's Cultural and Economic Hub
Munich is quickly becoming a destination of choice for digital nomads in Germany. You can take advantage of its excellent infrastructure, affordable living costs, and cultural diversity. 
The city offers easy access to the rest of Europe via an extensive public transport system and an international airport. 
Munich also has an abundance of well-equipped coworking spaces, making it an ideal place for remote workers to stay connected and productive while on the road. 
Plus, with a competitive cost of living compared to other major cities in the region, Munich provides great value for those looking to make their money go further. 
With its rich history and vibrant culture, Munich offers something for everyone. You can also travel back to old times with art galleries and museums showcasing centuries-old traditions. \
And if you are a city-lover, you'd love modern shopping malls filled with local designers offering a range of clothing items. Going on bike tours around the city's picturesque streets. 
With so much going on in this vibrant city, it's no wonder why digital nomads are flocking to Munich in search of new inspiration and experiences.
3/ Cologne – a Student-Friendly City with Lots of Fun Activities
Cologne is one of the best cities in Germany for digital nomads looking for a vibrant, student-friendly destination packed with activities. 
Located on the Rhine river and boasting an impressive skyline, Cologne is the largest city in the western German state of North Rhine-Westphalia.
You might skip this because it's the fourth-most populous city in Germany. Otherwise, it's a great place to start your digital nomad journey.
The city offers plenty of public WiFi hotspots and coworking spaces for those who like to stay connected while on the move.
Cologne is best known for its strong student culture, so there's no shortage of activities to keep you entertained. From beer gardens to art galleries, fashion boutiques to theatres, there's something for everyone in this vibrant city.
The best part about Cologne is the cost of living which is much lower than in other German cities. A well-connected transport network makes visiting the rest of Europe an easy and affordable experience.
4/ Dresden – One of the Best Digital Nomad Cities in Germany
Dresden, the capital city of the German state of Saxony, is quickly becoming a hotspot for digital nomads looking to work and explore one of the most vibrant cities in Germany.
Dresden offers world-class connectivity while on the go, along with affordable lodging and coworking spaces. Also, the city has a plethora of cafes friendly for digital nomads, ex-pats, and remote workers.
With its proximity to Berlin and Prague, Dresden is an ideal option for those wanting to take advantage of Europe's cultural diversity.
The city boasts an impressive array of historical landmarks, modern architecture, and numerous green spaces that offer respite from busy urban life. Its thriving art scene includes classical music concerts, theater performances, contemporary art galleries, and much more.
Its convenient public transport system makes it easy to get around town without needing a car. All these factors make Dresden the perfect destination for digital nomads looking for an exciting adventure!
5/ Leipzig – Rich History, Art, and Music Scene 
Leipzig is gaining more and more attention from digital nomads and travelers around the world. With its vibrant startup scene, affordable living costs, and convenient public transportation, it's easy to see why. 
Leipzig is an excellent choice for digital nomads looking for an affordable place to work remotely and live their best life. The city boasts an abundance of modern coworking spaces with plenty of spots to get creative or just plug in and do your thing. 
Affordable housing options also abound; you can find cozy apartments in various sizes and styles at reasonable prices. Plus, there's plenty to explore outside the city, including forests and lakeside trails just waiting to be explored. 
I love Leipzig because it's a wonderfully green city with many incredible places, cafes, and party clubs to hang out with. What's more, the city is extremely bike-friendly.
6/ Nuremberg – Home to German Historical Landmarks
Nuremberg is a charming and vibrant German city tucked away in Bavaria. Located near the Czech border, Nuremberg is an ideal location to take advantage of the low cost of living throughout the region while being close to major European cities like Munich and Prague.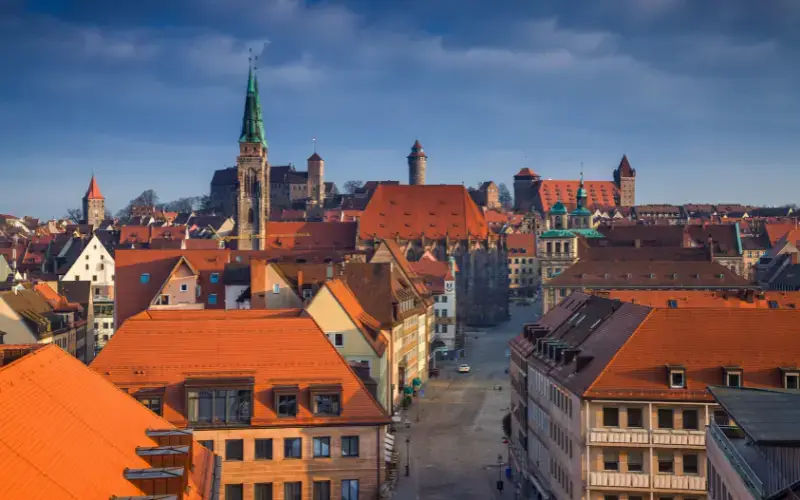 The city offers plenty of activities from its rich history, ranging from historical sites such as Nazi trial courts to markets with artisan products and live performances. 
On top of that, many coworking spaces around town offer shared office spaces and networking opportunities. It's a great destination for digital nomads looking to maximize productivity while exploring a new part of the world.
Why? Because Nuremberg offers easy access to high-speed WiFi, reliable public transportation, and abundant cafes friendly for remote workers. The city is also home to some beautiful parks and gardens that make relaxing after a day of hard work easy.
The city also offers plenty of restaurants, cafes, and bars to visit during lunch breaks or after work. And finally, affordable rental prices and excellent quality of life make Nuremberg the perfect place to set up shop and make it your home away from home.
7/ Dusseldorf – a Walkable City with Plenty of Parks 
Dusseldorf is one of the best cities in Germany for digital nomads, freelancers, and remote workers. Its vibrant culture and extensive public transportation system make it the perfect place for remote workers to take advantage of the city's many attractions.
The city's excellent infrastructure makes it easy to get around without relying on a car. Plus, many coworking spaces, cafes, and libraries provide a comfortable atmosphere for digital nomads to work in. 
Also, Dusseldorf offers some of Europe's most beautiful parks and gardens and world-renowned art and design museums. You can enjoy your downtime while still staying productive in this German town. But there are not so many things to do there. 
8/ Stuttgart – Germany's Car Capital
Stuttgart is an excellent place for digital nomads in southwest Germany that offers an escape from the hustle and bustle of big-city life. 
The city is known as the "cradle of the automobile" and "an automobile paradise" because it's home to the famous Mercedes-Benz Museum, Porsche Museum, and many auto-enthusiast magazines.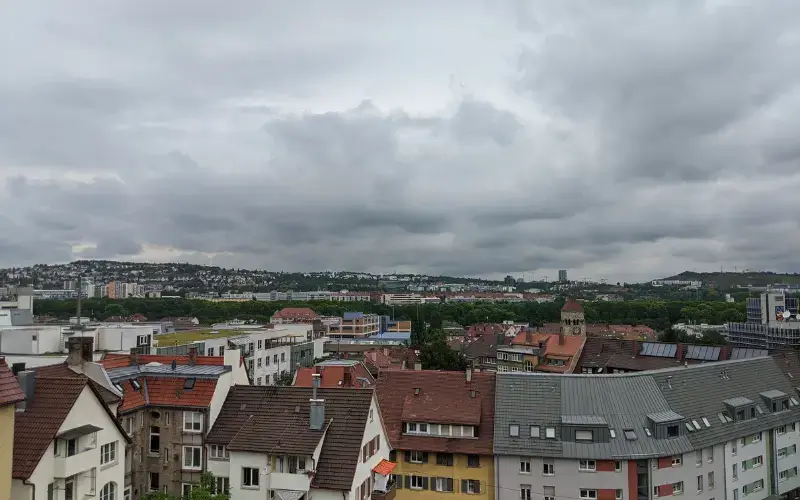 Public transportation is reliable and efficient, making getting around the city a breeze. The area is also home to several top-notch universities, providing access to world-class educational opportunities. 
Housing options are affordable, with various short-term apartments available all over the city. In addition, Stuttgart offers plenty of outdoor activities and diverse cultural attractions, making it an ideal spot for digital nomads.
9/ Dortmund – Germany's Answer to Football
The city of Dortmund is becoming one of the best places for digital nomads in Germany. It's conveniently located in North Rhine-Westphalia, the perfect location for accessing the rest of Europe. 
And Dortmund offers a range of amenities and resources that make it an ideal choice for remote professionals. You can enjoy a convenient public transportation system and high-speed internet connections while you're there. 
And there are many coworking places, such as the Workspace Cafe and Factory, to provide a comfortable working environment. 
Dortmund has plenty of attractions and activities to keep you entertained during your downtime. Visit the iconic Signal Iduna Park football stadium or explore the world-renowned art scene.
The cost of living in this vibrant city is also low compared to the rest of Europe. With dozens of events and activities to explore throughout the year, you won't find yourself running out of things to do while living in Dortmund.
10/ Hamburg – Historic Commercial Center 
Hamburg is an ideal destination for digital nomads looking to combine a global city experience with easy access to nature. The city is full of innovative tech companies and startups, making it a great spot to land freelance or remote work. 
Many coworking spaces and digital nomad cafes around the city provide an excellent place to work and network. Plus, Hamburg offers a wide array of recreational activities, such as biking and water sports. 
The best part? The cost of living here is much lower than in nearby cities like Berlin or Munich, making it accessible to digital nomads on any budget.
Besides that, Hamburg also offers an impressive range of activities for digital nomads, such as its many green parks, beautiful waterfront areas, cultural events, and festivals. 
11/ Frankfurt – the Country's Financial Heart 
Frankfurt has become one of the top cities in Europe for digital nomads, and there are many reasons for that. It has a vibrant culture, world-class amenities, and easy access to the rest of Europe. 
The city has long been a key stopping point for river, rail, and road traffic from Switzerland and southern Germany to north-central Germany.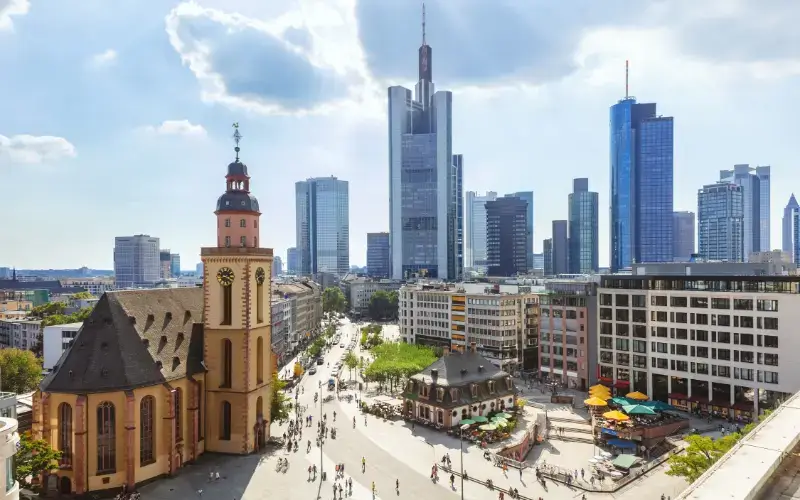 The city is connected by excellent public transportation systems, making it simple to get around. In addition, Frankfurt has an extensive tech infrastructure with numerous coworking spaces, reliable internet connections, and a fantastic startup scene. 
With its high quality of life and affordability, digital nomads can enjoy all Frankfurt offers without breaking the bank. Whether you're looking for a quiet spot to focus on your work or an exciting nightlife scene with plenty of bars and clubs, Frankfurt won't disappoint. 
And if you're a foodie, you must know that Frankfurt is known for producing high-quality sausages. Traditional food in Frankfurt is best experienced in one of the city's famous eateries.
Additionally, there is no shortage of cultural attractions such as museums, galleries, and festivals providing endless entertainment and exploration opportunities. Frankfurt is an ideal destination for digital nomads who want to experience the best of what Germany has to offer.
12/ Aachen – German Sweet (Chocolate) Capital
Situated near the border of Belgium and the Netherlands in the west, Aachen is one of Germany's best digital nomad places. And it's called the country's sweet capital. Why? This small city is home to some of the best chocolatiers in Europe because of the chocolate.
And if that doesn't pique your interest as a digital nomad, Aachen offers plenty of other attractions, such as its many parks and monuments. Living here means you'll be surrounded by stunning castles, like the famous Aachener Dom.
The best part? The city is quite affordable when it comes to renting and other costs. And the city offers tons of top-notch coworking spaces for you to work remotely. So if you're looking for an idyllic spot to settle down in Germany, Aachen might be the perfect place.
13/ Heidelberg – Famous for Germany's Oldest Universities
Moving to Heidelberg as a digital nomad is an exciting opportunity to explore a new city while still maintaining your career as a freelancer or remote worker. 
As one of Germany's oldest and most beautiful cities, Heidelberg offers a picture-perfect backdrop for any digital nomad. Situated on the Neckar river in Southern Germany, it's easy to see why this city has captivated people for centuries. 
From its cobblestone streets, imposing castle ruins, the famous bridge, and the nearby forests, there are many ways in which you can enjoy all that Heidelberg has to offer. 
The city also provides excellent resources for digital nomads, such as solid internet connectivity, cafes, and coworking spaces where you can find colleagues and build relationships with like-minded remote workers. 
There's no shortage of amazing places friendly for digital nomads, freelancers, and remote workers. So you'd love to explore:
So which of these cities in Germany for digital nomads best suits you? Let me know in the comments below because I always read and respond to them 🙂