In this post, you'll discover the best places in Spain for digital nomads based on factors like cost of living, internet speeds, and availability of coworking spaces.
But let me share my top three favorites:
Why Choose Spain for Digital Nomads & Remote Workers
With its fantastic climate, incredible culture, vibrant cities, and stunningly beautiful countryside, it's easy to see why Spain has become a popular destination for digital nomads in Europe.
The cost of living makes Spain particularly attractive – it's much more affordable than many other EU countries. However, that's not true for big Spanish cities. 
And its infrastructure for digital connectivity is first-rate. What's more, you'll be able to take advantage of low-cost flights from many cities in Europe and the Americas. And there are tons of fun things to do there. 
So you, as a digital nomad or remote worker in Spain, will enjoy all these benefits while also discovering a plethora of incredible sights.
18 Spanish Cities: Best Places in Spain for Digital Nomads
Choosing from these Spanish cities for a digital nomadic lifestyle depends on your preferences. Some cities are great for partying, others for nature lovers or foodies.
1/ Barcelona
Barcelona is one of the best digital nomad cities in Spain, offering a stunning setting for remote work. 
The vibrant culture encourages creativity, allowing those living and working remotely here to create meaningful and impactful work. 
Besides the incredible work opportunities, Barcelona also offers an array of outstanding restaurants, cultural celebrations, and outdoor activities.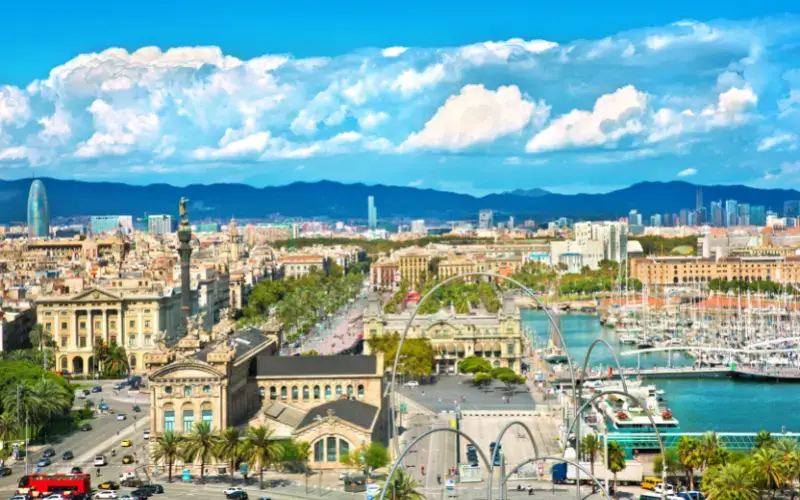 Those seeking a break from their hectic schedules can explore Gaudi's breathtaking architecture or take strolls along the beach while they recharge. 
Also, Barcelona provides coworking spaces, virtual events, and even digital nomad programs dedicated to helping remote workers find their way in the city. 
With so much to offer professionals looking for creative opportunities worldwide, Barcelona deserves a top spot on any digital nomad's list!
2/ Madrid
Madrid is a significant European cultural capital that offers world-class public transport and plenty of coworking spaces and cafes. 
And that's why it's one of the best cities in Europe for working remotely as a digital nomad. 
You can spend days wandering around some of the most stunning architecture on the continent or enjoying delicious tapas at one of Madrid's restaurants.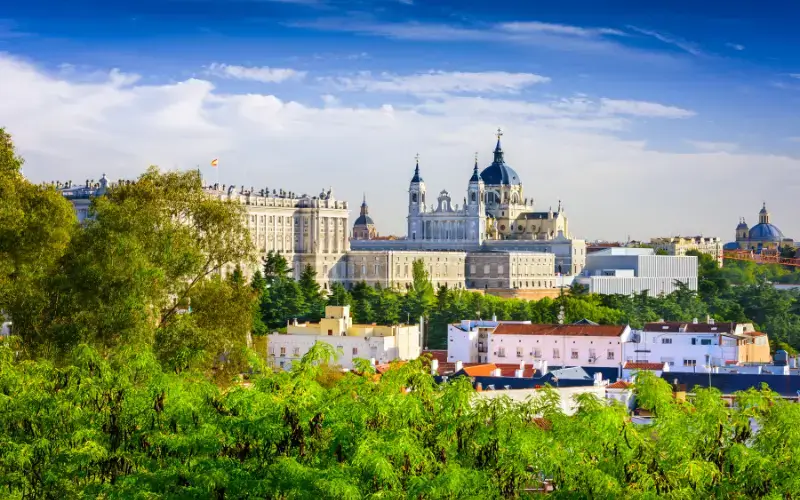 And when you need solitude for work, Madrid's parks are ideal for creating your mini retreat to get focused and motivated. There are countless coworking spaces and cafes friendly for digital nomads and freelancers. 
So if you want to experience Spanish culture, history, food, and hospitality while having the best amenities available, then Madrid should be on your list of best digital nomad destinations in Spain.
3/ Valencia
Valencia is a sunny and vibrant Spanish city that offers everything a traveling professional could need – an inspiring atmosphere, rich culture, and countless opportunities for adventure. 
Valencia offers colorful markets, fantastic restaurants serving world cuisine, and modern cafes equipped with quality WiFi. Also, the city has a thriving community of digital nomads, remote workers, and tech entrepreneurs.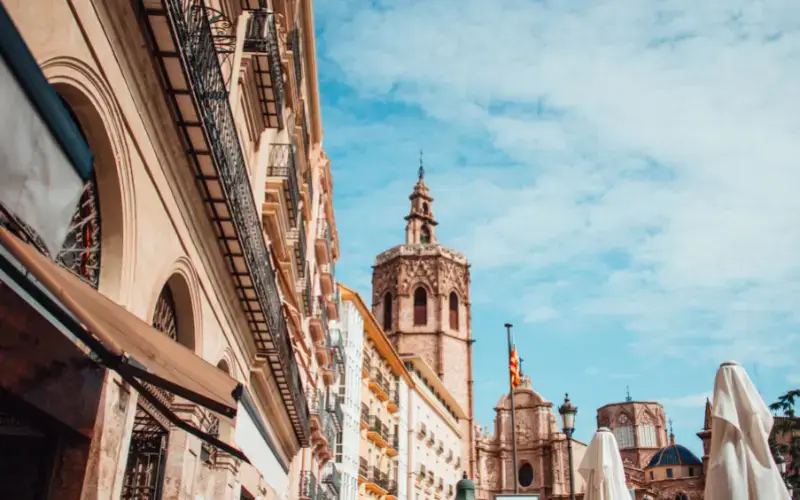 You can enjoy long beach days filled with siestas or explore the Gothic architecture tucked around every corner when away from your laptop. And you'll find many people who are excited to make new friends. 
Valencia promises all digital nomads a comfortable workspace and plenty of cultural experiences – all within one unforgettable city.
4/ Cádiz
Cádiz is a historic port city on the Atlantic coast with a lot to offer in terms of attractive surroundings and ample opportunities for remote work. 
From beaches for relaxing after hours to green spaces for inspiration and co-working spots for collaborating with fellow digital nomads, you will love it here.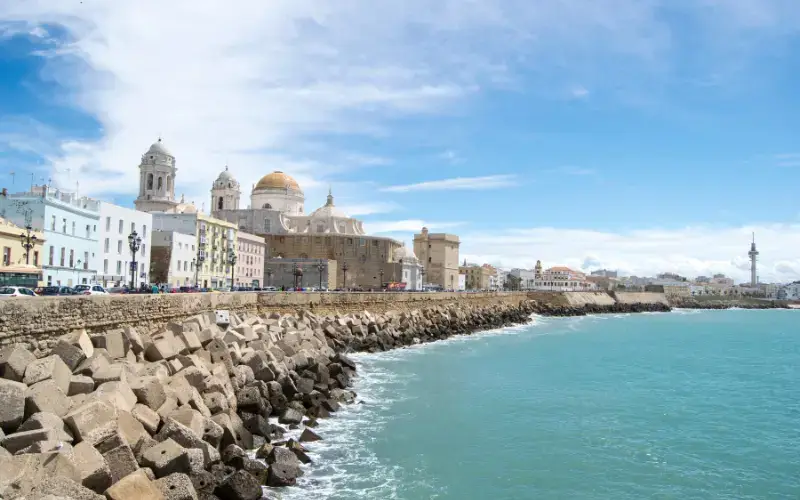 Also, the mild Mediterranean climate means more time exploring Cádiz's vibrant culture, cuisine, and colorful streets year-round. And there are tons of things to see and do, like strolling along the beach or visiting any of the city's many museums. 
With its great atmosphere, warm climate, and vibrant culture, Cádiz is a perfect destination for digital nomads looking to enjoy their work days in one of Spain's most beautiful cities!
5/ Bilbao
If you've been dreaming of a work-from-anywhere lifestyle, look no further than Bilbao! Nestled in the Basque Country, it is one of Spain's best places for digital nomads. Why? 
You'll enjoy free WiFi networks throughout the city and plenty of incredible coworking spaces and cafes. So, getting your work done won't be an issue while you're there. 
And If you want to have fun, you can explore its green spaces and hilly streets while tasting some of the best pintxos. By the way, Bilbao's pintxos will surely take your taste buds on a culinary journey.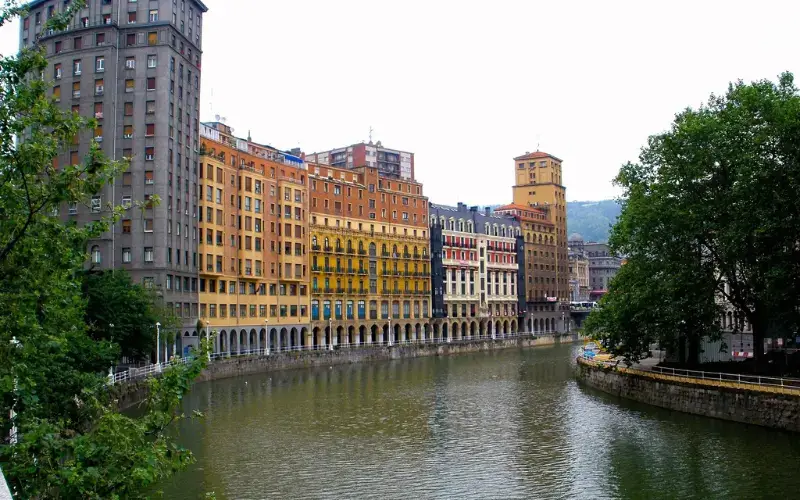 For nomads who relish a bit of adventure, easy access to the Basque coast provides incredible outdoor activities like surfing and sailing so you can mix up your usual daily routine with something different. 
There's no better way to ensure that taking on the digital nomad lifestyle doesn't mean missing out on all the fun adventures Europe offers!
6/ Seville
Seville is ideal for digital nomads looking to enjoy the best of both worlds – city life and relaxed, sunny days. Its strategic location in the south of Spain makes Seville part of a larger metropolitan area with a proximity to nearby villages that provide serenity at the doorstep. 
Beautiful and woven with history, the city proudly displays its iconic architecture from centuries ago, contributing to its charm.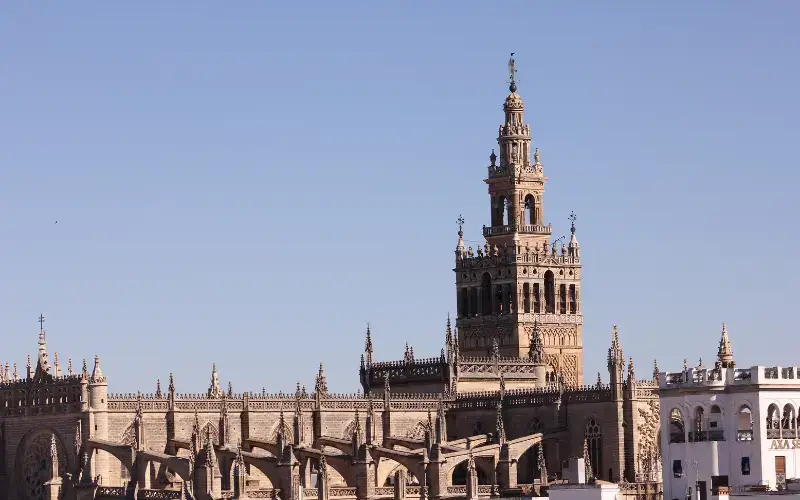 With excellent transportation networks, reliable Internet connections, and private workspaces available all over the city, digital nomads have no shortage of things to love about Seville. 
With its famous Moorish landmarks like Alcázar Palace and Giralda Tower, which are both UNESCO World Heritage Sites, Sevilla fascinates with its captivating history and culture. 
Plus, while you're working (or taking a break!), you can participate in some of Seville's unique culture, like authentic tapas bars and flamenco performances!
7/ Tenerife
​Tenerife is a rugged volcanic island on the Canaries, known for its spectacular beaches and busy nightlife. So you'd love it there if you're like me. It's an excellent spot for digital nomads looking to escape the hustle and bustle of urban life. 
The Spanish island is blessed with stunning beaches, lush forests, and incredible views, making it a stunning paradise for aspiring nomads and travelers.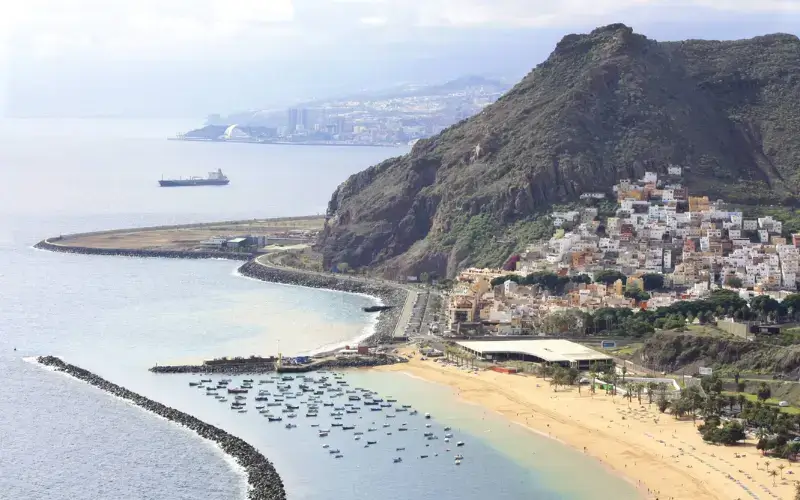 The weather means you can work outside in great comfort all year round, and if the local culture isn't enough to stimulate your mind, why not take a trip to one of the many other islands close by? 
8/ Fuengirola
Fuengirola is one of the best places for digital nomads who are love beaches and coastal towns. The Spanish town is close to Malaga and has stunning Mediterranean beaches. 
And it offers a wide selection of cafes, restaurants, and cultural activities.
If you need supplies or Internet access on the go, fret not! You'll find plenty of reliable WiFi and shopping options around town.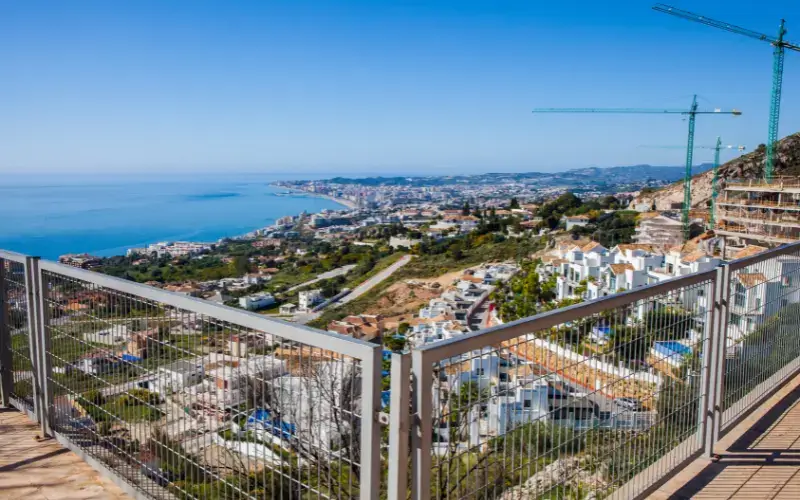 Fuengirola offers many easy transportation connections, such as buses and train lines, for trips off the beaten path. 
All in all, it's an ideal location for those seeking sunny days spent working (or lazing about) by the Mediterranean!
And if you want to enjoy more of Fuengirola, you can explore Malaga province. The province gives you an exciting city life. 
With world-class amenities such as its perfectly located coworking facilities, pristine public parks for outdoor activities, and fascinating cultural attractions, you will find it difficult ever to feel bored here! 
9/Gran Canaria
Gran Canaria is yet another digital nomad location in Spain that offers beaches, stunning coastlines, and undulating mountains. 
The island town has so much diverse landscape that you'll never find yourself at a loss for things to do.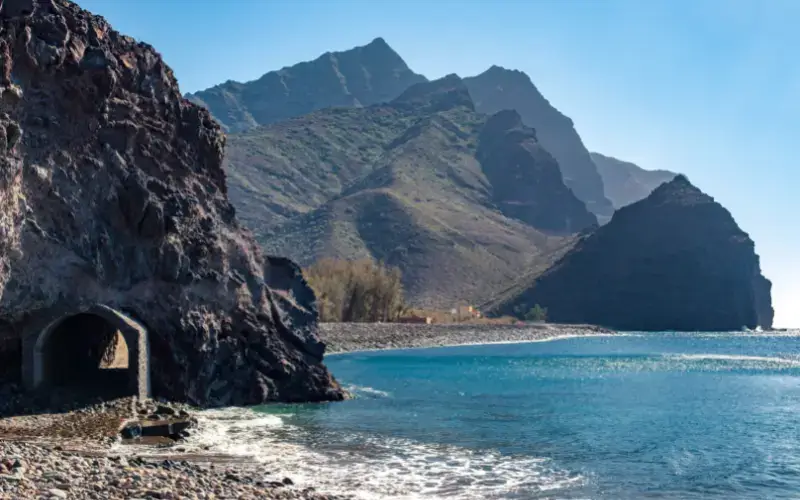 The Gran Canaria's excellent infrastructure makes it one of the best places for digital nomads, with plenty of cafes and restaurants and reliable WiFi connections. 
There are also many interesting activities, such as windsurfing, swimming, and diving in crystal-clear waters.
Lush inland villages of Grand Canaria provide you with a great climate year-round. And you'll find a lot of remote workers and friendly locals while you're there.
10/ Benidorm
Benidorm, a beachfront dream destination on Spain's beautiful Costa Blanca in the Alicante province, has some of the most idyllic natural features. 
As a digital nomad or remote worker, you'll enjoy business productivity and leisure high jinks here.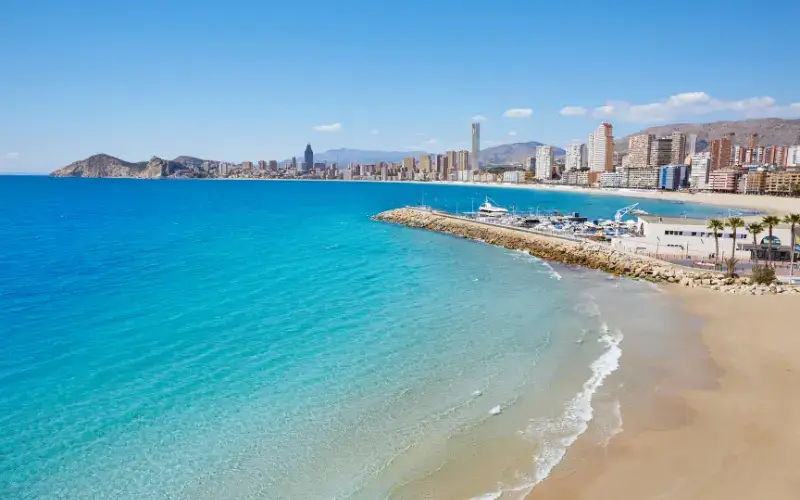 There are tons of coworking spaces, cafés, and bars in Benidorm, providing you with a great spot to finish off your tasks. If you need a break from work, shops and boutiques are nearby for some retail therapy. 
Benidorm serves as an oasis among stunning landscapes, and it offers:
Excellent climate year-round.
Miles of white sand beaches stretch along the Mediterranean Sea.
Curved bays, numerous parks, and gardens.
And terraced areas for magnificent views overlooking the city. 
On top of these incredible scenes, Benidorm is easy to get around and provides an array of restaurants with sea views that offer exquisite traditional Spanish cuisine and delightful hospitality – all at great value too! 
11/ Segovia
Segovia is an idyllic Spanish city filled with quaint cobblestone streets, historic Romanesque and Gothic structures, and peaceful nooks. 
And the old town of Segovia is UNESCO-listed for its beautiful and well-preserved architecture.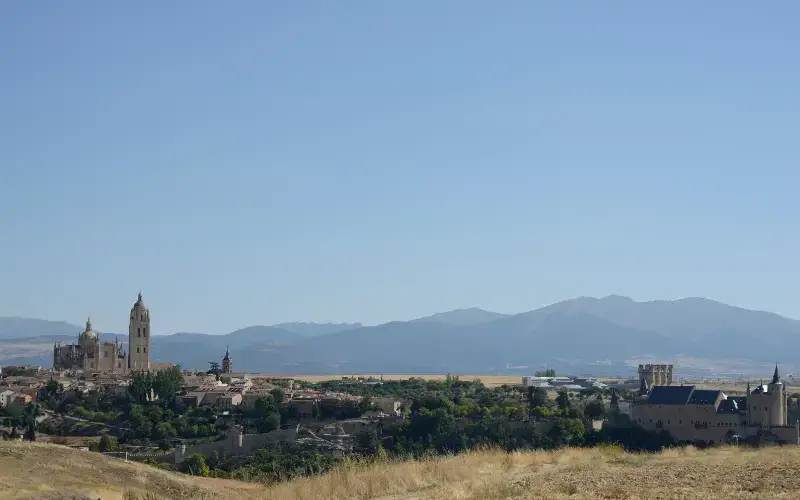 As a digital nomad in Segovia, you'll love the city's convenience—it's one of the best places for remote workers in Spain, especially if you love time-traveling!
But that's not all! You will find plenty of internet cafes, coworking spaces, and top-notch restaurants that serve authentic local cuisine.
The town offers high-speed WiFi and plenty of charming cafés where you can set up shop and work away.
If you ultimately need a break from your laptop but want to feel productive simultaneously, take a scenic walk to check out monuments such as the famous Aqueduct or explore some of the surrounding Castilian provinces. 
12/ Balearic Islands
The Balearic Islands are a dream archipelago for digital nomads and remote workers, with their sunny skies, lush landscapes, and convenient working infrastructure. 
The Balearic Islands can provide the ultimate solution for those who prefer an isolated oasis of peace and productivity far from everyday stress and obligations.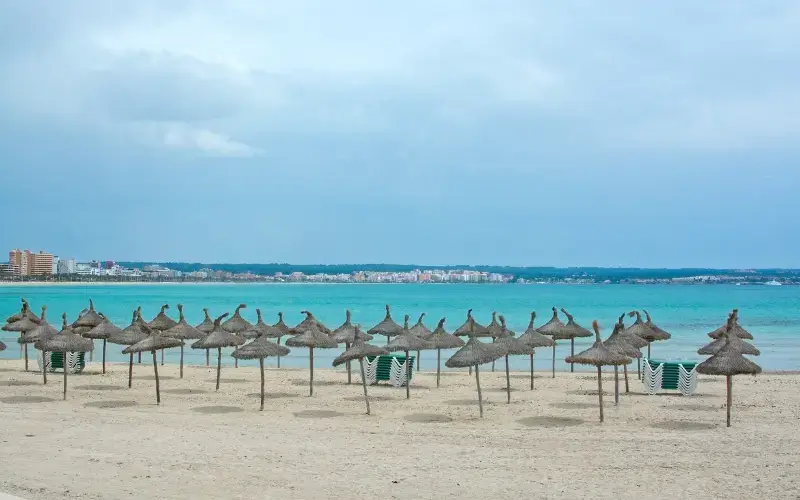 High-quality internet connections make it easy to stay in touch with the office while still enjoying the area's unique cultural offerings. 
Nature enthusiasts will appreciate miles of pristine beaches, rolling hills dotted with fragrant herbs and peaceful moments by one of the many secluded coves. 
Best of all, renting a long-term apartment or flat is surprisingly affordable, so digital nomads and remote workers looking for a break in paradise can make it happen without breaking the bank.
13/ Canary Islands
If you're looking for a Spanish archipelago that offers incredible digital nomad and remote working opportunities, you can also go for the Canary Islands. 
Canaries boast picturesque sunsets, pleasant temperatures year-round, green subtropical forests, and sandy beaches.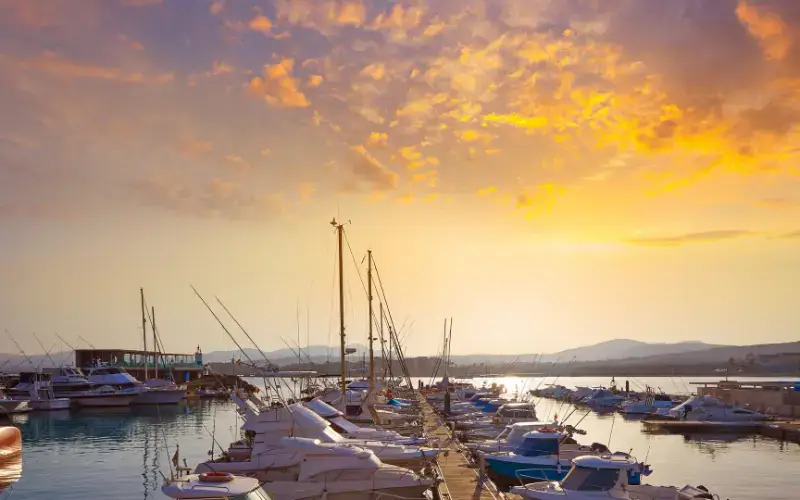 From Tenerife to Fuerteventura, each of these 7 islands offers something special to satisfy your wanderlust. 
With great connectivity across its main airport hubs, sunny climes, and many coworking spaces, the Canaries could be your next professional adventure hotspot.
14/ Córdoba
Córdoba is quickly becoming one of the best digital nomad cities in the Andalusia region of Spain. It offers the perfect combination of rich cultural history and modern amenities. 
The city is ideal for remote workers because of its beautiful Andalusian architecture, countless leisurely activities, and increasing coworking spaces.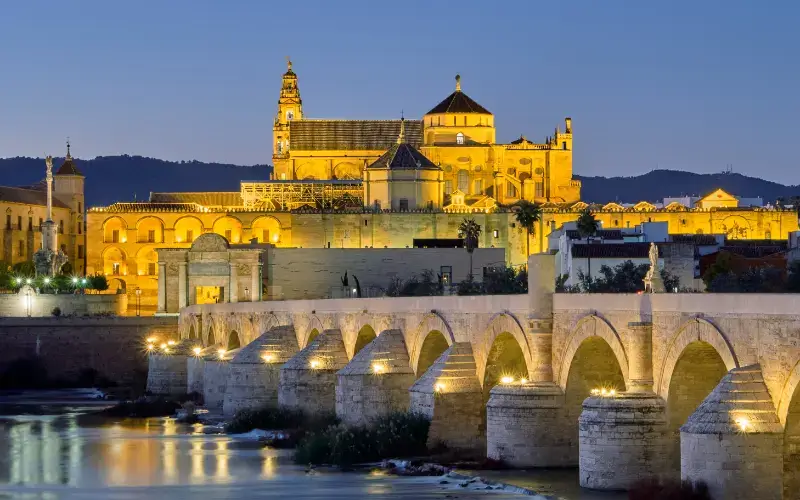 Furthermore, Córdoba remains one of the best-priced cities in Spain, with a wide range of high-quality apartments that you can rent for a fraction of the price. 
Córdoba also has excellent WiFi connectivity and is home to several international companies such as Microsoft, IBM, Oracle, Telefónica, and
Whether you are looking for serenity or inspiration through fascinating culture, you'll find it in Córdoba.
15/ San Sebastian
San Sebastian has a picturesque coastline, mild climate, and bustling culture; it's no surprise more remote workers are packing their bags and heading to this gorgeous Basque city. 
The city offers day tours, a drum parade, the cider culture, and much more. Also, the city is full of excellent restaurants, affordable living expenses, and plenty of coworking spaces spread across the city.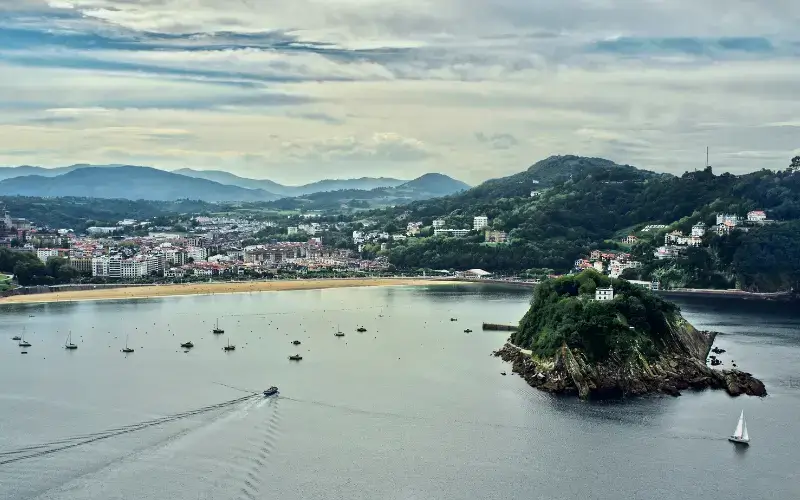 The best part about San Sebastian for digital nomads? The high-speed internet makes it easy to stay connected with clients and colleagues halfway around the world.
You'll find an ideal work-life balance in San Sebastian because of its excellent coworking spaces with reliable WiFi connections. 
If you want an escape to enjoy the sunshine or a community of like-minded professionals to support you, go for San Sebastian!
16/ Valladolid
Valladolid is a great choice for digital nomads and remote workers looking to experience everything sunny Spain offers. 
It may not be top of mind when considering Spanish destinations friendly for remote workers, but it should be!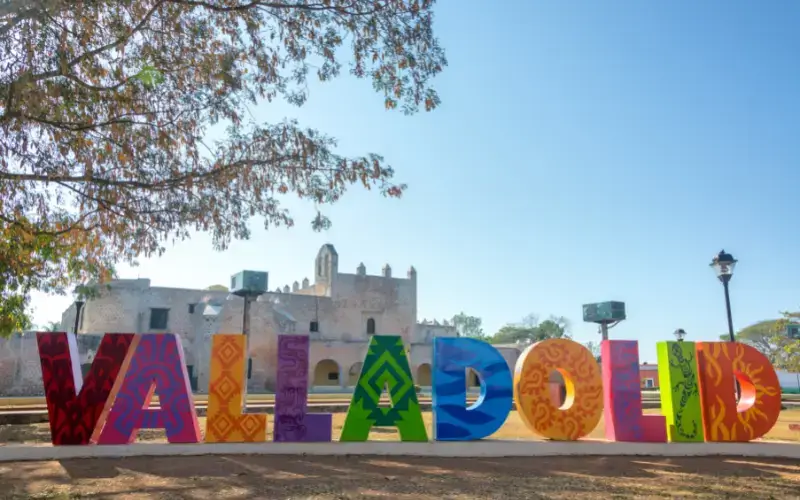 With its rich history, culture, and superb cuisine, Valladolid strikes a pleasant balance between the old world and the thriving modern scene. 
Also, the city's compact size makes it easy to explore all it has to offer, whether quaint buildings surrounded by gardens or lively plazas frequented by university students.
Add in helpful residents who are passionate about welcoming guests.
17/ A Coruña
A Coruña is a vibrant city in northwest Spain and the most populated city of Galicia. This bustling port city offers an array of attractions, from museums to aquariums, each providing unique experiences for locals and visitors alike. 
What's more, the cost of living in A Coruña is more affordable than in other European cities, such as London or Amsterdam.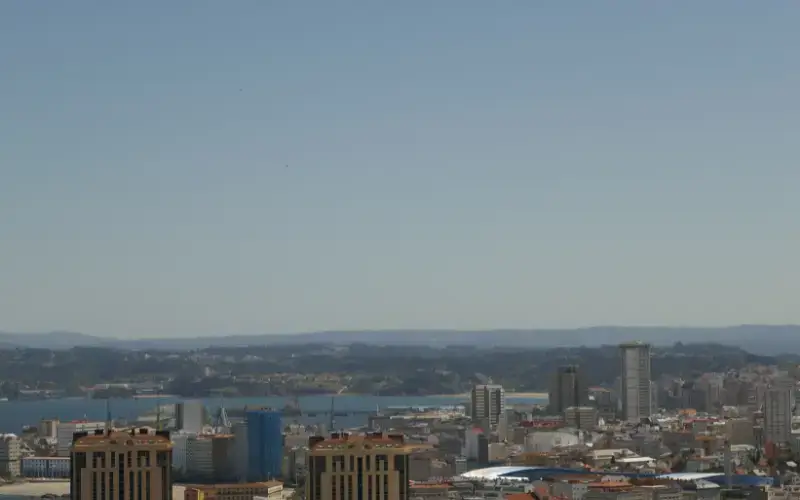 With its plentiful beaches and local culture, there's something for every digital nomad or remote worker who comes here. 
Staying connected is also easy thanks to the abundance of cafes and restaurants with free WiFi, giving these professionals access to all their online resources from wherever they are. 
18/ Santiago de Compostela
Go for Santiago de Compostela if you haven't chosen your digital nomad base yet. Why? It's an ancient city full of culture and history, with plenty to do and explore.
The locals are friendly and helpful, so you'll be able to settle in quickly when you arrive.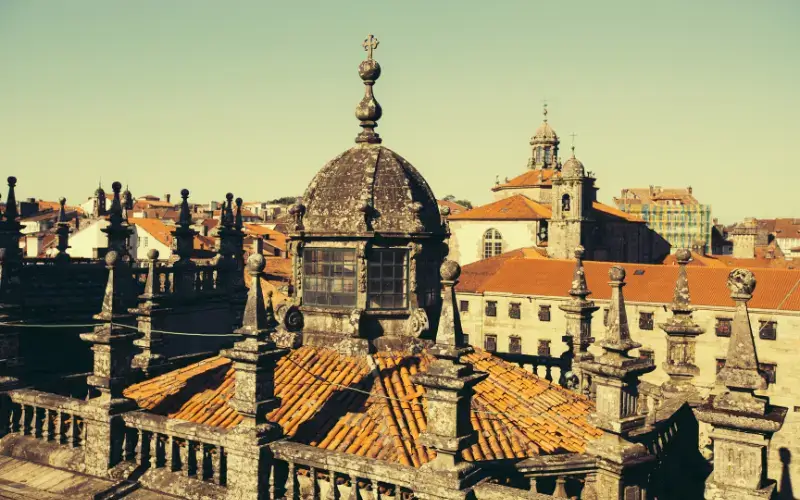 And the city offers reliable internet infrastructure for you to finish your tasks. Plenty of cafes and public spaces provide high-speed internet, meaning productivity won't suffer during your visit. 
Plus, the breathtaking scenery serves as a reminder of why working remotely can be so fulfilling in the first place!
Other Digital Nomad Hotspots Around the Globe
While you're here, you might want to explore other remote working hotspots in Europe and worldwide.
So which of these places in Spain for digital nomads do you prefer? Let me know in the comments below because I always respond to them 🙂