Are you looking for Italian cities to live in as a remote worker? Look no further! Because there are tons of digital nomad places in Italy to work remotely.
The country offers stunning landscapes, delicious food, and many cultural attractions. And it has a plethora of coworking spaces and cafes that are friendly for remote workers and freelancers.
Before getting into all of these, let me share my top three favorites.
How to Choose the Best Places in Italy for Digital Nomads
With the many attractions & high-speed internet availability across the country, it's no wonder many digital nomads are choosing Italy as their base!
Disclaimer: Italy is generally an expensive country for budget travelers, digital nomads, remote workers, and freelancers. So the average cost of living in these cities is around $3K to $5K per person per month. 
Here's an idea of how you can choose your digital base:
15+ Best Italian Cities & Places for Digital Nomads in Italy
From Rome's vibrant nightlife to Florence's art galleries and museums, there are tons of amazing places where you can work remotely while experiencing all that Italy has to offer. 
So grab your laptop and get ready to explore these incredible digital nomad places in Italy. 
1/ Rome
Rome, the Eternal City, is a great destination for digital nomads. Its abundance of history, culture, food and activities makes it a vibrant place to work and explore. 
The mild Mediterranean climate means you can spend more time outside in the sun working from places like Piazza Navona or the Spanish Steps. 
Rome also offers plenty of co-working spaces with all the necessary amenities for digital nomads, such as fast and reliable internet connections that can be used remotely.
And there are lots of affordable accommodation options available for digital nomads in Rome, ranging from apartments to hostels. 
Roman cuisine is world-renowned and offers many delicious dishes to sample during your stay.
There are plenty of things to do in Rome. You can visit iconic monuments like the Colosseum or the Pantheon or stroll through some of Rome's most beautiful parks, such as Villa Borghese or Villa Pamphili. 
2/ Milan
The Italian city of Milan has become increasingly popular among digital nomads and travelers. As one of the most iconic European cities, Milan boasts a vibrant culture and history, making it an ideal destination for nomads to explore and enjoy. 
The city is home to some of the world's best museums, galleries, restaurants, and shopping experiences. It's also conveniently connected by numerous transportation options, making it easy to get around the city. 
And with its temperate climate and infrastructure built to accommodate travelers from all walks of life, Milan makes it easy for digital nomads to work remotely.
On top of this, Milan is well known for its nightlife scene, which features some of the best bars, clubs, and concert venues in Italy. 
Milan offers a variety of coworking spaces that provide a great space for freelancers and remote workers who need comfortable to stay while they work. These spaces offer free Wi-Fi access, seating areas, ample desk space, and access to printers and other shared resources. 
3/ Florence
Florence is renowned for its architecture, Renaissance art, and many cultural attractions and offers a unique lifestyle experience for cosmopolitan digital nomads. 
Its central location in Europe allows easy access to other major cities such as Rome and Milan. And it has a low cost of living compared to other European capitals. 
Florence offers a range of coworking spaces and tech-savvy cafes where digital nomads can easily collaborate and share ideas. With multiple transportation options, including bus routes and bicycle paths, getting around the city is effortless. 
Florence's relaxed pace and warm climate create a tranquil environment that encourages productivity without feeling overwhelmed. 
As you explore the picturesque narrow streets or wander through lush parks, you can find plenty of free Wi-Fi spots to keep connected during your stay. 
4/ Naples and Bari
Italy is quickly becoming one of the most popular destinations for digital nomads, and Naples and Bari are two cities that offer a great lifestyle for those looking to work remotely. 
Both digital nomad-friendly cities in southern Italy offer stunning beaches, charming neighborhoods, and vibrant nightlife. And you'll also love the incredible Mediterranean cuisine there. 
In Naples, you can enjoy all the benefits of living in a big city while still having easy access to nearby seaside towns. There's also plenty of culture and history to explore, including ancient ruins such as Pompeii and Herculaneum. 
In Bari, meanwhile, you get the advantages of living in a smaller city with a slower pace but just as much character. From its historic piazzas and alleyways to its beautiful Adriatic Sea coastlines, there is no shortage of things to do or places to explore. 
Both cities provide an excellent infrastructure for remote workers, with wireless internet access throughout most areas and many coworking spaces popping up all around town. 
5/ Palermo
Palermo is one of the most attractive cities in Italy for digital nomads. This vibrant city offers a unique combination of modern amenities and an ancient ambiance that makes it perfect for experiencing the best of both worlds. 
With its stunning coastline, sunny beaches, and warm waters, Palermo also serves as a great escape from the hustle and bustle of life. It also has a thriving culture, delicious food, exciting nightlife, and fantastic museums. 
The city is well connected with high-speed trains, buses, and ferries to get around. Add to this excellent wifi speed and countless coworking spaces available in the city center.
6/ Sicily 
Palermo is just one city in Sicily with amazing places to explore. And it offers a unique combination of stunning beaches and incredible culture.
Sicily is one of the best islands in Italy for digital nomads that offers a safe and affordable environment to live and work in. Renting a house or apartment here is far cheaper than in many other parts of Italy.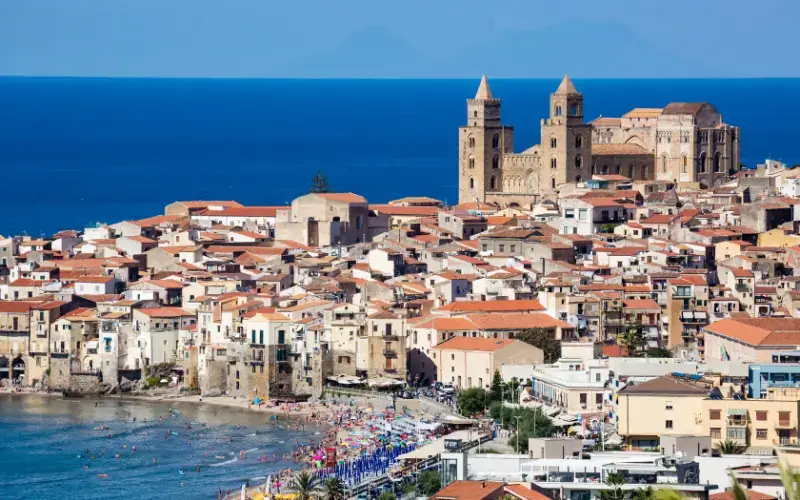 I'd choose the island of Sicily to live in Italy as a digital nomad because of the beautiful Mediterranean weather and excellent food. 
Those seeking cultural experiences won't be disappointed either – Sicily boasts some of Europe's best archaeological parks, ancient Roman ruins, and baroque architecture. 
The locals are also very friendly and welcoming towards foreigners; even if you don't speak Italian, it's relatively easy to get by.
Sicily has something for everyone, whether you're a beach-loving digital nomad or someone looking for an exciting new place to explore.
7/ Sardinia 
Sardinia is one of the best islands in Italy for digital nomads. Located in the Mediterranean Sea off Italy's coast, this stunning Italian island is home to some of the most beautiful European beaches. 
The coastal towns of Sardinia offer an array of activities and attractions: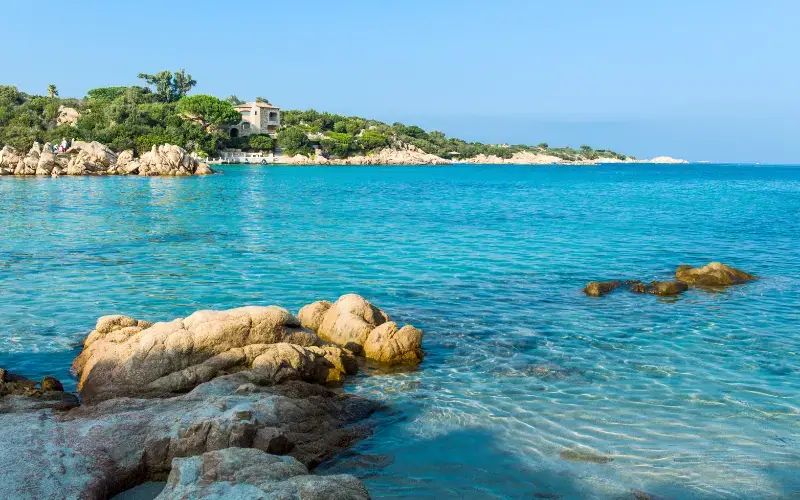 Crystal clear waters.
Charming harbor villages.
Lush green hills.
And historical landmarks.
With a rich cultural heritage and vibrant local cuisine, Sardinia is a great destination for digital nomads looking to explore something new. 
Luckily, tons of coworking spaces are scattered around the island, making it easy to get your work done. 
A wide range of accommodation options is available, from luxury villas to hostels. Also, you can enjoy reliable Wi-Fi connectivity, making it perfect for remote working while enjoying the stunning coastline. 
8/ Cagliari
If you love the beauty and charm of Sardinia, then Cagliari is your destination! The capital of Sardinia has a lot to offer for those seeking a great work-life balance. 
From its stunning beaches and gorgeous landscapes to its vibrant culture and relaxed atmosphere, Cagliari is full of adventure. 
It has the perfect mix of natural beauty and cultural attractions, making it ideal for digital nomads who want to explore new places while working remotely.
The cost of living in Cagliari is much lower than in other major cities in Italy, making it a great choice for digital nomads who need to stretch their budget further. 
Additionally, there are many co-working spaces where you can get some work done without being interrupted by tourists or noisy locals.
With its Mediterranean climate, you can enjoy your surroundings outdoors year-round. 
Whether taking in the views from one of the many rooftops or relaxing on the beach after work, this Italian paradise has something for everyone!
9/ Turin
Turin, the capital of the Piedmont region of Northern Italy, is a great city that offers many benefits to those looking to take their laptop on the road and work remotely. 
With its low cost of living, fast internet speeds, good public transport links, and diverse cultural attractions, Turin is an ideal spot for digital nomads. 
The city has a vibrant startup scene with plenty of co-working spaces providing access to resources like office supplies and meeting spaces. There's also a variety of cafés where digital nomads can enjoy a cup of Italian coffee while they work. 
Also, Turin boasts some incredible outdoor attractions, such as the Roman ruins in Parco del Valentino and Castello del Valentino. While there, you must also witness breathtaking views of the Alps from atop Superga Hill. 
10/ Trieste
Trieste is an exciting and one of Italy's most underrated destinations for digital nomads. It's a maritime gateway for northern Italy, Germany, Austria, and Central Europe. There are many reasons it should be on the top of any remote worker's bucket list. 
The city is well connected to the rest of Europe and enjoys a mild Mediterranean climate because it's a deep-water port. It also has all the amenities needed to live and work comfortably. 
Trieste has plenty of modern coworking spaces that cater to remote professionals, offering everything from fast internet access to various networking opportunities. 
Trieste has a vibrant cafe culture, so getting good coffee while working isn't hard. When you're done for the day, there are countless places to explore – from castles built in the medieval period to picturesque promenades along the coastline. 
All these factors make Trieste an ideal place for digital nomads & ex-pats who want a sustainable and inspiring lifestyle.
11/ Bologna
Bologna, the capital of the Italian region of Emilia-Romagna, is a great destination for remote workers and ex-pats.
With a booming tech industry, excellent food and wine, and plenty of cultural attractions, it's an ideal place to live and work remotely. 
The city is home to some of Italy's most prestigious universities and boasts a vibrant startup scene. Many quality coworking spaces and cafes provide a comfortable environment for remote workers. 
Bologna also boasts affordable places to stay, from modern apartments to traditional hostels. Additionally, the low cost of living makes it easy for digital nomads and ex-pats to stretch their budgets further. 
Also, transportation around the city is fast and efficient thanks to its extensive metro system and bus network.
No matter how long you intend on staying in Bologna, you will find that this charming Italian city has all you need as a digital nomad!
12/ Amalfi
Amalfi is one of the best towns in Italy for digital nomads, ex-pats, and remote workers. From its spectacular seascapes, vibrant coastal culture, and delicious cuisine, to access to modern amenities, this beautiful Italian town has it all! 
Not only can you soak up the sun while working remotely from Amalfi's stunning beaches or lively piazzas, but you can also enjoy its excellent transportation links with nearby cities such as Rome, Naples, and Salerno. 
The area is also renowned for its amazing hiking trails, which provide breathtaking views of the Mediterranean Sea. 
There are also numerous opportunities for creative inspiration in art galleries and museums.
And if you need a break from your work, why not explore the breathtaking Amalfi Coast or take a trip to one of the nearby islands? 
13/ Verona
The first thing about Verona I want to tell is that it's home to Shakespeare's legendary love story, Romeo and Juliette.
Arena di Verona, the outdoor amphitheater, is a must-see when you're visiting Verona. Verona has an impressive array of cultural attractions, from its world-famous opera house to its well-preserved Roman ruins. That's why the city is also known as little Rome.
But that's not all for this city; it also offers a great environment for digital nomads like you. Verona has a vibrant startup scene and is home to several coworking spaces.
Verona's cobbled streets are lined with cafes and restaurants where one can find delicious local cuisine. It has many public parks where digital nomads and remote workers can take advantage of sunny days between projects. 
Not to mention that Verona's sunny climate makes it easy to take time off to explore nearby historic towns or enjoying some time outdoors among stunning hillsides and vineyards. 
With its unbeatable combination of convenience, comfort, affordability, unique culture, and beauty, Verona is a great choice for digital nomads!
14/ Genoa
Genoa, the Italian port city on the Ligurian Sea, is becoming an increasingly popular place for digital nomads. With its stunningly beautiful beaches, vibrant culture, and great food, Genoa is a perfect place to live and work. 
Thanks to its excellent public transport system and low cost of living compared to other big cities in Italy, Genoa is an ideal base for those who want to experience the Mediterranean life while still staying connected. 
The city also boasts a wide range of coworking spaces and tech hubs that provide digital nomads with access to reliable internet and inspiring environments for collaboration and meetings. 
Additionally, plenty of activities can be enjoyed on the side, such as sailing along the coast or exploring surrounding towns like Portofino or Sestri Levante. 
With many networking opportunities, Genoa is sure to be one of the best places to live in Itay as a digital nomad. 
15/ Perugia
Perugia offers stunning architecture, lovely parks, and great views from its hilltop location, nearly 1000 meters above sea level. The city also has excellent transport connections to get around Italy quickly. 
And there are tons of coworking spaces in Perugia, making it a great choice for digital nomads, ex-pats, and remote workers. This city is known for its low cost of living, which makes it attractive to digital nomads on a budget. 
Perugia has an abundance of shops, cafes, and restaurants to explore in the old town, where you can find delicious regional cuisine. Also, there are plenty of historic sites and museums to visit while taking breaks from work.
Discover Digital Nomad Cities Around the World:
Wanna explore more places to work remotely? Look at these beautiful places:
So which of these digital nomad places in Italy will you choose? Let me know in the comments below because I always reply to them 🙂